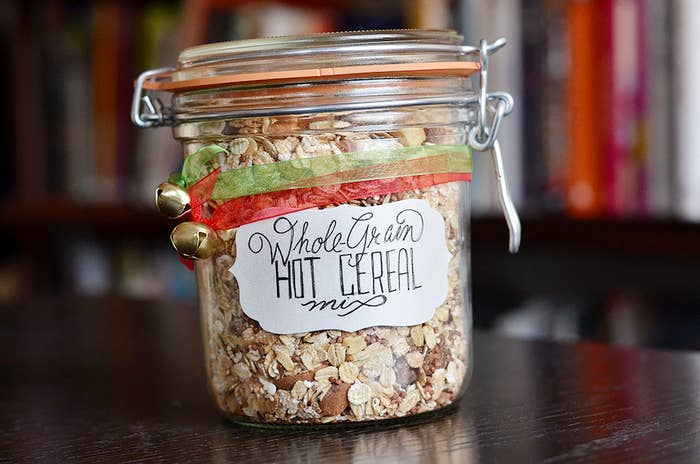 Whole Grain Hot Cereal Mix
Makes about 5 ½ cups mix, enough to fill two 25-oz. jars (pictured here).
INGREDIENTS
1 cup rolled oats
1 cup spelt or wheat flakes
1 cup barley flakes
1 cup quinoa
¼ cup flax seeds
½ cup dried cranberries
½ cup almonds, roughly chopped
1 teaspoon ground cinnamon or nutmeg (optional)
HOW TO PREPARE THE GIFT
Mix everything together in a large bowl and transfer to a jar. Give with cooking instructions.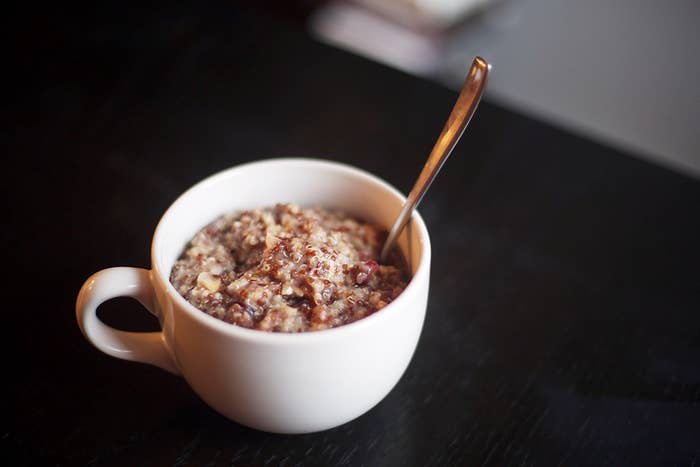 Directions to include with the gift:
How To Cook Cereal
Makes 3 to 4 servings.
You will need:
1 cup Whole Grain Hot Cereal Mix, from gift
1 teaspoon kosher salt
3 cups water
Optional: milk, maple syrup, brown sugar
Preparation
1. The night before you want to eat the cereal, combine 1 cup cereal mix and 1 teaspoon kosher salt in a large saucepan.
2. Add 3 cups water (you can add more later if the cereal is too thick) and bring to a boil. Turn off the heat and cover overnight.
3. In the morning, cook cereal in the covered saucepan over medium-low heat about 5-8 minutes or until it's warmed through, stirring occasionally and adding water if needed.
If you're starting the cereal in the morning, bring to a boil and then turn heat down to medium-low. Simmer about 15-20 minutes, stirring occasionally, and adding more water if it gets too thick.
4. Serve hot cereal with milk and maple syrup or brown sugar.
Download a PDF of directions to include with the gift.