Basically, you cook a package of ramen noodles...
...mix them with a beaten egg...
...mold into cute little bun patties, then chill in the fridge to firm up...
...while you cook the burgers.
Then you fry up your ramen buns so they're golden and crispy...
...and build yourself a beautiful burger.
Optional (but awesome) toppings: bok choy, American cheese, spicy ketchup, fried egg.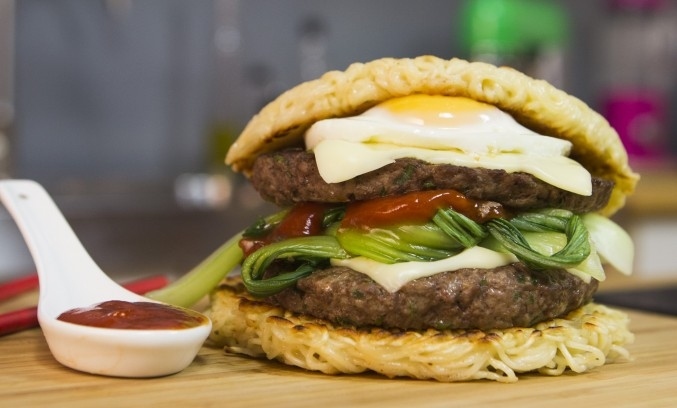 Ramen Noodle Burger
INGREDIENTS
1 packet of instant Ramen noodles
2 eggs
7 oz. (200g) ground beef
2 scallions
Splash of soy sauce
Drizzle of sesame oil
1 head of bok choy
Squeeze of tomato ketchup
Dollop of hot sauce
Slice of American cheese
Splash of oil to fry
PREPARATION
Boil the noodles in salted water according to instructions, but do not add the seasoning packet. Drain and leave to cool slightly for a minute.
Crack an egg into a bowl and beat together. Toss the noodles into the beaten egg, divide in two, and press each half into a plastic-wrap-lined mold the same size as you want your burgers to be (4-5" across). Fold the plastic wrap back over the noodles and place a weight on top to compress as they cool.
Slice the scallions and mix into the beef with the noodle seasoning, soy sauce, and sesame oil. Form two burger patties, a similar size to your buns, keeping them pretty thin.
Heat up three frying pans. Fry the burgers in one pan with a shot of oil for a minute or so on each side. Remove the chilled ramen burger buns from the plastic wrap and fry in a shot of oil in the second pan for 2 minutes on each side so that they get golden and crispy.
Crack the egg into the third pan and fry. Mix together the ketchup and hot sauce and adjust to suit your taste. Wash and quarter the bok choy and steam very quickly in a pan with a dash of water. Drain all the frying greasy items on kitchen paper and construct your Ramen burger with a slice of cheese on top of each burger patty.