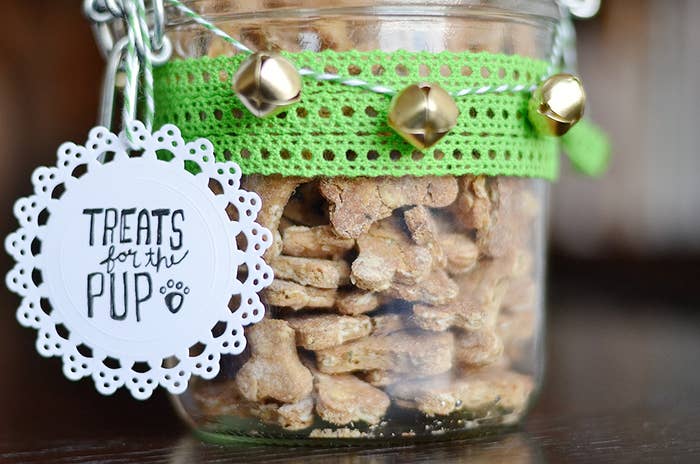 Treats For The Pup
Adapted from King Arthur Flour
Makes about 1 quart small biscuits, enough to fill one 34-oz. jar (pictured here).
INGREDIENTS
2 cups whole wheat flour
1 cup rolled oats
1 tablespoon dried or 2 tablespoons chopped fresh parsley (this helps give doggies fresh breath)
½ cup nonfat dry (powdered) milk
½ teaspoon salt
2 large eggs
1 cup peanut butter
½ cup or more cold water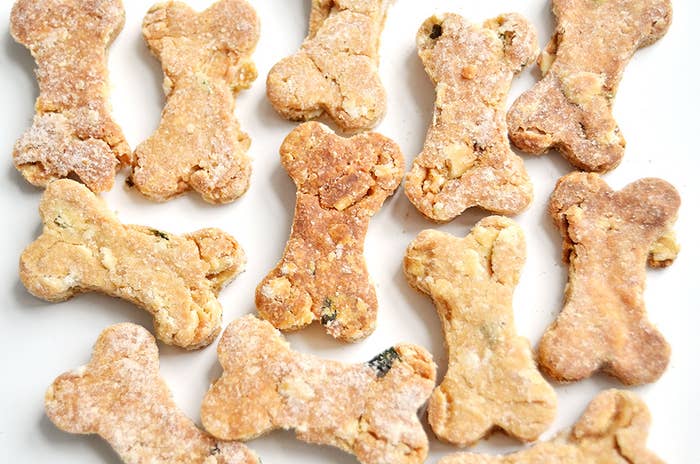 PREPARATION
1. Preheat the oven to 300°F and lightly grease two baking sheets or line them with parchment paper.
2. Mix together flour, oats, parsley, milk powder, and salt in a medium bowl. Add eggs and peanut butter and stir until the mixture is combined (it will be crumbly). Slowly drizzle water over the dough, stirring as you go. Add just enough water to let the dough come together.
3. Roll the dough out to about ¼" thickness and use a small (about 1.5-inch) dog bone-shaped cutter to cut out biscuits, transferring to the baking sheets as you go. Collect any scraps and re-roll them, repeating until you've used all the dough. Note: If you don't have a dog bone cutter, you can make round dog "cookies" by dropping small (walnut-sized) balls of dough on the baking sheet and flattening to ¼" thick.
4. Bake the biscuits for about 25 to 40 minutes ("cookies" will take longer), or until they're golden brown and dry and crispy all the way through. Let the biscuits cool on the pans and transfer to a jar when they're completely cool. Biscuits will keep for several months in a closed container.