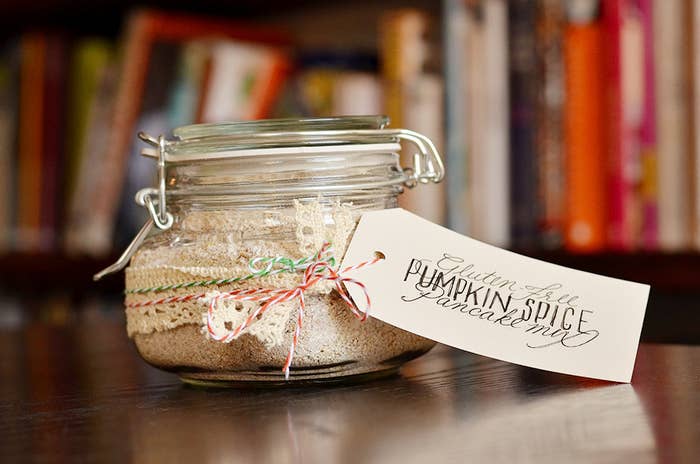 Gluten-Free Pumpkin Spice Pancake Mix
Adapted from Cookie & Kate
Makes about 2 cups mix, enough to fill one 17-oz. clamp jar (pictured) and make 14-16 pancakes.
INGREDIENTS
For Pancake Mix
2 cups gluten-free oat flour or gluten-free rolled oats, finely ground in the food processor
Zest of 1 lemon
2 tablespoons brown sugar
1 teaspoon baking soda
1 teaspoon salt
1 teaspoon ground cinnamon
1 teaspoon ground ginger
½ teaspoon ground cloves
½ teaspoon ground nutmeg
For Gift Assembly
1 can pure pumpkin purée (optional)
Printed or written cooking instructions (see below)

HOW TO PREPARE THE GIFT
Whisk all the ingredients together in a bowl to evenly combine them. Transfer to a jar and give with a can of pumpkin purée (optional) and cooking instructions.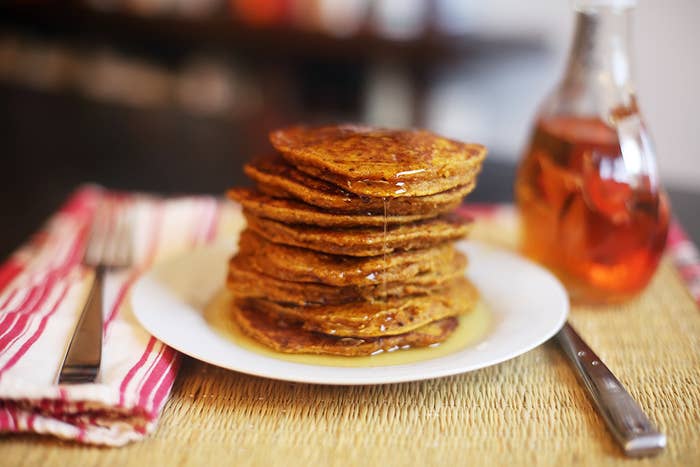 Directions to include with the gift
How To Make Gluten-Free Pumpkin Spice Pancakes
Makes 7-8 pancakes per cup of dry mix; double if needed.
You will need:
1 cup pumpkin puree
1/2 cup milk
2 tablespoons melted butter plus 1 tablespoon for greasing skillet
1 heaping cup of Gluten-Free Pumpkin Spice Pancake Mix, from gift jar
Preparation
1. Whisk together 1 cup pumpkin puree, ½ cup milk, and 2 tablespoons melted butter in a medium bowl. Beat in 2 eggs.
2. Measure out 1 rounded (slightly heaping) cup of dry mix into a separate large bowl.
3. Fold pumpkin mixture into dry mix until combined (be careful not to overmix) and let sit for 10 minutes.
4. Heat a heavy skillet over medium-low heat. Lightly grease the pan with oil or butter, and heat enough that a droplet of water in the pan sizzles.
5. Add ¼ cup of pancake batter to skillet. You may want to spread the batter slightly with a spatula, as the mixture is thick. Cook on first side about 3 minutes, until bubbles begin to form around the edges. These pancakes are thicker and heavier than most, so they'll need to cook a little bit lower and slower and require a large spatula. Once the bottom of the pancake is light golden, flip and cook another 90 seconds, until it's golden brown on both sides. Turn the heat down a little if it's browning too fast. Eat the pancakes right away or keep them warm in a 200°F oven.
Download a PDF of directions to include with the gift.