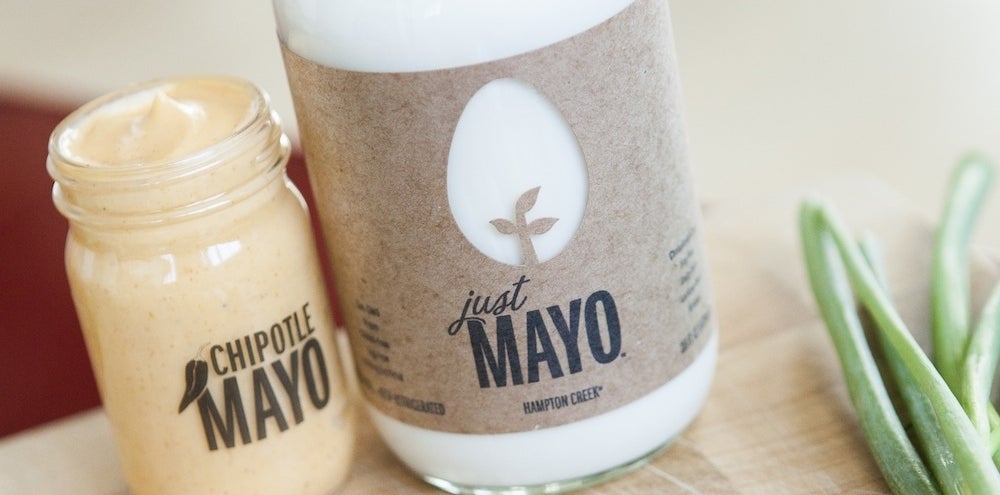 Hampton Creek Foods, a tech-centric San Francisco food startup that develops plant-based egg replacement products, has attracted some very high-profile investors, including PayPal co-founder Peter Thiel, and lots of media attention in the past year. Enough attention, apparently, to make the old-fashioned, chicken-based egg establishment nervous: The American Egg Board's "Incredible, Edible Egg" campaign has begun running Google ads against search terms matching Hampton Creek Foods, their products, and even the name of an executive.
Josh Tetrick, the CEO of Hampton Creek, says that the company aims to poach industrial egg farmers' market share by engineering an array of products that can do everything eggs do, except better (and for less money). As The Wall Street Journal's Farhad Manjoo wrote in a profile on the company, "Hampton Creek wants to 'surpass' the egg, to make eggless foods that taste better, are free of cholesterol, last longer on the shelf, are more ecologically sustainable and humane, and are far cheaper than their eggy counterparts."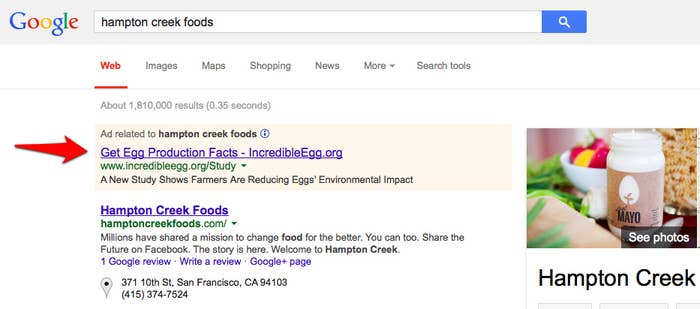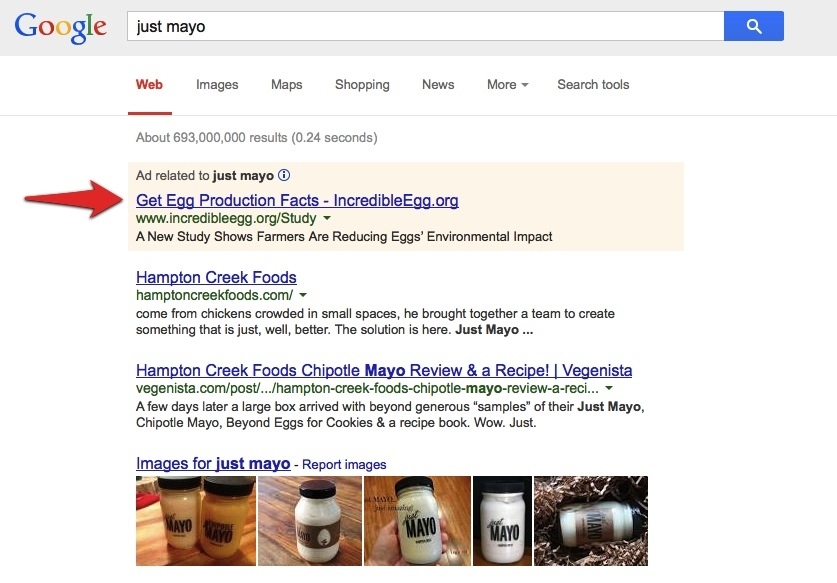 "Most people just don't know where their chicken eggs come from," Tetrick told BuzzFeed in an email. "Birds crammed together in tight spaces shitting all over each other. It's gross. It's bizarre. And it's pretty bad for the environment, too. Reality just isn't aligned with the incredible edible egg anymore."
Hampton Creek has developed two consumer products so far: Just Mayo (which Whole Foods recently began selling) and Beyond Eggs, a powdered egg replacer made for baking cookies. Their third product, a liquid scrambled egg doppelgänger ("Just Scramble") is in the works. So far, reviews are mainly positive.
"We think our model of affordable plants growing in open fields is just better for a growing world. And, yeah, we want the system of unsustainable chicken eggs to end," Tetrick said.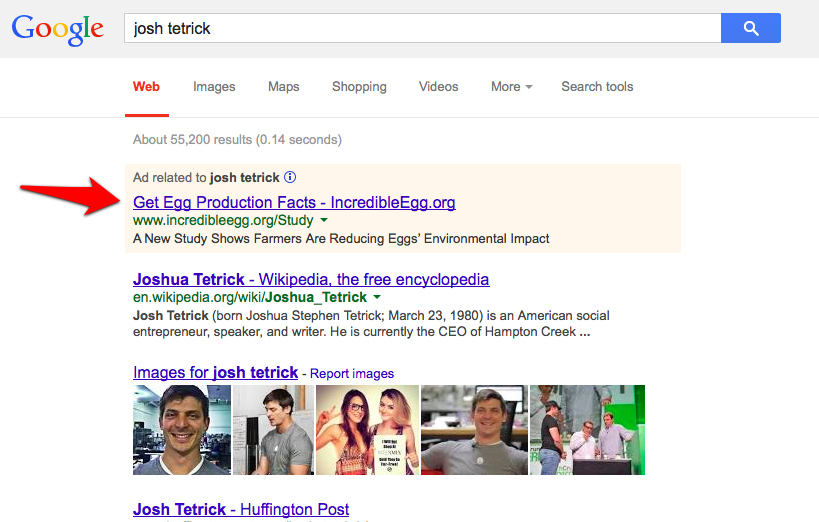 The egg establishment, of course, has a different view than Tetrick.
"It is a huge threat the way they are publicizing Beyond Eggs to consumers," American Egg Board CEO Joanne Ivy said in November, as reported by agriculture trade publication WATTAgNet.
The AEB's marketing counter-offensive is aimed squarely at consumers who might be made nervous by the multi-ingredient, tech-based approach Hampton Creek's products reflect.
"Consumers and food manufacturers want a clean label; with Beyond Eggs it will not be a clean label," Ivy said during a speech at the annual United Egg Producers meeting this fall. "Not with all of the ingredients it takes to make this product. We have developed a website and advertising campaign to address this."
The egg industry attack makes finding a marketing sweet spot for Hampton Foods more difficult, since the same consumers concerned about the dismal conditions of industrial-scale chicken farming might also view skeptically a tech-enhanced egg alternative, even if it costs less.
Most of the search term-pegged Incredible Egg Google ads shown in this post were screenshots provided by Tetrick and taken on December 17; the same ads aren't currently showing up on searches, suggesting that the AEB may no longer be running them.
But a WATTAgNet item from almost two years ago, on the Egg Board's relaunch of their Incredible Egg campaign, confirms that paid search terms are part of their strategy: "New media marketing efforts range from the obvious such as online advertisements to the more subtle such as paid search terms. Paid search reaches consumers who are actively seeking information about eggs or healthy breakfast options."
Or, in this case, actively seeking information about egg alternatives.
The American Egg Board responded to BuzzFeed's request for comment, via their PR agency, with this statement:
"'Synthetic plant-based egg replacers are not a novel concept; they have been around for years. And while we recognize the emergence of new egg replacement options, we believe strongly that, for a variety of reasons, the time-tested, all-natural egg remains the best option for consumers and food service companies alike.' - Mitch Kanter, PhD., Executive Director of the Egg Nutrition Center"