A Glossy Eye Is The Beauty Trend You Didn't Know You Needed
My eye gloss is poppin'.
We hope you love the products we recommend! Just so you know, BuzzFeed may collect a share of sales from the links on this page.
The wet eye look may be trendy, but hey, I'm not immune to a solid beauty trend. And Milk Makeup Eye Vinyl makes it so easy, I sport it nearly every day and don't intend to give it up anytime soon.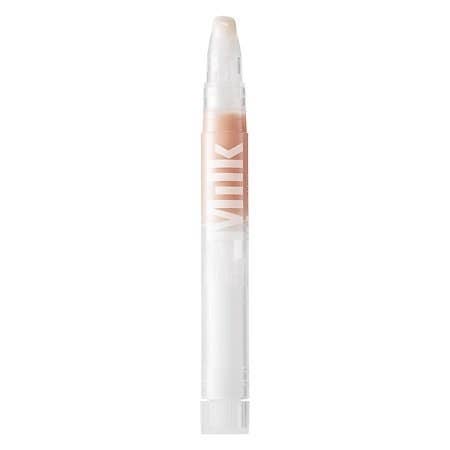 A quick googling of "wet eye look" elicits hundreds of results advising how to achieve the perfect glossy lid, all with varying advice. The takeaway: It's harder than you might think!
But when I locked eyes with Eye Vinyl at Sephora about a year later, that file suddenly reopened.
For the record, these other Milk Eye Vinyl fans have corroborated my findings:
"I have all four colors and wear them every day. Bridge is my most-used color for a simple glossy lid. These look amazing paired with other pigments, they are a SUPERB base for glitter (I partied for 12 hours once and my gold glitter lids didn't budge!), they look amazing layered on or blended out for a faded color especially on the black and purple. 100% my favorite eye product I've ever owned." —hsjostedt
"I just tried this stuff out today and I really love it. Vaseline creases and clumps, and can mess up my mascara or eyeliner. I decided to give this a try, and I love it! I purchased the beige color, which is basically just a clear gloss that glides onto your eyelids. Because this one isn't pigmented, it's really easy to put on and doesn't require blending. It's pretty sticky, which I like because it ended up not noticeably creasing at all. Like other reviewers mentioned, the 'high-shine' aspect does not last too long, perhaps a couple hours. However, my lids still appeared glossy at the end of the day, just not as dramatically as when I first put it on. Because I use this for daytime looks, I don't mind that the high shine fades." —Aquar1an
"I absolutely adore this product. It is so, so, so easy to use and gives you a dewy, not oily, look on your lids instantly. The formula has a bit of stickiness to it, but not so much that your eyelids stick together. I went swimming and it stayed on my lids! Highly recommend." —eleanorasch
Whether you incorporate a glossy eye into your day-to-day look or reserve it for special occasions, let me just say — you WILL get compliments regardless.