We hope you love the products we recommend! All of them were independently selected by our editors. Some may have been sent as samples, but all opinions and reviews are our own. Just so you know, BuzzFeed may collect a share of sales or other compensation from the links on this page if you decide to shop from them. Oh, and FYI — prices are accurate and items in stock as of time of publication.
Last summer, my family and I made it our mission to spend as much time as possible outdoors. We spent many, many days BBQing and decided this year it was time for a change. After deliberation amongst ourselves, we settled on getting an outdoor pizza oven.
Family and friends of mine raved about the 12" Ooni Koda Portable Outdoor Pizza Oven ($319.20 on Ooni; originally $399), so after reading tons of positive reviews I decided it was time to take the plunge. And it was *so* worth it. Now that you understand how incredible it is, we can all agree that it's *beyond* exciting that everything on Ooni (including my beloved pizza oven) is on sale for 20% off this Black Friday!
I've had this pizza oven for a while now, and I can honestly say I am obsessed with it. It makes incredible pizza — as good as if I went to a pizza place — and is super easy to use.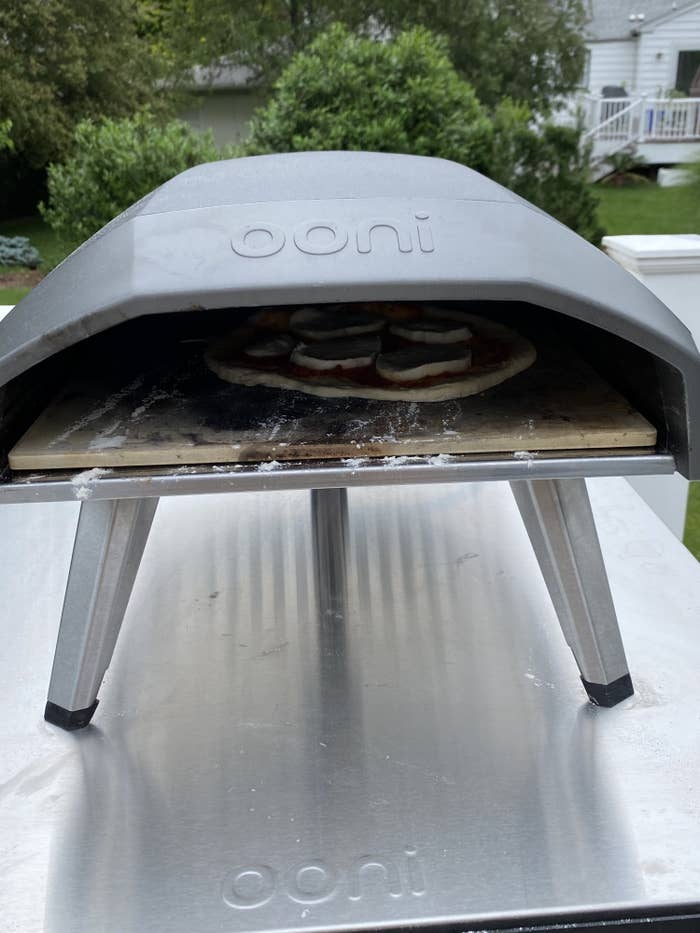 Even as someone who isn't great with kitchen gadgets, I can list a whole slew of reasons why it's a must-have for all your outdoor gatherings (COVID-safe, of course). But, the real winner is the fact that it makes delicious pizza super quickly!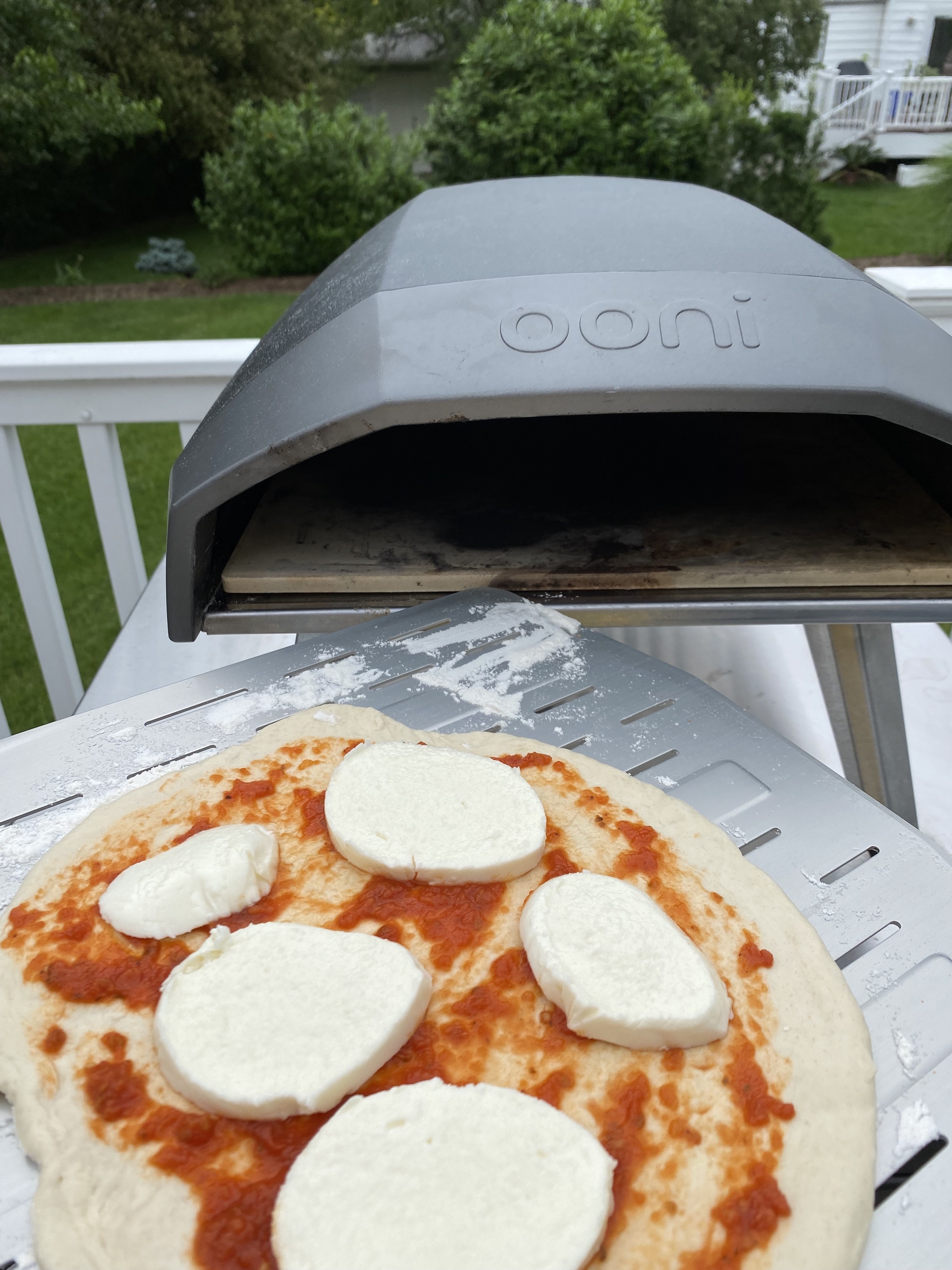 To make our pizza, we prep a bit in advance by making the dough and letting it rise, gathering the ingredients like fresh basil, mozzarella cheese, sauce, etc., and by ensuring the oven is heated up before use. To heat it, all you need to do is make sure it's plugged into a gas tank and turn the knob in the back of the oven slowly to the left. The flames inside *should* light up if this is done properly.
Then, it's time to put in our pizza. It gets placed on a floured Perforated Pizza Peel and slid into the oven. With enough flour, it should come right off with zero problems. But, try not to put it too close to the flame unless you like it very, very burnt and crispy.
After about two to three minutes (or when you see one side of the pizza crisping up), you'll want to use the Pizza Turning Wheel to turn it around. Just place the tool under the pizza and rotate it around in a circle.
From there, you'll wait another two to three minutes (the pizza should be done relatively quickly) and then you'll ~finally~ take your pizza out of the Ooni using the peel again.
Once on your serving dish (or directly on the peel, either is fine!), you'll use the Ooni Pizza Cutter Wheel to slice it and garnish it with fresh basil, if desired. Bam, delicious pizza in under 10 minutes.
The Ooni pizza oven has also garnered lots of attention from reviewers as it's super small and compact, and simple for everyday people (like me, myself, and I) to use. It allows us to make professional-level pizza from the comfort of our own homes.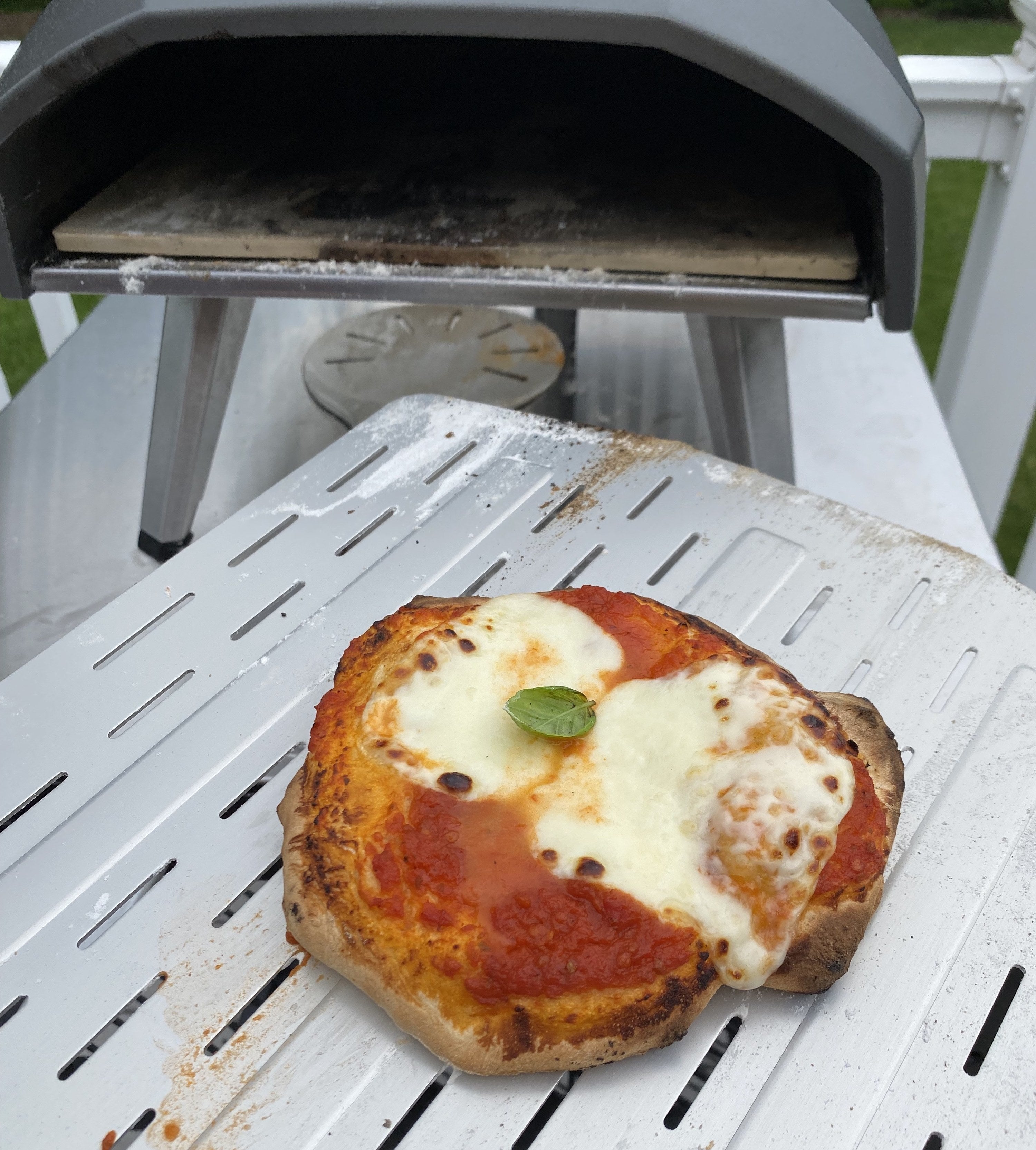 While you can purchase your own tools for it, I recommend getting the accessories that Ooni makes as they're the perfect size and created to use specifically for the pizza oven.
Seriously though, even my puppy looovees the pizza.