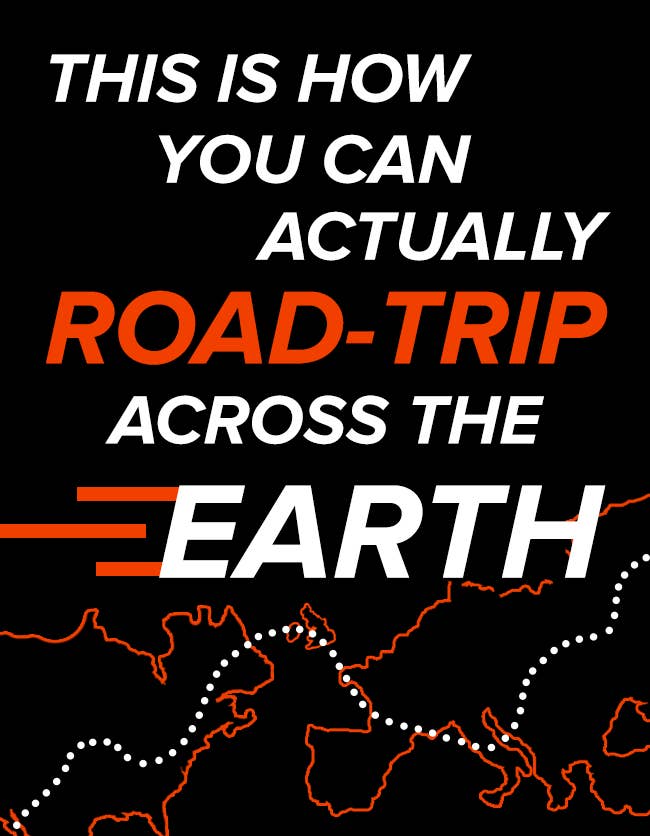 Only maniacs would suggest circumnavigating the planet in a second-hand car.
Utter maniacs.
Or, more accurately, people who've been binge-watching The Grand Tour…
And so, here we are.

We're buying a car at the start of the trip, and selling it at the end.

The ambition is to drive across as much of the world as possible, but also in the most time, distance, and cost efficient manner.

No active conflict zones. We're not tryna to get killed, okay?


It's a road trip, not a package holiday. Expect six hours of driving every day, at least.

We've calculated the cost for two people. Because doing this alone would mean a whole lot of ugly-car singing solo.

Unless you enjoy back pain and saunas, you'll want one that is a) long enough to sleep in the back; and b) has air-conditioning. A depressingly reliable 2005 wagon is yours for just $4,600. It does 23 miles per gallon, so we'll whack that in our fuel cost calculators. For more detail on how we've calculated stuff, see our notes at the end of this post.*
...START YOUR ENGINES!

Who needs a muscle car when you've got soft rock?
Your grand tour starts in the good ol' US of A. You'll do Route 66, Big Sur, the Deep South, and New York City. Then you'll ship your car from Canada in a 20-foot air freight crate across the Atlantic. Don't forget to take a quick peek at Niagara Falls. Whew!
This part is the literal Grand Tour.
Did you know that British gentlemen of some means used to tour Europe as part of their formal education? Your trip will be just like that... But in a station wagon. It'll take you through quaint British seaside towns, spectacular Alpine landscapes, and cities so cool you probably won't want to leave.


There are many wonders of the ancient world... One of them being that you've made it this far.
During this ancient odyssey, you'll literally drive from Europe into Asia, catching a ride across a lake so large that it's also actually a sea.
You'll need be pretty flexible with your timings in this part of the world. Timetables don't really exist… Once you do manage to board the ferry at Baku, you have a 17-hour ferry ahead of you.


What happens in Turkmenistan stays in Turkmenistan. Because no one knows where it is. And the people who find it rarely find their way back out.
This, friends, is where things get INTERESTING. Like, Uzbekistan interesting. You'll drive through secretive former Soviet states, then along the Silk Road.
Getting tourist visas here is more difficult. So apply before you set off. Because the Wi-Fi situation in rural Kazakhstan is probably not the best… And be prepared for government-sanctioned guides, letters of invitation, and detailed itineraries. (BORING.)

Meet the road you'll possibly die on.
The G219 China National Highway. It's 1,296 miles long, the highest altitude road in the entire world, and not for the faint-hearted... Seriously – people take oxygen tanks with them. It's known as the the valley of the dead.
This route is the best way to get from A to B, but it won't be easy. If Tibet and China were mates on Facebook, their relationship status would be "it's complicated". You're gonna need to jump through A LOT of hoops. Although technically the same country, you'll need a separate Tibetan visa.

A road trip through Nepal? Just summit to do.
The only way for foreign tourists to travel into India from Tibet is to go through Nepal. Say "Hi!" to Mount Everest while you're there. The rest of this drive will be through the hillsides of northeast India, known for their tea plantations, and briefly, along the Ganges.

Believe it or not, we saved the best for last.
Southeast Asia is without doubt one of the best driving destinations in the world. Jezza himself once described the Hải Vân Pass, pictured above, as "a deserted ribbon of perfection – one of the best coast roads in the world." You'll pass through stunning misty mountains, green rice paddies, from remote villages to sprawling cities.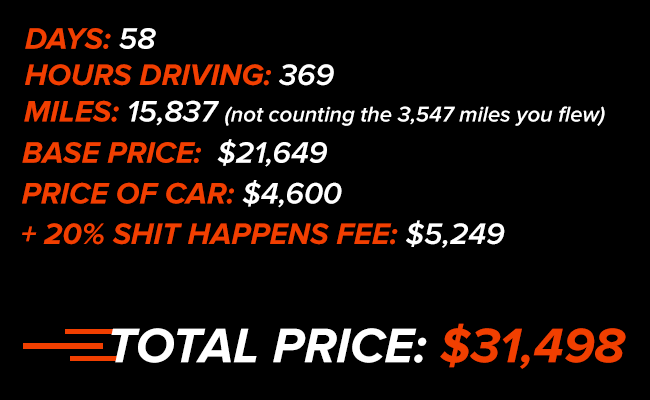 Is this trip for everyone? No. Is it the best thing two people could do with $31,498? Maybe. Will the stress of planning it drive you insane? Without a doubt.
Okay, so maybe a trip around the world isn't your idea of fun. Luckily, you can watch some other maniacs do it. Tune in to Amazon Prime Video for Season 2 of The Grand Tour.