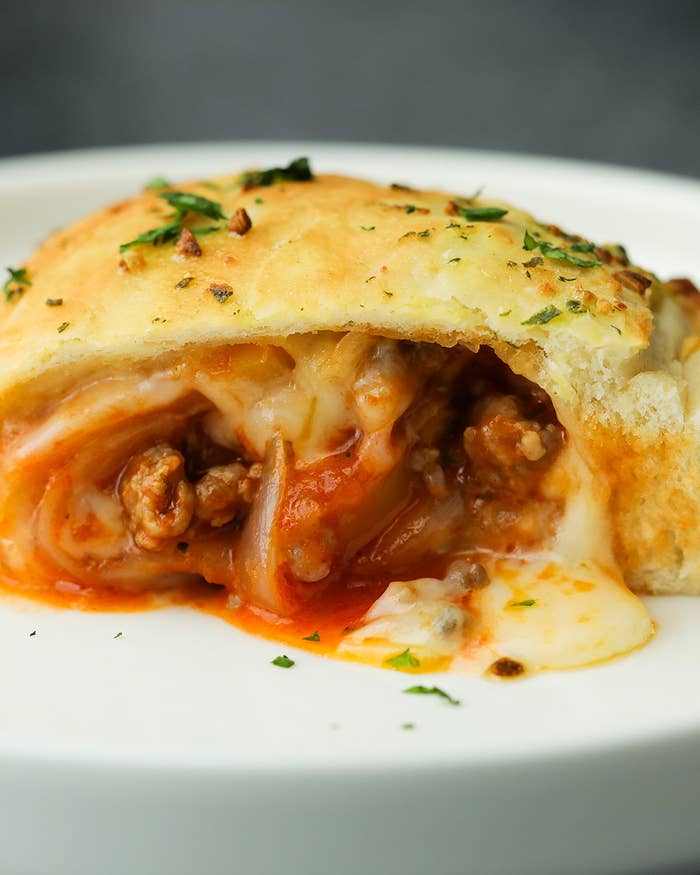 Servings: 6
Ingredients:

Calzones
1 tablespoon olive oil
1 yellow onion, thinly sliced
3 bell peppers (red, yellow, and orange), thinly sliced
1 teaspoon kosher salt
1 pound hot Italian sausage
1 jar Prego Traditional Italian Sauce, divided
1¾ pounds pizza dough
12 provolone cheese slices
Garlic Butter
5 tablespoon unsalted butter, melted
4 garlic cloves, minced
1 tablespoon minced parsley, plus more for garnish
1 teaspoon kosher salt
Preparation
1. Preheat oven to 450 degrees Fahrenheit (or 425 degrees Fahrenheit for convection ovens).
2. Calzones: Heat olive oil in a large skillet over medium heat. Add onions, peppers, and kosher salt. Sauté until softened, about 7 minutes. Add in hot Italian sausage. Break up sausage while cooking. Cook until no pink remains. Stir in 1 cup of Prego Traditional Italian Sauce, let cook for a minute, then remove from heat and set aside.
3. Divide pizza dough into 6 equal pieces. Roll each piece into a 7-inch circle on a floured surface. Place a slice of cheese on a circle of dough, top with a few spoonfuls of peppers and sausage, then add another slice of cheese on top. Fold over the dough so the calzone is a half-moon shape, then fold the edges of the dough over and pinch shut. Place on a parchment-lined sheet tray and repeat with the rest of the dough.
4. Garlic butter: Stir together all ingredients.
5. Brush calzones with garlic butter. Bake for 15 minutes or until golden brown.
6. Garnish with minced parsley. Serve with the rest of the Prego Traditional Italian Sauce heated on the side for dipping.