APPLE DUMPLINGS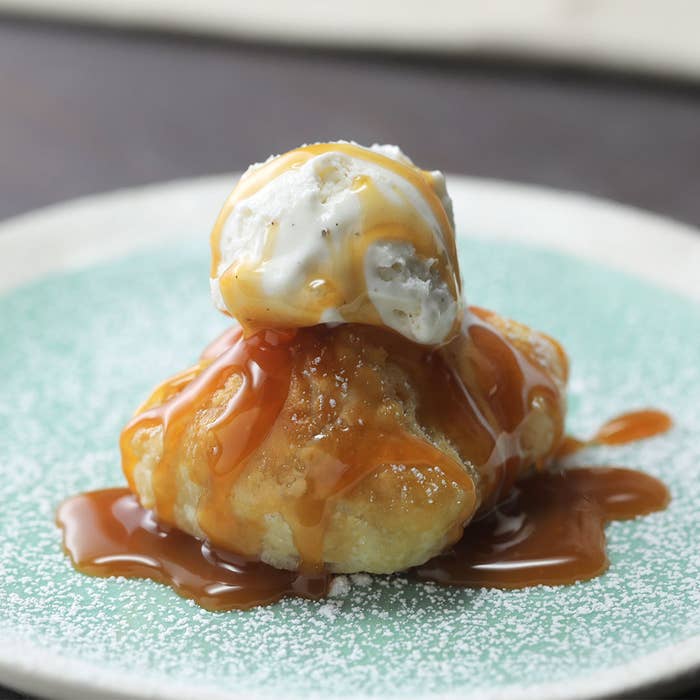 INGREDIENTS:
Servings: 10
2 apples, diced
3 tablespoons butter
½ cup brown sugar
1 teaspoon cinnamon
½ teaspoon ground ginger
Pinch of salt
1 sheet of puff pastry dough
1 egg
PREPARATION:
1. Preheat oven to 375ºF.

2. In a medium pan, melt the butter. Add the brown sugar, cinnamon, ginger, and salt, and stir until the sugar has melted completely and formed a sauce. Add the apples and toss until the apples are fully coated in the sauce. Remove pan from heat.

3. On a floured surface, roll out the puff pastry until it has doubled in size. Cut 4-inch squares.

4. Whisk egg with 1 tablespoon of water to form an egg wash.

5. Fill each square with 1½ tablespoons of apples. (Reserve extra syrup from apples.) Brush the edges of the squares with egg wash. Fold each corner of pastry over the apples until the apples are completely enclosed in the dumpling. Brush entire dumpling with egg wash.

6. Bake for 18–20 minutes, until golden brown. Dust with powdered sugar and drizzle with reserved syrup.