Slow Cooker Honey Garlic Pork Sliders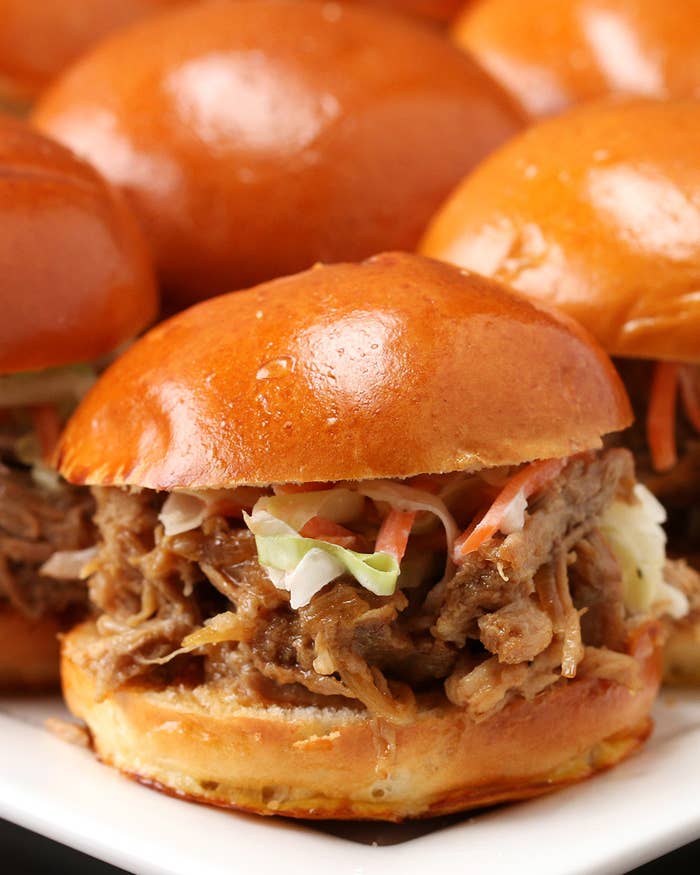 INGREDIENTS
Servings: 24 sliders
Honey Garlic Pork:
3 pounds boneless pork shoulder
½ cup honey
5 cloves garlic, crushed
2 tablespoons dijon mustard
1 teaspoon paprika
Salt, to taste
Pepper, to taste
1 red onion, sliced
24 slider buns
Coleslaw:
3½ cups coleslaw mix (shredded cabbage and carrot)
¾ cup mayonnaise
2 tablespoons apple cider vinegar
1 tablespoon honey
Salt, to taste
Pepper, to taste
PREPARATION
1. For the pork, combine the honey, garlic, mustard, paprika, salt, and pepper in a bowl and mix thoroughly. 

2. Place sliced onions on the bottom of a slow cooker and lay meat on top. Drizzle honey mixture on top of the meat and spread it around to evenly coat the meat. 

3. Cover and slow cook on high for 5 to 6 hours or until fork tender. 

4. While pork is cooking, combine all coleslaw ingredients except the cabbage/carrot in a large bowl and stir. Then add in cabbage/carrot and stir to coat. Refrigerate until the pork is done cooking. 

5. Once the pork is done slow cooking, shred and stir around in the juices. 

6. Spoon some shredded pork onto a slider bun, top with coleslaw and serve.

7. Enjoy!