Cheesy Spinach Stuffed Pork Chops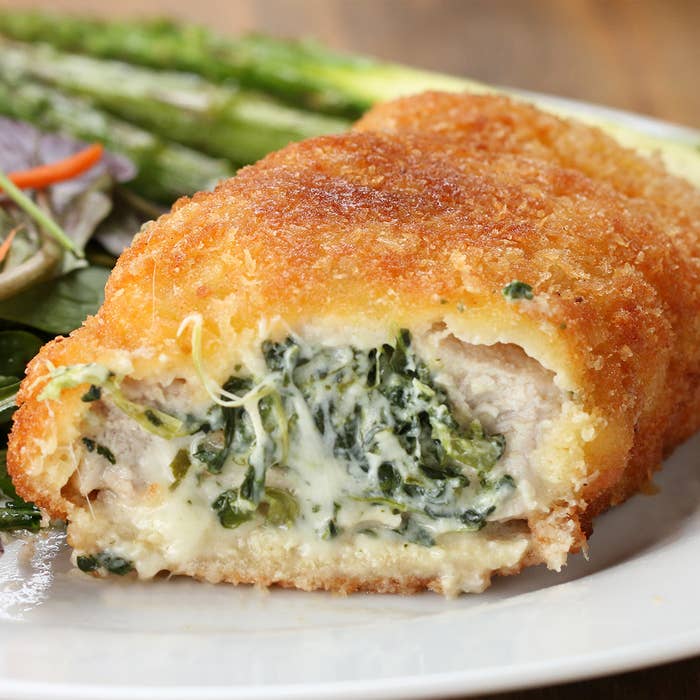 INGREDIENTS
Servings: 4
2 ounces cream cheese
½ cup mozzarella, shredded
2 tablespoons Parmesan, grated
Salt, to taste
Pepper, to taste
¾ cup frozen cooked spinach, thawed and squeezed out
6 1-inch thick pork chops
5 eggs
1 cups flour
3 cups panko breadcrumbs
Oil for frying
PREPARATION
1. Preheat the oven to 375℉/190℃ and heat 1-inch of oil to 375ºF/190ºC in a deep pan.

2. Add the cream cheese, mozzarella, Parmesan, spinach, salt, and pepper to a bowl and thoroughly combine.
3. Season the top and bottom of the pork chop with salt and pepper, then slice a thin slit down the side of each chop.

4. Stuff each pork chop with an even amount of filling and press the edge to seal it. 

5. Dip the chops in flour, then egg, then breadcrumbs, and back in the egg and breadcrumbs again. 

6. Fry the chops until the breadcrumbs are golden brown, then transfer to a baking sheet and bake until the internal temperature reaches between 145ºF/65ºC and 160ºF/75ºC. Let rest for 3 minutes. 

7. Enjoy!