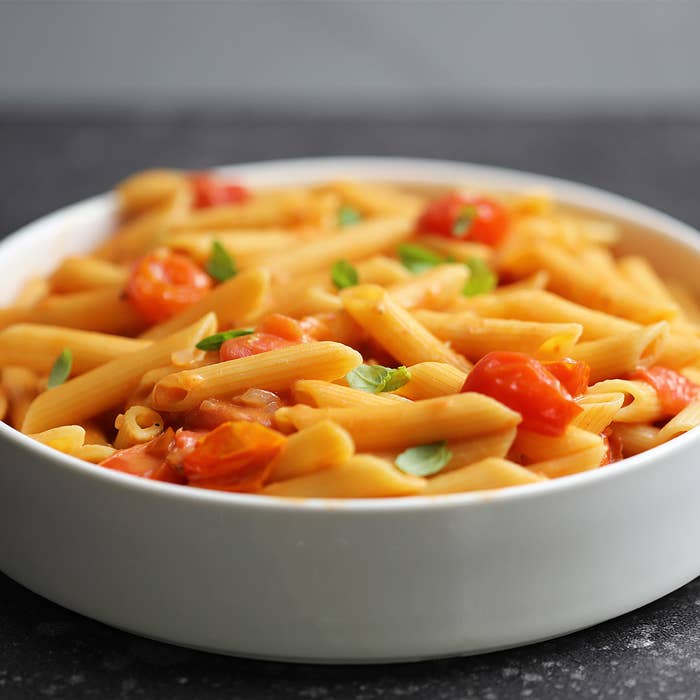 INGREDIENTS:
8 ounces penne pasta
2 tablespoons olive oil
1⁄4 cup finely chopped shallot
10 ounces cherry tomatoes, halved
2 tablespoons tomato paste
1⁄2 teaspoon white wine vinegar
11⁄2 teaspoons kosher salt
Freshly ground pepper
3⁄4 cup Planet Oat Extra Creamy
Basil leaves, for garnish
PREPARATION:
1. Bring a large pot of heavily salted water to a boil. Add penne and cook for 1 minute short of the package directions. Reserve a 1⁄2 cup of cooking liquid, then drain pasta.
2. Heat olive oil in a large skillet over low heat. Add shallots and cook for 5 minutes until they begin to soften. Add cherry tomatoes and cook for 3 minutes. Add tomato paste, white wine vinegar, kosher salt, and a few grinds of pepper and mix in well.
3. Mix in Planet Oat Extra Creamy. Bring to a light simmer for 2–3 minutes. Add in drained pasta and 3 tablespoons of cooking liquid. Bring everything to a simmer, stirring constantly, until sauce reduces and clings to the pasta. (If sauce gets too thick, add an extra splash of cooking liquid to loosen it up.)
4. Serve pasta drizzled with a bit more olive oil and garnished with basil leaves.