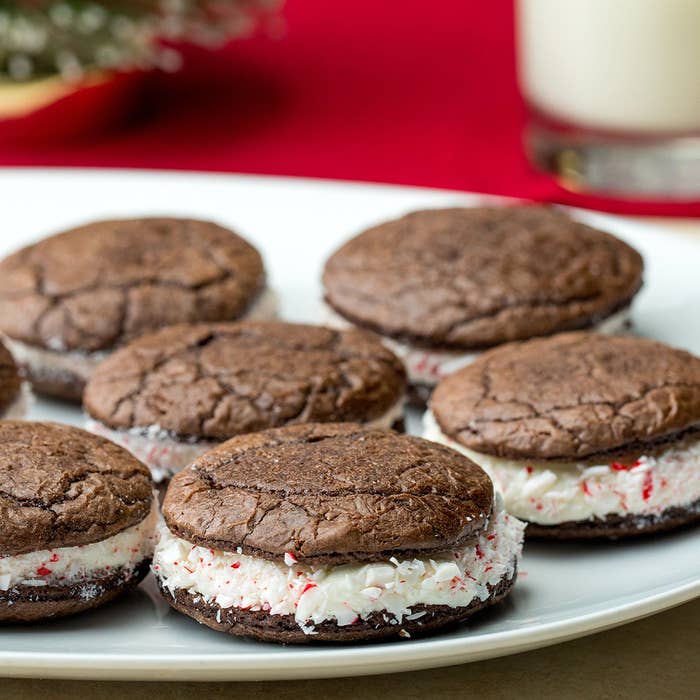 Servings: 12
Ingredients:
1 box Pillsbury Chocolate Fudge Brownie Mix
¼ cup Pillsbury All-Purpose Flour
¼ cup vegetable oil
3 tablespoons water
2 eggs
½ cup unsalted butter, softened
4 ounces cream cheese, softened
2½ cups powdered sugar
½ teaspoon kosher salt
¾ teaspoon peppermint extract
⅓ cup crushed peppermint candies
Preparation:
Preheat oven to 350ºF (325ºF for convection).
Whisk together Pillsbury Chocolate Fudge Brownie Mix and all-purpose flour. Whisk in
vegetable oil, water, and eggs.
Using a tablespoon-size cookie scoop, scoop dough onto parchment-lined sheet trays,
leaving about two inches of space between each cookie.
Bake for 9 minutes or until cookies are set. Let cool completely.
Place butter, cream cheese, powdered sugar, kosher salt, and peppermint extract in a
bowl. Beat with a hand mixer until smooth.
Spread peppermint frosting on the flat side of a brownie cookie. Top with another
brownie cookie to make a sandwich. Spoon crushed peppermint candies along the
edges of the frosting for garnish. Enjoy!