BBQ Bacon Onion-Wrapped Meatballs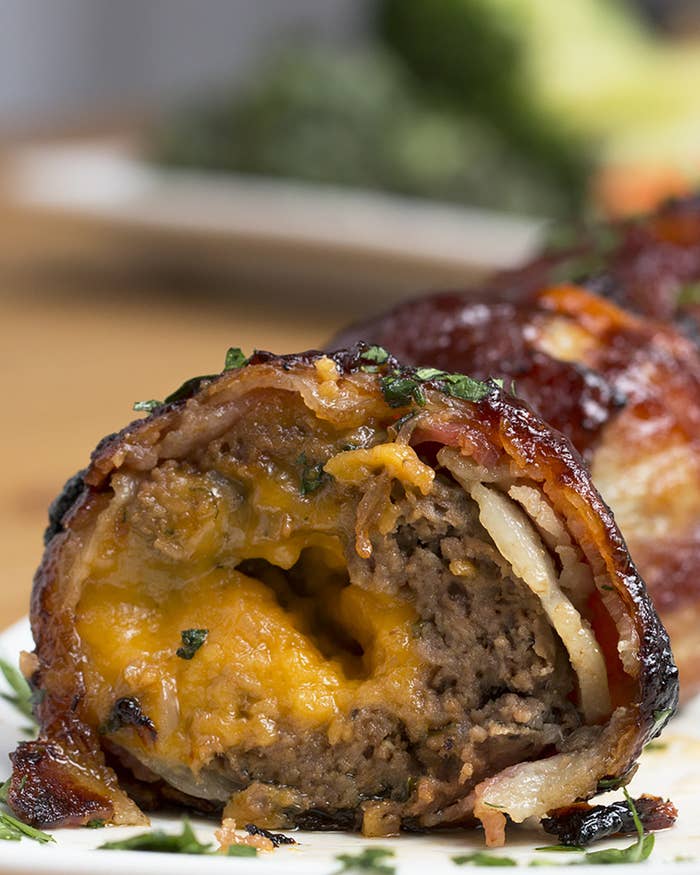 INGREDIENTS
1 pound ground beef
1 teaspoon garlic powder
1 teaspoon onion powder
1 teaspoon pepper
2 teaspoons salt
¼ cup bread crumbs
3 cloves garlic, minced
½ onion, diced
⅓ loosely packed cup parsley
1 egg
1 tablespoon ketchup
1 tablespoon mustard
1 teaspoon Worcestershire sauce
1 tablespoon honey
4-6 medium-sized onions
8 ounces cheddar cheese, cubed
16-24 pieces of bacon
1 bottle BBQ sauce
PREPARATION
1. Preheat oven to 425˚F/220˚F.
2. In a large mixing bowl, combine ground beef with garlic powder, onion powder, pepper, salt, bread crumbs, garlic, onion, parsley, egg, ketchup, mustard, Worcestershire sauce, and honey until evenly combined.
3. Cut onions vertically on cutting board. Remove the stem and root from each piece.
4. Save onion shells suitable to wrap meatballs.
5. Remove meatball mixture from refrigerator and form into golf ball-sized meatballs. Stuff meatballs with cube of cheddar cheese.
6. Wrap each meatball in two onion shells and transfer to parchment-lined baking tray.
7. Wrap onion-shelled meatball with 2-3 pieces of bacon meatball is covered and making sure each piece of bacon is secured with a toothpick.
8. Brush each meatball with BBQ sauce covering completely.
9. Bake for 45 minutes, brushing again with BBQ sauce halfway through.
10. Enjoy!