Greek Spinach Pies (Spanakopita)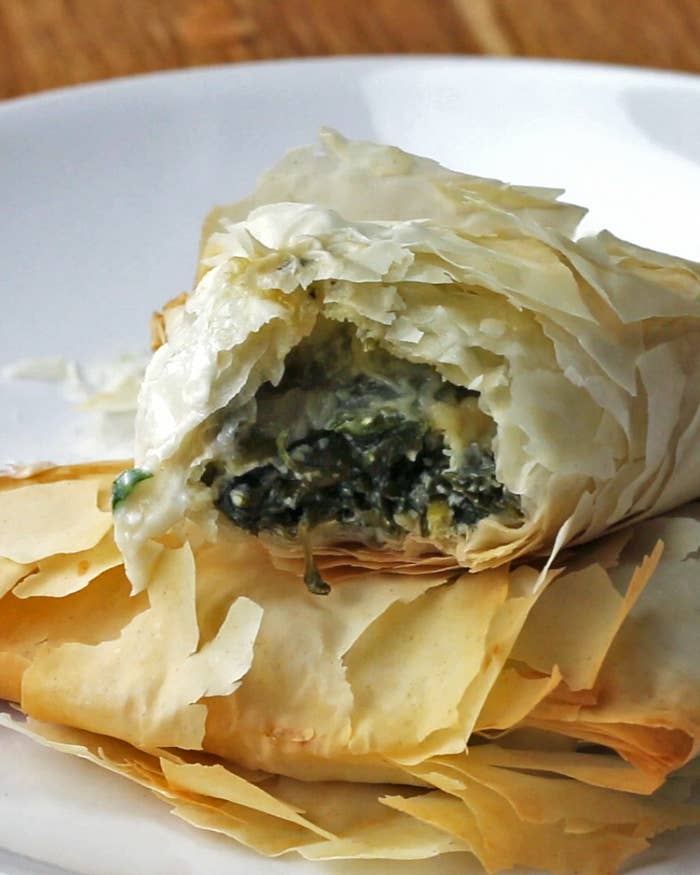 INGREDIENTS
Servings: 8 triangles
2 tablespoons olive oil
1 cup green onions, chopped
15 ounces spinach
4 cloves garlic, chopped
1 cup feta cheese
½ cup ricotta cheese
¼ cup dill, chopped
¼ cup parsley, chopped
1 teaspoon salt
1 teaspoon pepper
8 sheets phyllo dough
INSTRUCTIONS
1. Preheat oven to 350˚F/180˚C.
2. In a large pan over medium heat, cook the green onions and garlic in the olive oil until soft.
3. Add half the spinach, giving time for some to cook down before adding the rest.
4. Once the spinach has cooked down, transfer to a medium mixing bowl to cool slightly.
5. Add the feta, ricotta, egg, dill, parsley, salt, and pepper, and mix until evenly spread. Set in refrigerator.
6. Lay out one sheet of phyllo dough on a dry surface. Using a pastry brush, coat evenly with olive oil. Add another sheet of phyllo dough on top of the oiled sheet and repeat the oiling process. Continue until there is a stack of 4 oiled sheets.
7. Cut your dough into 4 sections using a pizza cutter. Repeat step 5 for a total of 8 triangles.
8. With a single section, add a spoonful of your spinach mix and begin folding over your pastry, brushing each fold with oil. Repeat this process for the remaining sections.
9. Bake in a preheated oven for 25-30 minutes or until golden brown.
10. Enjoy!