Cheesy Pizza Roll-Up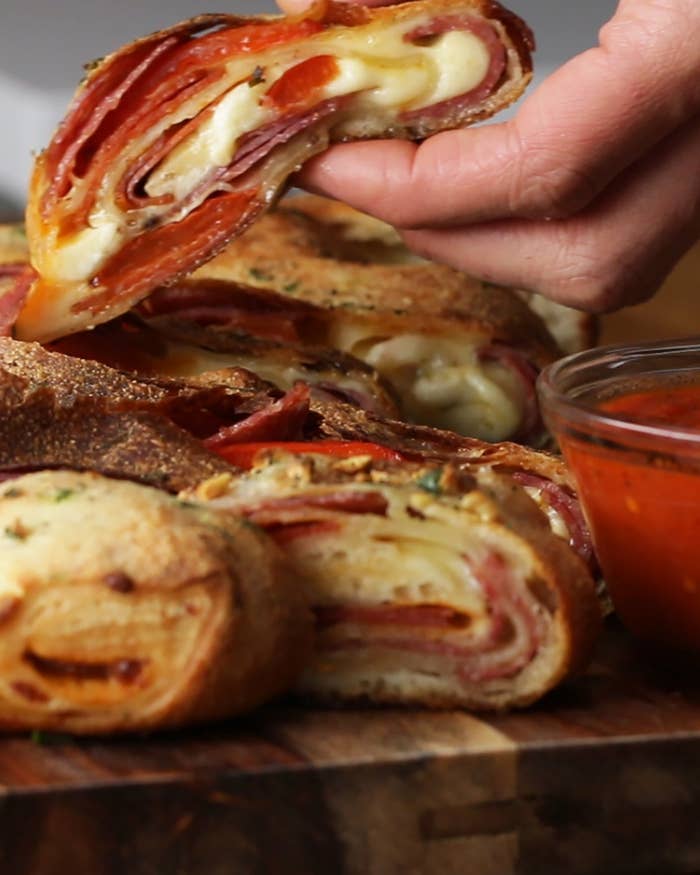 INGRIDIENTS
Servings: 6-8
Stromboli
1 package of pizza dough
1 package of pepperoni (roughly 30 small slices)
1 package of salami (roughly 30 small slices)
8 mozzarella cheese slices, cut in half
1 cup shredded mozzarella cheese
1 jar of pizza sauce
½ cup roasted red pepper
1 teaspoon red pepper flakes
1 teaspoon oregano
Garlic Butter
3 tablespoons butter, melted
2 cloves garlic, chopped
2 tablespoons parsley, chopped
1 teaspoon pepper
1 teaspoon salt
PREPARATION
1. Remove dough from package and roll out on lightly floured surface to desired size.
2. Add alternating rows of pepperoni, mozzarella, and salami until dough is covered, leaving 1½ inches of space along the outside of the dough.
3. Add the roasted red pepper, shredded mozzarella, red pepper flakes, and oregano on top of meat and cheese.
4. Roll up the stromboli slowly.
5. Combine melted butter, garlic, parsley, salt, and pepper. Brush the butter mixture onto the stromboli, evenly coating each side.
6. Bake stromboli at 400˚F/200˚C until golden brown (about 15-20 minutes).
7. Enjoy!