Mother's Day Brunch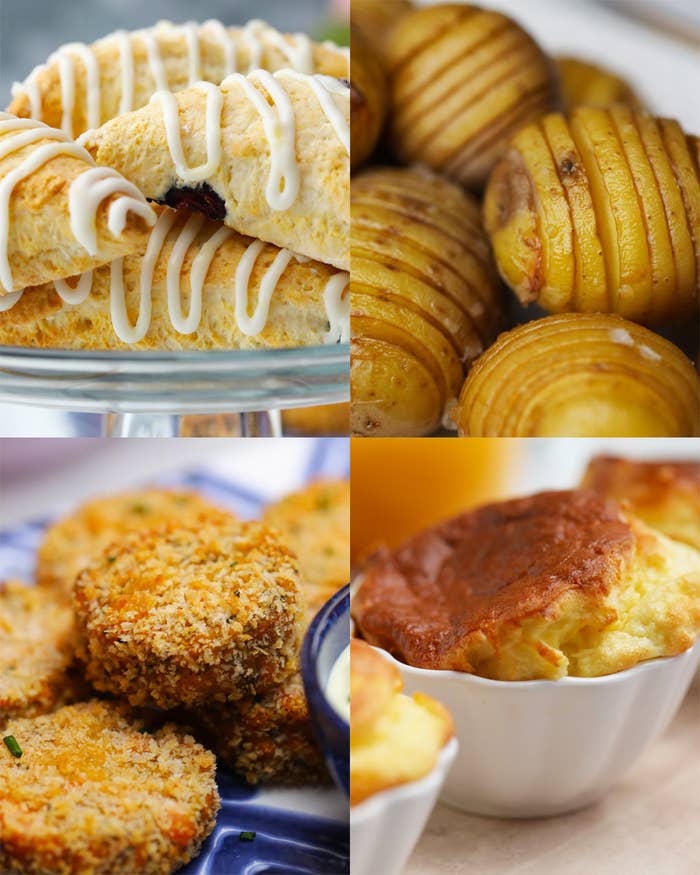 Cheese Soufflé
Servings: 4
INGREDIENTS
3 tablespoons butter
2 tablespoons grated Parmesan
2 teaspoons flour
½ cup milk
½ cup grated Swiss cheese
Pinch of nutmeg
2 egg yolks
2 egg whites
pinch salt
PREPARATION
1. Grease four 4-oz. ramekins with 1 tablespoon of butter and coat with Parmesan.
2. In a small saucepan over medium heat, melt the remaining butter. Stir in the flour and cook 1 minute.
3. Whisk in the milk and cook, stirring constantly, until the sauce boils, 1 minute. Remove from heat and stir in the cheese until melted.
4. Blend in nutmeg. Whisk in the yolks one at a time. Set aside. (The recipe can be made to this point up to 1 day ahead.) Cover with plastic wrap and refrigerate.
5. In a clean bowl, beat the egg whites until stiff (but not dry) peaks form. Stir ¼ of the egg whites into the cheese sauce to loosen it. Gently fold in the remaining egg whites. Spoon into the ramekins. Bake at 330°F until puffed and browned, about 14 minutes.
Easy Blueberry Scones
Servings: 8
INGREDIENTS
2¼ cup biscuit mix
¾ cup fresh blueberries
3 tablespoons of AP flour
¼ cup sugar
½ cup blueberries
⅔ cup whole milk
1 tablespoon lemon zest
PREPARATION
1. Mix together the baking mix and sugar. Toss blueberries into 1 tablespoon of flour and add to biscuit mix. Add flour, milk, and lemon zest and mix, being careful not to break the blueberries.
2. Turn dough out onto a table with the remaining flour and roll to 1-inch thick, squaring off the edges. Cut into four 2½-inch squares and then into triangles.
3. Carefully place triangles into air fryer and bake at 350°F for 5–7 minutes or until golden brown.
4. Decorate with glaze or sugar and enjoy!
Salmon Patties
Servings 5
INGREDIENTS
12 ounces skinless salmon
2 eggs
2 teaspoons fresh chives
½ cup panko bread crumbs, plus extra for coating
1 tablespoon olive oil
2 teaspoons Old Bay seasoning
2 teaspoons dry dill
2 teaspoons dry parsley
1 tablespoon mayo
PREPARATION
1. Poach salmon by simmering in water until cooked, about 10 minutes. Let cool.
2. Lightly shred salmon using 2 forks.
3. Mix together salmon, mayo, eggs, chives, panko, olive oil, and herbs.
4. Form patties into 2-inch ovals, then roll in panko.
5. Refrigerate for at least 2 hours.
6. Place in air fryer and cook at 390°F for 12–15 minutes or until browned.
Easy Roast Potatoes
Servings: 4
INGREDIENTS
8 small potatoes (any variety)
Salt
PREPARATION
1. Place potatoes between 2 chopsticks or wooden skewers. Cut potatoes perpendicularly to the sticks — as close as possible while working across, being careful not to slice too deeply.
2. Sprinkle with salt.
3. Place in air fryer and cook at 375°F for 15 minutes or until golden brown.
4. Enjoy!