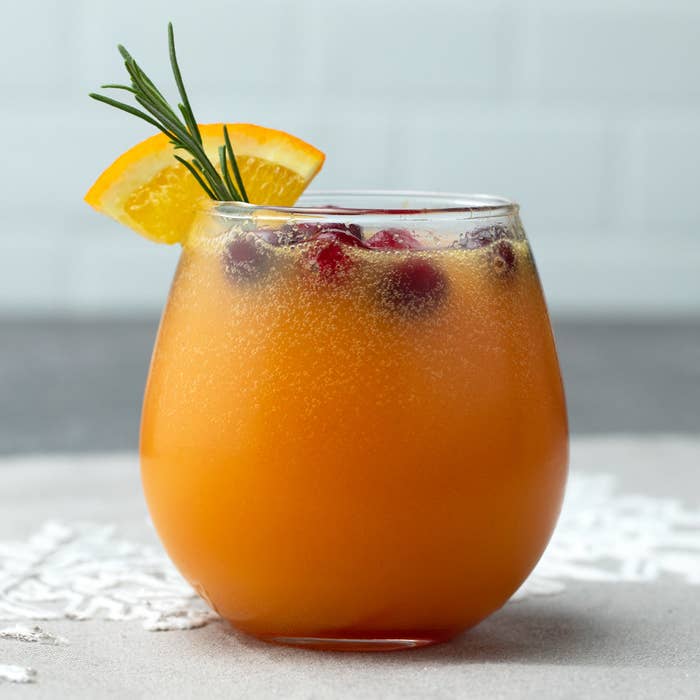 Ingredients:
Ice Cubes
4 cups cranberry juice
Punch
½ cup lemon juice
2 rosemary sprigs, stems removed
6 cups orange juice
Orange slices, for garnish
Frozen cranberries, for garnish
Whole rosemary sprigs, for garnish
8 cans L'Orange Flavor PERRIER® Carbonated Mineral Water
Preparation:
1. Ice cubes: Pour cranberry juice into 2 ice-cube molds. Freeze overnight.
2. Punch: Combine lemon juice and rosemary in a small blender. Blend for 10–20 seconds or until rosemary is broken down. Strain.
3. Pour infused lemon juice into a pitcher. Add orange juice. Garnish with orange slices, a few handfuls of frozen cranberries, and a few rosemary sprigs.
4. To serve, place 3 cranberry ice cubes in a punch glass or a stemless wine glass. Pour in 4 ounces of orange juice punch mixture. Fill glass the rest of the way with Orange Perrier. Option to garnish each individual glass with more cranberries, orange slices, and rosemary.