 1.
Maximize closet space by making your own slide out scarf and belt holders. 2.
Put lazy susans in the corners of your pantry. 4.
A little craft store rack will hold hair accessories for a little girl's bathroom. 5.
Hanging shoe organizers have many uses, and holding paper towel rolls is a brilliant one. 6.
Vertical hanging baskets gets your crap off the floor without taking up any valuable shelf or wall space. 7.
Take advantage of your exposed beams with wire shelves. 8.
Put a lid rack in a bedroom, not the kitchen, for a little clutch organization. 9.
A coat rack hung low on the wall makes a space-saving shoe rack. 10.
Get rid of desk clutter by velcroing your hard drive underneath. 11.
Neaten up your cupboards by hanging hooks for your mugs. 12.
Keep cutting boards and racks in tall baskets. 13.
Hang S hooks from a ventilation hood to display pots and pans. 14.
Put a tension rod in a deep kitchen drawer to hold your lids in place. 15.
Use pipe fittings to hold kitchen utensils. 16.
Or use them in the bathroom to hold your hair styling tools. 17.
Hooks on a shower curtain rod are a minimalist way to store your bath toiletries. 18.
Make a playmat that easily turns into a bag for the easiest cleanup ever. Hopefully you'll never step on a Lego again. Directions here.
19.
Legos make awesome organizers for a desk/office area. 20.
Use egg cartons to organize your stuff, like, say, your vast nail polish collection or jewelry or whatever. 21.
A box made out of pegboard will hold even more stuff.
22.
Use a mug tree to store scissors. 23.
Nails and a vintage frame are an organized way to keep your sewing thread nice and neat.
24.
Scrap wood brackets will easily hold your extra fold-up seating. 25.
A magnetic knife rack doesn't have to be used in the kitchen. 26.
Recycle plastic jugs to hold your loose bits and bobs in the garage.
27.
Winter is coming! Organize your tights on hangers. 28.
Need more bathroom storage? (Who doesn't.) Use spice racks. 29.
A magazine holder on the inside of a cabinet keeps a hair dryer from getting all tangled up in your stuff.. 30.
Carve little notches out of a medicine cabinet shelf to hold toothbrushes. 31.
Specially placed Command hooks gives you easy access to your rolls of foil and plastic wrap.
32.
A garment bag will keep your wrapping paper neat through the chaotic holidays. 33.
Use coat hooks to hang an ironing board. 34.
Aluminum foil packaging makes a great washi tape dispenser. 35.
Make a simple jewelry organizer from wood trim and upholstery tacks. 37.
These little mod pods are made from cereal bowls. 39.
Keep green onions fresh and at hand in a parmesan cheese container. 40.
Put flour and sugar bags in easy pour dispensers to make life easier. 41.
Hurting for more fridge storage? Keep like items together in plastic bins. 42.
Mesh laundry bags are a great way to store produce that should be ventilated. 43.
Disinfecting wipe containers make great portable baggie holders. 44.
Command hooks and binder clips create an ideal bag display on the inside of a pantry door. 45.
Or hang them from wire shelves to preserve your precious shelf space. 46.
A shower caddy ingeniously doubles as a produce rack in the kitchen.
47.
Use the dead space in your closet to hang your suitcases and weekender bags. 48.
Shower curtain hooks are an attractive way to hang bags in a closet. 49.
IKEA's Ribba works as a ledge wherever you need a place to stash your devices. 50.
Use velcro in the living room to keep track of easy-to-lose objects that you want to keep super accessible.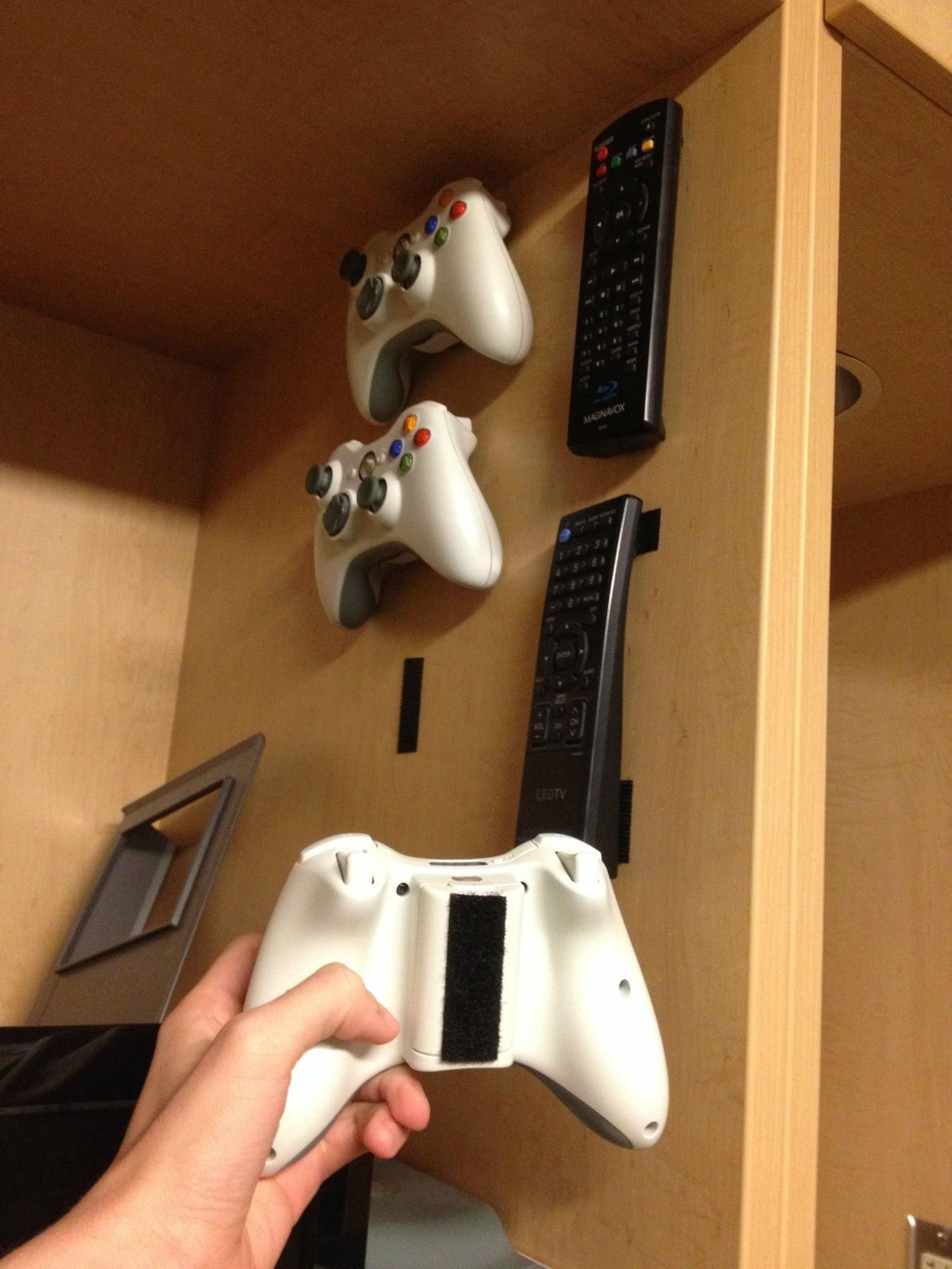 51.
Get those recycling bins off the floor and onto the walls. Want more great DIY tips? Sign up for the BuzzFeed DIY newsletter and you'll get them in your inbox four times a week!