We Could Soon Know How Australians' Medicare Details Ended Up On The Dark Web
Australians still don't know if their Medicare cards are compromised.
The sale of Australians' Medicare details on the Dark Web, and how the federal government handles personal information, will be investigated by a sweeping parliamentary inquiry.
In July it was revealed that the Medicare card details of any Australian was available for purchase on a popular Dark Web site for just US$22.
The vendor on the site claimed to be "exploiting a vulnerability" in a government service and said they could provide the personal Medicare card details of any Australian on request, once a full name and date of birth had been supplied.
They advertised their illegal service using a fake Australian government logo, calling their listing the "Medicare Machine". Since October 2016 at least 75 sales were made through the listing.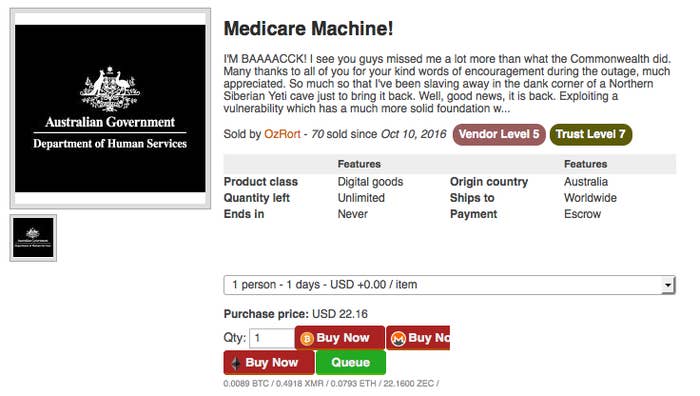 Human services minister Alan Tudge came under fire from Labor and the Greens over the revelation. Tudge conceded he and his department only became aware of the sale of Medicare details after being contacted by a journalist.

Tudge referred the matter to the Australian Federal Police for investigation, and also announced an independent inquiry led by former public service head Peter Shergold.

But the Senate has demanded its own answers to the sale of the data. A broad parliamentary inquiry was established in the Senate last week to investigate the sale of Australians' Medicare details.
It will specifically examine any failures in data security; how the government handles medical information; and any implications for the rollout of Australia's digital online health record system. Submissions to the inquiry are open until August 31.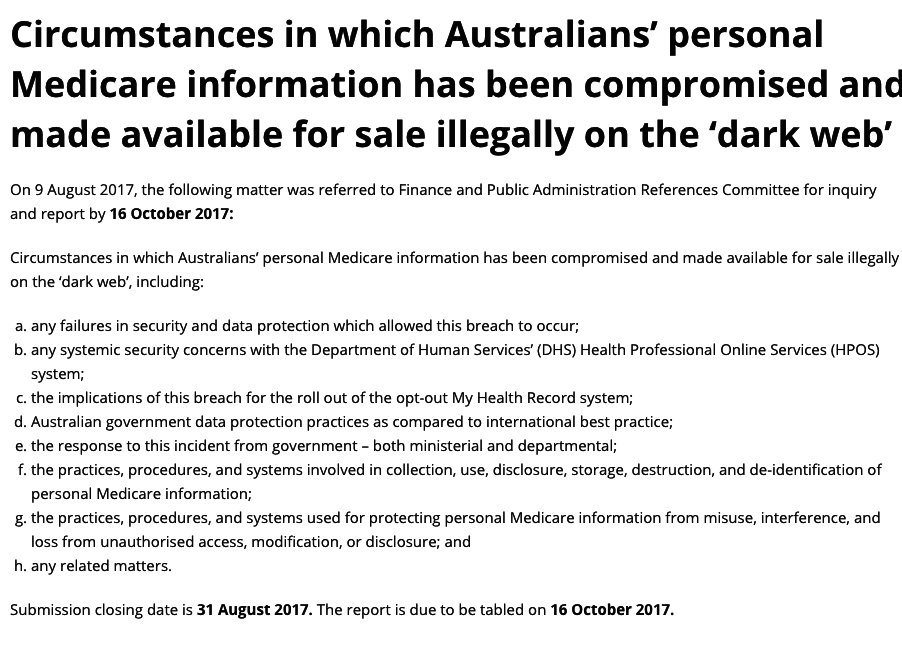 The data was sold on the Dark Web site Alphabay, a commercial site that had hundreds of thousands of listings of illegal goods.

But just days after the revelations, the entire site was shut down by a major law enforcement operation.
The removal of the site may make it harder for Australian law enforcement officials to track those who were selling Australians' personal details.
It's unclear whether the 75 Australians who had their card details sold are aware it occurred.
Medicare card details are extremely valuable to organised crime groups which are seeking to engage in identity fraud. The card details have previously been used by drug rings to lease property or purchase items necessary for drug manufacturing.