This Mysterious Chinese Political Donor Is Being Sued For $1m In Unpaid Wages
She's one of the Liberal party's biggest donors.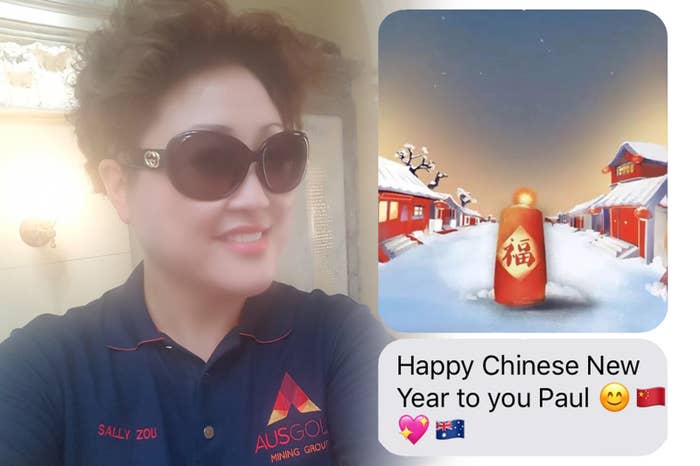 A Chinese mining magnate who donated more than $400,000 to the Liberal party is facing a federal court claim for more than $1million in unpaid wages from her former mine manager.

Sally Zou - also known as Sha Zou - is an enigmatic Chinese Australian mining magnate, who holds a number of mining leases in South Australia and New South Wales. She has drawn considerable attention in political circles with a series of hefty political donations she has made to the Liberal party.
She also set a company called the "Julie Bishop Glorious Foundation", but changed it after a week and deregistered it later in 2017. The foreign minister Julie Bishop said she had no knowledge of the foundation before it was raised by news organisations.

Zou's company Aus Gold Pty Ltd donated $366,000 to the Liberal Party in the 2016-2017 disclosure period, while another of her companies, Aus Food Alliance Pty Ltd, donated a further $50,000.

But her mining operations have not gone quite to plan. BuzzFeed News can reveal her former general manager Lee Rossetti has lodged a federal court claim for more than $1million in unpaid wages.
The claim against Aus Gold Pty Ltd and Zou sets out details of how the mining operation began, and alleges a series of breaches of contract, breaches of the fair work act and breaches of Australian Consumer Law.
Rossetti, an experienced mine consultant in Australia, sets out that in a phone conversation in November 2014 Zou agreed to pay him, through her company, a salary of $250,000 per year as general manager for five years of employment to review potential mining projects in South Australia, New South Wales and Queensland.

Rossetti alleges he was paid a total of just $218,000 between December 2014 and April 2017, at which point his contract was terminated.
He alleges that Zou failed to pay him wages at the rate he was owed during this period, totaling $358,000. He is also seeking $673,972 for the remainder of the contract period after his termination.
He also alleges he was paid no superannuation at all by Zou, and is owed $118,750.
To support his claim, Rossetti sets out an alleged phone conversation between him and Zou in November 2014 where she told him: "Lee, we must get a mine going."
Rossetti replied: "Sally, iron more is no good the price trend continues to fall, nickel is no good and copper continues to head south, no good. The only thing that is good is gold."
Rossetti claims that Zou told him he would be appointed the general manager at the salary of $250,000.
When BuzzFeed News first contacted Zou, she said had considerable information she wished to share.
She then sent a message saying she had passed on BuzzFeed News' query to her lawyers, writing "I trust Australia's law."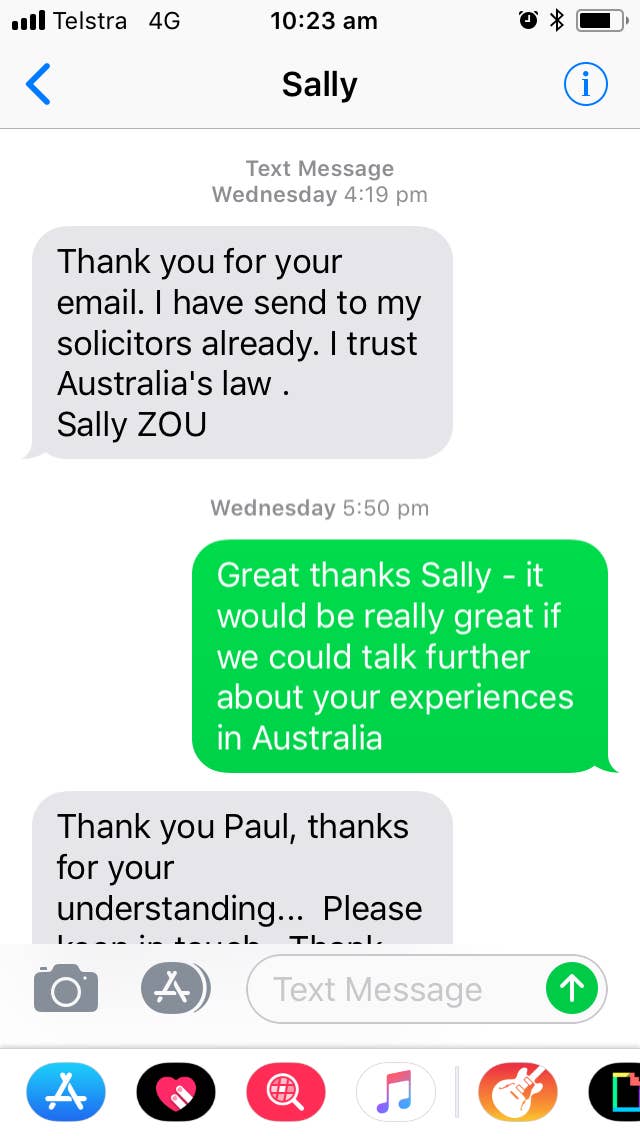 For several days she exchanged further polite text messages with BuzzFeed News, including a Chinese new year message.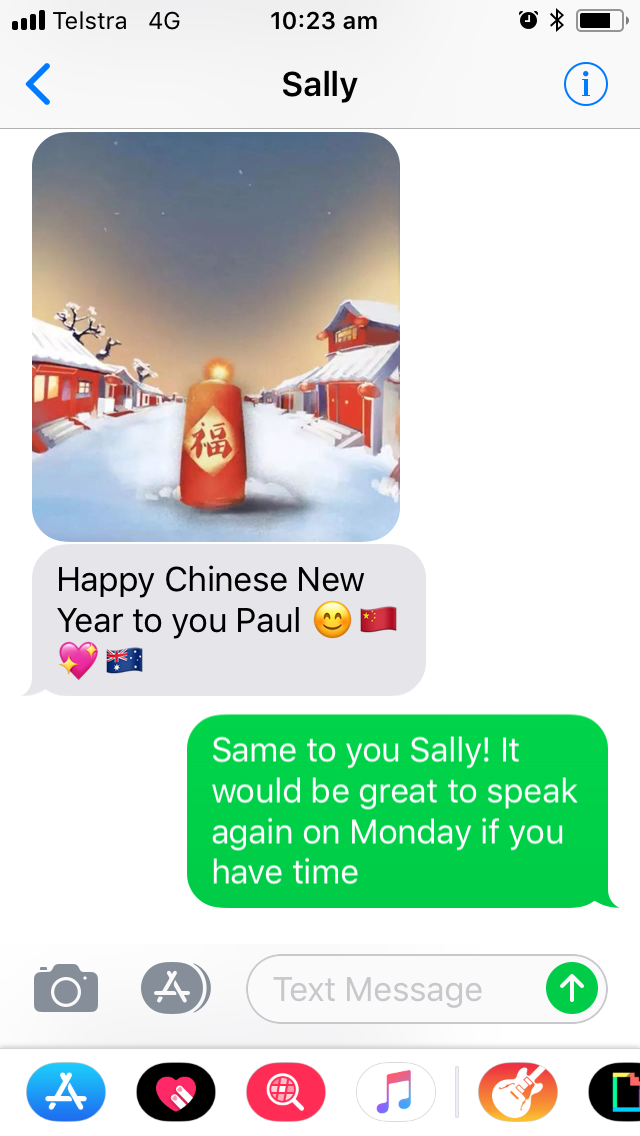 She then sent a message saying that a business partner would reply on her behalf, along with a watermelon emoji.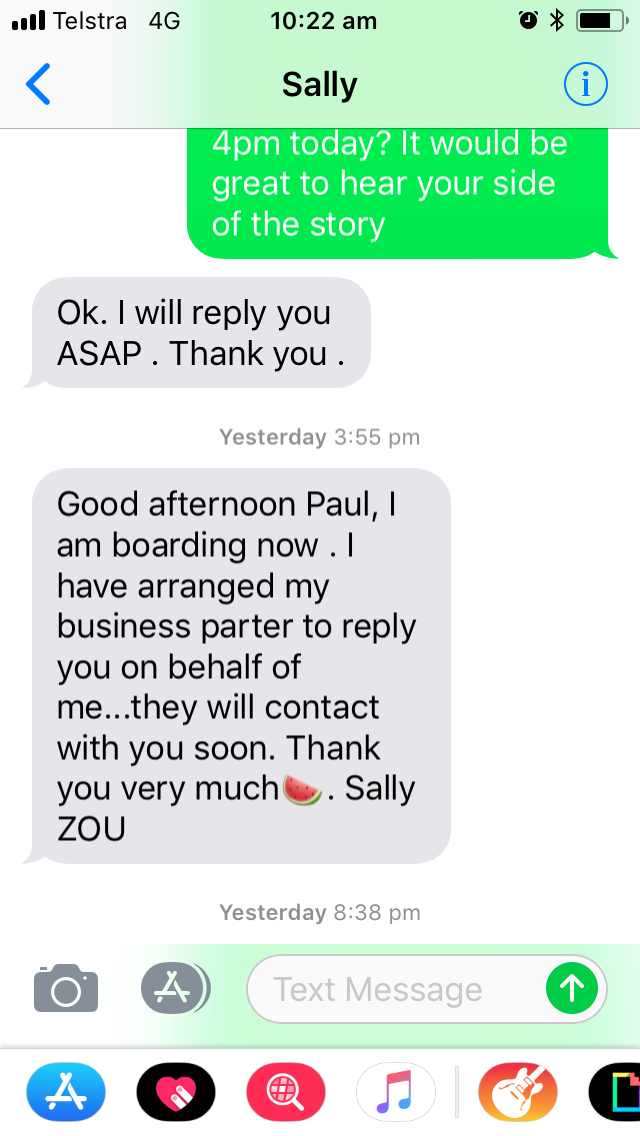 BuzzFeed News was then contacted by the multinational PR firm Powell Tate, where account manager Francisco Lacerda said in a statement: "Unfortunately we will not be commenting on this claim as it is now under legal proceedings. AusGold fully respects the Australian legal system."

Lacerda clarified that Zou was a client, and not a business partner.
Zou's legal team Ren Zhou Lawyers is yet to respond to the statement of claim filed by Rossetti in the federal court. A case management hearing is currently set down for March 2.
Zou has extensive corporate holdings in Australia. She is a director of Aus Food Alliance Pty Ltd, Aus Gold Energy Pty Ltd, Aus Gold Exchange Pty Ltd, Aus Metals Groups, Aus Diamond Mining Group Pty Ltd and Aus Gold Mining Group Pty Ltd.
Do you know more? Contact Paul Farrell at paul.farrell@buzzfeed.com or using the Signal secure messaging app on +61457262172