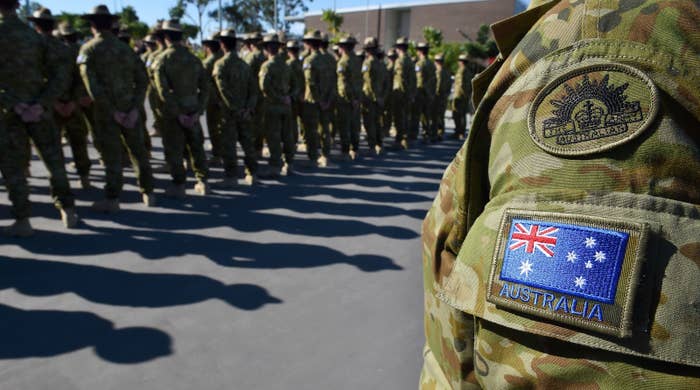 Australia's defence department is reviewing a sweeping gag on disclosure of the names of military personnel charged with serious criminal misconduct.

The announcement was made by a defence spokeswoman following a BuzzFeed News report that found Australia's defence department was suppressing the names of more than 150 personnel charged with serious criminal offences.
Documents obtained under Australia's freedom of information laws reveal that since September 2014 the Directorate of Military Prosecution has brought charges against 152 defence personnel across Australia's army, navy, and air force.
But while in an ordinary Australian court the names of the alleged offenders would generally be publicly accessible, the defence department's registrar of military justice, group captain Nina Harvey, has sought to suppress the identities of all defence personnel who have had charges brought against them.
The offences vary in their severity, but include charges such as acts of indecency without consent, fraud, forcible confinement, destroying evidence, misuse of credit cards, threat to inflict grievous bodily harm, negligent performance of duty, and assault occasioning actual bodily harm.

While public access to defence court martials is theoretically possible, it is made exceedingly difficult by the defence department; the organisation refuses to publish court lists, and requires media personnel to be escorted in and out of proceedings.
The department failed to respond to BuzzFeed News' media queries about the decision by deadline. But it later provided a response setting out that it was examining how it was currently publishing information.
"The issue of publication of court martial and Defence Force magistrate lists and outcomes is currently under review. As part of this review, a number of legal and policy considerations are being taken into account. These include an analysis of other jurisdictions and the extent to which they are applicable to service tribunals," the spokeswoman said.
She added that the escort requirements "will depend upon the location of the court martial or Defence Force magistrate trial and prevailing security requirements", and noted that the primary court facility in Fyshwick in the ACT does not require an escort. However, a large number of proceedings are located in different states and locations.
Most trials are held where the person accused is posted, which the spokeswoman said often meant that many of the trials were in military establishments.
"Where a trial is held on a military establishment and the prevailing security requirements necessitate an escort of visitors then this is what will occur," she said.
BuzzFeed News has lodged an appeal against the decision to refuse access to the names of personnel with the Office of the Australian Information Commissioner.
Defence declined to comment on the FOI request, stating it was inappropriate to comment while a review was under way with the information commissioner.
Contact Paul Farrell securely using the Signal messaging app on +61 457 262 172