The courtroom is silent. A door opens at the back to a man in his fifties wearing a sharply cut navy suit. He walks in swiftly, jaw clenched, glancing to the left at the public gallery, past the dock, and up to the stand. A microphone arches round to his mouth for the oath.
His name cannot be reported – the law protects the anonymity of sexual abuse witnesses – but he wants his story to be told. We will call him Robert.
The judge asks Robert to speak up. "I'm a little nervous, sorry." His voice, clipped and reedy like a BBC announcer, falters, squeezed by a throat that will soon say words he never could when he was a child.
In the public gallery sits his younger sister. She has never heard those words. She never knew what happened – what was done to him.
The prosecution barrister stands. Behind her, facing Robert, is a transparent screen, clear plastic panels fanning up over the dock. Air holes puncture the middle panel. There is no air in this room. The plastic encases the man who sexually abused Robert 38 years ago. His name is Patrick Marshall.
Robert removes his glasses and looks out from the stand at a square, drab room with square ceiling lights, wooden benches, and a terracotta carpet – a crucible of modern municipality. The eight men and four women of the jury sit in two rows gazing at him. A solicitor, seated, taps on his keyboard. White wigs and black gowns – emblems of the English justice system – adorn the judge and the lawyers.
The jury will soon learn what Robert's former teacher did to him at one of Britain's oldest, most revered private schools: St Paul's.
Nine other men will also testify against Marshall, 70, all of whom came forward because of Robert. Newspapers have splashed the chief allegations, shaming another esteemed institution.
Some of Britain's most eminent public figures attended St Paul's. Some of the worst crimes against children have been committed there. Robert walked into a police station three years ago and described them. He has waited a lifetime to face the man responsible. To be heard.
He has invited BuzzFeed News here for the trial – and the lead-up to it – to reveal what happens when you testify against your abuser, and what it takes to walk into a courtroom after several decades to seek justice.
He stands straight, turns to the jury, and inhales.

It is Monday 16 January, the day before Robert is due to give evidence. He sits cross-legged on an armchair in his living room, grappling with what he is about to do. The feelings involved can be grouped into two categories, he says.

"One you could headline 'outrage and defiance': I'm going to right a wrong. The other is, I feel guilty. Guilty for having put my parents through this." A lamp glows behind him casting jagged shadows across his neat features.
His mother and father will also be testifying. They are in their eighties. He keeps thinking about his mother having to walk into court.
"I feel responsible, even though logically I know Marshall is," he says. "I feel that I'm fighting the establishment, because at the time St Paul's was the establishment."
Since it opened in 1509, St Paul's, in Barnes, southwest London, has educated the elite, including many of our finest writers – Samuel Pepys, G.K. Chesterton, Isaiah Berlin – and numerous figures from politics and the media: George Osborne, the former chancellor; Dan Snow, the historian; James Harding, the head of BBC News.
What the school represents still looms over Robert, just as his former teacher does. "Marshall is patrician power," says Robert. "And he was popular and cool and likable and I am none of those things."
He serves me tea in monochrome floral china. A tiny table awaits the saucer. The decor is muted: creams and aubergine and wood, with near-black geometric patterns on the ottoman. Symmetry abounds.
Robert was 15 when Marshall first put his tongue in his mouth.
He talks again about the trial tomorrow. After testifying and being cross-examined about the events from 1979 to 1980 – when Marshall was 32 – Robert has decided to sit in court for several days to hear the other witnesses.
"It's the business of my life," he says. "And I need to unravel all of this somehow, and I can't unravel it if there are still loads of questions."
He was the first person to report Marshall, the geography master and rowing coach, triggering a three-year police investigation. This is part of a wider Met investigation into St Paul's called Operation Winthorpe that has seen allegations against several other former teachers, some of whom have already been tried and convicted.
"I wish I hadn't been the first," he says. "It highlighted the fact that I was divisive and fiery." This, he says, was how he was seen as a teenager when the abuse had finished and he was left with pain and fury so great he could scarcely contain them.
"I wish someone else had done it. When the police have said [to me], 'You did this,' I don't hear, 'You did this – thank you…'" He screws his face up to a snarl and jabs his finger accusatorially. "I hear, 'YOU did this. YOU!'"
Over the next few hours, this theme of responsibility returns and returns – who was to blame? where were the consequences? – because until now there was only him: his guilt, his wreckage.
It took years to decide to drive to the police station. In his forties, he thought about doing something, knew he wanted to, but couldn't. "I didn't know what to do," he says. "I looked up Marshall's address one day and I was thinking about driving to where he lived in Surrey. In my fantasy I would go and challenge him, but then my practical side kicked in and said, And then what?"
Marshall used to call Robert his "fountain". He would say this after performing oral sex on him.
"The fact I've kept quiet about it all these years is…" Robert looks away. "I have a sense of guilt and responsibility because I overlooked the fact that he might have gone on to do that to other people who were equally vulnerable – or more so. Could I have stopped him? How many more were there?"
"I have a sense of guilt and responsibility because I overlooked the fact that he might have gone on to do that to other people who were equally vulnerable."
The Jimmy Savile scandal, which saw hundreds report being sexually abused by the television personality, helped persuade Robert to speak out. "I remember thinking that now people were talking about it, that you could go to the police and they wouldn't go, 'Bollocks.'"
Getting older was another push. "When I turned 50, because I no longer felt young, I no longer felt I had time on my side."
Marshall used to tell 15-year-old Robert that he loved him. He bought him gold cufflinks for his 16th birthday.
In the end, Robert's decision to act snapped in an instant. He was reading a report in The Times online about the number of private schools now being investigated for sexual abuse. A link to the journalist's email address appeared.
"Without thinking through the implications I sent an email off saying, 'Is St Paul's included?'" The journalist replied within minutes: "Should it be?"
Robert's eyes flicker around the room: the tasteful ornaments, the tidiness. "I had no idea what I was doing," he says. "I was opening a can of worms only thinking about the wriggly ones at the top. I wasn't thinking about all the sludge that has come out since: the effect on my family, strained friendships, sex life, finances, work. I thought of none of that because I didn't know. I didn't know I would feel like a 14-year-old again."
After a phone call with the police, Robert agreed to go in.
"As I was driving to the police station I told myself, 'You can do this, you can do this, you have to do this, this is the right thing to do.'"
In the end, the interview at the station proved transformative. "I felt heard," he says with gentle emphasis on the last word. "They were professional and courteous. They took me seriously. It was an enormous boost for me – I told a grown-up. And instead of giving me a hard time, they said, 'We'll look into this. Thank you.'"
"I didn't know I would feel like a 14-year-old again."
What Robert could not have foreseen was what it would trigger; that as police investigated Marshall, more and more men would start talking, echoing the statement he had made. "I felt less lonely," he says, but as the evidence swelled it also meant the trial date went back and back until three years had passed.
There were other unexpected outcomes. A former classmate sent Robert a series of messages on Facebook following the initial press reports. They were, he says, "hectoring – it was about, 'You made similar scurrilous accusations at the time and I would ask you to think again about poor Marshall and his family and his wife and what it's doing to them. You're obviously doing this for your own reasons. I suspect you might be gay.' Then I had another message an hour later getting increasingly annoyed because I hadn't responded."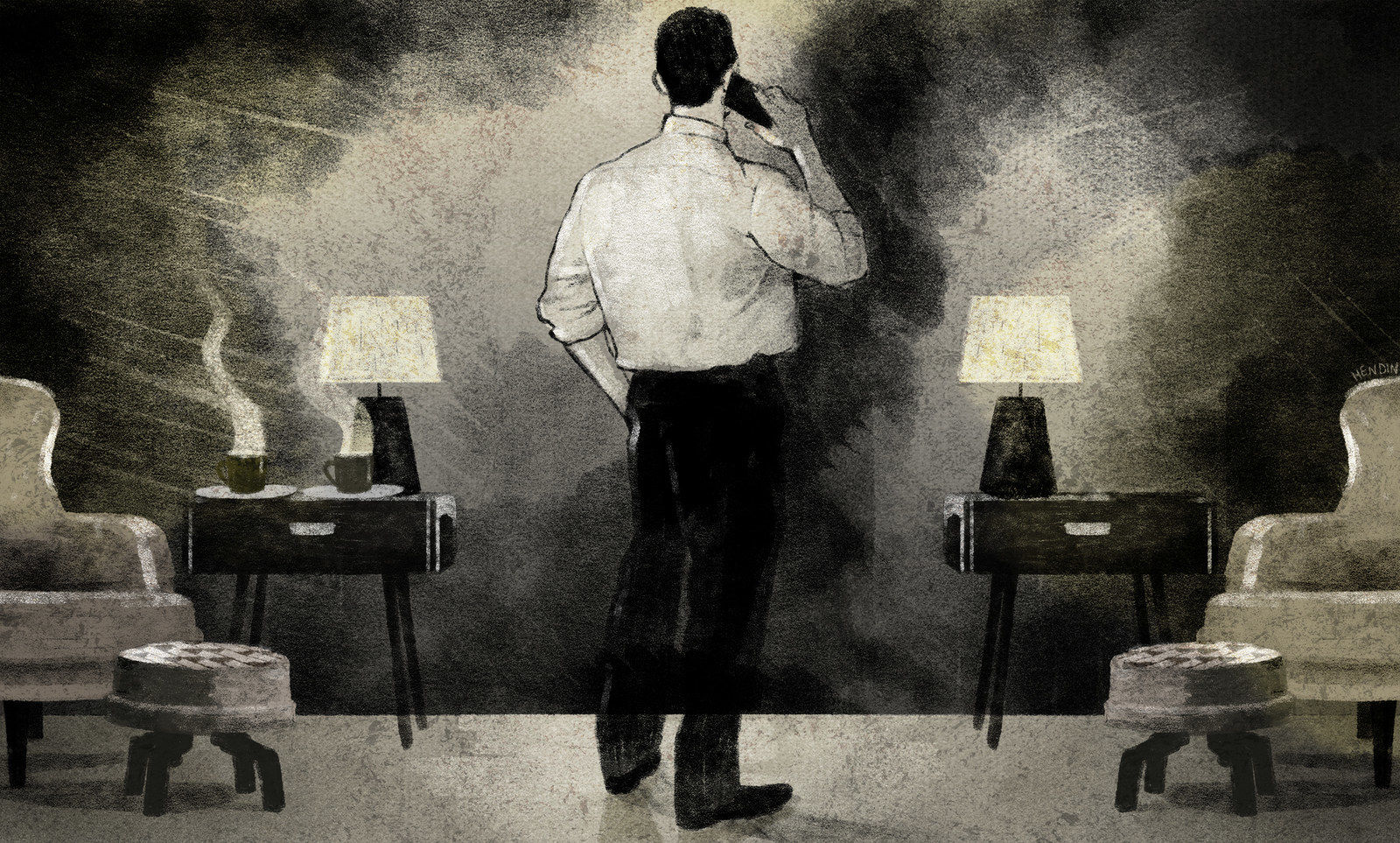 He recalls one of the lines in the message: "You would have misunderstood his friendliness." Robert scoffs in derision. "I remember reading it and thinking, No no no, YOU misunderstood his friendliness."
Robert forwarded the messages to the police. Without realising, the man who sent them confirmed part of Robert's story: that some of the pupils knew what was happening at the time.
"I said things to the other boys," he says. "I don't remember what I said but I indicated, some snide comment of a hurt 15-year-old. I was bullied for that because Marshall was really popular." They would push him and trip him up, he says.
The Facebook messages provoked all those memories. "I felt bullied again. And it made me much more determined to do something about it – that I was doing the right thing."
Nonetheless, in less than 24 hours, he will have to take the stand and face Marshall after nearly four decades. "I'm still scared of him," he says. The week before, pictures of his abuser appeared in newspapers.
"In one, outside the court, he's staring at the camera, looking out at me. That was very disturbing. The thought of seeing him? I won't look at him if I can help it – I still think he'd be powerful over me."
Earlier in the day, Robert went to a hypnotherapist in an attempt to boost his confidence for Tuesday. It appears to have helped. His face and body look relaxed; he seems composed – but this, it transpires, conceals endless looping thoughts.
"My biggest fear is that they find him guilty of all the charges except mine," he says. There are 25 in total; three relate to Robert. He keeps thinking about the jury – about them not believing him. This taunts him. He is plagued with worries about the cross-examination. "I have convinced myself that the defence [barrister] will plough into me, full of criticisms, because I am so flawed and the other witnesses are so good."
Although he's finally ready, the three-year build-up has gestated acute stress. It all rests upon tomorrow: how he comes across, whether he can remain composed. He just wants it to be over.
"Would you like more tea?" he asks, suddenly, as if wrenching himself out of his thoughts.
He sits back down and begins to describe the first meeting with Marshall outside of school. His phone rings. He looks at the screen.
"Hello?... Hi… What's wrong?..." He pauses and repeats back to the caller what they have just said: "I won't be giving evidence tomorrow." He winces. His other hand covers his eyes as he tries to keep the tone of his voice up.
"OK. Why not tomorrow?... No, it's not your fault… No problem at all… Thanks for letting me know…"
It now won't be until the day after tomorrow, he explains – another case has overrun. "I'm prepped for it tomorrow – can I keep this mood going? I don't know."
The grooming began with a phone call, he says. Marshall phoned him at home. Soon after, he took the boy out to dinner, grabbed his hand, and put it on his crotch.
Robert gets up to go to the toilet. Do you feel like an adult? I ask. He returns having thought about it.
"I feel like an adult now, talking to you," he says. "My fear is that I might be a 14-year-old boy again in the stand. For the last three or four months, knowing that the trial is getting closer, I have battled with feeling like a child again."
The last few weeks have unleashed an array of trauma symptoms. He started having flashbacks whenever he tried to have sex with his partner. "It's like someone pressing play and fast-forward on a slideshow of snapshots of sexual activities I had with Marshall," he says. They have stopped trying. He hasn't been sleeping.
"I wake up at 3am and I have very vivid dreams, normally about crime, about being misjudged. I wake up with a pounding heart and come and sit in here with a blanket. I'm exhausted during the day. My work has suffered."
"It's like someone pressing play and fast-forward on a slideshow of snapshots of sexual activities I had with Marshall."
He's started taking sleeping pills, along with Prozac. He doesn't want to go out; he feels frightened.
"Even while driving, I've got this notion that something is going to happen – a cyclist is going to jump the red light and end up in front of my car and I'll be blamed."
This particular fear splutters up from being misjudged by the other pupils when he told them what had been happening. Robert was an outcast from the moment he arrived at St Paul's. He was different: younger than everyone else, because he had been put up a year. His classmates were not exactly welcoming, he says. Robert was beginning to realise there was something else different, that he was not attracted to girls.
Marshall used to take Robert to a house he was renovating where they would get into bed. Robert was frightened, confused, and lonely. He thought it was a relationship.
"This wasn't a scuzzy science teacher, this was the cool rowing teacher," he says. "I was told I was special." There were secret daily phone calls – arranged times when Robert had to sneak out of school at night to phone Marshall.
"He made me desperate for him, he created this reliance – this sort of manipulation would carry on so that he became the object of my day," Robert says. "I did as I was told."
The teenager stopped functioning: stopped eating, stopped sleeping. Months elapsed. Throughout the winter of 1979 into the spring of 1980, as the abuse continued, Robert's weight plummeted. He raises his little finger to show how thin he became. He did not know at the time that his mother, concerned and suspicious that something might have been going on, went into the school to talk to them. She was told everything was OK, he says.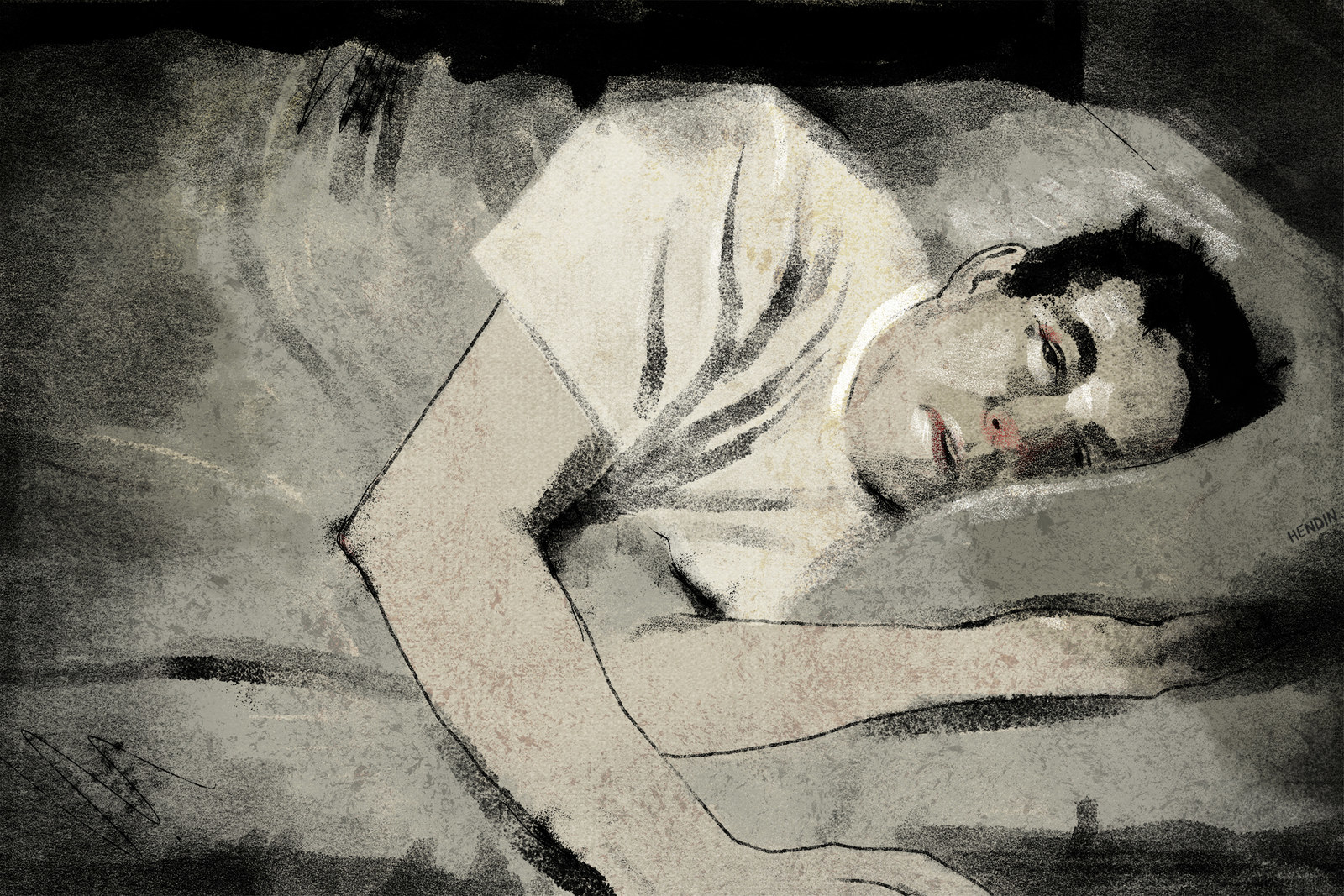 Robert felt responsible for what was happening. He still blames himself for "allowing it to happen" the first time. After several months, the phone calls, the grooming, and the trips out of school stopped suddenly, overnight, confusing and devastating Robert. He was even more of an outcast among the other pupils afterwards. Marshall was their hero.
Although the bullying left lasting damage, it was the abuse that destroyed the most. Initially, it was Robert's education: He flunked his A-levels and missed out on going to university – almost unheard of for a St Paul's boy. That was just the start.
"I've had alcohol problems, debt problems," he says. "I have had profound, excruciating loneliness." It was years before he could even have sex, let alone a relationship. Although there were boyfriends along the way, none lasted, none he could sustain.
"They would be dramatic and intense, just like Marshall was – it would replicate that – and if that wasn't there I thought it wasn't a relationship. As soon as anyone got too close I would end it, or just emotionally withdraw. I felt incomplete, damaged, I felt that my polished exterior was absolutely nothing like the wreck of an interior that I really was."
"I've had alcohol problems, debt problems. I have had profound, excruciating loneliness."
He begins to talk about his partner, who we will call Simon. They met 18 months ago.
"At the age of 53 I'm probably having my first relationship," he says. "I've been like an angry, wounded animal, and had I not gone to the police three years ago I don't think I'd be having the relationship I'm having now. It released something in me: I felt connected again to the wider picture, like a citizen again, a part of life rather than an outsider."
Even now, however, it's not easy, he says. Intimacy is sometimes unbearable. "It's like having a bruise and it being prodded. You flinch. I physically shy away from Simon sometimes. It's horrible for him."
To manage the internal chaos, his life is one of order and control: only going out on certain nights, going to bed early, not drinking, exercising at the right times, nothing out of place.
"I never acknowledged how controlling I am," he says. "I thought, How can I be controlling? I'm nothing. I'm not a powerful person, I'm not an effective person, so how can I possibly be controlling?"
There were other, less visible effects: the lack of consequences for this authority figure and the invisibility Robert felt meant the very notion of consequences evaporated.
"I would fall out with people because it didn't matter," he says. "I would drink because it didn't matter. Nothing really meant anything. Spending money didn't matter. I felt there were no consequences to anybody else's actions – mine either. That you could do what you like and it would make no difference."
This could all be about to end.
"I wondered what it would be like if he was found guilty – what will I have achieved? I can't make it unhappen so I don't know what the end game is," he says, pausing. "Whatever it is that's on the other side of this I want, because it's got to be better than what I was living with before."
He continues to talk about the end of the trial and adds something entirely unexpected. "If there was a button I could hit that said he had an easier time in jail or a horrible time I'd hit the easier one," he says. "The damage is done. I don't want him hurt. I want justice – that is, his liberty taken away from him."
"Whatever it is that's on the other side of this I want, because it's got to be better than what I was living with before."
We return to the trial itself. There are two things Robert hopes for in court: that he does not break down and that later on, when he sits in the public gallery to watch Marshall be cross-examined, that Marshall sees him. He wants to send a message to the man who snatched his life away: "That he's not going to get away with it. He's got away with it for the vast majority of his life, but that part's over now."
Robert stops and adds, slowly: "The piper is going to be paid."
Two days later, Robert, Simon, and I meet at 8.30am in a Thames-side brasserie by Southwark crown court. Winter sun dazzles in the morning freeze. The "Walkie-Talkie" building across the river puffs its chest. We sit in a booth.

"I feel quite sick," says Robert, but orders a croissant nonetheless; he knows he must eat. He is freshly shaven. Cufflinks peek out. "I polished my shoes yesterday." He says that once he started shining them he kept going, polishing several pairs, shoe after shoe. He hardly slept.
"I still don't know what I'm going to get out of it," he says. "Justice will be done? Honour will be served? All those phrases are just clichés. I suppose it's righting a wrong in my psyche – someone being brought to rule."
He says he feels unworthy of everything that is unfolding: the vast public trial, the attention from loved ones, the stress it places upon them.
We leave Robert by the river, near where the battleship HMS Belfast stands, where he will be met and escorted to the witness waiting room. He looks tiny against the towering mast.
Inside the 1980s brick court, Simon and I wait at the end of the corridor outside court 14. Robert's sister arrives. A man approaches us saying he went to St Paul's and knows some of the witnesses. He tries to engage us in conversation. Something feels wrong.
Simon goes in search of the gents and then, as Robert's sister and I stand, talking quietly, discussing the strangeness of it all, a figure ambles towards us, black trousers and a pale blue collar poking out of a black sweater. He carries a small black case. The hair, a wiry thatch, looks as though a weeks-old butterscotch dye is slipping off the grey roots.
As he approaches, we stop silent: It is Patrick Marshall, with his lawyers, now just a few feet away. His wife and children are not with him. He turns his back.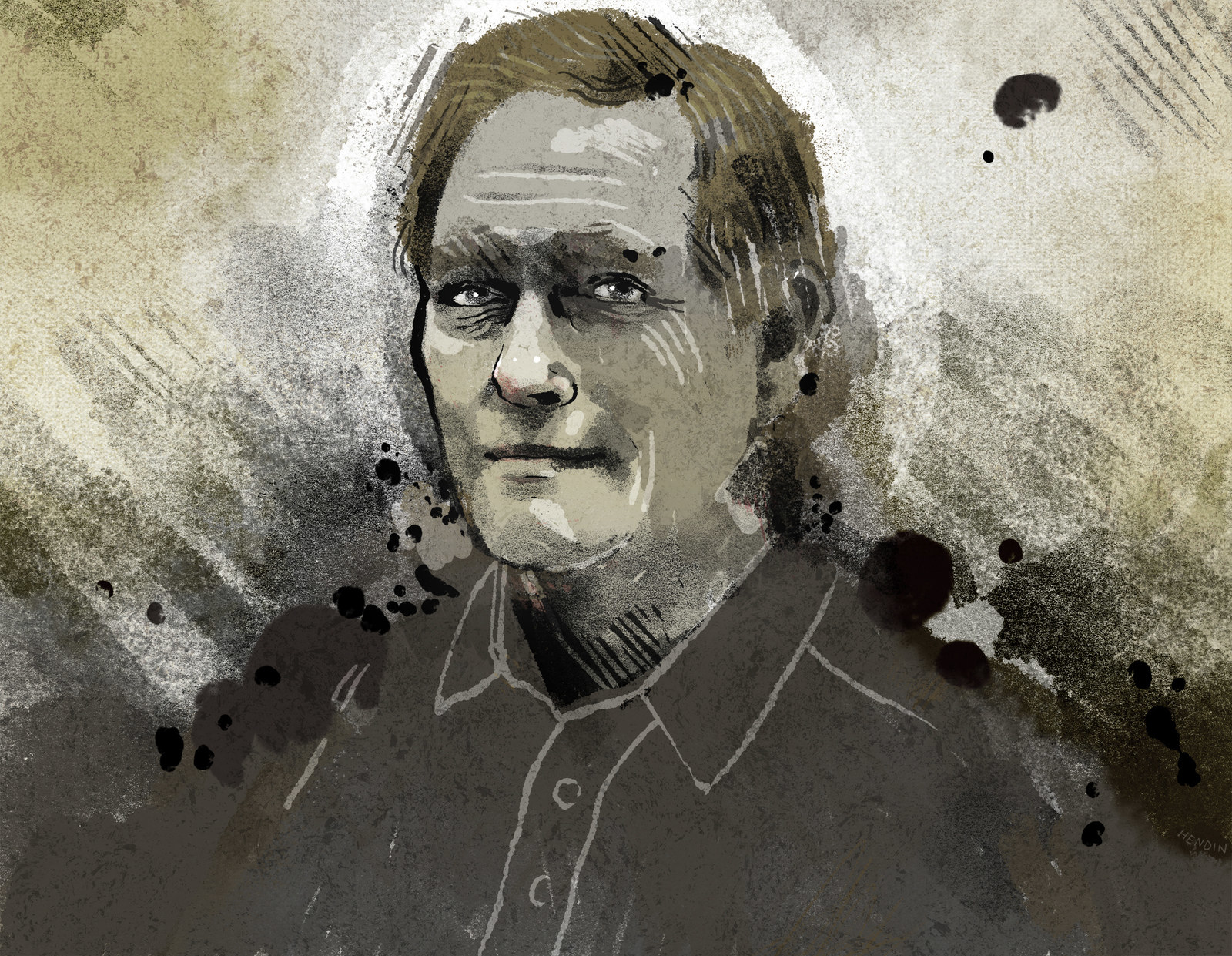 Simon walks past him, suddenly realising who it is; his eyes fill. We stand as a trio and stare into the back of Marshall's head. The sheer proximity is too awful, too winding, to ask what Robert's loved ones are thinking, to wonder if they are imagining what his head would look like breaking against the wall.
Finally we enter.
The mother of another former pupil gives evidence first. She allowed Marshall to live in the family home for a year with her sons. She did not know. One of the sons is up next; he says his brother told him when they were about 30 that Marshall had "tried it on with him" at school.
And then the door opens for Robert. As he walks to the stand, Marshall, in the dock, looks down – keeps looking down. Robert's sister, next to me, remains entirely still.
Within a few answers, after confirming to the prosecution barrister, Rosina Cottage QC, that he started at St Paul's in 1977 and recalling his initial impression of Marshall as "quite an impressive figure…athletic…cool", Robert finds his voice. His volume increases, his delivery slows down. He sounds confident. He begins to tell the court how it started.
"My parents … put in a second phone line at home. … He started calling me," he says, looking at Cottage. Behind her, Marshall starts to write something down.
"I remember one call when it changed; it flipped," says Robert. In a discussion in which passing mention was made of a psychiatrist's couch, and of lying down, Marshall, he says, used this as an opportunity to say, "'Ooh, lying down.'" It was, he adds, "very suggestive". It proved pivotal: the injection of a sexual undertone. The teacher, says Robert, suggested they meet outside of school.
Marshall's metallic pen glimmers in the light as he scribbles. His face is a strange colour: a pink-orange shade, as if perhaps also artificially enhanced. He looks straight ahead now. His brow bone is heavy, overhanging, with cheeks recoiling to a hollow and jowls deserting the protruding jawline. The effect is simian.
A plan was hatched, Robert tells the jury: that the 15-year-old would inform his parents he was meeting a friend and instead see the teacher.
"Where did you meet?" asks Cottage. Her voice is gentle but matter-of-fact; just shy of forthright.
"Outside Capital Radio on the Euston Road," says Robert. They went to a restaurant, he says. "At some point I was very cold and said I was cold and that was the first time he said, 'It's probably sexual excitement.' It was completely out of the blue."
Several members of the jury stare at Robert. He keeps going, casting his eyes between them and the barrister as Marshall remains impassive. After the restaurant, he says, Marshall drove him into a street with dead end. "He took his seatbelt off and kissed me. ... A snog."
Robert says he knew it was wrong, that it was also new, secretive, thrilling: "I was getting all this attention from someone cool," he says. The words ring out in the courtroom, jarring with dissonance – a child, unknowing, echoing through the knowing adult.
After that night, the dynamic was cemented; they would go on drives together, Robert getting into Marshall's car in the school car park. "He would put my hand on his lap." Where exactly? "On his inner thigh. Occasionally to his crotch. But I was scared."
Cottage asks Robert about a specific occasion, about what happened in the car on that day. There is a slight pause. "He gave me a blow job," says Robert. "I don't know how else to say it. Sorry to be crass."
Marshall's face and body are completely still.
Things began to escalate, Robert says, recalling the house Marshall would take him to, which he was renovating. "I remember staying over," he says. "He switched the heaters on … I told my parents I was staying in the boarding house." Robert was a weekly boarder, going home at weekends. "He would be naked; I would be naked."
In front of the judge, the jury, the lawyers, the handful of people in the public gallery, and the man who did it, Robert is asked to relay the details: the masturbation and fellatio performed on him and then his inability and refusal to reciprocate. He speaks clearly, evenly.
"He would frequently guide my hand to his penis. But I was frightened." Only at this last word does Robert's voice crack a little. He breathes and continues. After Marshall performed the oral sex, says Robert, "He would say, 'Mmm, protein.'"
The detail is so repugnant, so incongruent to the civilised surroundings, that it is almost as if the room itself does not know what to do with the information.
In the dock, the 70-year-old makes more notes. He does not look at his former pupil. He leans back.
Cottage asks Robert about another occasion when he and a female friend, who was 19 at the time, had dinner with Marshall. The friend, it seems, had some idea what was going on between the 15-year-old and his teacher.
"I remember hanging my head, being quite distant," says Robert. "I didn't say very much. Afterwards, Marshall berated me for not engaging in conversation." He explains, "I was low a lot – I was being preyed on. I was sick with the secrecy of it. I felt out of control."
In the spring of 1980, he says, "It just stopped overnight." Marshall stopped speaking to him. "I would call and his builders would answer." He says the workmen would mimic John Inman, the camp 1970s actor, as if to mock Robert, who was only beginning to come to terms with the fact that he was gay. "It was pretty humiliating."
"I was low a lot – I was being preyed on. I was sick with the secrecy of it. I felt out of control."
How, asks Cottage, did being dropped by Marshall affect him?
"I'm ashamed to say I was destroyed," says Robert. His voice cracks. He says his mother would try to encourage him to eat. Knowing that he was neither sleeping nor eating properly, the wife of the housemaster at St Paul's would talk to him and try to help him.
Much later, Robert tells the court, in his early thirties, he went to see a therapist and disclosed everything to her.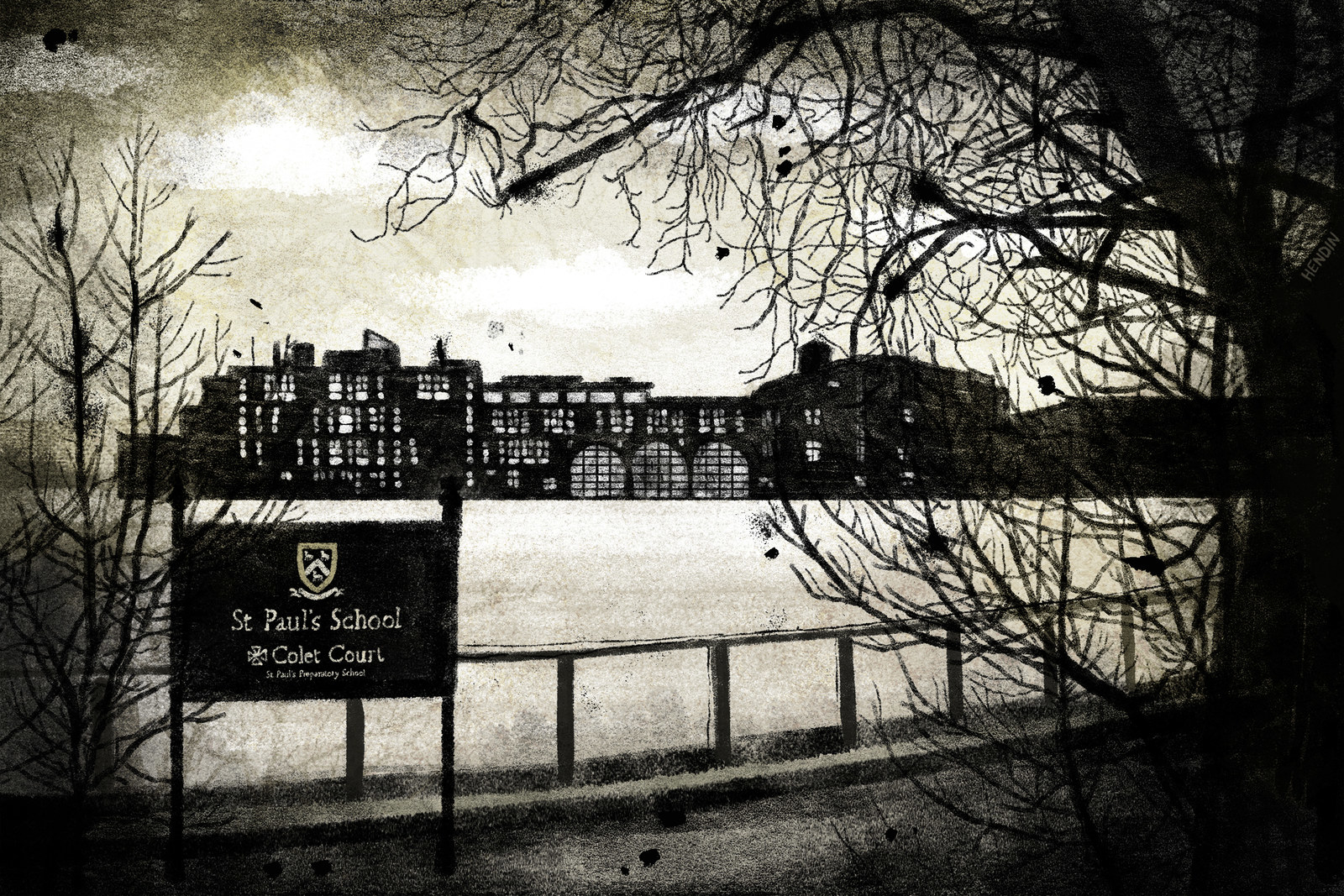 Cottage has finished her questioning. It is time for the cross-examination. Brian Stork, Marshall's barrister, rises to address Robert. Marshall leans forward.
"That first term," says Stork. "You had a house master and a house tutor…" Stork asks a succession of questions about names of teachers and what role they had, as Robert gives brief, clipped answers. He asks Robert if he remembers one particular teacher, who wasn't Marshall. "He was your tutor," says Stork.
"Really? I don't remember," replies Robert. Stork moves on to locations.
"You've told the jury … you visited a particular address. You told police that address was in Twickenham."
"I remember him living in Twickenham or him doing a house up in Twickenham," says Robert, unsure where this is leading. His mouth and cheeks have tensed up; his eyes have narrowed, as if awaiting the attack.
"Was it a dead end close to the Thames?"
"I don't remember."
"Does the address Denton Road mean anything?"
"It sounds familiar."
"Was it on three floors?"
"I think it was on two floors."
The questions continue; it appears Stork is searching for a fact or memory upon which Robert will stumble. Perhaps he wishes to create an impression of unreliability. The questioning morphs into a cross-examination about the extra phone line Robert's parents installed, and the fact that he shared it with his sister.
"I don't remember him phoning very much," says Robert, at which Stork pounces.
"But I thought this all began from his regularly phoning you at home?"
"Yes," Robert says, explaining that initially this was the case. Stork has made little headway by the time proceedings stop for lunch.
When we return, as we await Robert, Marshall, in the dock, yawns so widely he bears his teeth. He stares ahead. What is he thinking? What does he tell himself? What has he told his wife and children?
Robert is back in the stand. Stork turns to car rides – were there not other boys who rode in Marshall's car? You don't remember? – and then to directions and locations, in another confusing interrogation. Your trips away tended to centre on west and southwest London?
"Yes," replies Robert, almost successfully hiding his irritation.
"You've heard of Richmond?"
"I have indeed," he says, with sarcasm edging in.
"I think you remember the view from the top of the hill?"
"Do I remember the view from the top of Richmond Hill?" replies Robert, almost mockingly.
"You don't associate looking at a hill with Mr Marshall?" He persists, as Robert continues to sound irritated. Stork lands on the location of their first meeting: Capital Radio. "Why meet at Capital?"
"I can't tell you," says Robert – he cannot remember why.
Robert has been in the dock for over two hours by the time Stork questions him about the name of the restaurant on that first meeting, when Robert realises he has got the name wrong: it's not Chicago Rib Shack but Chicago Pizza Pie. A flaw in his testimony has been found.
The dinner with Robert, his 19-year-old female friend, and Marshall is next. "You told police there were four of you," says Stork – a contrast to the trio he mentioned earlier to the other barrister.
Robert explains that her boyfriend sat with them for a short while at the start.
The friend, it transpires, does not remember this dinner taking place. "I suggest it didn't happen," says Stork.
"I suggest it did happen," replies Robert, with quiet defiance.
Stork wants to know what Robert's friend knew about Marshall. Had Robert informed her that the man meeting them for dinner was his teacher from school?
"Yes," says Robert, and as if suddenly aware of what it is to be an observer to this conversation adds, "It's quite shocking when you hear it like that." This perspective changes something; bridging him to the impartiality of a neutral observer – to the jury.
"You told her that one of the teachers had sexually abused you?"
"Yes."
"Can you remember how she reacted?"
"She wanted to be a grown-up and was accepting. But thinking about it now, I can't imagine what a 19-year-old would have thought about it."
The barrister brings up the gold cufflinks Marshall bought. Robert says he pawned them. He seems embarrassed, as if it is the selling of this jewellery that is the grubby act. Marshall shakes his head. Stork moves on.
"Do you remember there were loads of whispers at St Paul's…" he begins, referring to another boy, who we shall call Andy, and Marshall.
"I remember some, not lots. To my shame I probably said it."
"You were central to a whispering campaign … were you?"
"No."
The discussion hones in on Andy, rumoured to have been Robert's replacement: Marshall's new boy.
"I was upset about being dropped," says Robert.
"You were angry because [Andy] had what you had wanted," says Stork. The implication seems to infect the air.
"I was 15," Robert replies, trying to curtail his disgust, and says that at that age he had no such desires.
"You took a shine to Mr Marshall, didn't you?" asks Stork. It does not sound like a question.
"Took a shine?" replies Robert, astonished. "We were having an affair."
"I suggest you never had an affair," says Stork curtly. Something switches in Robert, a flicker rising up as he finally faces the iron weight of the establishment.
"Please forgive me for saying this," he says to the barrister, to the courtroom, and as if to anyone who ever disbelieved him, "But you would say that." It is a jab of contempt. He pauses. "And yes, it did happen."
The air in the room shifts suddenly, as if the jury has just seen the rock hit Goliath's forehead. After this, nothing Stork pelts back at Robert meets its target. "You developed a crush on him," suggests Stork. "Mr Marshall then suggested you move on to another tutor. Do you remember that?"
"No."
Stork keeps shooting in the same direction.
"Mr Marshall did not have a relationship with you at all, did he?"
"He did," replies Robert.
"Any car ride was entirely invented."
"Absolutely not."
Stork mentions Denton Road again – the house Robert says he was taken to. "You didn't visit that address."
"I certainly did."
"Mr Marshall did not give you cufflinks." All Robert can do is contradict, plainly.
"He did give me cufflinks." Robert stares ahead, frozen: When will this end?
There is one final attempt to deliver a knockout. Stork moves on to the therapist Robert saw in the 1990s.
"Did you say to her that the abuse was when you were in your early teens?"
"Possibly."
"That's not true." A protracted debate ensues about whether 15 constitutes early teens or mid teens. Robert eventually gives in.
"Very well, in my mid-teens. You're forcing me to say that."
"I'm not forcing you to say anything," replies Stork. Finally, Cottage, the prosecution barrister, objects – this is getting nowhere. The judge agrees.
The cross-examination is over. Robert exhales, cheeks puffing out, as he walks back through the court. A few minutes later, the friend who was 19 at the time takes to the stand. Robert has returned to sit in the public gallery and listen.
She is halfway through reciting the oath when her voice gives way. She says she remembers how troubled Robert became, how much weight he lost. "I remember meeting him at Leicester Square. He was wearing dungarees and previously they fitted him but they were hanging off him." The image lingers. "He was in a very bad way."
She is struggling to keep control, memories surfacing and gripping as she tries to deliver the words.
"I remember thinking I should contact his mother … I remember hearing the name 'Marshall' continually … I felt there was probably a sexual relationship … I'm very upset with myself," she says, implying that she should have reported what was happening to someone rather than going along with it, "But I did what I thought was the right thing."
The dramatic irony is wretched: history howling back. In the years since then, she says, the effects on Robert have never gone away.
She is guided out of the courtroom. Robert has already left. I follow, pushing the door open. To my left he is sitting against the wall, doubled over. His hands are covering his face. He looks up suddenly. His eyes are flooded, bloodshot, streaming.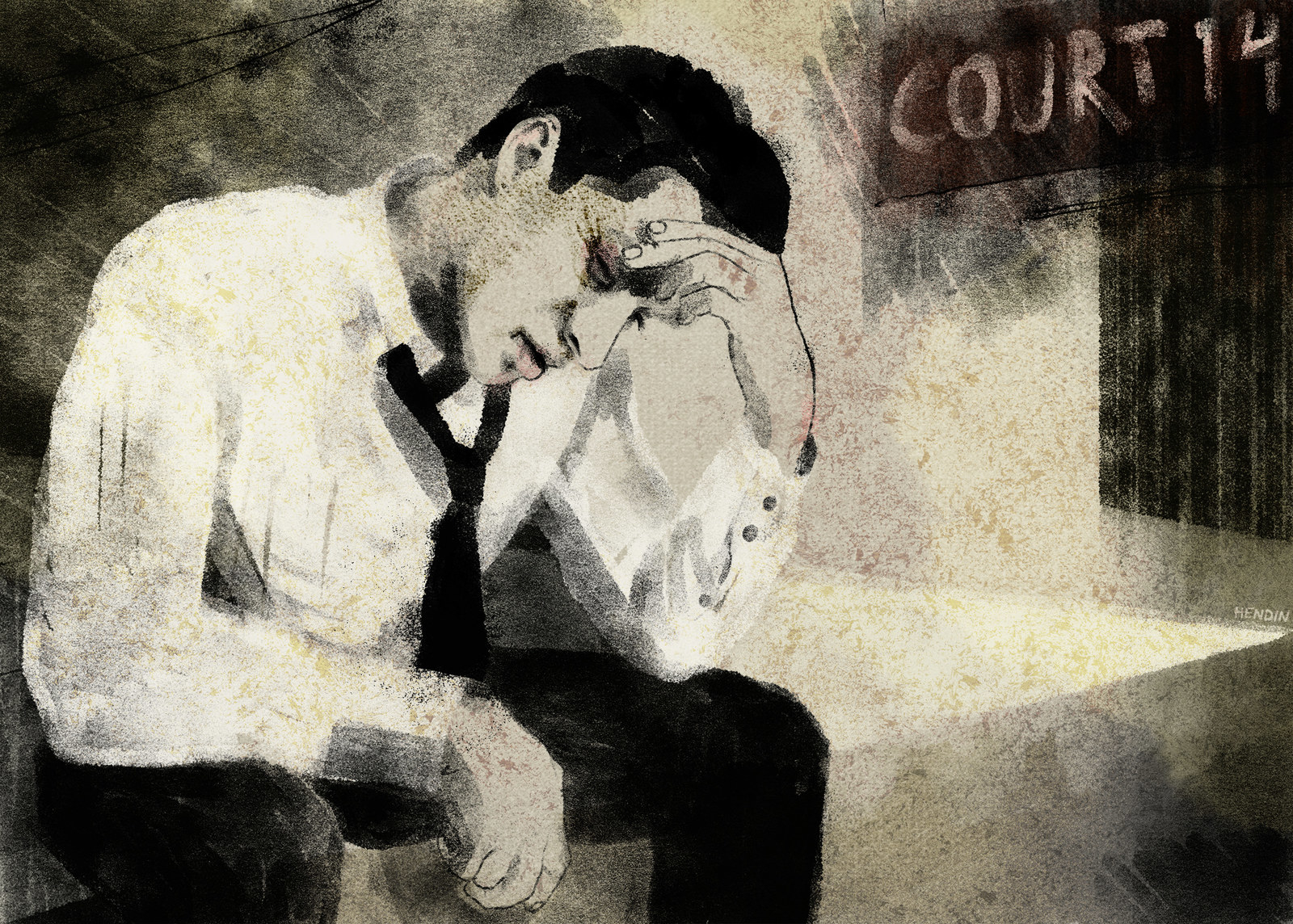 It was hearing his friend – and her guilt – that did it, he says. We walk outside to a nearby restaurant. He decides he cannot sit through his parents giving evidence now. "The hardest thing I remember doing in my life was going to the police," he says. "And I would say that that was harder."
There was something that compounded this, he says: when he saw the public gallery on his way in, he saw the man who had sent him those messages on Facebook.
A few days later we speak on the telephone. Robert had sat in court to hear Marshall give evidence. Marshall knew he was there. The roles had switched. The effect of this inversion, combined with the sweep of nearly 40 years, was to disempower the abuser's grip.
"He's a nonentity," says Robert flatly, "Just another person on the street. It's very different when you're 15. He's now just a faded liar."
Three weeks later, on Friday 3 February, we return to court for the verdict. We wait outside court 14. We wait all day, hours ticking by as Robert's stress grows and grows. There is no verdict. We return again on Monday morning. The jury has just two questions and they both relate to Robert: When was he a boarder at the school, and when was Marshall his tutor?

Because Robert turned 16 in the December of 1979, midway through the abuse, and because Marshall cannot be tried for anything that occurred after Robert reached the age of consent, the dates are vital.
A 20-minute discussion ensues between the barristers as they wade through the evidence to agree on the facts. The three charges regarding Robert – numbers 16, 17, and 18 out of 25 – all seem to hinge on this. As he sits in the public gallery, his head sinks into his spine. His eyes look out as if from a hiding place. His expression is like none I have seen before in him: an animal in retreat awaiting a beating.
As the barristers talk, Marshall interjects from the dock, citing various dates, loudly, casually. Robert's face changes: His lower jaw juts forward. There is no mistaking what this is: fury.
The barristers agree, finally. Marshall was his tutor during the time of the abuse, when he was also boarding. The dates all tally up. The jury is sent out.
"That was fucking agony," says Robert over lunch, as he talks again about his fear that Marshall will be found guilty of all the charges except those that relate to him. If he is found not guilty of those three, he says, "I think I will lose my mind."
We return to the courtroom where the foreman of the jury rises. The charges are read out one by one.
The defendant is found guilty of the first charge – unanimously. And the second, and the third, and the fourth. Marshall starts to rock slowly back and forward. He does not once look over at the public gallery to where the boys he abused now sit as middle-aged men. He does not look at his reflection.
The succession of guilty charges continues. Robert's eyes flicker over in my direction as we near charge 16. And in an instant, the foreman tells the court that Marshall is found guilty of charges 16, 17, and 18. Robert, leaning on his elbows, stares at me as his eyes glisten. He has been believed. Simon has begun to cry.
The foreman keeps going until every charge is read aloud, and for each one Marshall is found guilty.
"He's finished. There's no way back from this."
Outside, in the corridor, the survivors of this abuser hug each other. One tells me he would have taken what happened to him to his grave had Robert not come forward.
Robert does not speak, initially. And then, almost in disbelief, he says quietly: "All 25." He sits down, stunned. "I feel shaky," he says. "It's been 38 years of talking about it, burying it, pretending it never happened."
The jury finding Marshall guilty of the three offences relating to Robert makes a huge difference to him, he says. They toppled the man that towered over him his entire adult life.
"He's finished," says Robert. "There's no way back from this."
Simon, he adds, has been amazing throughout, and the police have shown exemplary professionalism, treating him with precisely the kindness and thoughtfulness he needed. Sometimes they phoned him every day.
I look over to the huddle of police officers – two of them have tears streaming down.
We return for sentencing. Statements from some of the witnesses are read aloud by the prosecution barrier. "I was small and weak and you were strong," says one. "You pinned me down." It continues: "I never realised how emotionally damaged I was. … I could not love." At the end of this statement, as the witness describes what he has been through over more than 35 years, he concludes, "I realised all along that you were weak and I was strong."
The judge tells Marshall to stand. "You targeted troubled boys who were troubled at home," he says. "You preyed on those boys." He refers to another witness statement in which the boy said that he was not only ostracised by other pupils because of the abuse, but by other teachers. "It makes me shake my head, sitting here in 2017," the judge says. And for the first time, emotion makes his voice quiver. One by one he reads out the sentence for each charge.
The last is for the rape of a boy under the age of 13.
He sentences Marshall to 18 years in prison.
The man exposed as a predator, an abuser, a groomer, a manipulator, is silent as he taken down. The door is locked behind him.
We leave the courtroom. Robert begins to talk about the future. "I hope that I will have a laying-to-rest of a lot of this," he says softly. The tension has begun to leave his face. There are loose ends to tie up, he explains, including finally speaking to some of the other witnesses after all these years, and enjoying his relationship with Simon.
"There will be some peace for me," he says, looking out through a window as the press assemble outside. "But it will take a while to get there."