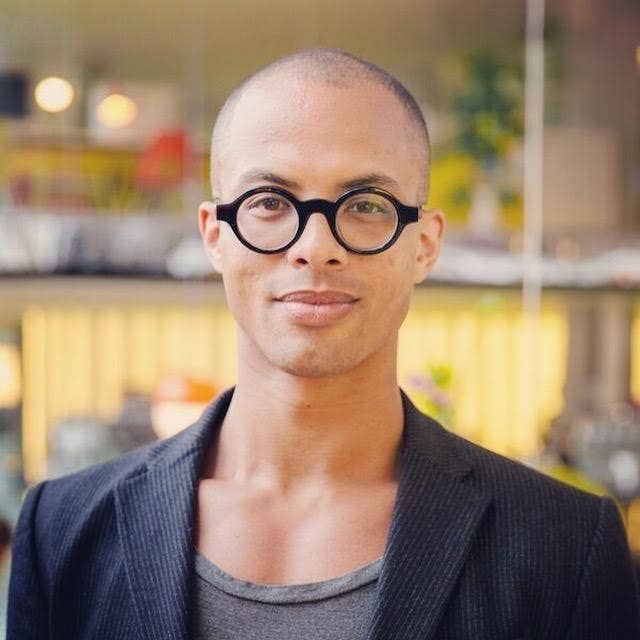 UPDATE:
The newly-appointed editor of Britain's oldest gay title, Gay Times, has been fired after dozens of offensive tweets he had previously written were uncovered.
In an interview with BuzzFeed News published on 15 November, Josh Rivers apologised for a series of racist, misogynistic, and ableist tweets. Later that day he was suspended, and on Thursday his employment was "terminated with immediate effect".
Gay Times said in a statement: "We sincerely apologise for the offence that has been caused, particularly to those members of our wider community to whom such inappropriate and unacceptable commentary was the focus. Gay Times does not tolerate such views and will continue to strive to honour and promote inclusivity."
Rivers was only appointed last month, and the magazine is due to relaunch on 30 November. Gay Times said all articles written by him would be removed from the relaunch edition.
Decades of white-run, white-owned, monocultural LGBT magazines came to an end in October when Gay Times announced Josh Rivers as its new editor, who, as a mixed-race British-American, would become the UK's first BAME editor of a gay men's title.

The news was greeted ecstatically, not least because Gay Times, founded in 1984, attributed the appointment to a desire to "best serve the magazine's diverse and culturally inquisitive audience." Rivers, 31, promised "a monthly journal that speaks to the vast and varied lived experiences of our community ­– in its entirety."
This, many hoped, could mark a new beginning of inclusivity, where sexual racism, body fascism, ableism, and other forms of oppression permeating gay media and beyond could be challenged. Say goodbye, then, to the flip book of white abs and white pecs.
The news came as Edward Enninful, British Vogue's first black editor, was preparing his first issue. And it came just 18 months after hip-hop visionary Mykki Blanco said amid a stream of tweets railing against the absence of diversity in the gay press: "I think I will probably be dead before White Gay Media ever becomes inclusive."
Gay Times, it seemed, could prove him wrong.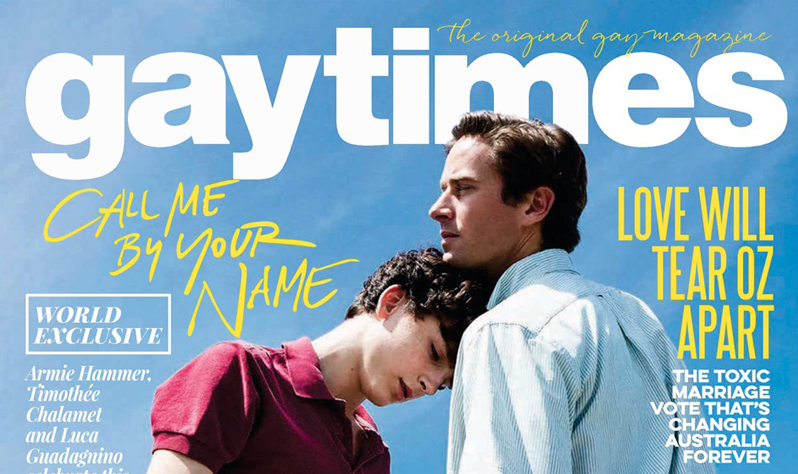 But while researching Rivers – previously the magazine's marketing manager – following an invitation to interview him, BuzzFeed News found several dozen tweets between 2010 and 2015 that would shock many readers.
There were tweets about Jewish people: "I wonder if they cast that guy as 'The Jew' because of that fucking ridiculously larger honker of a nose. It must be prosthetic. Must be." In another tweet, he applauded as "genius" a quote from animated sitcom Family Guy: "Jews are gross. It's the only religion with 'ew' in it." In a third, he asked for film recommendations – except ones about the Holocaust.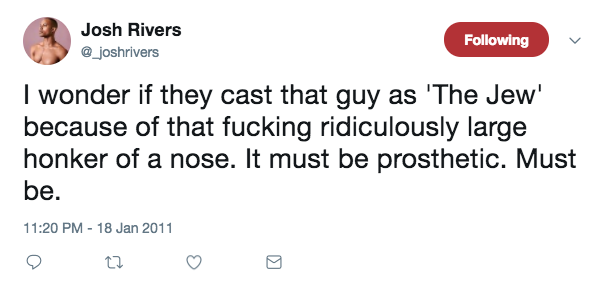 Then there were the tweets about Asian people: "The creepiest gay men are short, old asian men with long nails. Fact." He also described two Chinese people sat next to him at the 2012 Olympics as "sneaky fucks" because he didn't see that they were there while he "screamed 'we just shat all over china'." In another tweet he wondered: "Long day. How would I type that with Chinese accent? Wong way?"
Rivers tweeted his views about other parts of the world, too: "Waitress from next door just got back from Africa & told me I should go soon. Do I look like I'm trying to get killed? Jog on, honey." And, "So the Egyptian men celebrate by raping women? Cool. Freedom rings for fat, smelly, hairy, cunt-face, backwards rapists. YAY!"
The tweets about women were of a similar ilk. "I've just seen a girl in the tightest white tank & lord help me if she's not pregnant, she should be killed. #gross"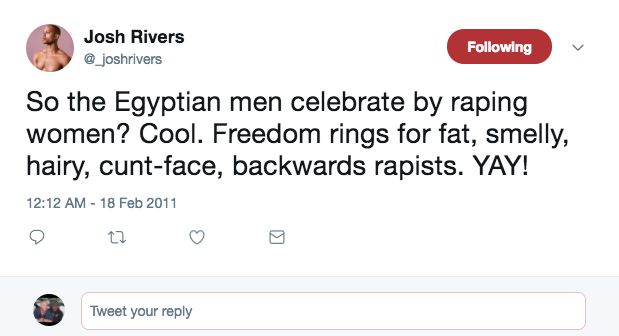 And, "Fucking cunting whiney cunts. Cunting whiney fucking cunts. Go change your fucking tampon & stay the fuck out of my way."
He also tweeted about lesbians: "I hope that piece of machinery that asshole lesbian next door has been using since 8am cuts off her goddamn hand." Anyone hoping Gay Times would include stories about gay women might also be disappointed if they saw another of his tweets: "So was getting geared up to watch Lip Service. Turns out it's about lesbian dramas. DELETE."
To describe transgender people, Rivers used the word "tranny" or the alternative spelling "trannie". One example: "Look here, tranny. 1) you look like a crackhead 2) YOU'RE A TRANNY & 3) your wig doesn't deserve a mention. Avert your eyes, honey."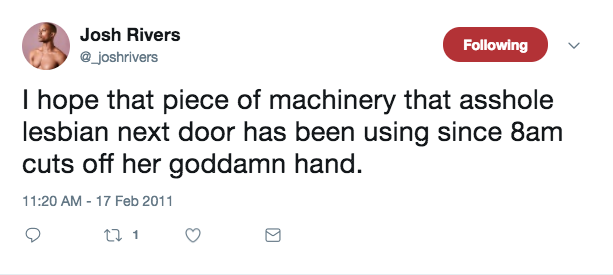 This is all before we come to Rivers' endless tweets about "fat" people ("obese people wind me up. There should be a fat lane"); old or "ugly" people ("People-watching in Soho is amaze. You'll never see a more confident bunch of ugly people"), and homeless people ("I'm thankful for TFL [Transport for London] & rising bus fares. Let's keep homeless people on the streets & off our buses! #TT").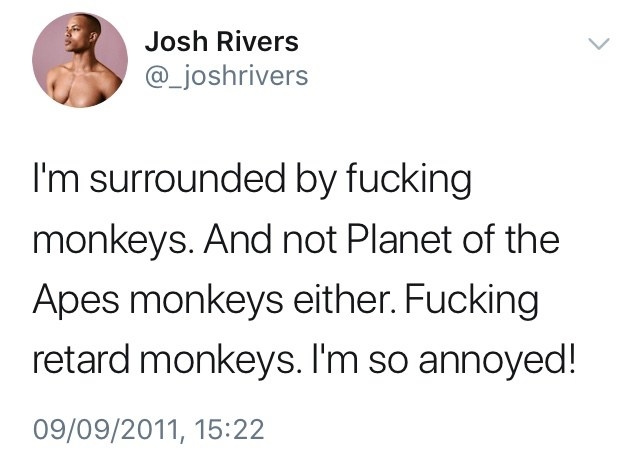 But when he speaks to BuzzFeed News, Rivers begins by outlining his vision for Gay Times and how it can be used to promote diversity. "It is incumbent upon those of us who hold positions of influence to make sure we're using our platforms to speak to the multitude of experiences of our community," he says.
"Whether that's transgender, femme, nonbinary, it's important we're leading on those conversations and handing our platforms over to the people who are best placed to do that."
He adds: "Representation has been a huge issue for me personally."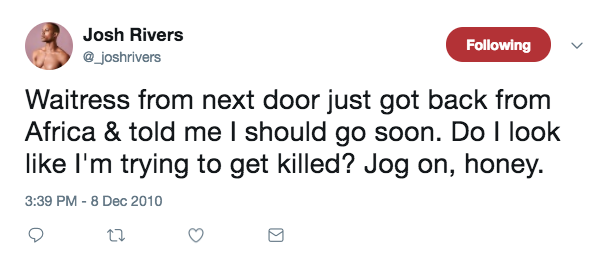 His political awakening has "actually been relatively recent", he says. "In the past couple of years."
Rivers begins to talk about a "network of mentoring, learning and support" he set up called Series Q, based on research findings about the proportion of LGBT people who go back into the closet when they enter corporate environments. "We have a responsibility to show all types of different people, all different shapes, colours, and creeds, that they are valuable, that they are beautiful, and they are loved," he adds.
How then does he square that with his tweets over the last few years that many would regard as concerning to Jewish people and other minorities?
"In what way?" he replies. When his tweets start being read back to him, beginning with the "large honker" one, he is stunned.

"Oh my," he says with incredulity, "That's on my Twitter?"
As he hears more, he asks for a link. He then asks when the tweet is from. "Wow," he replies when he learns it's from 2011. As he is read more and more tweets, his replies begin to form one of uniform astonishment. He says "wow" when he hears his tweets about Jewish people, Egyptian people, women, lesbians, trans people, and fat, ugly, and homeless people. To all: "Wow."
"This is really hard to hear," he says, as if this is all new to him. But there are dozens like this. "I'm kind of stunned…" He pauses and then offers: "I think it shows an immaturity, a certain amount of self-loathing. I think it shows that before recently I hadn't been aware of the effects that social media and using platforms in such a nasty and pernicious way had." I think, he says, "it shows I have grown."
A lot of people, suggests BuzzFeed News, would see those tweets and think he's nothing but a racist. "I think those tweets, yeah, they're perhaps reflective of a lack of awareness." Rivers says he has only recently started reading feminist texts and understanding how misogyny is reflected in language.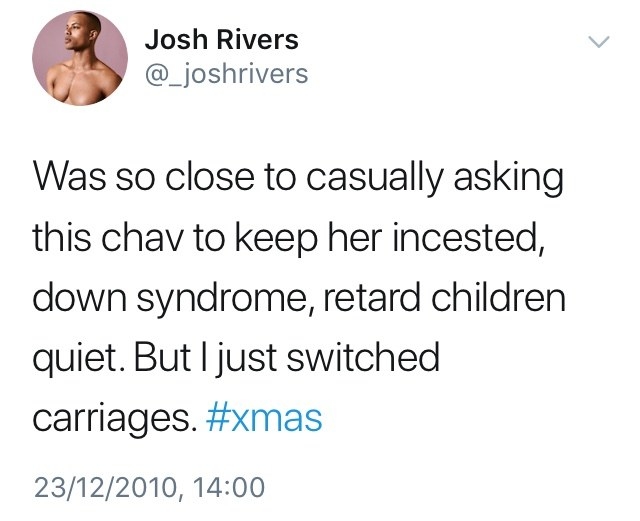 It is of course the case that not everyone is schooled in feminist theory, queer theory or the sociology of race. But how, as a queer person of colour, could he be so unaware of his own attitudes to tweet such things?

"I think it is a question that can be asked of our community at large," he replies. But as someone who now has a public platform, it's also a big question for him.
"The reasons I say it's a question that can be asked of the entire community is it's something we as a community are not very good at if we think about supporting others," he says. Is it not extraordinary that he could be so blind to his own prejudices?
"I think it is unremarkable," he says. "It is very normal to be blind to ourselves. There is nothing new or particularly outstanding about that. We as individuals can move through the world mindlessly. Until recently, I chose to be blind to the world."
"We don't all get it right," he says. But most people also don't get it so spectacularly wrong so often over such a long period of time.
"Absolutely," he says. "I am a product of my environment – like many of us are."
Rivers doesn't agree that it could sound as if he's blaming his environment, instead of taking responsibility. "I feel like you're suggesting no one has ever grown or learned or developed," he says. "I wasn't born ready or awake. We should all be given the chance to learn to grow."
Given how recent these tweets are, given how recent his political awakening is, and given how he has only just begun to assess his own shortcomings, is he the right person to lead the charge into greater diversity and representation?
"I guess it's never too late to try and be the best version of yourself," he says.
The discussion moves on to his tweets about fat people. The gay media has long been accused of body fascism, so tirelessly featuring gym-buffed V-shaped torsos as to compound the insecurities of its readers. Where does his loathing of fat people come from?
Rivers initially says he does not know, that he is "speechless". "I've never reflected…" he says, before pausing. "I've never come back far...to look at how my behaviour in the past… I don't have a problem with people who don't fit ideal body types."
And yet in one tweet he wrote, "Argh, fat old people, bane of my life." Again, why is there such a lack of self-awareness?
"People go through the world mindlessly," he says, in the same vein as before. "But I have woken up, I have changed, I have grown up… I have said things that are not kind or not nice and nor do they reflect the type of person that I have become."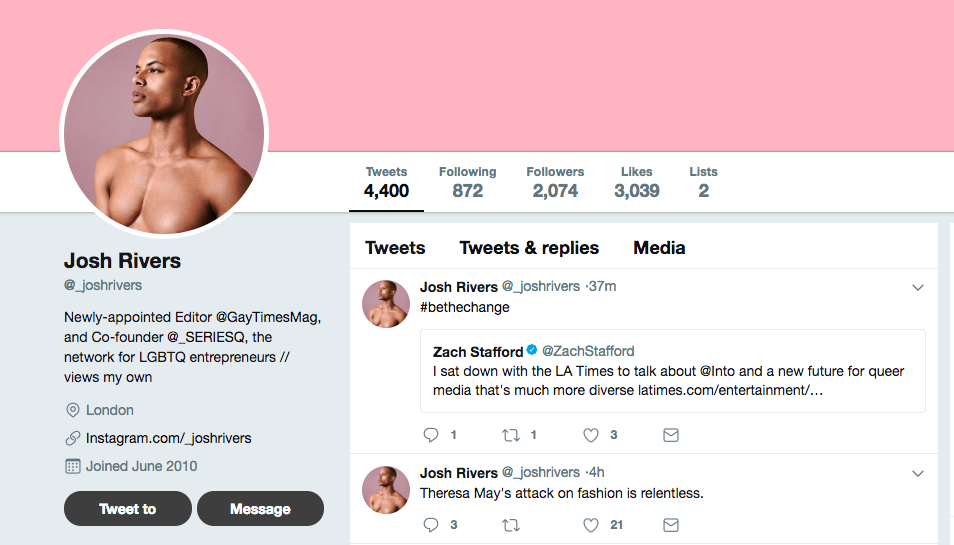 To not be politically awakened is one thing, but what caused that vicious, harsh view of others?
"Self-loathing is not new," he says. "Whether it's coming to terms with sexuality, not feeling beautiful enough, not feeling fit enough, not feeling smart enough, not feeling confidant enough, not feeling like I have a place in the world." Were those all things he felt?
"Yes," he says. And it feels like a breakthrough, a moment of genuine self-reflection.
Rivers continues down this path. "I think those tweets show that I was a really unhappy person who lashed out at the world around him." He stops momentarily. "I didn't think this conversation was going to be so personal, but I have since been in therapy and spoken to people about the things I need to speak about. That has been part of my personal journey and it's unfortunate that I've said things that are so horrible about people in the past."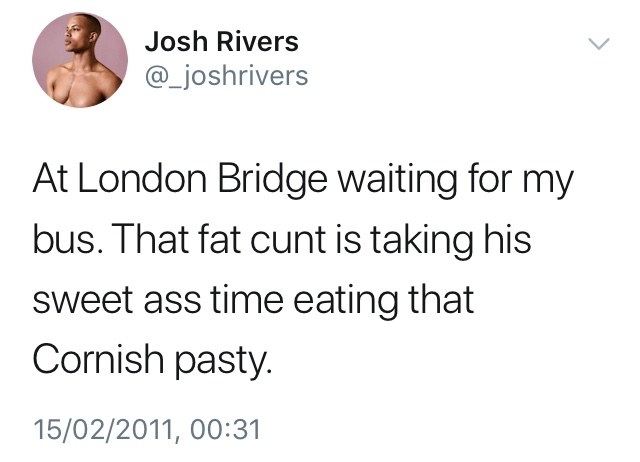 Rivers begins to confess further. "My own inability to accept who I am, to accept the intersection of queerness and blackness, to find a place for myself in the world, that journey I've been on has led me to a place where I want to do good in the world."

But given how recently he has changed, is he ready to edit the world's longest-running gay magazine?
"I have accepted the challenge," he says. "I believe I can do this."
It is certainly the case that many people, when faced with terrible things they have said in the past, would not have immediately stopped, thought and listened, offering contrition, reflection and honesty.
And when Rivers is asked if he would consider apologising to Jewish people and other ethnic minorities, women, lesbians, and trans people he immediately says yes. Within an hour of the interview ending, Rivers sends a statement through his publicist:
"My tweets from a number of years ago show a great deal of self-loathing, a complete unawareness of the world around me and a disregard for others that I find deeply upsetting. To every single person these tweets will offend and disappoint: I am sorry. My role as editor of Gay Times today is to squash prejudice and represent our community in all its glorious and varied diversity. It is through my own development and desire to be a force for good in the world that I can apply my own learnings to help create a space for all of us to thrive within."
Hours after BuzzFeed News published this story on Rivers' tweets, Gay Times said he had been suspended pending an investigation.
"Josh Rivers' past tweets do not align with the values of Gay Times, or any of our employees, in any capacity," a statement posted on Twitter said.

"Josh has been suspended with immediate affect while we investigate the facts. Appropriate action will be taken in due course."
A day later, he was sacked.
On Saturday, Gay Times will host an evening of "honours" bestowing the leading lights of the LGBT community who have influenced and achieved the most over the last 50 years since the partial decriminalisation.

One wonders what the host of the event, Jinkx Monsoon, will make of Rivers' previous tweets. She describes herself as "Seattle's premier narcoleptic Jewish drag queen".
UPDATE
This post has been updated with news of Rivers being sacked.