The Chair Of Parliament's Russia Committee Has Criticised The EU For Congratulating Putin
Chris Bryant MP has written to Jean-Claude Juncker saying it was wrong to congratulate the Russian president on his reelection, citing a BuzzFeed News investigation into the death of 14 Kremlin critics on British soil.
The chair of the all-party parliamentary group on Russia has strongly criticised the president of the European Commission for congratulating Vladimir Putin on his reelection on Sunday, which gives him another six years in power.
Labour MP Chris Bryant said in a letter to Jean-Claude Juncker on Wednesday, seen by BuzzFeed News, that it was "nonsensical to congratulate a dictator for 'winning' an election that has been widely accepted by independent observers to be neither free nor fair."
Bryant highlighted the recent poisoning of former Russian spy Sergei Skripal as well as BuzzFeed News' investigation into 14 suspicious deaths that have been linked to the Russian regime as reasons for caution in dealing with the country.
The letter said: "Your immediate and wholehearted praise of the President's sham election does nothing to advance the European values of democracy, tolerance and human rights and simply shows the world that if dictators are powerful enough the the EU will turn the other cheek."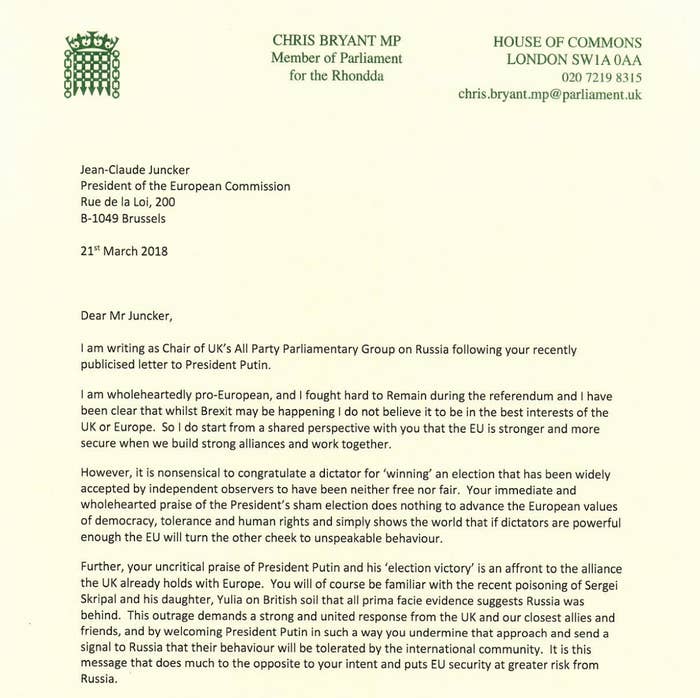 On Tuesday, Juncker wrote to Putin to congratulate him, adding: "I have always argued that positive relations between the European Union and the Russian Federation are crucial to the security of our continent."

On this point, Bryant said: "Russia respects strength and regularly resorts to excessive violence ... Praising the election result provides acceptance of the use by Russia of chemical weapons on UK soil.
"It adds weight to the argument that the 14 suspicious deaths on UK soil of Kremlin critics and their allies, first uncovered by BuzzFeed, should simply be glossed over and ignored. Showing such weakness to President Putin only serves to embolden him and puts EU members states at risk of Russian aggression."
While the 14 deaths highlighted by BuzzFeed News last year were declared non-suspicious by police, following the poisoning of Skripal on 4 March, home secretary Amber Rudd said the government would consider reopening the cases.