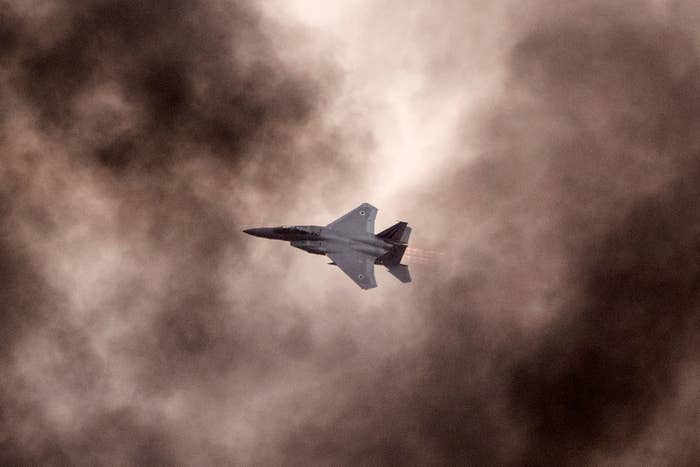 The US will announce its response to the alleged use of chemical weapons against civilians in Syria in the next 48 hours — and military action still on the table, according to President Trump.
Speaking at the White House on Monday – after Russia and Syria had accused Israel of launching an air strike on a military airbase in which 14 people were killed – President Trump condemned Saturday's chemical weapons attack in Syria in which dozens of people died. "It was an atrocious attack. It was horrible," Trump said during a cabinet meeting. "You don't see things like that. As bad as the news is around the world, you just don't see those images."
Trump said the administration will be making a decision on Syria in the next 24 to 48 hours. "This is about humanity and it can't be allowed to happen. If it's the Russians, if it's Syria, if it's Iran, if it's all of them together, we'll figure it out," he said.
When asked whether military action was being considered, he said: "Nothing is off the table."

Also on Monday, when asked whether the US had the capability to strike Syria's suspected chemical weapons facilities, defense secretary Jim Mattis said, "The first thing we have to look at is why are chemical weapons still being used at all when Russia was the framework guarantor of removing all the chemical weapons. And so, working with our allies and our partners from NATO to Qatar and elsewhere, we are going to address this issue."

When pressed on whether he could rule out direct military action, Mattis said, "I don't rule out anything right now."
Both Trump and President Macron of France had vowed to take strong action in response to the suspected chemical attack in Douma, a suburb of Damascus, late on Saturday.
Rescue workers and activists reported on Saturday that dozens of people were killed and hundreds injured after a poison gas was used in Douma, which was one of the last bastions of resistance against Syrian-led forces.

Social media posts showed men, women, and children apparently foaming at the mouth, a known symptom of a chemical gas attack, although these images had not been independently verified.
At least 70 people were killed in the Douma attack, the Union of Medical Relief Organizations, a US charity that works with Syrian hospitals, told the BBC.
On Monday a mass evacuation of Douma was underway after rebels had apparently agreed to a surrender, with thousands of people being taken to Damascus by bus.
Earlier Monday, Syria and Russia accused Israel of launching an airstrike on a military air base in central Syria before dawn.
The state-run Syrian Arab News Agency (SANA), quoting an unnamed military source, said that "the missiles were fired on Monday morning from the Lebanese airspace by Israeli F-15 fighter jets."
The same report added that Syrian ground defense weapons had shot down eight missiles before they could reach the T-4 air base, also known as Tiyas, which is in countryside between the city of Homs and the ancient ruins at Palmyra.

The Russian army also accused Israel of launching the raid, claiming in a statement that two Israeli F-15 fighter jets fired eight missiles, of which three struck a western part of the base.
SANA said the raid had killed several people, while the UK-based Syrian Observatory for Human Rights claimed that 14 had been killed. On Tuesday, Ali Akbar Velayati, a senior adviser to Iran's supreme leader, Ali Khamenei, confirmed that seven members of the Iranian military were killed in the strike – Iranian news agencies had previously said four were killed.
Velayati described the raid as "Israel's crime" and said it would "not remain without response".
The Lebanese army said in a statement that four Israeli planes violated its airspace, but did not say whether or not it believed Israel carried out the T-4 bombing.
Israel has not yet commented publicly on the airstrike, but it has conducted airstrikes on Syria as recently as February, when one of its F-16 jets was shot down.

Earlier, SANA had attributed the attack to "American aggression", but the US Department of Defense rejected the claim and said it was not involved in any airstrikes in Syria. In a statement, however, the Pentagon said it continued to monitor the situation.

Germany joined the nations condemning the alleged use of chemical weapons on a civilian target.

Government spokesman Steffen Seibert told reporters: "The [Syrian] regime's actions are despicable, they're inhumane and they break basic rules of international humanitarian law, and this must not go unpunished."
But Russian officials and Syrian state-backed news agencies have denied that chemical weapons were used. Russia's foreign minister, Sergey Lavrov, called the accusation of a gas attack a "provocation". The Russian military said its officers have visited the site of the alleged chemical attack and found no evidence of chemical weapons used.
The UN Security Council held two emergency meetings on Monday in response to the alleged use of chemical weapons in Syria. The first was called by the US and eight other members of the council while the second was called by Russia.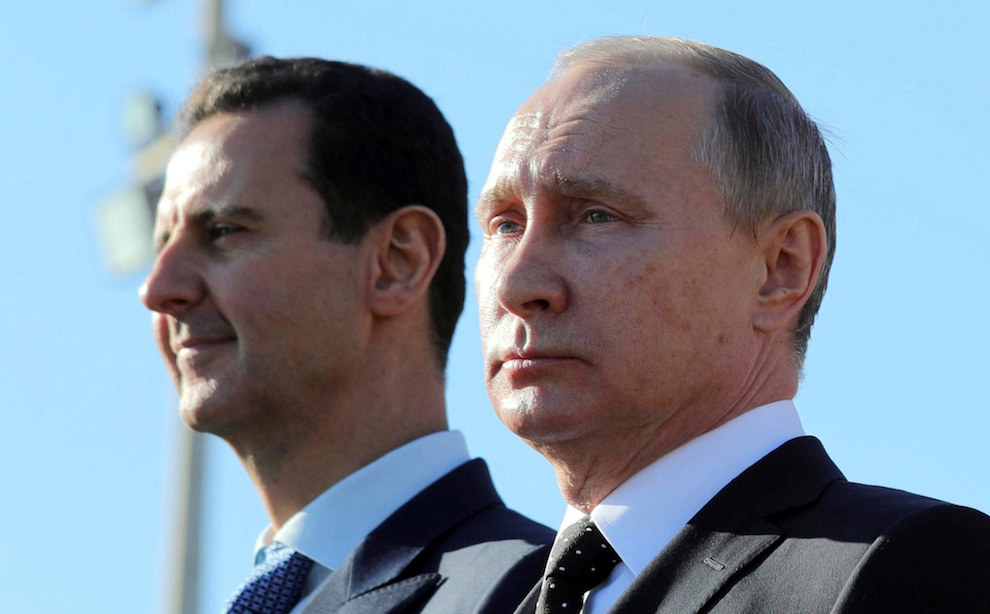 At Monday's meeting, the special envoy to Syria, Staffan de Mistura, spoke to the UN Security Council via video conferencing. At one point, he paused to emphasize his message.
"I have to say it very slowly because it's the first time during my presentation over four years of my own briefings that I've reached a point that I'm expressing a concern over international security, and not only regional or national, or Syrian security," de Mistura said.
"The council cannot allow a situation of uncontrollable escalation to develop in Syria, on any front. Instead it must find unity and address the concrete threats to international peace and security in Syria today," he said.
The Russian Ambassador to UN, Vasily Nebenzya, questioned the validity of the use of chemical weapons, and at one point called a video from the site of the alleged incident "staged."
Nebenzya said the US, UK and France, "without any justification" and "without considering the consequences, have engaged in a confrontational policy against Russia and Syria."
"A broad arsenal of methods are being used," Nebenzya continued: "Leverage, slander, insults, hawkish rhetoric, blackmail, sanctions and threats to use force against a sovereign state." There is no evidence to support Nebenzya's claims.
US Ambassador to the UN Nikki Haley said only a "monster" would use chemical weapons.
"Only a monster targets civilians and then ensures there are no ambulances to transfer the children, no hospitals to save their lives. No doctors or medicine to ease their pain," Haley said.
"The Russian regime, whose hands are all covered in the blood of Syrian children, cannot be ashamed by pictures of its victims. We've tried that before."
Haley said the US will see that those responsible for the attack will be "held to account."
"History will record this as the moment when the Security Council either discharged its duty or demonstrated its utter and complete failure to protect the people of Syria. Either way, the United States will respond," she said.
A further diplomatic row is due to arise next month when – due to a pre-agreed schedule – Syria is due to chair an ongoing disarmament conference in Geneva. The same meeting has previously produced the UN treaty banning the use of chemical weapons.
Syria takes over the presidency of the 65-nation conference from 28 May, taking over from Switzerland.
Meanwhile, in a significant development in a neighbouring conflict, Lavrov told reporters on Monday that Turkey will bring the Syrian city of Afrin back under Syrian control.
In March, Turkey began an offensive to drive out the YPG Kurdish militia, which is closely allied to the Syrian Democratic Forces, the main partner of US forces in Syria.