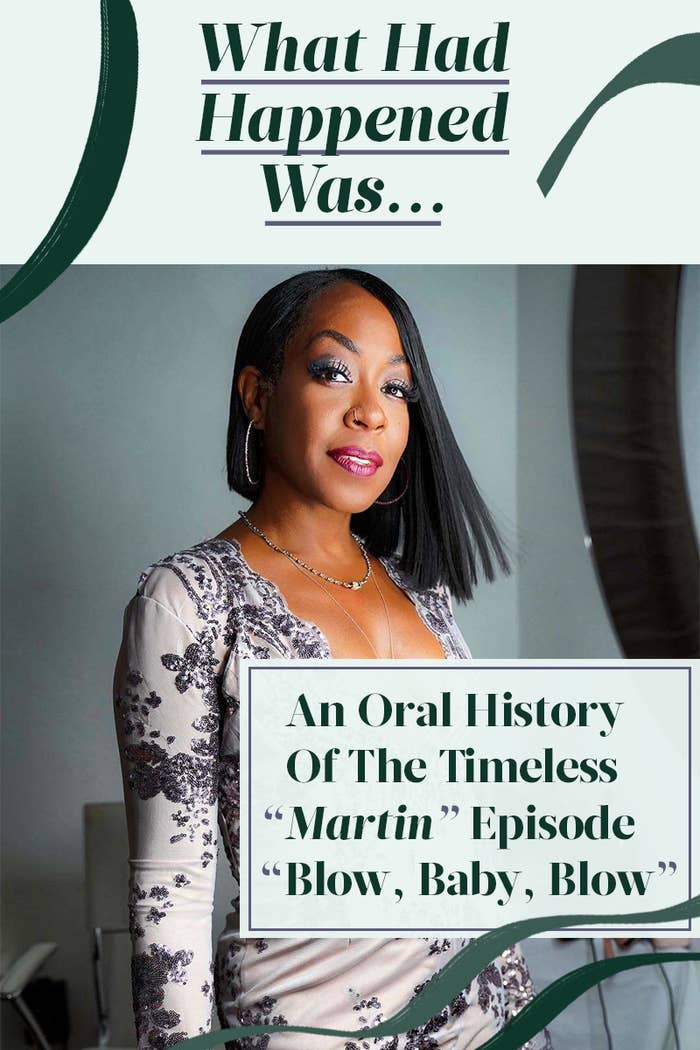 Here's some unsolicited advice for whoever's working on the next great American time capsule: make sure you include Tichina Arnold's filmography. And because the actor's esteemed career comprises at least 56 characters and spans 36-years (and counting), consider limiting the content to — what I believe to be — Arnold's most celebrated performances: the strict, fiercely loving matriarch Rochelle on Everybody Hates Chris (2005-2009); the outspoken, new money matriarch Cassie Calloway on Survivor's Remorse (2014-2017); and OF COURSE the queen of clapbacks Pamela "Pam" Jones on Martin (1992-1997). Carefully pack these episodes into whatever space-proof container you ultimately decide on, so that whichever future people unearth it can cry-stomp-laugh at one of the best television actors of our time. What's that you say? There's only room for ONE episode? Ugh, fine. Go with "Blow, Baby, Blow," the iconic season four episode found on every "Best Martin Episodes" list.
In short, the real-life Biggie Smalls aka The Notorious B.I.G. comes to town to hold background singer auditions on Martin's talk show. Starstruck, Pam and Gina proceed to act a fool trying to impress Biggie while not so casually singing around the rapper, so much so that a humiliated Martin bans them from the auditions. The best friends-turned-temporary rivals get around this by signing up with fake names and that's how Pam, disguised under the pseudonym "Shontina Turner," ends up singing Stephanie Mill's "Home" in a very "You betta SANG!" but also "Dafuq?!" manner. An equally outta pocket Gina then crashes Pam's performance, and never before was the song "And I'm Telling You I'm Not Going" more relevant to a scene. With both of the women having literally snatched the other's stage wig, the scene ends in them hollering ad libs as they fight for the spotlight. And just when you thought the ending couldn't get any funnier, Biggie ends up picking the friends' arch-nemesis Sheneneh Jenkins for the dream gig.
Many brilliant elements came together to make this 1995 gem not only one of the best Martin episodes, but one of the best episodes of television ever, period: there's The Notorious B.I.G. playing himself at the height of his fame and celebrity, the unforgettable roasts ("Baby she called me Anita Faker!" "Well you called me Phoni Braxton!" "Well you can get one more girl and you'll be Phony, Phoni, Phoné!"), and the raw comedic talent displayed by two insanely talented black women actors who weren't afraid of looking a hot-ass hilarious mess. "When we were doing the humor we wouldn't think, Oh man, the world's gonna see this! That's not where our head was," Arnold told me in a recent interview. "We were like, 'Yo, this shit is funny!' We were really laughing at each other, so it came from a place where it was just organic." Translation: Arnold has a natural-born gift for entertaining audiences while also delivering multidimensional portrayals of strong, opinionated, flawed characters who are maddeningly absurd and instantly loveable.
Hence her booked and busy schedule that involves new jobs, like the role of Tina Butler on CBS' The Neighborhood, plenty of press events for said jobs, and car rides to and from said events. So it was during one of these rides that Arnold and I spoke about the classic Martin episode, the impact of having the late Notorious B.I.G. on set, the historic exclusion and growing inclusion of dark-skinned lead actresses in Hollywood, and the not-so-secret key to having a longstanding, successful career.
Do you mind breaking down the making of "Blow, Baby, Blow" from your perspective as an actress?
Okay, well, what you're gonna have to do, now that the show has been off for like over 20 something years is remind me what happened in "Blow, Baby, Blow."

That's the Notorious B.I.G. episode.
Oh! Got it, thank you. We call that the "Pass the Bell," the "Tina Turner" episode. First of all, Biggie was the first guest star that we had on the show who literally had everyone in awe. Like all of us were there with our mouths open, total fans. And I know Biggie had just had an accident, a car accident, so he was on a cane and so that's why you never see him walk too much in the episode. He's always standing or sitting. That's the bit that most people didn't know.
Yeah, this was a great episode. It was one of those episodes where Tisha and I got a chance to stretch our comedic muscles as far as how we work with one another, by being in competition, and you know, singing and just kinda showcasing our other talents. And Martin was always good about that. So that was a great episode for us, very memorable, a lot of fun, and we just really enjoyed ourselves doing it.
What was it like working with Notorious B.I.G.?
He wasn't the first to actually guest star because everybody's a star in their own right, but he was the first guest star on the show that all of us as a cast were like, Oh my God! Biggie's here! Like even our security office, security guards, everybody was like Wow, Biggie is in the building! That's the kind of impact that Biggie had on people's lives as well.
The episode aired in 1995 and has just really aged like fine wine. It's still culturally relevant like, Beyoncé referencing it in her Halloween costume, and it's in all the top Martin episode lists. Why do you think people love it so much?
Because it was a part of our culture's growth! It was a [product] of the 90's. A lot of things were birthed and enhanced in the 90's and you have a lot of new moguls who came out in the 90's. A lot of things happened in the 90s that were very, very positive, especially for black people as a whole. It was just a great time for us as African-Americans.

You and Tisha really got to shine as a comedic duo in this episode. And it was great because you have these two beautiful black women who aren't afraid of looking extra on TV, so can you talk about that?
Well, Tisha [Campbell-Martin] and I have always been comedically joined at the hip. Meaning that we've always been able to play off one another, like even in real life. That's how we are. Like she'll say something, I'll finish it. I'll say something, she'll finish it. We both have the same sense of humor. Just how we crack on each other and crack on other people. It's kind of how we interacted with each other and it's always spilled over into how we work with one another as well. So, that's always a blessing.
And it's been a great thing for us, you know, because we've been afforded enough to have this opportunity to showcase our talent. Tisha started in show business before I did. She started at three years old and I started singing at churches at three years old, so our lives have been very parallel in that sense, in terms of just how we have entertained the masses throughout the years. Whenever we work together you can feel that synergy because there is real, organic synergy.
I wanna switch gears and talk about representation on television. In the 90's there weren't many actresses with deep complexions who had lead roles or lots of camera time. How did that impact you and how does it feel to be a role model and inspiration to other young black girls who see themselves in you?
I probably would be a lot different had I been born now instead of back then. When I was coming up and getting along through show business, the industry saw black women and kind of put us all into one box as "the fair-skinned black woman." And that's just how Hollywood was back then, and has been for a very long time. I didn't get major roles, I was always the best friend. Because that's how Hollywood, and that's how the viewers — or how Hollywood thought the viewers — perceived black women to be.
But having been in show business this long, I've seen the evolution of opportunities for women who are my complexion and darker than me because that stigma on us has been fought and eventually it will be eradicated. Debbi Morgan was a very good example for me. I never thought I could be on a soap opera having dark skin and crooked teeth. That was unheard of. But Debbi opened up a path for me by getting her role on All My Children [and becoming the first black actress to win a Daytime Emmy award], so then years later I could come in and [get a role on the same soap].
From Martin to Everybody Hates Chris, to Survivors Remorse and now The Neighborhood, you've really become a staple in American television history, especially for black audiences. We've watched you play these very familiar roles, characters who remind us of our best friends, partners, moms, aunts, cousins, etc. You hold a special place in our hearts. What does that mean to you?
Well, God knows we didn't know what we had when we were doing it. We were doing it for the love of it, just being organic. And what it taught me is that things that come from an organic place will survive. Those things that come from an organic place will be looked upon and revered. Unfortunately [Martin] didn't survive as a show — things changed, but it came from an amazing place and that place still survives.
That's the reason why you can watch it and still enjoy it, and I noticed that when we went into syndication. You know, people didn't really pay attention to the show until it was in syndication. When I had a little East Indian boy, about eight years old, run up to me and tell me, "Oh, you are Pam!" I was like wow! That taught me what syndication was, how powerful it was, but it also taught me that there are so many other people and cultures that can enjoy this type of humor.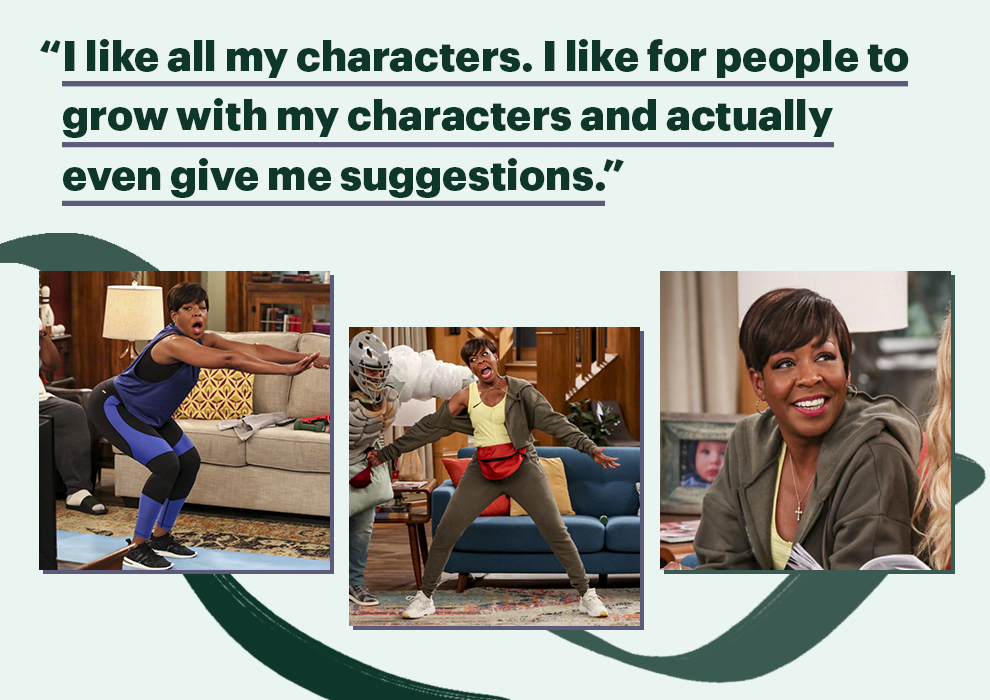 And is there anything that you want audiences to know about your role on The Neighborhood?
Just keep watching! You know, I like all my characters. I like for people to grow with my character and actually even give me suggestions about the character. But I also like taking it as it goes and seeing how the character develops in accordance with everything else.
God blessed me on another great show, a show that I think will be there for years to come. We have a great person at the helm of it and that is Cedric [the Entertainer] and to have Max [Greenfield], and Beth [Behrs] and Marcel [Spears] and everyone, just a group of people that want to be there. Even our crew; we've got a great crew, a great staff, production. And we all work well together. That kind of combination is always the makings of a great show.

What advice do you have for people looking to build and cultivate a successful, sustained career like yours?
You've gotta love it! That's the best advice I can give: you better love it. Because when it doesn't love you back, will you still do it? Will you still love it? That's the best advice I can give anyone.

This interview has been edited for length and clarity.
You can now catch Tichina Arnold on The Neighborhood alongside Cedric the Entertainer and Max Greenfield on Monday nights on CBS.
Tichina and her sister, manager, and Lupus survivor Zenay Arnold (not pictured) also co-founded and run We Win Foundation, a non-profit organization restoring hope, strength and comfort to people living with Lupus and other autoimmune diseases, as well as their families and caregivers.