Earlier this week, the Associated Press published an article that stated, "Stephen King and his wife donate $1.25M to New England Historic Genealogical Society." See anything wrong with this headline?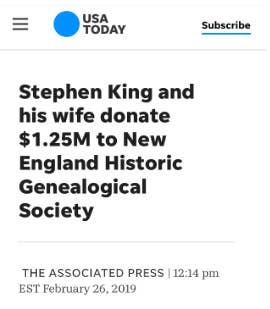 Well Stephen and "his wife" Tabitha King did.
And lemme tell ya, Tabitha's response was glorious. First, she kindly pointed out the part where editors had her f****d up: "Wife is a relationship or status. It is not an identity."
Next up was a delightful ~read~, which comes as no surprise considering Tabitha is ALSO a published writer and novelist.
She even joked that if she dies before "OfTabitha," then editors should title her obituary "Relick of Stephen King." But until then, "you might consider the unconscious condescension in your style book, and give women their names," Tabitha concluded.
Twitter was here for every bit of Tabitha's response. Some folks thanked her for breaking down the issue...
...while others proposed alternative edits to the headline.
Tabitha's tweets really resonated with people, like user @arbpen who said that being reduced to a daughter, wife, and mother "makes [women] kind of lose [their] identity"...
...and @iamaxian who recalled her great grandmother's tombstone, which reads "Mrs. John Lee."
A few folks also noted how the book and Oscar-nominated film The Wife addressed this ongoing issue of married women being reduced to their marital status.
IN CONCLUSION, WHAT A WAY TO KICK OFF THEIR WIVES HISTORY MONTH, AMIRITE?