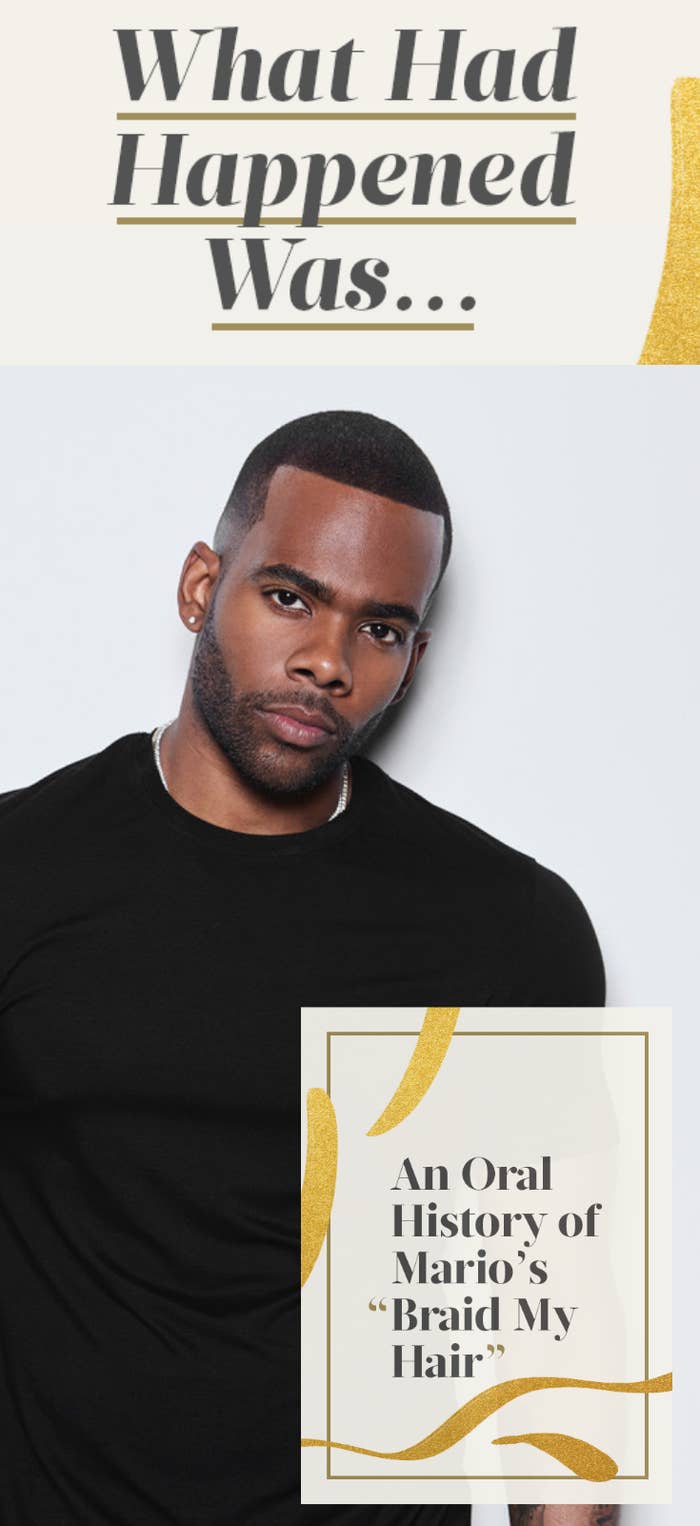 If the mark of a gifted athlete is making a difficult sport look easy, then the mark of a gifted slow jam singer is making an ordinary topic sound sexy as hell. Think about it: Ginuwine and ponies. D'Angelo and brown sugar. SWV and rain. While my preteen self didn't fully understand what juice had to do with pony rides or why it'd be flowing down one's thigh, I had watched enough movies and television shows to understand that something else was at work between the lines. Something very grown and very sexy. But it wasn't until R&B teen prodigy Mario dropped his 2002 smash "Braid My Hair" that I came to fully appreciate the imaginative pairing of the erotic and the everyday.
Sit me down like you love me,
Do it anyway you want,
Baby, take it slowly,
Front to back, side to side,
Crisscross,
Get creative with it, girl,
Do your thang,
Put it down like you love me,
Let your fingers do the walking,
And your lips do the talking,
In my ear tell me what I wanna hear,
I swear I can't wait for you to braid my hair...

...Do what you want to do,
Baby it's up to you,
Sit me between your legs,
Girl won't you braid my hair,
Baby make me feel alright,
And make it last all night,
And take away the stress and drama in my life,
Won't you braid my hair...
This wasn't your typical Sunday night braiding session with Mom. The 16-year-old chart-topping crooner had graduated from being just a friend to spending a night of physical intimacy between his girl's legs. Now, exactly 16 years and one month later, Mario has released his fifth studio album Dancing Shadows. And wouldn't you know that the opening track and first single "Drowning" positions both listeners and Mario in familiar territory: I never thought I'd be in between her legs, while I'm still thinking about you. So in true Sankofa looking-back-to-move-forward fashion, I met with the singer-actor three days before his album launch to take a deep dive into the song and video that redefined cornrows for a generation.
First things first. How'd you come up with the idea for "Braid My Hair"?
Mario: So, we were in the middle of finishing my first album and I was working with Harold Lily and Warryn Campbell, who also worked on "Just a Friend." I'd just arrived in New York after being on the road doing promo and it was my first time really traveling the world talking about music and breaking into being an artist. I came into [the studio] with my hair half-way braided and half-way out. The instrumental track for "Braid My Hair" was playing and Harold was like, "What you wanna talk about?" And I just remember being just over the whole promotion process.
So I said, "I don't know, I don't feel like singing today. I just wanna go home and let my girl braid my hair. That's it." And he was like, "That's the song right there! We need to write a song about you just being a young kid, just wanting to do something simple, like going home and getting your hair braided, but we're gonna make it super melodic." So I went into the booth and started singing melodies to the ideas he was having. Then Harold, who was more experienced with writing, just wrote the lyrics and we just killed it. I didn't know at all that people would relate to the song that much.
Let's talk about the music video because that's just as iconic as the song.
Yeah, so we were originally gonna shoot the video back home [in Baltimore] like how I did with "Just a Friend," but we didn't have time. I had to be in L.A. to record some tracks so we ended up shooting it at this local museum. I told the director Brian Barber that I wanted it to be like real life, showing me returning "home" to visit family, me being on the road, and even performing at a show. I just wanted it to be super raw, super real. So we just created that concept. It was cool and family-oriented. It was showing you the boy-next-door. You know, the same guy you're looking at today, but a little bit more mature and more experienced.
"Braid My Hair" is about young love and just getting your hair braided by your boo, so talk a bit about that.
Yes, it's about young love and also intimacy. Whenever my girl would braid my hair back then, it was a very intimate moment, but we'd have fun too. We'd talk a lot of sh*t to each other and watch movies. She'd finish half of my hair, then we'd have some ~fun~ and come back to finish the other half! [everyone in the room laughs] Straight up!
What role does black love play in the song and what does black love mean to you as an artist?
I think when there's love involved, especially black love, it's just powerful. It resonates. And whenever I think about black in general, I think about creativity. I think about the foundation of different things. I think about structure, rhythm, the culture of presentation, and you know, being in the vortex.
Alright, back to the braids. Are you tender-headed?
Hm, no one's ever asked me that before, but I like it because it's making me think about it! I am tender-headed, I am. I'm very sensitive, but I just dealt with the pain. There were two amazing girls that did my cornrows back in the day. One on the East Coast, one on the West. But I eventually had to cut my hair because I started traveling internationally and imma be honest, some of y'all overseas can braid, but [it's hard to find people in most countries], unless you're in Africa.
Cornrows have such a loaded history here in the United States. They're considered ghetto on black people and in vogue on other people, but for us, that's something we grew up with as black people.
And so, I love the fact that you turned this beautiful part of our culture into a huge mainstream song. Do you have any advice for young creatives who also want to share their cultures and experiences, but feel like maybe it's not important enough or worthwhile?
Well, [our culture and experiences] are worthwhile, just look at how everybody wants to wear braids now. We don't have to mention any names, but there are a lot of popular socialites who wanna rock braids now and want the fat ass and curves, things that a lot of black women naturally have and a hairstyle that they — and black men — originated. Plus, there's a lot of influence our culture has in music, in film, in everything.
So I think that we as a culture just have to continue doing what we do best and that means being our authentic selves. Everything else will come full circle. And right now is the time to do it. I feel this way because what a lot of people want to do is to keep you in fear of your own power. That's the main goal, right? So if you continue to just shine and overcome those fears, freedom is on the other side of fear. You know? And I'm saying that out of experience. I talk about that on [the track] "Good Times" and I just hope that this album inspires people to think on that level.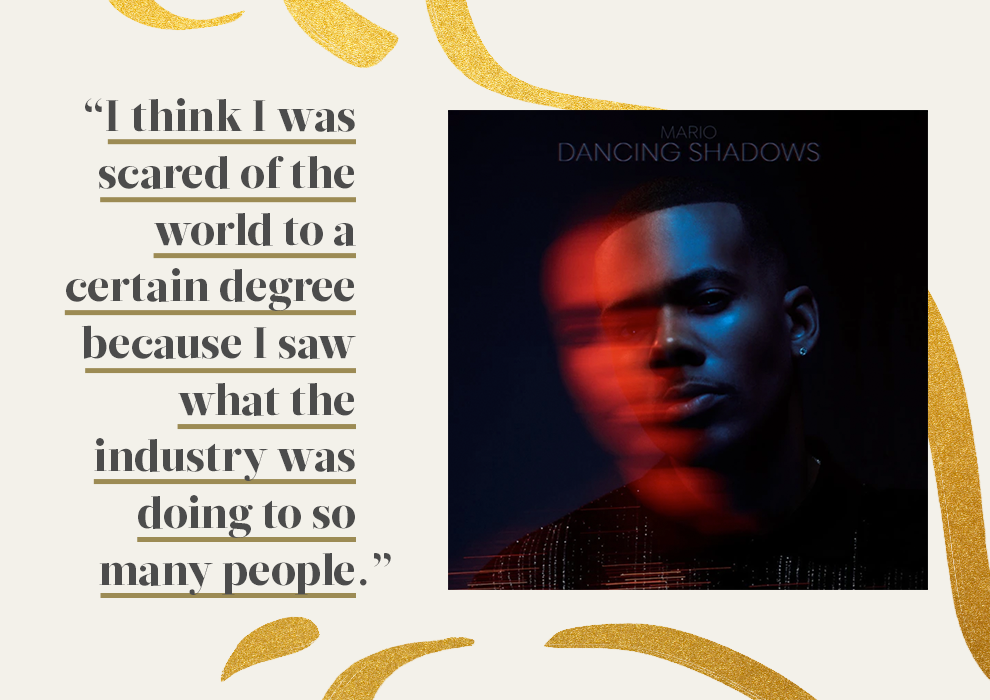 Your fans have grown up alongside you as you journeyed from a teenager to a man. What can they expect for this next era of Mario?
I think people are really gonna see what I've been up to, just in terms of mental, spiritual, and physical. I'm focusing on bringing everything full circle and really motivating more artists and more of our people — especially those of us who come from inner cities — to be fearless in pursuing their dreams and expressing themselves. I think that's what we've lost the most: the art of expression. There are a lot of kids suppressing their feelings and suppressing their gifts and trying to follow what they feel like is the quick way to success. There is no quick way to success. I think that being successful has a lot to do with being happy and also being able to express yourself the way you want to. And with this project that's what I did. And that's what I plan on continuing to do, just being more open and being more vulnerable.
I think I was scared of the world to a certain degree because I saw what the industry was doing to so many people. We're in a space right now that's really magical and scary at the same time because of all of the opposing and negative energies on the planet and the people who are parasitic to our evolution as a culture and a civilization. But once I grasped a strong understanding of who I am as a man and as a being, it motivated me to wanna reach out to people and be more open. So my fans can expect to be closer to me, to have a higher vibration of dialogue. That's the vibe I'm on right now.
This interview has been edited for length and clarity.

Dancing Shadows is currently available across all digital platforms. You can also catch Mario on the current season of Empire and in the upcoming live television production of RENT.