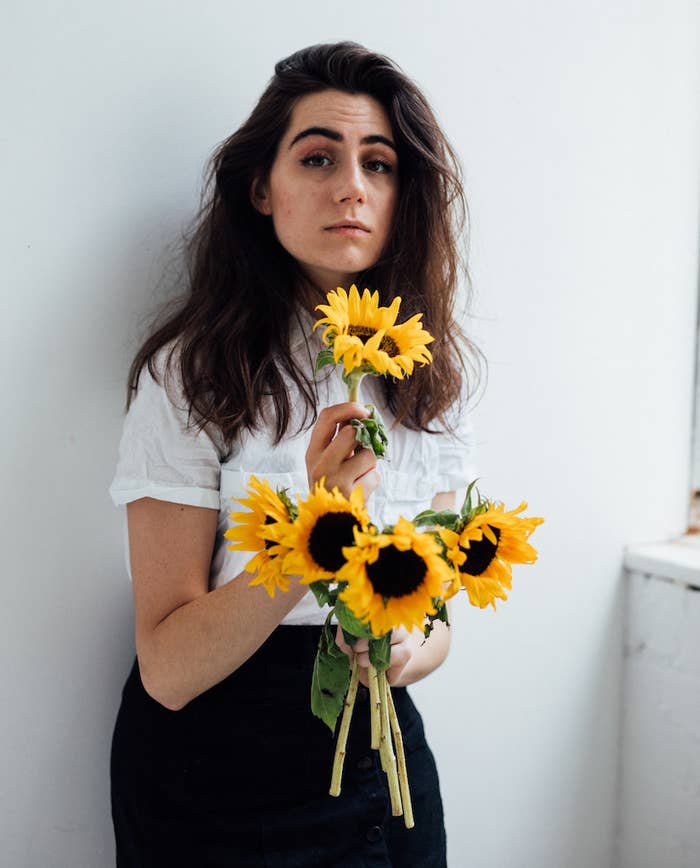 Dodie isn't really a dessert person. Chocolate cake? She won't eat more than a forkful, if any at all. She's more of a savory gal who's been known to crack salt grains on restaurant tables and finger-lick the briny powder. But I had not yet watched her "A Little Over 100 Facts" video on YouTube, which is why — at my suggestion — Dodie (and her friend Hannah and her publicist and three other companions) and I found ourselves at a Dylan's Candy Bar in lower Manhattan surrounded by every single sweet imaginable.
You too would've thought that she was a dessert person the way she lapped the sugar wonderland, browsing and scooping and tonging until the bottom half of her plastic bag bulged with treats. "Yeah, I'm not really a fan of chocolate," she tells me later when we're back at the BuzzFeed offices. "I don't really like cake-y, fudge-y things. It just is too filling for me." Dodie also doesn't like gummy candies, a fact I learned not online but earlier at Dylan's. "I'm more into cheese and salt or sour apple. That's me."
Her Dylan's bag sat between us, bits of chocolate treats and gummy candies peeking through the cellophane. I was a little confused and so was Ellie Mitchell, one of Dodie's 2.69+ million YouTube subscribers, who upon watching the "100 Facts" video noted, "well you enjoyed those 'cakes' you made with hazel" in the comment section (referring to Dodie's Valentine's Day baking video from two years ago). And so because I'm actually sitting here with Dodie in person and because I'm interviewing her, I follow Ellie's lead: "You said you don't like gummy candies, but..." I gesture to the bag.
"Well I'm a hypocrite, because I'm not a vegetarian," she says. "But I once froze gummy bears in a Popsicle. Then I took it out, started chewing on the gummies, and realized that all of the gelatin had risen to the surface. So I was just chewing on animal bones. And I was like, 'That is gross, I never wanna eat Haribo again in my life.' And yet here I am, sitting with a bag full of so much gelatin."
We've all got opinions, thoughts, and preferences that sometimes conflict. But Dodie's just been sharing all of hers on YouTube in the form of vlogs and original songs for the past eight years, which means 15-year-old Dodie who launched the channel is just as alive and accessible as today's 23-year-old Dodie. She addressed this issue head-on in a 2018 vlog titled "She Back." Centered in a close-up portrait shot and backed by her usual string lights and bedroom furniture, Dodie reminded viewers that she's still learning and growing and changing. "Though I might believe something at the time I uploaded the video, I might not believe that or think that anymore," she explained. "So I've been afraid to speak because I could change my mind so soon after I say something. And if I'm too scared to say something, then I won't say anything at all. So we need to scrap that."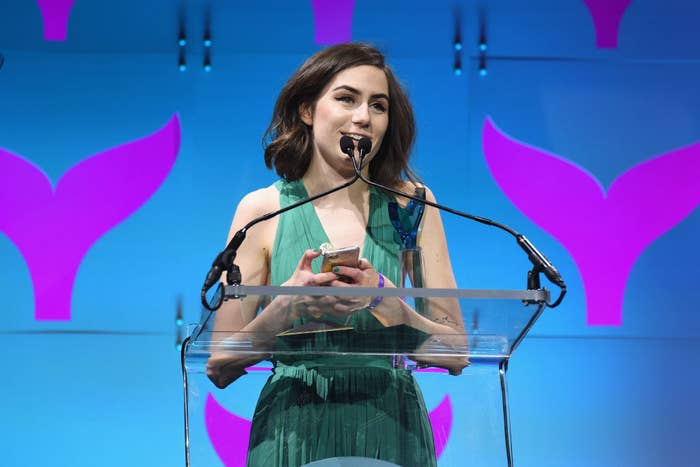 A bold move on Dodie's part, considering how cancel culture is at an all-time high; these days it's safer to share sanitized highlights and delete any regrets and controversies that can later be used as weapons to destroy the very image you created. But Dodie's more drawn to speaking and singing about her lowlights, and in validating the moments that usually don't make it to our daily feeds, she's become an inspiration for others who are trying to do the same. Her latest project Human, a self-released EP, features the title track, which she originally debuted on her YouTube channel in 2016, along with six other original songs that untangle universal discomforts like crushes, self-doubt, and loneliness, topics that especially resonate with young adults — which makes sense, given the songwriter started on this path when she was only 15.
"The one thing that I realized in writing these songs is the message of forgiveness," she tells me. "It's okay to feel any of these feelings, and there's a lot of shame in the songs that I'm writing. But in writing about them, and also sharing them with other people, it kind of just gives you this token of forgiveness, which is, like, human. This is what you are, this is why you're feeling these things."
Dodie's music falls in the same vein as Ingrid Michaelson, Regina Spektor, and Kate Nash, singer-songwriters whose lyrics take center stage amid light production, conveying feelings that are borderline cringeworthy in their poignancy, but also all-embracing and comforting in their transparent vulnerability. Each of her EP debuts has topped the last, with her third and most recent, Human, peaking at No. 5 on the UK Album Chart, No. 2 on the US Americana/Folk Album Chart, and No. 82 on the Billboard 200. And this fall, she kicks off her second US tour, stopping at 22 cities. All of this achieved with little to no press. YouTube is full of talented singer-songwriters and vloggers, but only a select few have successfully converted their online followings and viral moments into established recording careers like those of the chart-topping artists whose songs they cover. Dodie is one of those few.
Earlier that week, a line of 250+ people snaked its way through the lofty, industrial bowels of Rough Trade, a Brooklyn concert venue where Dodie had just performed to a sold-out audience. The demographic ranged from preteen to mid-twentysomethings — parent chaperones excluded — with teens dominating the group, all of them eager to meet and greet the singer. A feverish shriek rang from a trio of fans in the queue, signaling Dodie's entrance. She wore a nondescript, short-sleeved black midi dress, her usual half-and-half hairdo; if you didn't know her by face, she could have stepped right into her own meet-and-greet line and wouldn't have looked an inch out of place.
And likewise, fans find that they can slip into Dodie's songs with ease, the lyrics different yet similar, like a parallel universe. They apply the singer's clear, compassionate perspective to bring the blurry areas of their own lives into sharper focus. One song that came up frequently in my conversation with her fans was "She," the first video to hit 1 million. "I'd never tell, no / I'd never say a word / And oh it aches / But it feels oddly good to hurt," a teenage Dodie softly sings, sounding how I imagine the voice in her head might sound as she scribble-purges words on a page meant for her eyes only. The song appears on Human, but it was written years ago when she was crushing on a friend. "I was learning that I was bisexual," she tells me, fiddling with her hands. "I was like, 'Oh gosh, what is this feeling? I don't know how to process it.'"
Dodie first debuted "She" on her YouTube channel in Sep 27, 2014, two years before publishing her viral "I'm Bisexual WOO" video, which has been viewed 1.4 million times. Kaylie, a fan of hers, discovered the song while crying in her bedroom and browsing YouTube. "I mean, it's about loving girls as a girl, and I was very confused. It really struck home with me," the 16-year-old told me. "That was the first song I ever cried to and ever since then I've been connected to her."

Maddy, a 21-year-old singer-songwriter who discovered Dodie back in 2010, also found what she described as "a quiet validation within myself" through the song. Maddy didn't identify as queer until later in life, but Dodie's music helped her feel "really normal" throughout that journey. "It was like I had this secret with her in my head," she told me.

It should be noted that Dodie's shows are less like concerts, but more like conventions, as Celia, a 14-year-old Fiorello H. Laguardia High School vocal student, informed me. That night marked the her third Dodie performance and her second time meeting the singer whose ability to articulate loneliness and isolation, she says, has gotten her through a lot. That and all of the friends she's made at the shows. "It's magical," she said, describing the fan community. She recalls a past show at Brooklyn Steel where a group of fans handed out multicolored phone covers to everyone to surprise the singer with a rainbow (flash)light show during the concert. Buzzing beside Celia was her classmate Julissa, who is new to the fanbase and turns to both Dodie's songs and her 2017 book Secrets for the Mad: Obsessions, Confessions, and Life Lessons when home life "gets really rough" and her brain "gets really messy."
These were the people meeting with Dodie, taking photos with her on their phone while members of her team hastened each interaction to ensure face time for everyone. Her fan interactions have evolved from self-contained, evergreen interactions like reading and responding to viewer comments to more urgent, time-sensitive moments like these that whiplash the singer physically and mentally. "Someone will share a really deep story and it will really affect me and maybe touch on something that I've dealt with," she says. "I'll be very emotionally invested and sad. And then they'll leave and the team will be like, 'You need to hurry up. Can you speed things along?' And then someone else will come up to me expecting me to be as positive and happy as I am online, and I kind of have to balance that. And turn off and suppress those feelings, and you carry on. So it's just a lot. It's a very unnatural thing to do."
These conversations can also get very awkward, because as Dodie explains, fans are used to her speaking at them via screen as opposed to having a two-way discussion. "I understand what's happening," she tells me. "So I have to try and make conversation." At the same time, she knows how nerve-racking meeting one's favorite artist can be. She went through the same experience recently while waiting to meet Panic! at the Disco lead singer Brendan Urie at a listening party: "My palms were sweating and I'm like, Oh god, what am I gonna say? Okay, I wanna say this, I wanna say this. I know that I prefer when people [know what they're going to say] and have their phone ready. But then when you get to the front [of the line] everything goes out the window."
As I left the event, the line for Dodie still hugged the outside of the building, so the next day I ask her how it was. "It was very long," she replies. "It was so long, but I think it's a really good refresh." The candy's given her a temporary high, but her exhaustion from a long night and a longer day full of press interviews and in-office performances is still very much a thing. "You're like, Why am I doing this? I'm so stressed and tired," she tells me. "Then you'll meet every single person and get a personal thank you. It's such a typical phrase, but puts it into perspective. I'm like oh, yeah. These are real people." Still, Dodie thinks it's unnatural to rush that kind of connection, and after all of the meet-and-greets she's done, has concluded that less is more and decided to prioritize quality over quantity. She's found that meeting 100 people a day maximum is her limit, striking a good balance between meeting as many people as possible while also ensuring both she and her fans both have enough time to make a genuine connection. But wait! There were at least twice as many people at last night's meet-and-greet. Either Dodie hasn't enforced the boundaries she's set for her own well-being or she's stepping outside of her comfort zone and challenging herself to push past her self-imposed limits, as she has with her music.
Take her songwriting, for example. She used to think the only way to write was to get overwhelmed by emotions and let it pour out of her, a process that worked when she had more time on her hands. But when she ventured further into the professional music industry, Dodie found herself in structured writing sessions, which she described as horrible, and was cynical about the "manufactured" vibe of it all. She eventually found a middle ground where she still writes by herself while also incorporating the more structured elements of songwriting, like brainstorming ideas and themes beforehand and adding hooks. "I still definitely get the songs that pour out of me," she says. "But I think in learning to work with other people and sharing your creativity, it just kinda teaches you that there's no one way to write and to open up your mind, try new things, and challenge yourself, because something will come out of it." Going on tour and producing her music have also taught her how to amplify her vocals — adding string instruments and harmonies, or "voices around [her] voice" — without losing the self-described "small, intimate" aesthetic that she crafted in her bedroom YouTube sessions.
I ask Dodie if there's anything she wants her fans to know about the next phase of her career, and that's when she, someone whose career is based on conversation and storytelling and jumpcuts, goes silent for about 30 seconds — an eternity on YouTube. Then she says: "I don't really know what I'm doing. I'm just kinda going with the flow. I think... I don't know, I'm finding out more of what I like. And I think... I don't know. I feel like people are still joining me. I'm so terrified of if my opinion and personal... What's the word? I don't know... If the way I want to make music changes and then that doesn't match my audience, I'd feel bad. I don't know. I'm still finding my feet pretty much. I'm still kind of working through it." And so Dodie doesn't know. But how many young adults (or hell, even older adults) can confidently say what they'll be doing in the next phase of their life? Sometimes it's hard to remember that Dodie doesn't have all the answers — that her content, as relatable and honest and charming as it is, is still edited and produced. There are in-between pauses, "I don't know"s, and many other things we'll never know or see.
Dodie has to go back to the UK tonight, so she and her friend Hannah and her publicist thank me and hug me and rush out of the lobby into the frigid January night. After they leave, I check out her Instagram, curious to see how our day will look through Dodie's lens. Her Instagram story shows a brief clip of her marveling at the extravagance that is Dylan's Candy Bar followed by a montage of her and Hannah running around JFK Airport desperately searching for a Starbucks. She's filmed all of this chin-up, Blair Witch Project-style, her signature top knot flopping about. There's also a clip of her retelling the same candy anecdote she told me at the candy store — about the time she ate way too many Warheads, making her tongue bleed and (probably?) damaging her tastebuds and sparking her love for salt. As a journalist, I can't help but feel some kinda way about her sharing that quirky anecdote with her viewers and not saving it for my own story; I had assumed I'd be getting a different version of Dodie than the one we see behind a screen, but maybe it is possible for a celebrity to be authentic and consistent in their persona both online and off.
I exit Instagram and triple-check my Voice Memo app to make sure our interview recordings are saved. That's when I see three recordings (I'd only recorded two!). I click play. Dodie and Hannah's sugar-rushed British accents chirp into my earbuds: "We just wanted to say that we think you're really cool. And thank you for the candy. Still love your coat and scarf choices. Hope you're feeling less tired. And enjoy this message whenever you listen to it. Okaybye!"
It's simple, thoughtful, and human. I smile to myself — a huge grin that cracks my customary "don't mess with me" walking mask — and know that whatever changes come her way, Dodie the vlogger-author-singer-songwriter-person will be okay. ●