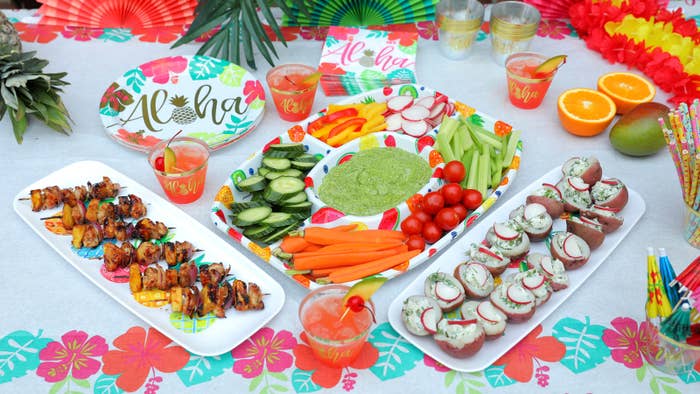 MANGO TEQUILA SUNRISE
Servings: 4
INGREDIENTS:
1 cup mango nectar
1 cup coconut water
1⁄4 cup lime juice
1 ounce triple sec (1⁄4 ounce per drink)
4 ounces tequila (11⁄4 ounces per drink)
2 teaspoons grenadine (1⁄2 teaspoon per drink) Mango slices, for garnish
Maraschino cherries, for garnish
Utensils needed:
Measuring cup or pitcher Whisk
Measuring spoons Jigger
Knife and cutting board


PREPARATION:
In a small pitcher or measuring cup, whisk together the mango nectar, coconut water, and lime juice.

Fill four highball glasses with ice. Pour 1⁄4 ounce triple sec and 11⁄4 ounces tequila in each glass. Divide the mango mixture evenly between the glasses. Pour 1⁄2 teaspoon grenadine into each glass (the grenadine will sink to the bottom and create the sunrise effect).

Use a toothpick to skewer together a mango slice and a maraschino cherry as a garnish.
HERBED POTATO SALAD BITES
Servings: 4–6
INGREDIENTS:
1⁄2 cup plus 2 tablespoons Greek yogurt
1 clove garlic, minced
3 tablespoons lemon juice
2 teaspoons lemon zest
1 teaspoon salt
1⁄4 teaspoon pepper
21⁄2 pounds red potatoes, boiled until tender 3 scallions, thinly sliced
1⁄4 cup minced parsley
1⁄4 cup minced cilantro
1 tablespoon olive oil Sliced radishes, for garnish
Utensils needed:
Mixing bowls
Whisk
Knife and cutting board Spoons
Mixing spoons/spatulas

PREPARATION:
In a small bowl, whisk together Greek yogurt, garlic, lemon juice and zest, salt, and pepper. Set aside.

Cut potatoes in half and carefully scoop out most of the inner flesh, leaving a little bit around the skin so that the potato forms a small bowl. Set potato skins aside.

Chop the scooped-out potatoes into small pieces. Fold the Greek yogurt dressing over the chopped potatoes. Fold in scallions, parsley, and cilantro. Drizzle in olive oil and stir one last time.

Scoop potato salad into the potato skins. Garnish with radishes.
TERIYAKI-GLAZED SKEWERS
Servings: 4–6
INGREDIENTS:
1⁄2 cup soy sauce
1⁄4 cup water
1⁄4 cup brown sugar
1 tablespoon rice vinegar
2 teaspoons grated ginger
1⁄2 tablespoon cornstarch mixed with 1 tablespoon water to form a slurry
1 pound boneless skinless chicken thighs, cut into 1-inch pieces
2 cups large diced pineapple
1 cup large diced red onion
Sliced scallions, for garnish
Sesame seeds, for garnish
Utensils needed:
Bamboo skewers
Knife and cutting board
Whisk
Saucepot
Pastry brush
Tongs
PREPARATION:
To make the glaze, combine the soy sauce, water, brown sugar, rice vinegar, and grated ginger in a small pot over low heat. Whisk to dissolve the sugar and bring to a light simmer. Let simmer for 3–4 minutes, then stir in the cornstarch slurry. Sauce will thicken into a glaze. Once thick, remove from heat.

Skewer chicken, pineapple, and red onion onto bamboo skewers, alternating items.

Heat up grill to medium-high heat. Place skewers on the grill and brush with the teriyaki glaze. Cook for 3–4 minutes, then flip skewers and brush again with glaze. Cook until chicken is fully cooked through, then remove from grill.

Garnish with scallions and sesame seeds before serving.
CREAMY PESTO DIP
Servings: 4
INGREDIENTS:
3 ounces basil leaves
1 clove garlic
2 tablespoons pine nuts
1⁄2 cup grated Parmesan
1 teaspoon salt
1⁄2 cup olive oil
Juice of 1 lemon
2 ounces cream cheese, softened
2 tablespoons mayonnaise
Cut vegetables (carrots, bell peppers, tomatoes, radishes, cucumbers, celery, etc.)
Utensils needed:
Food processor
Silicone spatula
Knife and cutting board
PREPARATION:
Place basil, garlic, pine nuts, Parmesan, salt, olive oil, and lemon juice in a food processor. Process until everything is broken down and the pesto is a sauce-like consistency.

Add in cream cheese and mayonnaise, then process until sauce is smooth.

Serve with cut vegetables for dipping.