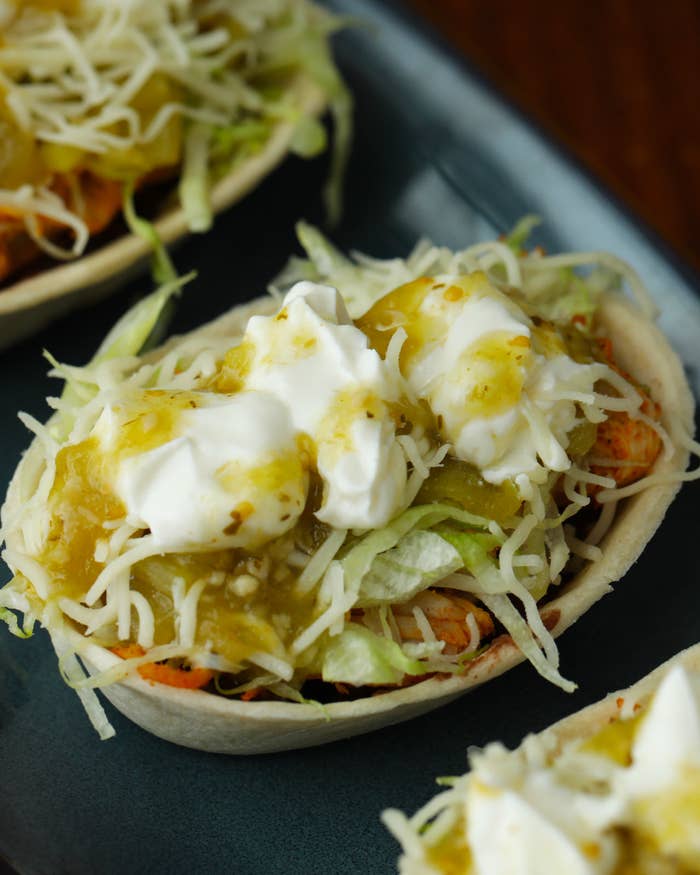 Servings: 8
INGREDIENTS:
Meat
1 tablespoon olive oil

2 tablespoons taco seasoning

1 pound shredded rotisserie chicken

Beans
1 tablespoon olive oil

1 clove garlic, minced

1 can (8 oz) refried black beans

1 teaspoon salt

1 teaspoon garlic powder


Tortillas
1 package OLD EL PASO Mini Soft Tortilla Boats

Toppings

¼ head iceberg lettuce, shredded

1 small can (6 oz) diced green chiles

½ cup finely shredded monterey jack cheese

½ cup sour cream

1 jar (8 oz) salsa verde

PREPARATION:
Preheat the oven to 325°F.

In medium saute pan over medium heat, add oil and taco seasoning. Let the seasoning sizzle for a minute, then add the shredded chicken. Saute for a minute or two to heat through. Remove from heat and set aside.

In another medium saute pan over medium heat, add oil and garlic, then cook for 2 minutes. After, add can of beans, salt, and garlic powder, stirring together. Cook for about 3 minutes, until everything is incorporated and beans are warmed through. Set aside.

Wrap stack of tortillas in foil and place in oven for 5–7 minutes, until warm.

To assemble, place tablespoon of beans in bottom of tortilla boat in even layer. Add chicken layer. Sprinkle with green chiles and cheese. Top with sour cream and salsa verde.

Enjoy!