Frozen Cranberry Cheesecake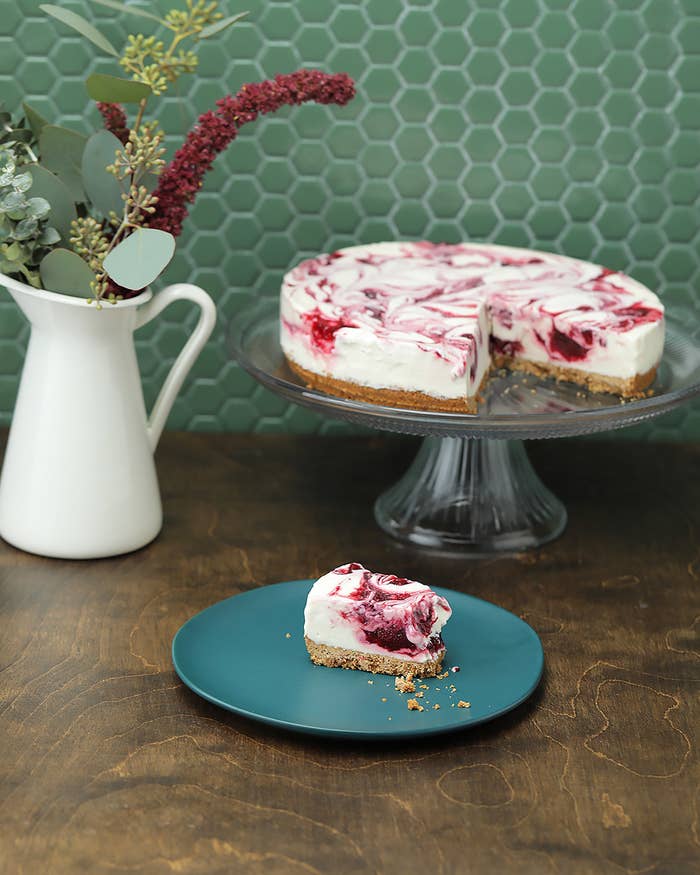 INGREDIENTS:
Cranberry Sauce
12 ounces cranberries, fresh or frozen
2½ cups Ocean Spray® Cranberry Juice Cocktail
1 tablespoon orange zest
½ teaspoon cinnamon
½ teaspoon ground ginger
¼ teaspoon ground cloves
1 tablespoon maple syrup
½ cup sugar
Cheesecake
8 ounces cream cheese, softened
14 ounce can sweetened condensed milk
2 teaspoon vanilla extract
1 tablespoon lemon zest
1 cup heavy whipping cream
1 tablespoon sugar
Cheesecake Crust
2 cups crushed graham crackers
Pinch of salt
7 tablespoons unsalted butter
PREPARATION:
1. Preheat oven to 350℉ degrees.
2. In a saucepan, combine all ingredients for the cranberry sauce, bring to a boil and then simmer for 25–30 minutes until reduced to a thick sauce. Set aside to cool before chilling in the refrigerator.
3. Melt butter and pour into a bowl with crushed graham cracker and salt. Stir until combined.
4. Press graham cracker into greased springform cake pan, using the back of a measuring cup to flatten and pack it down evenly.
5. Place in the oven for 10 minutes until slightly browned, and then set aside to cool down before chilling in the freezer
6. To make cheesecake, pour whipping cream into a large bowl and beat using a hand mixer until stiff peaks form. Add sugar and whip for another minute to combine.
7. In another large bowl, place softened cream cheese and beat with the hand mixer until smooth. Then sweetened condensed milk, vanilla extract, and lemon zest, mixing until combined
8. Using a spatula fold whipped cream into the cream cheese mixture until incorporated.
9. Pour cheesecake mixture on top of the graham cracker crust in the pan.
10. Using a spoon, add random dollops of the cranberry sauce to the top of the cheesecake.
11. Swirl the cranberries into the cheesecake lightly using a spoon or knife.
12. Place in the freezer for 6–8 hours until set and firm.
13. Enjoy!