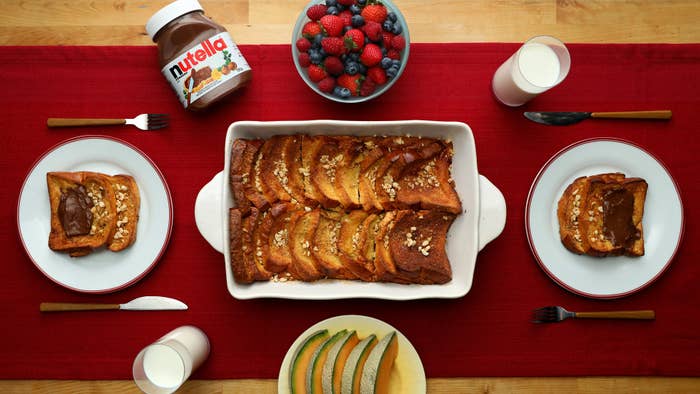 SERVINGS: 10 Pancakes
INGREDIENTS
8 eggs
2 1⁄2 cups milk
2 tablespoons white sugar
2 tablespoons packed brown sugar
1 tablespoon vanilla extract
1⁄4 teaspoon nutmeg
1⁄2 teaspoon cinnamon
1⁄4 teaspoon salt
1 loaf brioche bread, sliced 1⁄2-inch thick
Chopped toasted hazelnuts, for garnish (optional)
8 tablespoons NUTELLA hazelnut spread (1 tablespoon per serving) Fruit, for serving
PREPARATION
1. 8 Grease a 9x3-inch baking dish.
2. In a large bowl, whisk together eggs, milk, white sugar, brown sugar, vanilla extract, nutmeg, cinnamon, and salt until well-blended.
3. Fully dip each slice of bread in the batter, then arrange in 2 lengthwise rows in the baking dish, slightly overlapping the slices.
4. Let sit for 1 hour.
5. Preheat oven to 350°F.
6. Bake for 45 minutes for a softer, more bread pudding-like texture, or for 1 hour for a firmer, crisper texture. (While baking, cover with foil if the top of the bread begins to get too dark).
7. Top with toasted hazelnuts, if desired. Let sit 10 minutes. Scoop out individual portions to serve with NUTELLA hazelnut spread. Enjoy with a glass of milk and side of fruit.