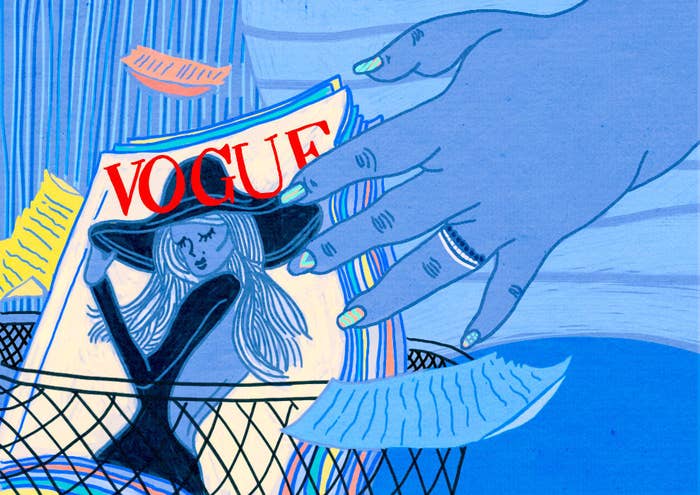 Vogue's 2015 September issue, in certain ways, is an exceptional stack of paper. The 832-page doorstop is covered by Beyoncé — the third black woman ever to grace the front of the magazine's biggest yearly volume — and various ads and editorials showcase people of diverse colors and age groups. Yet, out of all those pages, only four feature plus-size women.
All four are advertisements.
Four pages out of 832 is 0.48076923% of the magazine — a magazine marketed to a country where an estimated 65% of women are a size 14 or above. This dearth of representation concerns body acceptance activists, in part because they see Vogue's exclusion of plus-size bodies as a reflection of deep-seated social prejudices.
"When we fight for body diversity in magazines like Vogue, we're actually wrestling with the deeply embedded (and deeply problematic) tradition of equating wealth and exclusivity with thinness," MindBodyPlate's Sarah Kit Farrell, a media literacy advocate and eating disorder specialist, tells BuzzFeed Life.
Indeed, Vogue has earned its reputation as the sacrosanct guide to How You Wish You Lived by celebrating a level of wealth and thinness unattainable to most — an approach more relevant in times when body acceptance movements weren't as widely embraced even on the runways of designers who fill its pages, and mid-range retailers wouldn't have appeared in the pages of the magazine. The ads from Target, Macy's, H&M, Express, Gap, and Land's End in this month's issue, however, suggest that both those advertisers and Vogue's editors understand that their audience is no longer so invested in such a fantasy.


There is a cognitive dissonance between this issue's editorial content and its paid placements. Scattered among glossy photos of supermodels in thousands of dollars' worth of clothes, ads for financially accessible brands and Lane Bryant's widely publicized #PlusIsEqual spread (arguably the catalyst that has reinvigorated interest of late in Vogue's exclusion of larger bodies) seem as blatantly incongruous to the aspirational image Vogue cultivates as ads for hunting gear in a PETA circular. It's a luxury magazine's publicly aired identity crisis at a time when social attitudes toward its values are in flux.
Vogue declined to comment on record for this article, but September's issue is far from the first example of its institutional distaste for bodies that vary from the traditional model physique.
"Miss Anna [Wintour, Vogue's editor-in-chief] doesn't like fat people," André Leon Talley, the magazine's former editor-at-large, famously told Oprah Winfrey in a 2005 interview. For her part, Wintour has called her ideal readers "energetic, executive women, with money of their own and a wide range of interests," but has also admitted to suggesting that Winfrey (who embodies those qualities more thoroughly than perhaps anyone else who's ever graced the front of the magazine) drop 20 pounds ahead of the her cover shoot.
Vogue, to its credit, has included plus-size women in online shoots like this 2014 article on lingerie — but relegating extra flesh to a web feature once a year is a far cry from routinely dedicating time and resources to ensure the visibility of such bodies in their better-known, much-discussed publication with a finite number of pages.
There are two possibilities that could explain Vogue's print edition routinely excluding larger bodies. One is that the magazine recognizes that its readers may be plus-size women, but is still reluctant to actually show them. The other is that they're unaware that plus-size women, like those in blogger and body activist Essie Golden's circle, "won't purchase magazines like Vogue because they don't advertise to them, or showcase women who look like them." Whatever the case, as traditional magazine sales decline, continuing at this point to alienate over three-fifths of their potential readership — women in America, that is — doesn't seem like a smart decision.

"There is some irony in Vogue (and other magazines) keeping plus-size women off their pages," Bella Moxie's Amanda Williams tells BuzzFeed Life. "The irony remains in their reader reach, because the more readers you have, the more valuable you are."
Golden agrees.
"Let's not forget the plus-size industry is a multibillion-dollar one. You're telling me [publications and advertisers] want to miss out on a piece of that because a woman is fat? The way magazines are going out of business, they need us."
But Williams and Golden see the magazine's next moves differently.
"I am encouraged by the progress of the body acceptance movement, and I can only hope Vogue and other magazines see the value in fostering a more attainable expectation for women," says Williams.
"I think Vogue will eventually put a plus-size model in their magazine," says Golden, "but it will be more of a token instead of a permanent thing."

Either way, Vogue is no longer the final say in fashion. With a sea of style blogs, Tumblrs, and Pinterest and Instagram accounts at the fingertips of the sartorially inclined (which, in addition to providing a nonstop stream of free content, have helped hugely to democratize fashion), Vogue is simply one of an ever-growing number of resources to possibly skim before getting dressed — for those who don't feel marginalized by it. As for its prestigious legacy, the appearance of bargain retailers in the magazine suggests that readers are becoming less interested in financial exclusivity and physical homogeneity, and the magazine's advertisers are shifting to reflect that.
Of course there are other reasons Vogue should include a greater diversity of women — plus-size, racially diverse, trans and other gender nonconforming, and differently abled women — besides its bottom line. As Williams puts it, "Vogue and similar magazines are influential change agents, and they should use their platforms to correct social stigmas." But a corporate entity is expected to act in its own best financial interest, so Vogue doesn't need to be motivated by the "right" reason to change. It just needs to do it.