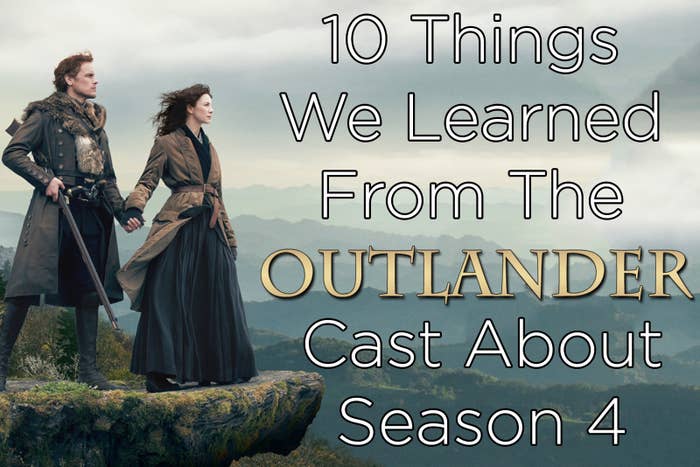 Before their New York Comic Con panel this year, Sam Heughan, Caitriona Balfe, Sophie Skelton, and Richard Rankin sat down with us for an exclusive chat about Season 4 of Outlander. Here's what they had to say: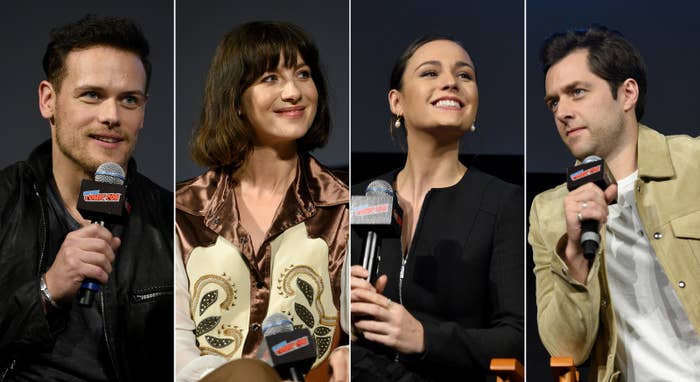 1.
First, Season 4 is very much about rebuilding this world we've come to know for three seasons. What's that been like?
Caitriona Balfe: Jamie did it all by himself.
Sam Heughan: [laughs] Yeah, he's very good at, you know, hammering.
Sophie Skelton: We're not actually in this season. [laughs] Just Jamie.
Sam: It's fun to be in a new world and to be showing America in its infancy and all the different cultures that make up America. It's nice to be shooting in the woods a lot.
2.
You guys still shot in Scotland, but turned it into Colonial America. How was that?
Caitriona: You feel like you're in the backlot of one of the main studios because we built this whole town in a little area [outside]. For me, it's that thing of feeling like a kid when you get on set and you realize it's all facades. But, it looks so cool.
Sophie: You go through a door and you're amazed.
Caitriona: Yeah! You go through a door and you're like, "OMG, it's a field." Gary [Steele] just did such an incredible job. Our production team, the whole crew, they just do such an amazing job. I mean, River Run as well. It looks so stunning. I think things like that, they just change the feel or the atmosphere of the show altogether.
Sophie: It's also great for our job because it helps put yourself fully in the place, just as much as a costume or anything like that does. The sets are amazing. The detail in all of them as well.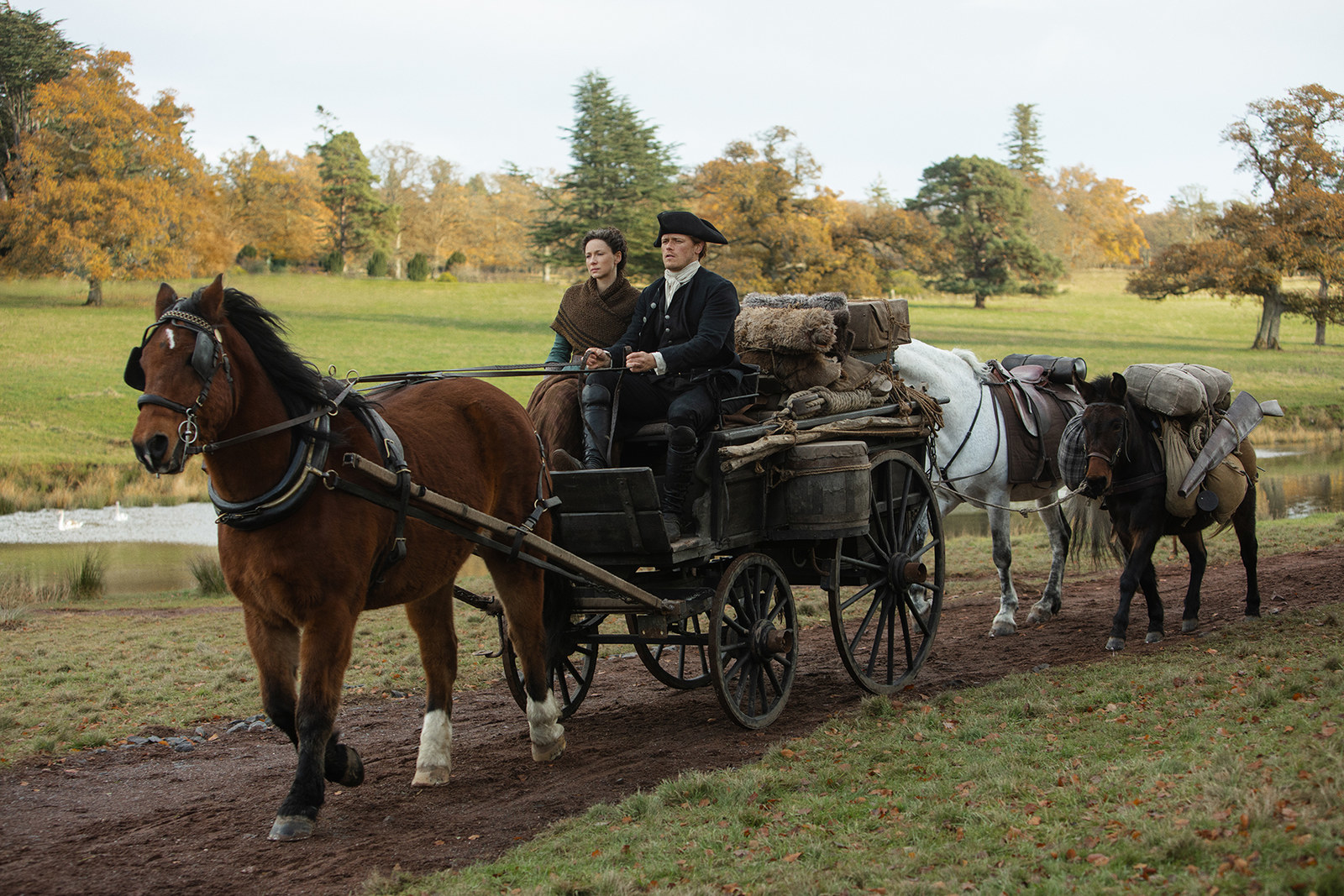 3.
You guys travel up and down the East Coast, in not only the 1760s, but also the late 1960s.
Richard Rankin: Yeah, the story moves through so many places. It's a testament to how talented that team [art department] is. They have to build things kind of last minute and they can be such diverse sceneries and locations. They just bring them all to life with such details. It's quite easy to get immersed in that.
4.
Sam and Caitriona, this is the first time we're really seeing Jamie and Claire trying to settle down. How does that change your dynamic this season?
Caitriona: I think it's a really different side of Claire. I mean, in other seasons we've focused so much on her being so career driven. I think it's a quieter version of her, in many ways, and more content. The fact that her and Jamie are finally together and are building a home, it's the first opportunity she's had to really focus on family life and their relationship. That was quite different for me. It's an interesting new challenge to be able to explore that.
Sam: And Jamie, he's content, I think that's a great word to say. He's always wanted to have a home and a family, and an extended family. He gets that this season. He gets the opportunity to settle. He falls in love with the country and the land. He's surrounded by aspects of having a family. He's got young Ian and Claire, and obviously Brianna in one way. So, for a short while it's quite peaceful.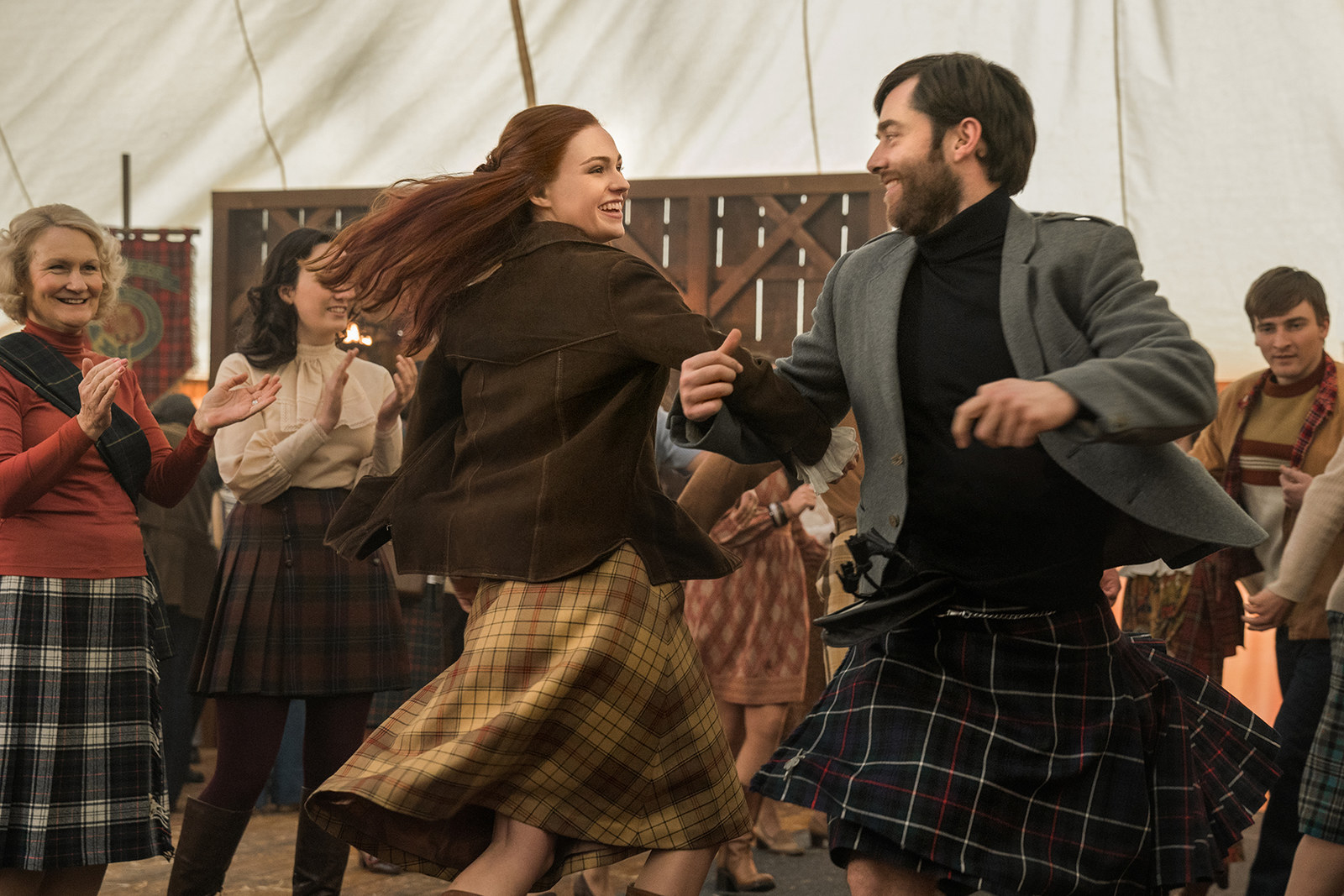 5.
Sophie and Richard, this is my favorite book in the series and a lot of that has to do with Brianna and Roger's growth. How is it, not only exploring your relationship together, but your characters separately as well?
Sophie: I think that has been the fun thing this season because, like you said, this is my favorite book. I think for Bree and Roger, thus far has been setting up the story for this season. I think there's a really nice dynamic in terms of them having that sort of back-and-forth relationship. Again, every time they're brought together they're pulled apart. They're both kind of dealing with their own individual problems. They're both getting over the death of their fathers, plus Brianna deals with essentially giving away her mother. They also have this long distance relationship and everything that comes with that. So, while Jamie and Claire have a fresh beginning, these two are sort of in the muddy waters of what has just happened.
Richard: We also had a very gradual introduction to the show as well, which was a good thing, I think, because you have a lot of time to think. We were only in the end of Season 2 and only a few episodes in Season 3, but being aware of the show and the world in which the show's set was very helpful coming into Season 4. We know exactly where the characters are and we know exactly where we are within the story. So, I think it has been quite an advantage. It's been good to explore, like you say, together and separately and what they're dealing with because they are dealing with quite a lot in their lives individually never mind trying to cope with each other. They're dealing with not only a long distance relationship, but everything that comes with the Frasers.
Sophie: I also think, for us as well, you've only really seen their similarities, where this season, you see that they have completely different points of view on very important matters.
6.
How has it been exploring more of the 1960s this season and Brianna's life on her own?
Sophie: I think we haven't seen a lot of the '60s. What I like at the beginning of this season, you see a very important topic of the '60s in terms of the sexual revolution and the fact that people were starting to branch away from religious beliefs, like no sex before marriage, and all of that. I think that's a really good thing to show this season in terms of the '60s. We've really only seen the light side [of the era] so far.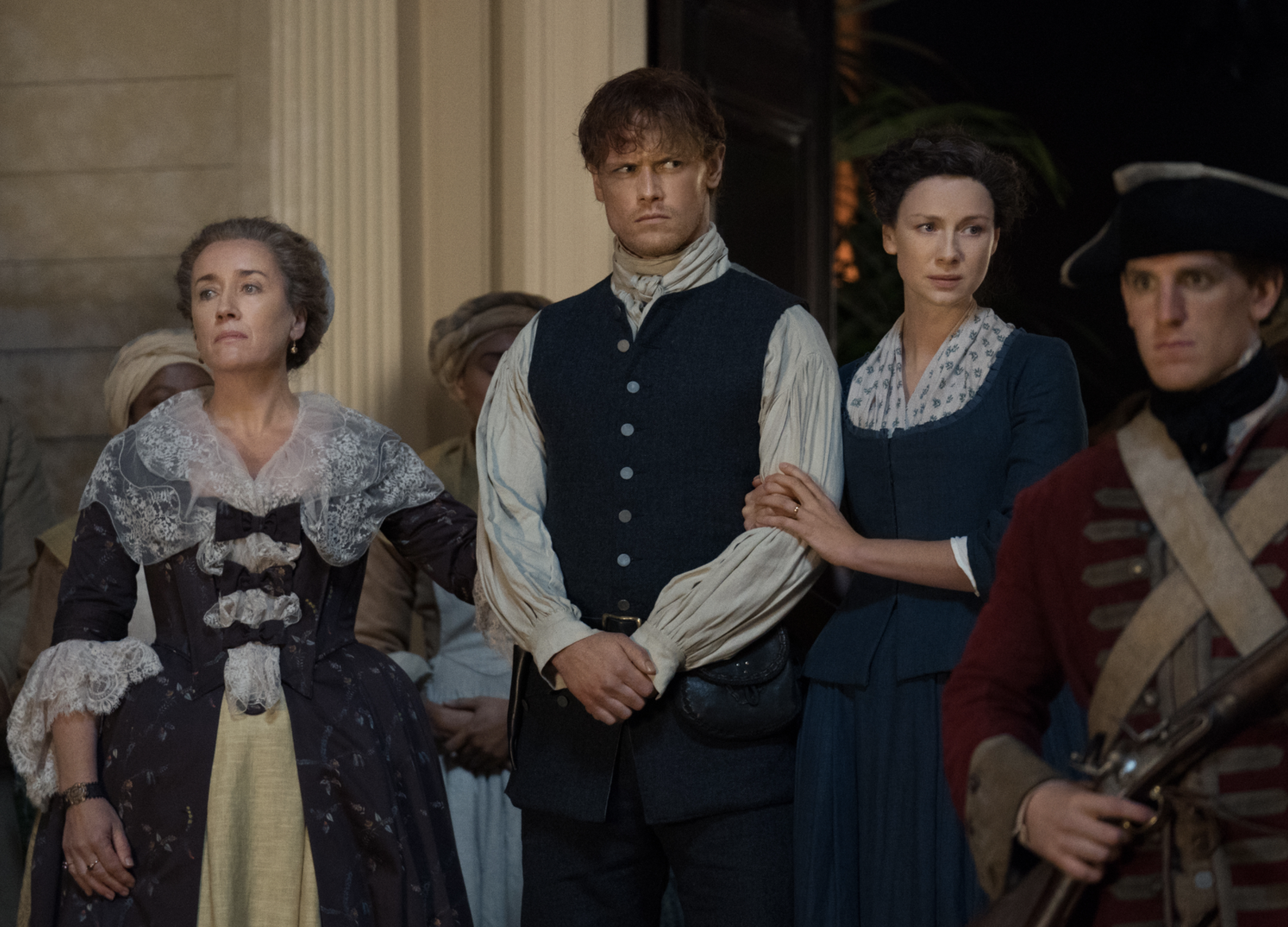 7.
One character who arrives this season is Jamie's Aunt Jocasta. How's that going to affect Claire and Jamie's relationship?
Caitriona: I think that episode was sort of difficult in some ways, for a lot of us, because it's a little different from what was in the book. Jocasta, played incredibly by Maria [Doyle Kennedy], she's just amazing. For Claire, she sees Jamie being so happy being connected to part of his family, but for Claire, there's this wall that will never really come down between her and Jocasta because they have such opposing views [on certain things]. Claire will never understand Jocasta's point of view and Jocasta will never understand her point of view. I think there's a mutual respect there and a mutual admiration in some ways, it's just an unbridgeable wall.
Sam: And for Jamie, as you [Caitriona] said, it's his last sort of living relative in a way. She looks and sounds like his mother and for him, it's a really emotional thing. Initially, it's quite joyful for him. But it's a mixed bag for him really because of his life with Claire.
8.
There's also Stephen Bonnet. For fans of the books, they know how important he becomes later on. What's it like laying the groundwork for his role moving forward?
Sam: Yeah, Jamie and Stephen have an interesting relationship and there are so many repercussions later on. He's quite a villain.
9.
Sophie — While Brianna didn't travel back in time with Claire in Season 3, does she still feel some connection and curiosity towards Jamie and the past?
Sophie: Obviously the idea of meeting her biological father would be something that's wonderful for her, but at the same time, Frank was her dad, and it's something you see this season. It's something she really feels torn between and that she feels she's betraying Frank if she gets close to this other side of herself. She's started a new world in the '60s for herself. She's moved away from a history major and she's gone to engineering. She has new friends and she has Roger, her whole life is in the '60s. As bad as it sounds, there's nothing really for her in the past. She has the knowledge that her mother is happy in the past now and that's a nice little image for Bree.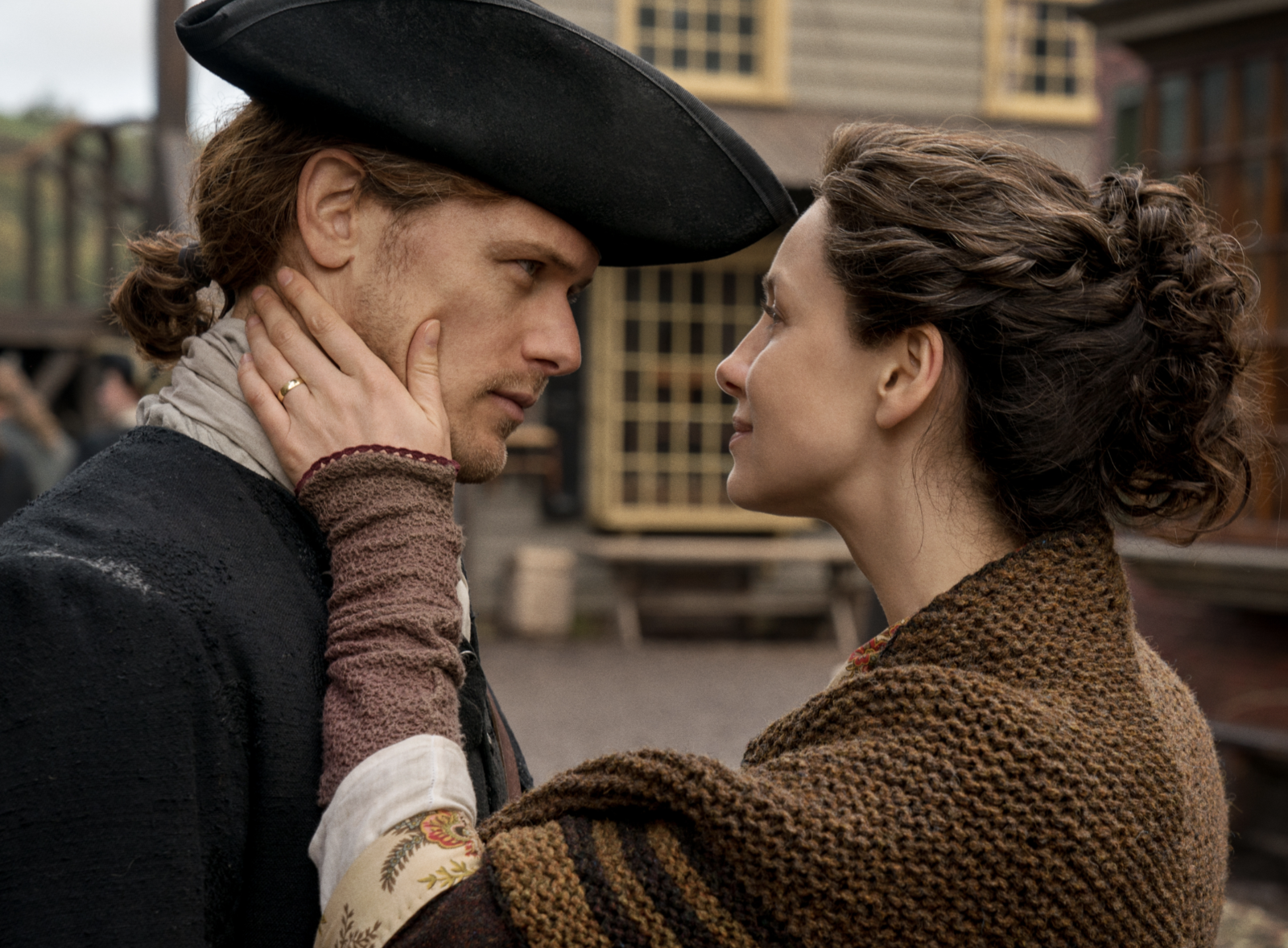 10.
Do you guys have a favorite moment for your characters that you can tease?
Richard: Singing was an interesting experience because I had to play a couple songs, one of which was quite tricky to play. It was originally a fiddle track that was re-arranged on guitar. I think I got in everyone's head practicing that song over and over and over and over again. Certainly an interesting experience.
Sophie: Shooting a rifle.
Caitriona: I mean, there's scenes between us [Caitriona and Sam], but that's old news. There's definitely scenes that were great to do that are specific to this season.
Sam: I think the knowledge of Brianna [existing] is a real catalyst. I think in some ways this season is when the real story starts.
Caitriona: I think they're in this very content world, but there's another thing happening [Brianna living her life]. The stakes just get so high [this season] and I think those are great things, as actors, to be able to play. There's a lot of new elements, stuff that we hadn't done before, which was good.
Outlander Season 4 premieres on Sunday, Nov. 4 at 8/7c on STARZ.