Four-Dip Dinner Party With Tasty
First things first for our dip dinner party — we kicked things off with our app dip. For that, we made a spicy jalapeño and corn dip!
Spicy Jalapeño and Corn Dip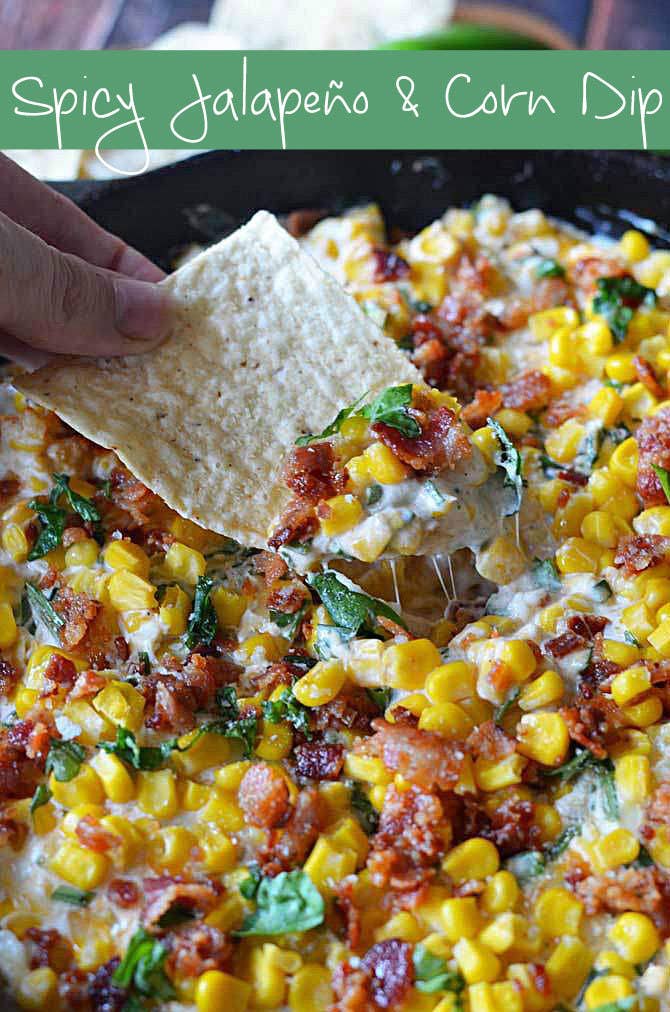 INGREDIENTS
8 strips bacon
2 (11 oz) cans whole kernel sweet corn, drained
1 jalapeño, seeded and minced
8 oz cream cheese, softened
1 cup mozzarella cheese, shredded
½ teaspoon salt
Dash of cayenne pepper
¼ cup fresh basil, chopped
2 ears fresh corn
Parmesan cheese, to taste
PREPARATION
1. Preheat oven to 400°F.
2. In a cast-iron or ovenproof skillet, cook the bacon over medium heat until slightly crispy. Remove from heat and set on paper towels to absorb excess grease. Drain off all but 1 teaspoon of the grease remaining in the pan. We want to use the bacon grease to grease the pan and add more bacon flavor to the dip. Crumble the bacon.
3. Combine the corn, jalapeño, cream cheese, mozzarella, salt, cayenne, half of the bacon, corn, and half of the basil. Scoop into the skillet and bake for 20 minutes.
4. Sprinkle with the remaining bacon and basil, and Parmesan cheese to taste. Serve immediately.
Next, what is a dinner party without a little more cheese? We solved that with a broiled four-cheese dip.
Broiled Four-Cheese Dip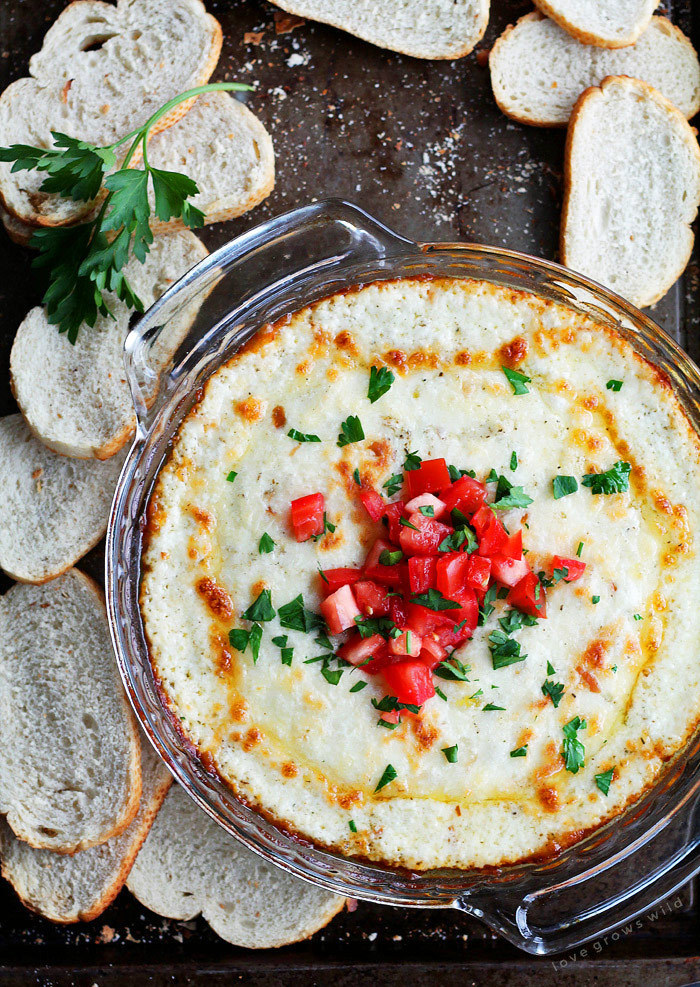 INGREDIENTS
8 oz mozzarella cheese, shredded
8 oz provolone cheese, shredded
½ cup finely grated Parmesan cheese
1 8-oz package cream cheese, softened
1 tsp Italian seasoning
⅛ tsp crushed red pepper flakes
1 loaf Italian bread, cut into ¼-inch slices
Optional garnish:
1 Roma tomato, diced,
1 tablespoon fresh parsley, chopped
PREPARATION
1. Preheat oven to 450ºF. In a large bowl, combine the first six ingredients (all the cheese and seasonings). Spray a 1.5-quart baking dish or pie pan with nonstick cooking spray and pour the cheese mixture into the dish. Bake 15 minutes, until all the cheese is melted, bubbling, and slightly browned on top.
2. Meanwhile, put the sliced Italian bread in a single layer on baking sheets and toast them in the oven during the last 5 minutes of baking.
3. Garnish the dip with diced tomato and parsley, if desired, and serve immediately with the toasted bread for dipping.
Then, ya gotta have a main course, right? This cheeseburger dip in a bread bowl def takes care of that!
Loaded Chili Cheeseburger Dip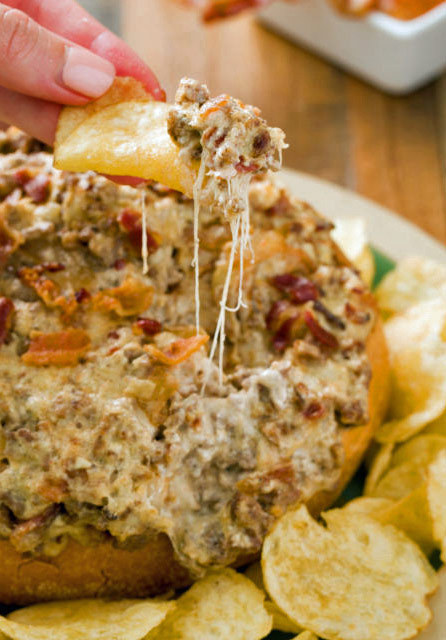 INGREDIENTS
1/2 lb lean ground beef
1 large onion, chopped
1 can of chili beans
4 slices bacon
8 oz cream cheese, softened
1 c. shredded pepper jack
1 Tbsp. Worcestershire sauce
1 tsp. garlic powder
Kosher salt
Freshly ground black pepper
1 boule, top removed
Potato chips, for serving
PREPARATION
1. Preheat oven to 400°F. In a large skillet over medium-high heat, cook beef and onions until beef is no longer pink and onions are golden brown, 8 to 10 minutes. Transfer to a paper towel–lined plate to soak up grease, then transfer to a large bowl.
2. Wipe out skillet and add bacon. Cook over medium heat until crispy, about 6 minutes. Transfer to a paper towel–lined plate. Once cool, crumble and transfer to bowl with hamburger and onions.
3. To bowl add cream cheese, pepper jack, Worcestershire, and garlic powder and season with salt and pepper. Transfer mixture to bread bowl and place on a baking sheet.
4. Bake until warmed through and melty, 15 minutes. Serve hot with potato chips.
Lastly, we just had to top everything off with a s'mores dip for dessert!
Sweet and Smoky S'mores Dip
INGREDIENTS
3 cups semisweet chocolate chips
2 (14 oz) cans sweetened condensed milk
1 cup marshmallow cream
PREPARATION
Add chocolate chips and condensed milk to a medium microwave-safe mixing bowl. Heat in microwave on HIGH power, in 30 second increments, stirring between intervals, until melted and smooth (at this point I thinned mine out with a few tablespoons of hot water so it wasn't so thick and so it stayed a nice dip-able consistency longer). Pour into a wide and shallow serving bowl or pie plate.
Dollop tablespoons of the marshmallow cream over chocolate mixture; heat in microwave about 20 seconds longer, until marshmallow has melted; then remove and, using a sharp knife, swirl marshmallow into dip. (Alternatively, you can scoop marshmallow cream into a small microwave-safe bowl and heat until it melts, about 15–20 seconds, then stir and scoop small spoonfuls randomly over top of chocolate mixture and swirl.) Serve with graham crackers and optional strawberries.
Want BuzzFeed Tasty right in your inbox? Sign up for our newsletter!