1.
"My family is very German. When I was little, I would put my slipper outside by my bedroom door, and TEENY-TINY shoe elves would put candy in them. It was very cool of those shoe elves to help me out like that."
—Anne Louise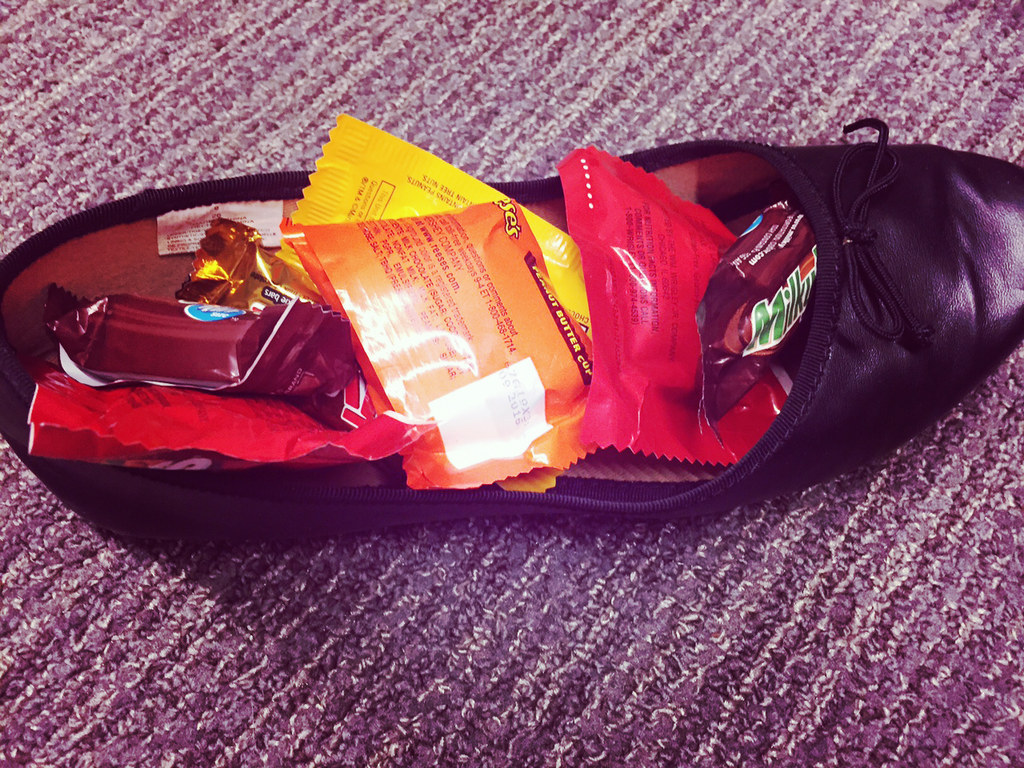 2.
"When I was young, my siblings and I were always excited about Santa's visit on Christmas Eve. But, at our house, we didn't leave him milk and cookies. My mom would say that Santa probably got bored of having only milk and cookies, and that made a lot of sense to us kids. So, we would leave Ouzo (a Greek drink) and feta cheese by the fireplace instead.
"Hopefully Santa didn't have any trouble navigating the sled after drinking that!"
—Athena
3.
"On the first day of Hanukkah, I invite over all my friends, Jewish or not, for a latke party. I make lots of kinds: a traditional family recipe, sweet potato latkes, even a Sriracha latke once."
—Kim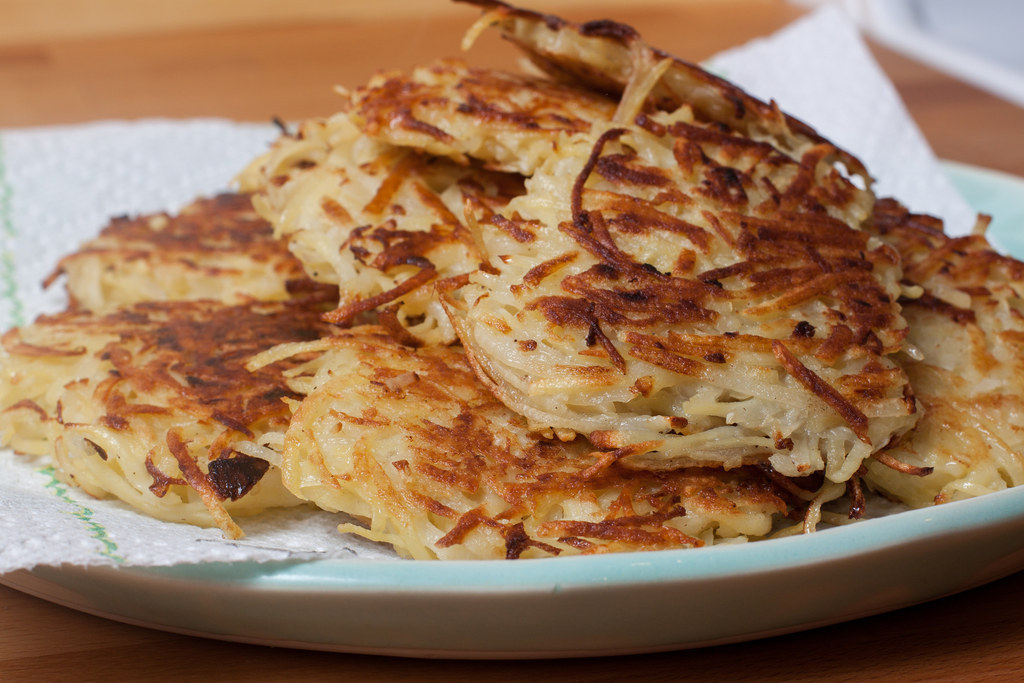 4.
"My family is 95% Norwegian, so every holiday at the dinner table I have to inevitably say no to the plate of lefse — which I can only describe as a Scandinavian taquito with potato bread instead of a tortilla, and butter and cinnamon instead of things you would actually want to eat."
—Tyler
5.
"I was born in the former Soviet Union and immigrated to the U.S. with my family when I was a year old. Because there was no religion allowed when my parents were growing up, they didn't have a Santa Claus or Christmas tree with presents. Instead, there was Grandfather Frost, and he — along with his granddaughter, Snegurochka (Snow Maiden) — would deliver presents to the kids and lead them in dances and games.
"My parents brought these traditions here with them, and growing up, we always had a New Year's tree with lots of presents that I got to open on New Year's Day (or New Year's Eve, if I was very good). When I was very little, my father also dressed up as Grandfather Frost!"
—Nika
6.
"My family's background is really diverse, so we've made our own American tradition. After Christmas dinner, my family sits around the tree and carries out a tradition that has apparently existed since my great-grandparents' time: We try to go around in a circle and recite 'A Visit From St. Nicholas' by heart. Someone holds the crazy-old, falling-apart copy of the book, and everyone else does their best to recite the next line.
"You hope you get an easy one ('Twas the night before Christmas and all through the house') and never a bizarre one ('As dry leaves that before the wild hurricane fly'). You'll inevitably need an embarrassing number of hints, and every year you plan on trying to ACTUALLY memorize the poem before the day just to throw everyone off, but you never really do."
—Hannah
7.
"One year, my family decided to do a Swedish Smorgasburg, which was a tradition my grandma's family used to do every year. Basically we had a multi-course meal with foods like picked herring, meatballs, potatoes, creamed fish, etc. However, before every course, everyone took a sip of Akvavit while singing a traditional Swedish song.
"Finally, we finished with rice pudding that has a single almond mixed in. Whoever found the almond in their dish got good luck for the rest of the year!"
—Sean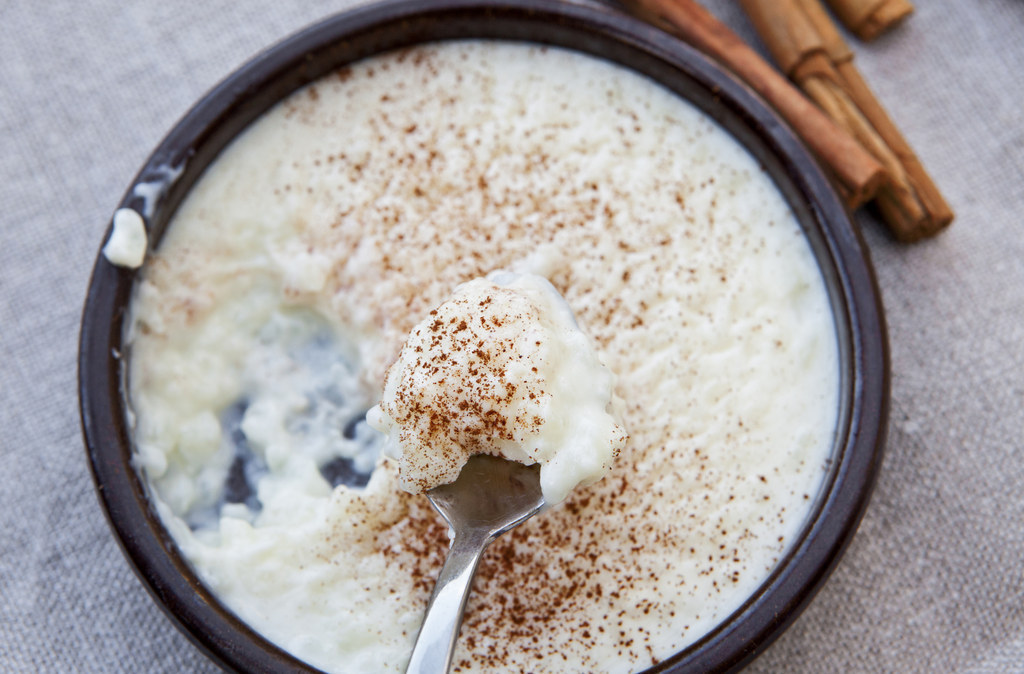 8.
"My family is Mexican, and on January 6 we commemorate Epiphany by having rosca de reyes, which is a delicious cake similar to King Cake, made with soft bread and garnished with dried and candied fruits.
"It's really good, but the real fun isn't eating it, it's seeing who will find a small plastic figure, symbolizing Jesus, inside the cake. The person who finds the figurine is supposed to throw a big tamale and atole party on February 2, the día de la Candelaria in México."
--Leslie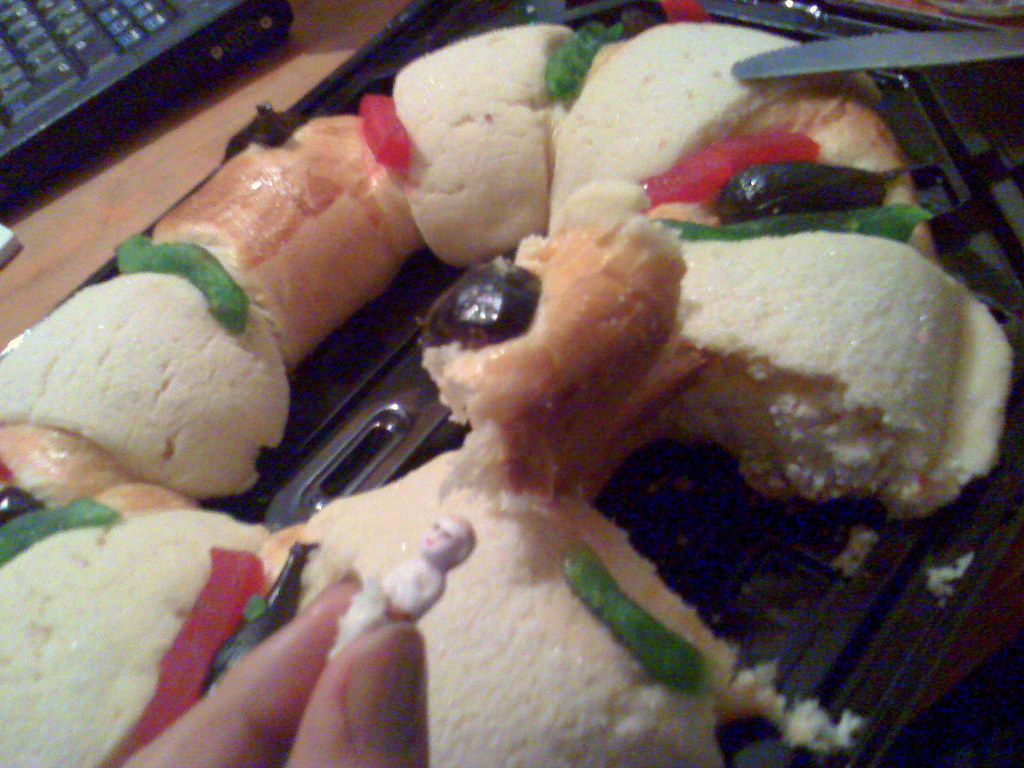 9.
"A large part of my family is Swedish or Norwegian, so there were always Scandinavian foods at the holidays. The only problem was that we were kids and highly suspicious of all of this weird food we'd have to force down on only two days out of the year.
"I think our parents realized we were all starting to dislike Christmas itself, so they transitioned into a more American-style offering. But to this day, we still serve it all with a side of hardtack because, as a family, we all agree on bread — plus, it's also awesome to have an excuse to pretend I'm a sailor at least once a year."
—Chris
10.
"My family is German, so every year after all the gifts have been gifted and the wassail has sailed into our bellies, a good ol' game of find the pickle commences.
"My sister and I hunt around the living room like madmen trying to find the pickle ornament. The person who finds it is given an extra gift. One year I found it and won a pedicure; another year my sister found it and won wine.
"Turns out, supposedly, this not at all a German tradition but most likely created by a crafty ornament salesman who was tasked with selling pickle ornaments in America. I really love pickles, so I don't mind."
—Clark
11.
"My great-great-grandparents grew up very poor in Ireland. Christmas wasn't the huge extravaganza it has come to be. While we've definitely given in to the lavishness of the season over the years, we still make sure that everyone takes turns opening presents —the kids have to distribute the presents from under the tree and wait patiently for the adults to open theirs.
"It's small, but it makes everyone focus on each and every present for the gift that it is."
—Emily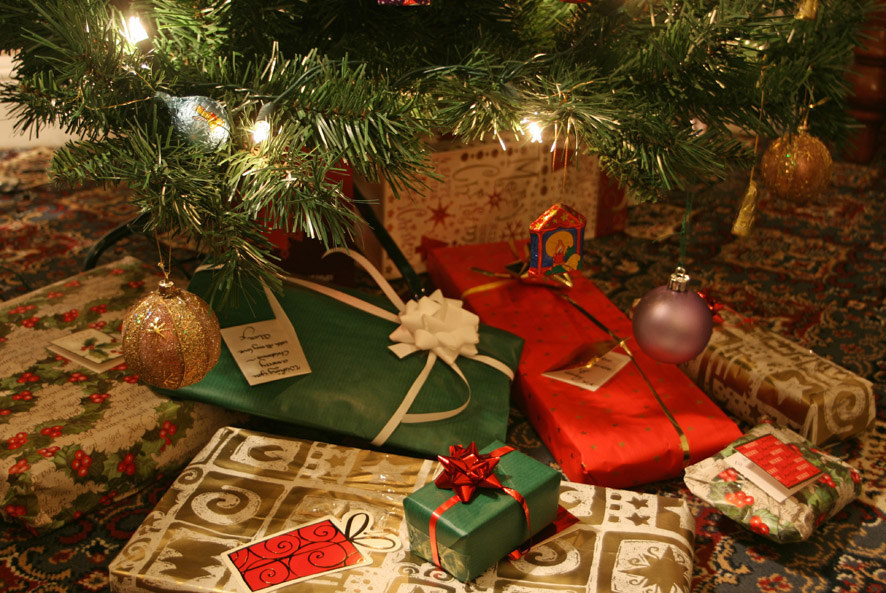 12.
"Christmas Eve is always spent with my Italian side of the family. Per Catholic tradition, which my family adheres to, they can't serve any meat. This is problematic for a family that pretty much sweats fully formed meatballs.
"To compensate, they go all out in a fish direction. Lobster, crabcakes, stuffed clams, linguine with clam sauce, anchovies on orange slices, calamari, shrimp cocktail, Manhattan clam chowder... All of those things, and more that I've forgotten.
"One meal."
—Kristin
13.
"My family is Chinese, and I have yet to taste a turkey that's as good as my parents' turkey — it's brined with star anise and cloves and roasted with a stuffing made of sticky rice, shiitake mushrooms, and Chinese sausage. SOOOO much tastier than that bland, Pilgrim-style stuff."
—Angela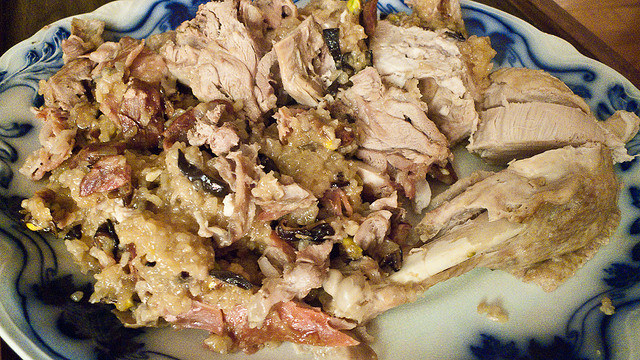 14.
"Every year, in Great British tradition, we all gather round and have an argument with my mum."

—Nicky