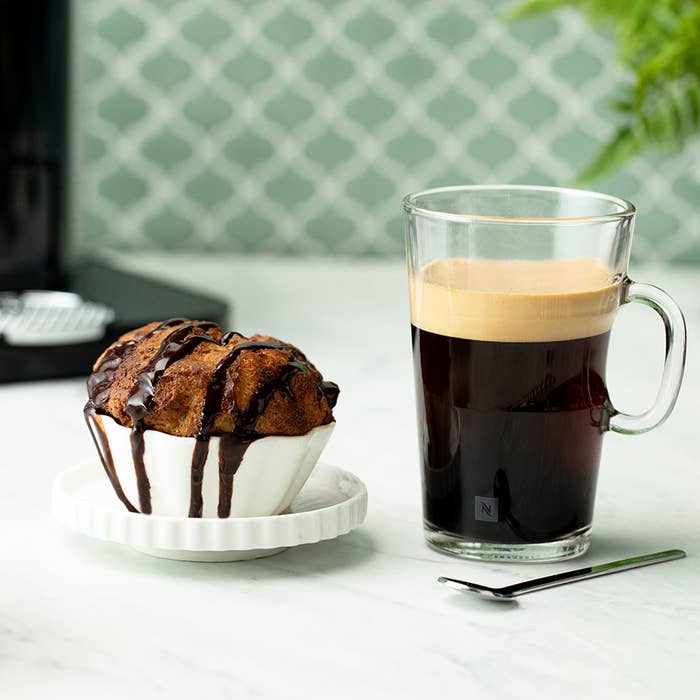 Servings: 5–6 small ramekins

Ingredients:
½ cup pecan halves
½ pound brioche
¾ cup heavy cream
¾ cup milk
¼ cup melted butter, plus more for greasing ramekins
½ cup packed brown sugar
3 eggs
1 teaspoon vanilla extract
½ teaspoon salt
Mocha Sauce

1 cup of Nespresso Mexico coffee (230 ml / 7.7 oz )
3 tablespoons brown sugar
½ teaspoon salt
3½ ounces dark chocolate, broken into large pieces
Preparation:

1. Preheat oven to 350ºF.
2. Place pecans in a small skillet over low heat. Cook the nuts, tossing frequently, until they are toasted and smell nutty, about 3 minutes. Let cool, then roughly chop and set aside.
3. Using a serrated knife, cut the brioche into 1-inch cubes.
4. Mix together the cream and milk, then add bread and mix until the bread is soaked through.
5. In a separate bowl, whisk together the melted butter, brown sugar, eggs, vanilla extract, and salt. Stir in chopped pecans, then pour mixture over the bread. Stir to fully combine.
6. Brush small ramekins with melted butter. Divide bread pudding between the ramekins.
7. Place the ramekins on a tray and cover with aluminum foil. Bake for 20 minutes, then remove the foil and bake for another 15–20 minutes, until the pudding tops are golden brown.
8. Mocha Sauce: Brew the Nespresso Mexico capsule in the Nespresso Vertuo machine. Pour the coffee in a small saucepan. Whisk in the brown sugar and salt. Turn the heat to low and add the dark chocolate. Whisk until the chocolate melts, then bring the sauce to a simmer. Let simmer while the sauce reduces for 5–7 minutes, stirring occasionally. Once the sauce has thickened slightly but is still pourable, remove from heat.
9. Pour mocha sauce over the bread puddings and serve!