1.
A remote-controlled couples' vibrator specially made for dual-stimulation and wearability, so you and your S.O. can spice things up in your intimacy with the simple touch of a button.
Promising reviews: "It's nice having something my husband can enjoy at the same time! It's so smooth, comfortable, the right size, and easy to clean. The remote is nice, so you don't have to go to the toy to change it up. The vibrations hit all the right spots. What are you waiting for? Buy it now!" —Smes
"This is a great dual-action toy. It can focus on clitoral stimulation and vaginally. The vibrations are very low, so it can be used in a public setting. I'd recommend this for couples' play and solo action. Either way, it will get the job done." —jonathan johnson
Get it from Amazon for $33.99 (available in pink and purple).
2.
The RockHer scissoring vibrator by Wet for Her, designed for wearability with a textured G-spot bulb and vibrating clitoral ring that deliver 10 scintillating vibration modes with a wireless remote control.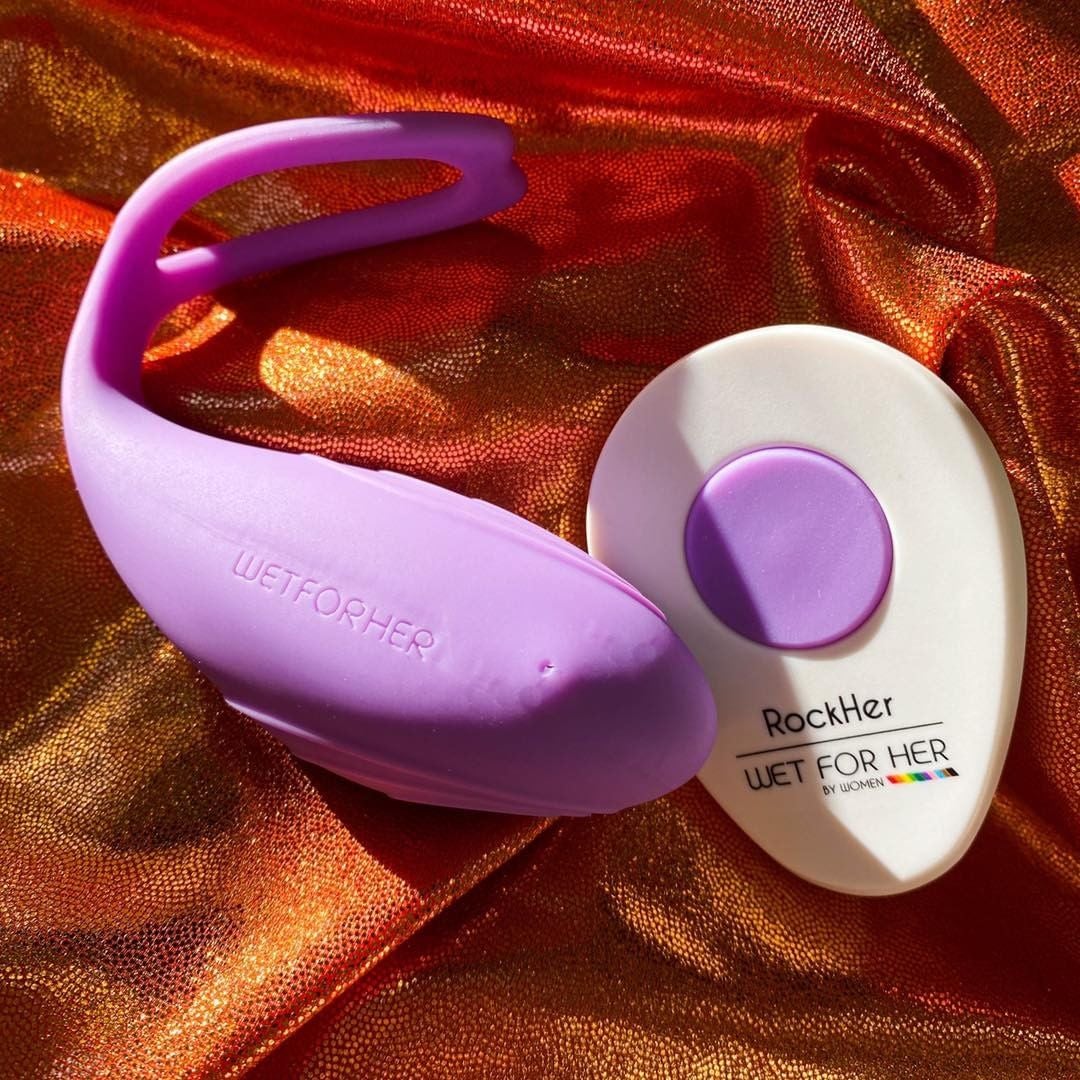 Promising reviews: "Easy to use with my partner! She loves when I wear it for the silicone ridges and vibration. Doesn't move too much when using together. Internal piece is the right size and sits perfectly. Vibrations are really strong for a small toy. Def recommend." —Alexandra M.
"We have really enjoyed this one. I will say that scissoring was not really our thing before trying this toy, but it's been really fun! The vibration is strong enough for both of us to feel it, which is really nice. I want to also try using it with a strap on as well — it seems like it would work well for whoever is topping to have on under the harness." —Anonymous
Get it from Wet for Her for $76.45 (originally $89.95).
3.
A remote-controlled prostate vibrator, so you can tease and please your S.O. with nine powerful vibration intensities delivered through its flexible, curved shaft.
The vibrator is 5.2 inches long and 1.5 inches wide at its widest point.
Promising reviews: "Took a while for me to get it all the way in, but the vibe strength hitting all the right spots and I erupted with a quickness. Only wish I could use it more often, but I have to give my rectum a break from time to time." —KinkyJohn
"Simply put, my man loved it. He was cautious as he's never used something like this before. So we took it slow, and I helped it in at first. Once he relaxed, we turned it on, and quickly that worry turned into the biggest smile I've ever seen. This wasn't just for him, it was for us and was a very pleasurable experience." —Katie
Get it from Honey Play Box for $58.99.
Honey Play Box is a sexual wellness company in California run by a group of sex educators and self-proclaimed lesbian meme queens who are passionate about all things pleasure being positive, inclusive, and accessible.

4.
A convenient panty vibrator designed with a delicate curved shape for wearability, so you or your lover can enjoy the 10 vibration modes whether near or far.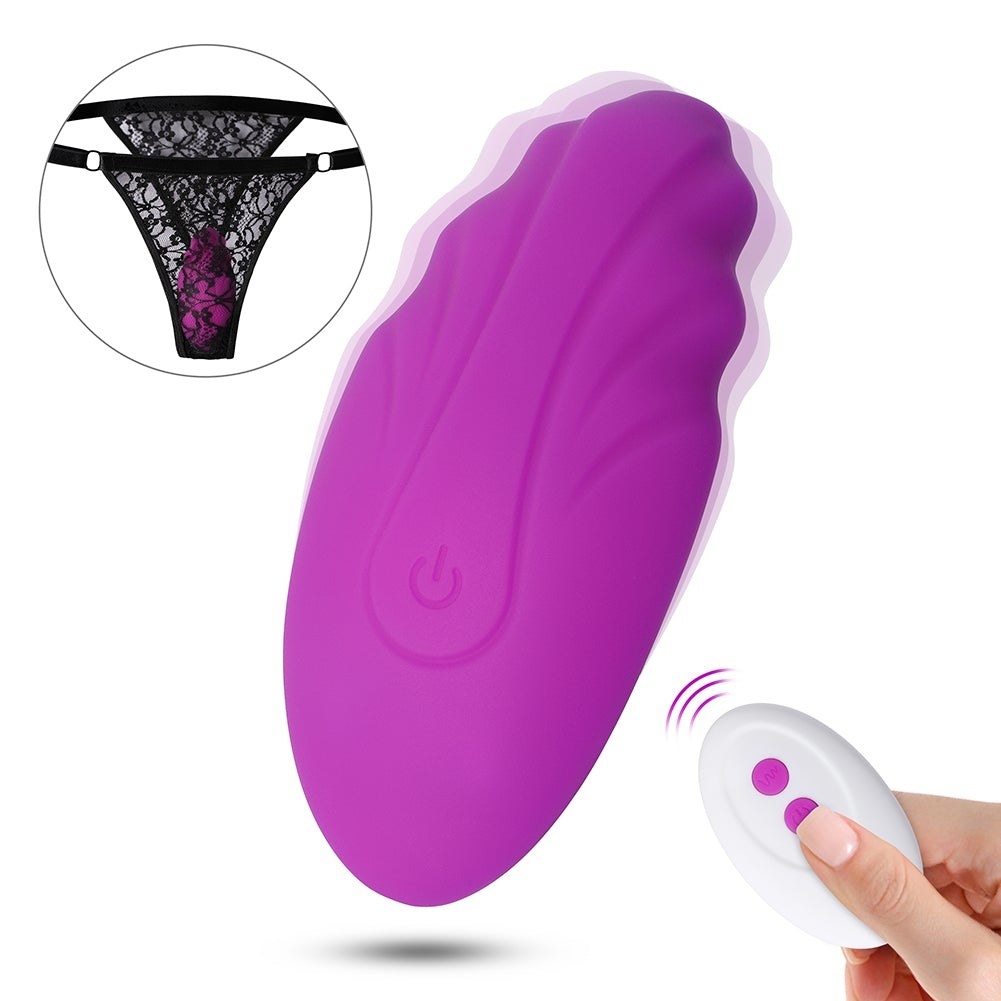 The remote control works from 12 meters away, in case you want to add a little distance to your play. The underwear aren't included, but the slim design means it can be worn with your favorite pair!
Promising reviews: "I have sex toys that are way more expensive than this, but this is still my favorite!! I don't want to go into detail; I will just say that the lowest setting is perfect, and you can use this while also doing other things at the same time. It makes everything else feel super sensitive, and it's just amazing!!" —Kaslana
"This toy is so pleasurable! I like how it's an easy comfortable fit for my hand. It's quiet, which makes it easy to use for being discrete if others are around. Love the different modes as well that can be used. Most importantly gets the job done and fast!" —Tiesha Kama
Get it from Honey Play Box for $58.99 (originally $84.99).
5.
A sleek and silky prostate massager that has six vibration modes for you to cycle through alone or with a partner using the app or wireless remote control to deliver dual stimulation to the prostate and perineum.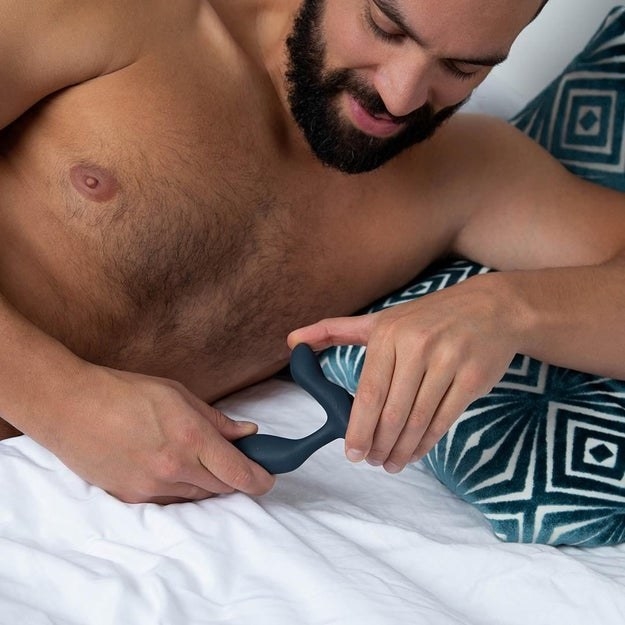 @wevibe / https://www.instagram.com/p/CDcCy_xHAN9/?utm_source=ig_web_copy_link
Promising reviews: "So, I have had the We-Vibe Vector Prostate Massager for about a week now. Here are my thoughts: It's really powerful. There are two vibration zones, so you can control two motors independently. The feel of the Vector was very smooth and weighty to hold, so felt pleasing on the skin. The rigidity is perfect, just the right amount of flex. With the app you can connect your partner by sending an invite via Messenger/SMS or email. Once connected your partner can control the vibrations over Wi-Fi, Bluetooth or 3G/4G. All functions worked perfectly on both ends but there is a small delay if the signal is coming from your partners device. All in all the Vector is a great device and I would definitely recommend it!" —Toobey
"When you slide it in it's really comfortable and it's easy to slide it in. The two vibrating motors are very powerful! The fact that you can bend it in different directions is awesome! I've tried a couple of cheap prostate toys and they all sucked, the Vector rocks! It gives the prostate a good thumping. The Vector is worth the money as it's really well built. All in all you wont find a better prostate toy. You wont regret it if you buy it." —Mario H.
6.
A wearable couples' vibrator boasting a flexible design with a thin internal stimulator to go inside you alongside your favorite penis or dildo and a bulbous stimulator specifically for your clit.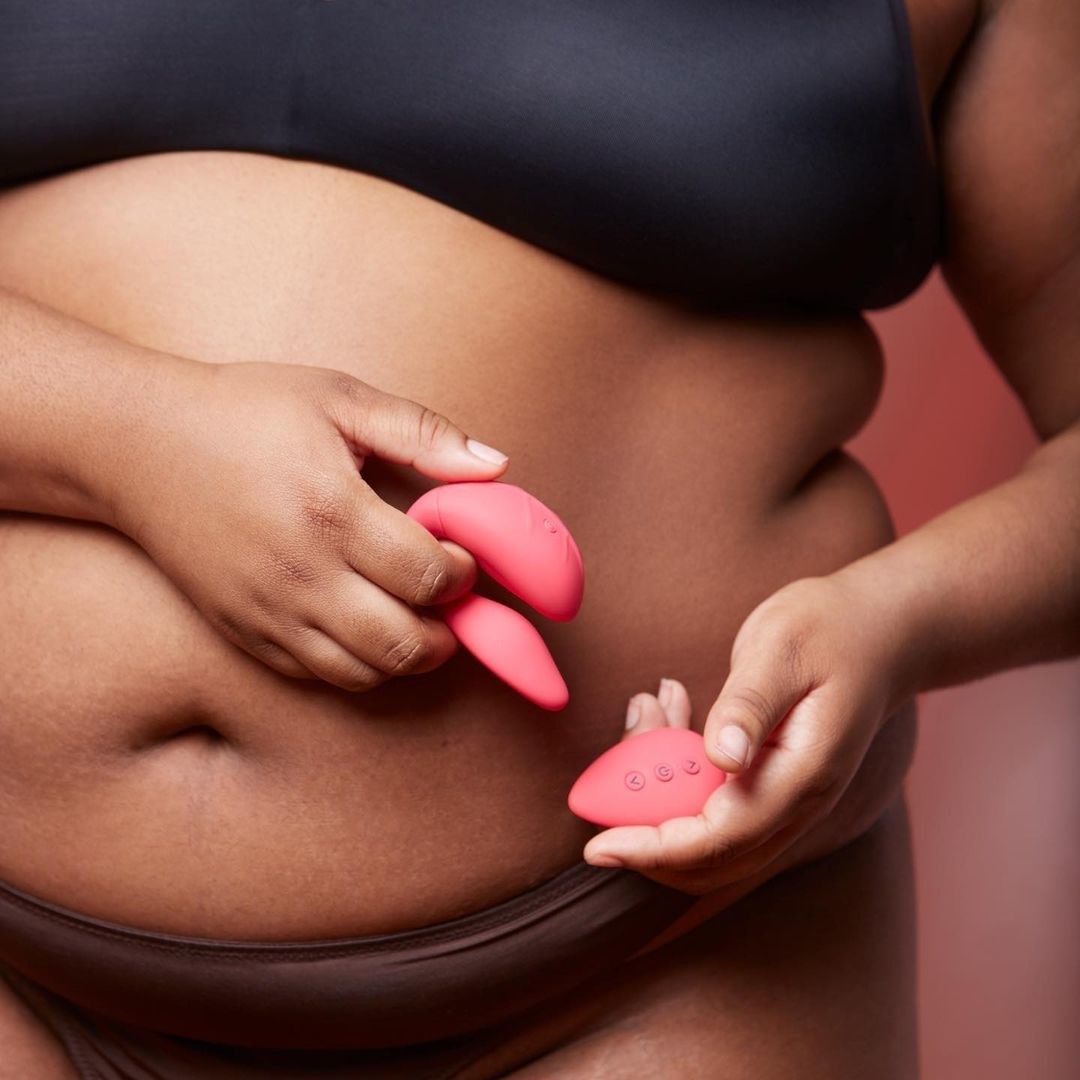 A wireless remote control allows for partner play from a distance. Want to stay close? Here's the version of the same exact toy without the remote.
Promising reviews: "This cute little toy is so much fun. Small enough to take anywhere and powerful enough to give you and your partner the full experience. We loved it in the doggy-style position the most." —Jane
"I've been looking for a couples' toy that is affordable and actually stimulates both of us, and this is a great option. It's simple and comfortable to use alone or with a partner. Having the remote is a huge plus because you don't have to pause in the middle of sex to adjust the vibration mode. There's enough vibration modes to choose from, but not so many that it's annoying to find your favorite from the list. The highest power vibration could be a little bit stronger, but it's still enough to get the job done easily. The part that inserts does a nice job stimulating internally and also gently tickling your partner for added sensation. The toy also stays in place quite well; obviously when things are slippery there's a chance for it to get out of place, but after several uses that hasn't been much of an issue. Overall I would highly recommend this toy if you're looking for a couples' toy that doesn't break the bank." —D A
Get it from Bellesa Boutique for $79.
7.
A remote-controlled vibrating egg created with a little bit of fairy dust, and by that I mean it has six vibration modes and five speeds for powerful dual stimulation.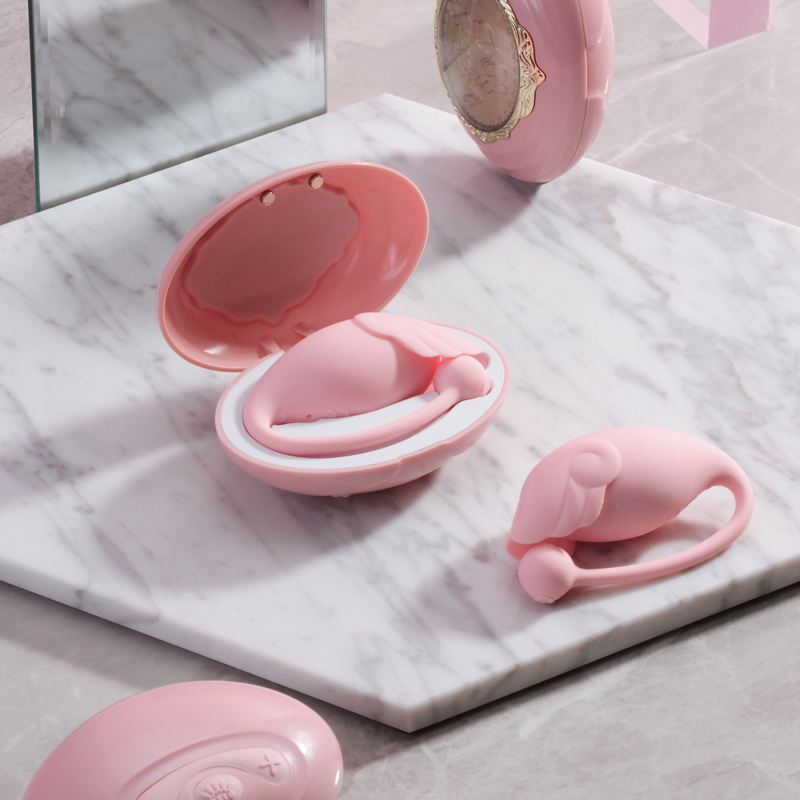 A lot of the power behind this egg is in the fluttering wings that stimulate the clit and/or G-spot (depending on how you wear it). The luxury charging case offers discretion and a built-in remote control in case you and a lover want to explore remote play (from up to 26 feet away). There's also a Bluetooth app!
Promising review: "I'm a new Zalo fan! I love this toy, it's super soft and the vibrations are superb! I like that you can adjust the strength of the vibrations because I like to use it on lower setting when I use it as a 'teaser' with my partner for foreplay. When I use it alone, I use it on higher setting and it feels amazing! Can't wait to try more toys from this brand." —Vanda
8.
A versatile panty vibrator designed to stay put while your lover controls its adjustable vibration modes and speeds at close-range or from afar.
Unlike most panty vibrators, this one is strictly external and has a magnetic cap to help it stay put as you walk, sit, lounge or whatever else you plan on doing.
Promising reviews: "This product is amazinggggg for long-distance relationships and even solo play. All different kinds of patterns, or you can make your own. Battery life lasts pretty well, and it's pretty discreet and stays in place well. I'd say that it is just a tad louder than what I expected, but I think that setting can be adjusted in the app. I'd definitely 100% recommend this — especially to long-distance couples." —Leah J.
"I'm not sure how people say this doesn't work from afar, because this works. My partner and I live a thousand miles away and we got this, and he controls it from a thousand miles apart. You have to learn how to actually use the app. I 10/10 recommend this." —maricelis torres
Get it from Amazon for $119.
9.
A unique anal plug that simulates the feeling of rimming with rotating anal beads in the shaft and a vibrating tip that hits your favorite spots.
This 1.5-inch diameter plug has seven rotation patterns and six intensities to explore and stimulate your P-spot as you start (or continue) your journey into anal play. Also, it's splash-proof!

Looking for something a little larger? Check out the Rimming Plug 2 and Rimming Plug XL, that have all the same features but a little more length.
Promising review: "I used this toy on myself and was thrilled by the strong vibrations and the rimming sensation of the stem. The larger rimming toy seemed intimidating, but this toy comes in a size that I can use casually without having to do a ton of serious warm up every time I want to use it. I wasn't sure if I would like the rimming aspect but found that it was an exciting new addition to an already great butt toy. Overall, I'm very excited about this toy and would recommend it." —Rimming Lover
Get it from B-Vibe for $154.99 (available in three colors).
10.
Or a metallic remote-controlled plug designed for beginners with a slim, tapered design and 15 vibration patterns with six intensities for you to explore.
The set includes a vibrating butt plug, wireless remote, three B-Vibe enamel pins, carrying case, greeting card, and sticker.
Created with supple silicone, this body-safe plug is perfect for beginners and adds a little out-of-this-world bling to your booty.

Promising review: "Wow! When I first looked at one of these in the shop, I passed over it for a different model because I thought the vibration was weak... what I didn't know was that you can only turn it up with the remote. Once it's turned up, it's amazing for such a tiny, comfortable plug!! I'm impressed. I ended up buying all three models. This one is great because unlike the plugs I've tried with round bases, this one fits VERY comfortably between the cheeks. I also appreciate the attitude of the brand on its website and in the pamphlets included with the products. Something out there needs to combat all the crazy ouchy-looking anal porn out there! Couldn't be happier with my purchases." —Anonymous
Get it from B-Vibe for $124.99 (originally $140; also available in pink and black).
11.
A wearable couples' vibrator that has dual motors and 11 vibration intensities for you and your lover to explore whether you're in the same room or in different time zones.
Promising reviews: "Fastest orgasm ever. I don't usually enjoy putting toys inside, but this directly stimulates the G-spot, so there's space for more ;). You control everything from intensity to pattern. Connecting to someone else is easy (took us about 20 minutes to figure out before we got started the first time though), and it stays connected even from different states! It's not too loud (though I don't go past 75% intensity, so that may be a factor). 10/10 recommend." —Kayla
"Strong little guy, my wife and I love it! The material is quality. We love the app. I get to control and tease at my will (drives her nuts)! It looks bigger in the pictures. The motors are strong and quiet. According to her the ergonomics are on point, and as couple testers we give it 5 thumbs-up. Nice addition to our alone time." —tim
Get it from Amazon for $149 (available in purple and aqua).
12.
An app-controlled, monster-inspired vibrator featuring eight pre-set vibrations *and* the ability to use your finger to create gestures and customized vibration patterns within the app.
These monster-inspired vibes are designed for long-distance use between partners, but of course, can be used alone.
Promising review: "The app interface on this is so interactive and pretty. My lady friend and I had a lot of fun at a ramen bar and karaoke. She was very satisfied by the time we got home. The battery life on this item is great, we got almost five hours of play. She could have finished in public if I allowed it. The ability to control the toys of those around you is a little strange. Love this toy, great value and great fun for an adventurous couple." —Brandon
Get it from Amazon for $59.99 (available in green and pink).
13.
An Eva vibrator by Dame boasting flexible wings to tuck under the labia and nest on the vulva, stimulating you with three vibration intensities. *hint* Introduce it into couples' play for extra good vibes.
Promising reviews: "Stopping contemplating and just buy it! Absolutely no regrets! The silicone is so soft it's addicting to just hold it. The settings make it great for solo pleasure or with a partner. This invention is worth the investment. 😍🤤" —Rachel B.
"OK, the Eva II is a game changer. It's insanely comfortable and easy to use. The three levels of vibration are perfection (level three is...life changing). I bought this to use with my husband but have only used it solo so far. Eva is the second toy I've ever purchased! I honestly had the most intense orgasm I've ever had with the first use. I highly recommend this and can't wait to use it with my husband. It does take a bit of moving around at first to figure out how it fits best for you!" —Kelsey R.
Get it from Dame for $135 or Amazon for $128.57+ (available in quartz or fir).
14.
A flexible vibrating butt plug that'll sync to the beat of your favorite songs, mimic your own custom patterns, or buzz along to user-created vibration modes already on the app.
Supple, body-safe silicone offers a waterproof exterior and the spiralized stem traps lube to help the plug stay put.
Promising reviews: "Exactly as described, and exceeded expectations. This is a great buy for individual's who seek self satisfaction. This (Multi Pattern Vibrating) plug is also a fantastic idea of fun for couples who look to spice things up a bit. Personal Care Products couldn't get any better. Extremely happy with this purchase, and look forward to purchasing more products by this brand." —William Gardener
"We have had a great time with this. I bought the largest and it took a bit to get used to it. We are a couple of states away from each other and he has had a great time setting me off while I'm at work or doing things around home. The vibration is very intense at the highest setting and at the lowest just keeps you on edge. Being made of the material that it is, you have to keep it clean and let it air out, so it doesn't smell if you get any fecal matter on it. Definitely recommend!" —JayyDee
Get it from Amazon for $94 (available in 1.5" W and 1.75" W).