1.
A wearable couples' vibrator designed with dual motors and 11 vibration intensities for you and your lover to explore whether you're in the same room or in different time zones.
Promising reviews: "Fastest orgasm ever. I don't usually enjoy putting toys inside but this directly stimulates the G-spot so there's space for more ;). You control everything from intensity to pattern. Connecting to someone else is easy (took us about 20 minutes to figure out before we got started the first time though), and it stays connected even from different states! It's not too loud (though I don't go past 75% intensity so that may be a factor). 10/10 recommend." —Kayla
"Strong little guy, my wife and I love it! The material is quality. We love the app. I get to control and tease at my will (drives her nuts)! It looks bigger in the pictures. The motors are strong and quiet. According to her the ergonomics are on point and as couple testers we give it five thumbs up. Nice addition to our Alone time." —tim
Get it from Amazon for $149 (available in purple and aqua).
2.
An interactive masturbator sleeve created with nine powerful vibrators and technology that allows you to connect to your over 4,000 interactive videos on the Kiiroo platform or your partner's device and feel everything.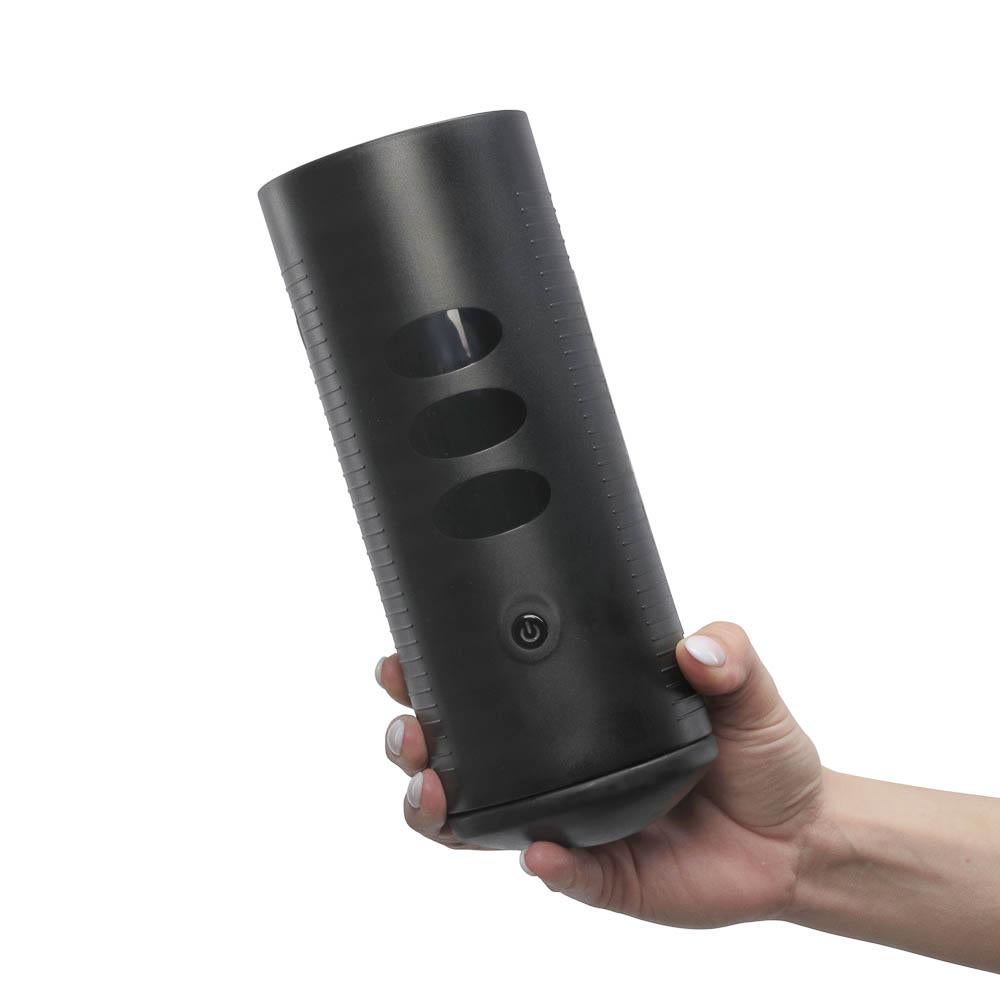 If you connect to a video, the sleeve mimics the movements made by the stars in the scene or you can play with your partner from afar and they can create custom strokes and patterns to take you to the edge.
Promising reviews: "Powerful 360-degree vibrations, custom and automatic settings, plus Bluetooth-compatible, easy to clean... You can go hands-free (the automatic mode simulates sex and I didn't need to do anything else to get the job done) or take a little more control. All in all, no complaints about this toy. Grab some water-based lube to go with it." —Mark
"This device is pretty darn great. It has the perfect feel and tightness to simulate that familiar feeling. The different vibrations are a very nice touch that really does enhance the experience. Pros: Feels great, easy to change settings while in use, goes great with VR, easy to clean, charges fast and holds charge well, not very loud. Con: The only real con I can think of is the "automatic" modes don't really do it on their own, though they do still feel great. Overall, I would say this is very much worth the money. It will do exactly what you want, and in a way that feels good. If you want to take this from amazing to mind blowing, pair it with a nice VR headset and you will be in another world." —Bernard Black
Get it from Bellesa Boutique for $149.
3.
A flexible vibrating butt plug that'll sync to the beat of your favorite songs, mimic your own custom patterns, or buzz along to user-created vibration modes already on the app.
Supple, body-safe silicone offers a waterproof exterior and the spiralized stem traps lube to help the plug stay put.
Promising reviews: "Exactly as described, and exceeded expectations. This is a great buy for individual's who seek self satisfaction. This (Multi Pattern Vibrating) plug is also a fantastic idea of fun for couples who look to spice things up a bit. Personal Care Products couldn't get any better. Extremely happy with this purchase, and look forward to purchasing more products by this brand." —William Gardener
"We have had a great time with this. I bought the largest and it took a bit to get used to it. We are a couple of states away from each other and he has had a great time setting me off while I'm at work or doing things around home. The vibration is very intense at the highest setting and at the lowest just keeps you on edge. Being made of the material that it is, you have to keep it clean and let it air out, so it doesn't smell if you get any fecal matter on it. Definitely recommend!" —JayyDee
Get it from Amazon for $119 (available in 1.5" W and 1.75" W).
4.
A clitoral suction vibrator boasting 11 air-pulse intensities and 10 vibration patterns that can all be controlled remotely from the Satisfyer Connect App for remote teasing and pleasing.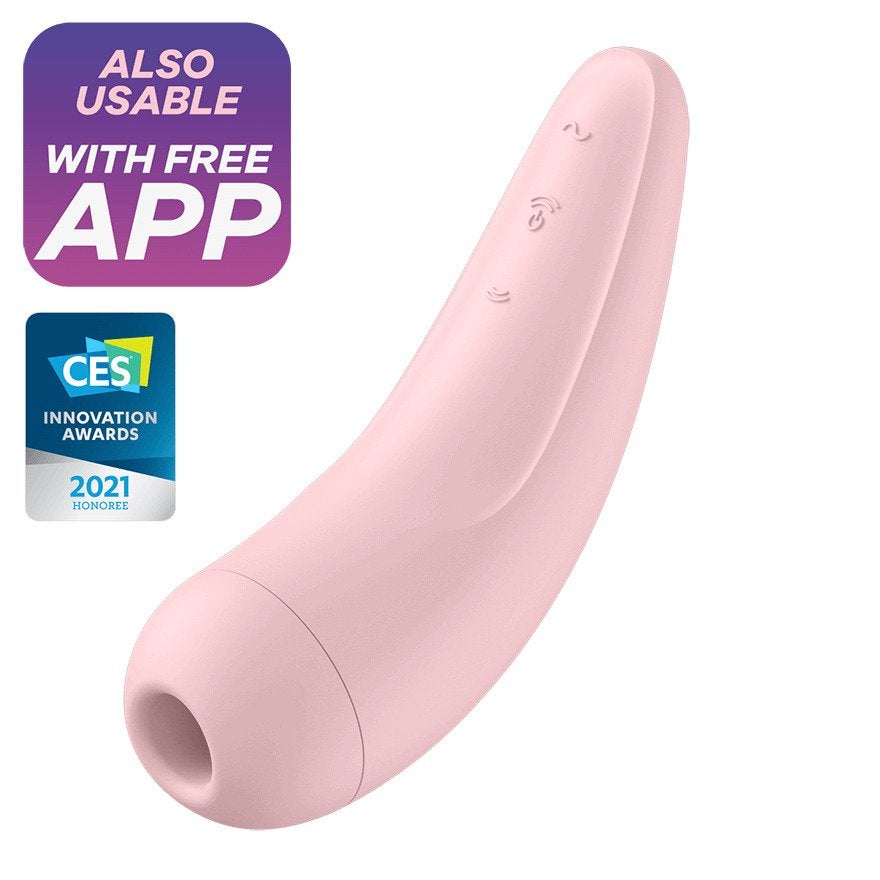 This toy has two motors that can be explored independently in case you want heavy suction and mild vibes (or vice versa), and I can't forget to mention that it's waterproof!
Promising review: "Having never tried a suction toy before, I wasn't sure what to expect but it really makes a difference and when it's added to vibration it really sends things over the top. The range of options built in to the device is sure to satisfy anyone but when you couple the device with the app and gain the ability to create your own programs, things become magical. I can't imagine ever needing anything else." —Mr. B.
Get it from Amazon for $39.95 (available in white and pink).
5.
An app-controlled, monster-inspired vibrator designed with eight pre-set vibrations, but you can use the app and gesture to create your own vibration patterns.
These monster-inspired vibes are designed for long-distance use between partners, but of course, can be used alone. There are eight pre-set vibrations when using solo, but with the app you can use your finger to create gestures and customized vibration patterns.
Promising reviews: "Vibe is nice and strong. No smell to the material. I like the little bumps. The app is strange to me, it's like a social thing, so I have no need for it. The Bluetooth doesn't work if your phone is too far or the tip isn't in clear view. My husband laying next to me wasn't able to control with my phone, and that was the whole reason I wanted it. However, alone play it got the job done with just the ON and POWER modes. You don't need to have the app to use." —Erica V.
"A lot of power for such a small green monster! Not trying to get too in detail but it puts pressure where needed. I'm fascinated as to how much grip it has. No hands required which I can't necessarily say about any other toys I have." —Krystal Jennette
Get it from Amazon for $49.99 (available in green and pink).
6.
A discreet wearable egg vibrator that'll get you off with seven vibration modes and the ability to create your own personalized patterns using the Bluetooth app.
The ergonomic egg shape means this discreet vibe stays put, so you can wear it out and about (if that's your thing) and control the vibrations effortlessly from your phone. No one would suspect a thing and with a five-hour battery life...this toy can probably outlast you.
Promising reviews: "App works great super powerful and quiet. All I had to do was send an invite to my bf and he instantly was able to connect and control this thing. AMAZING!!" —Rachael M.
"I use mine on Chaturbate mostly. Connects super easily, which was something I was worried about. The app is easy to use and this device works great for me on Chaturbate. Super comfy, sometimes I forget I have it in." —Vallaria
Get it from Amazon for $129.
7.
A vibrating Verge cock ring by We-Vibe designed specifically to stimulate the perineum with eight rumbly vibrations.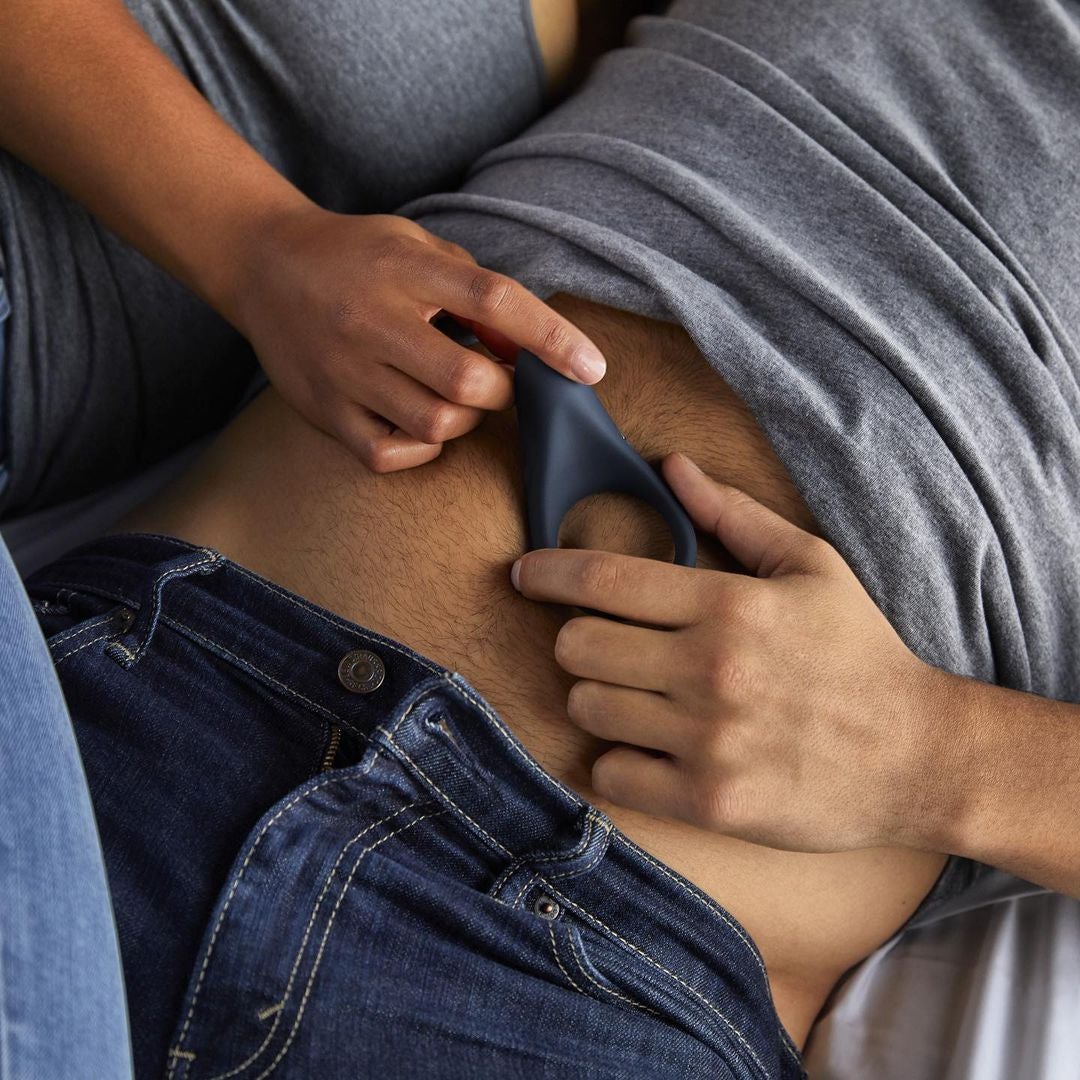 @wevibe / https://www.instagram.com/p/B01c2xlhTv-/?utm_source=ig_web_copy_link
Promising reviews: "This was somewhat of an impulse purchase for me as my GF encouraged the idea of being able to play together from a distance and that is exactly what it enables. Once it has been charged up, we had roughly 2.5 hours of fun with it. I put it on before she got to mine and she began controlling it using the app. There are a few different ways to wear it, but I found for solo play it was best with the vibrating part pressed against me under my balls. It wasn't long before we were cycling through the different modes and chatting from within the app, which was surprisingly easy and meant no needing to change to another messaging app. It packs a fair punch as far as vibrations. The lower settings didn't really register for me, but once you start turning that dial up you are going to feel it for sure. The different modes do a lot to keep things fresh when your SO is in control, and then when she arrived we moved it round to have sex so that the vibrations were focused on her clit, giving us both pleasure. A truly amazing toy and one which I struggle to fault." —How Did I Get Here?
"This thing is the bee's knees. Its strong, 10 different levels of strength, multiple different vibe modes, has just the right amount of weight and does the job, very well at that! It's great for solo and couples. It also come with an app for long distance fun with a partner! Be aware that you must plan to use it before any kind of stimulation because YOU WILL NOT GET IT ON! Other than that I couldn't be happier with this one!" —JacksonP
8.
A versatile bullet vibrator boasting a unique hammer shape for broad or pinpointed stimulation of its preset modes or unlimited downloadable patterns from the app.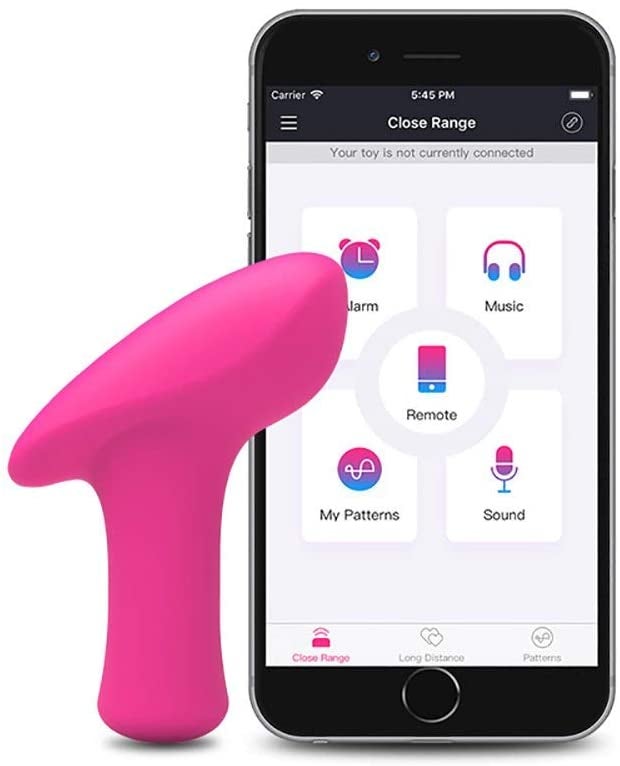 Promising review: "A-FxckingMAZING!! Hassle-free to set up. And bae likes to 'buzz' me if I'm talking shxt and she's not with me. Silent and discreet enough to wear into work. If not between your legs you can clearly hear it, though its not loud! We bought it because today she takes a trip to the other side of the country and we're both kinda..... needy in that department, so it's a cool way to stay close from afar." —Chyna
Get it from Amazon for $69.
9.
A powerful suction vibrator boasting 12 pulsating intensities to rock your world whether you're playing solo, with a partner, or from a distance.
@wevibe / https://www.instagram.com/p/B22Cgy7BHWc/?utm_source=ig_web_copy_link,
@wevibe / https://www.instagram.com/p/B5auShFB8H0/?utm_source=ig_web_copy_link
The slim, ergonomic design offers effortless handling on your own, but also easy fitting between you and a partner.
Promising reviews: "Very efficient! Love the interactive feature to use with my husband that works far from home. Works with both of our Apple phones fine. 10 and up. Sleek design easy to hold. Works quickly. My only small, menial complaint is that it is slightly loud and I worry about kids coming into my bedroom so I get caught! :) Not a big enough deal to stop me from loving it." —marybrnrd
"I don't write reviews but felt obliged too for any customers considering purchasing. Girlfriend loved it! It's a little sad to be jealous of a toy! The app is fine. Tried long distance, had some minor connection lags that could've likely been due to our own internets so I wouldn't hold it against them. Gf claims that it fits perfectly. Very silent on the lower intensities. Smooth nice texture. Didn't even have to go to the highest intensities to get her off. She wants to now gift it to all of her girlfriends! She literally just started using it, so we can't speak to longevity, but are very pleased with the purchase. :)" —Javier Perez
Get it from Amazon for $141.55 (available in dark blue and pink).
10.
An app-controlled masturbator sleeve that'll effortlessly get you off with a 360-degree rotation and multiple sensations on the interior of the sleeve. The Max 2 offers three different levels of "contractions," adjustable suction intensity and seven vibration modes for an extra-stimulating experience.
Promising reviews: "My boyfriend and I are stationed across the country from each other, and thanks to the pandemic, haven't seen each other since October with no end in sight. I bought this and Nora. They work well together and he said it was incredible when we tried them out the first time yesterday. It definitely made us feel a little bit closer for a bit, since they mimic each other's movement." —Anonymous
"This is the most realistic toy I've ever used. The suction is excellent even though the air pump is on the loud side. The vibrations are a nice touch and make the experience even more pleasurable. The app works really well with easy control and a whole lot of patterns made by other people to try. Long distance play works well, especially paired with the Nora. It's perfect for long distance relationships but also amazing for solo enjoyment too." —Matt
Get it from Amazon for $119.
11.
An 8" splashproof rabbit vibrator designed with a rotating head that has three speeds and a flexible clitoral arm offering seven different vibration modes for superior external stimulation. All you (and maybe a lover?) have to do is download the app to stay in ~touch~ from anywhere in the world.
Reviewers say that heterosexual couples should pair this toy with the above Max 2 for a reciprocal long-distance session.
Promising reviews: "Especially when it comes to products like these you are willing to spend the money on because the truth is you get what you pay for. That being said let me continue with our experiences thus far. First off we literally have no privacy due to the fact we now have five people living in a two bedroom. This thing is so quiet no one even knew we were using it. My wife said it was a 10 out of 10 experience for her. We have not used the apps yet. Yes there are two apps required for the device because according to the main app you can connect multiple devices and have complete control over which one/s you want active. The other one just has multiple control settings for the device's operation in Wi-Fi mode." —Dar Mach Shetra
"At first I was worried about ordering this because of mixed reviews, as I wanted it specifically because I'm in a long distance relationship and wanted my partner to be able to control it. For distance perspective my boyfriend lives 1,252 miles away from me. We had no problems using it: we downloaded the app and he was able to control it right away and there was no disconnecting. As far as how good the product is the clitoral stimulation is fantastic but I couldn't feel the rotator on the inside as much, so it didn't have much stimulation there. If you're looking at this product for the same reason I was I would definitely recommend it. My boyfriend and I had fun with it for hours." —DCN

Get it from Amazon for $119.
12.
A stretchy, but snug-fitting cock ring by We-Vibe created with supple silicone for comfort and 11 vibration modes delivering dual stimulation to the wearer and your lover when you're together or powerful solo vibes when apart.
@wevibe / https://www.instagram.com/p/CHGQBhynuU4/?utm_source=ig_web_copy_link,
@wevibe / https://www.instagram.com/p/B3-CqeDh2cj/?utm_source=ig_web_copy_link
You can control the vibrations of this waterproof wearable manually or from the convenient We-Connect app.
Promising review: "We (F/40) and my lover (M/55) have no issues with pleasure and orgasms, but I still purchased on a whim. I was concerned that the sleeve would be too tight for his shaft but happy that the extra tightness prolonged pleasure for both of us!!! I highly recommend that you use this ring in different positions!!!" —Annie
13.
A versatile panty vibrator that'll stay put while your lover controls its adjustable vibration modes and speeds at close-range or from afar.
Unlike most panty vibrators, this one is strictly external and has a magnetic cap to help it stay put as you walk, sit, lounge or whatever else you plan on doing.
Promising reviews: "This product is amazinggggg for long-distance relationships and even solo play. All different kinds of patterns, or you can make your own. Battery life lasts pretty well and it's pretty discreet and stays in place well. I'd say that it is just a tad louder than what I expected, but I think that setting can be adjusted in the app. I'd definitely 100% recommend this — especially to long distance couples." —Leah J.
"I'm not sure how people say this doesn't work from afar, because this works. My partner and I live a thousand miles away and we got this and he controls it from a thousand miles apart. You have to learn how to actually use the app. I 10/10 recommend this" —maricelis torres
Get it from Amazon for $119.
14.
An innovative and interactive sex toy set for couples looking to stay closer than ever...even from a distance. The Pearl 2 G-spot vibrator is paired with an Onyx+ masturbation sleeve, and both use advanced technology to blow both of your minds simultaneously with the touch of a button.
The vibrator works using touch-sensitive technology from the Kiiroo app or the touchpad on the masturbation sleeve. Meanwhile, the sleeve offers intense stimulation with a rotating motor that can reach up to 140 strokes a minute, which...is a lot.
Promising review: "One of the best toys for couples out there, you can literally feel everything. Really recommended. ⭐⭐⭐⭐⭐" —Alwin
Get it from Bellesa Boutique for $299 (available in pink and black).
15.
The We-Vibe Chorus vibrator that can be controlled remotely from the app or with the included wireless remote that responds to innovative pressure technology, so you can control the vibration intensity with your grip.
@wevibe / https://www.instagram.com/p/CN0J6DuAqyB/?utm_source=ig_web_copy_link,
@wevibe / https://www.instagram.com/p/CAdfuAnhl0A/?utm_source=ig_web_copy_link
This toy can be used in closer quarters or from afar, stimulating the interior (and penis, if there's one in there!) and the external arm delivering intense vibes directly to the clit for a dually stimulating experience. Whether you and your lover choose to play with the grip technology or use the pre-set three speeds and seven vibration patterns, this waterproof wearable offers sensations only limited by the imagination (and definitely not distance).
Promising reviews: "It comes in a nice discreet charging case that you could leave on your night stand for ease of charging and also visitors wouldn't know inside is a sex toy. We gave it a quick try using it externally and internally on my wife before putting it on charge for a full tryout later once the kids were asleep. The adjustable internal is very well made and means you can adjust according to your partners body. Feels good for both partners when using during sex and easy to add or remove without ruining the moment. Working in the military I find myself away from home a lot and one of the reasons for buying this toy was the app and the ability to play when away from home. The app can disconnect you or your partner from the session sometimes but not enough to have an effect on things. With me currently deployed for four to five months we have had quite a few We-Vibe sessions and have even purchased another We-Vibe product to give my wife a bit of variety for our sessions." —Ooh No.
"How do I even start, let me just tell you this remote vibe is hands down the best. It fits to me so well, and it actually does what hubs wants, you can start and stop it with app or remote. Very comfortable too wear and walk around with too! OMG you need this toy in your life if you have a partner." —Tiffani J.
Get it from Lovehoney for $199.99 (available in three colors).