Chocolate Peanut Butter Rice Treats
Sink your teeth into this peanut butter chocolate-y goodness!
by
,
Chocolate Peanut Butter Rice Treats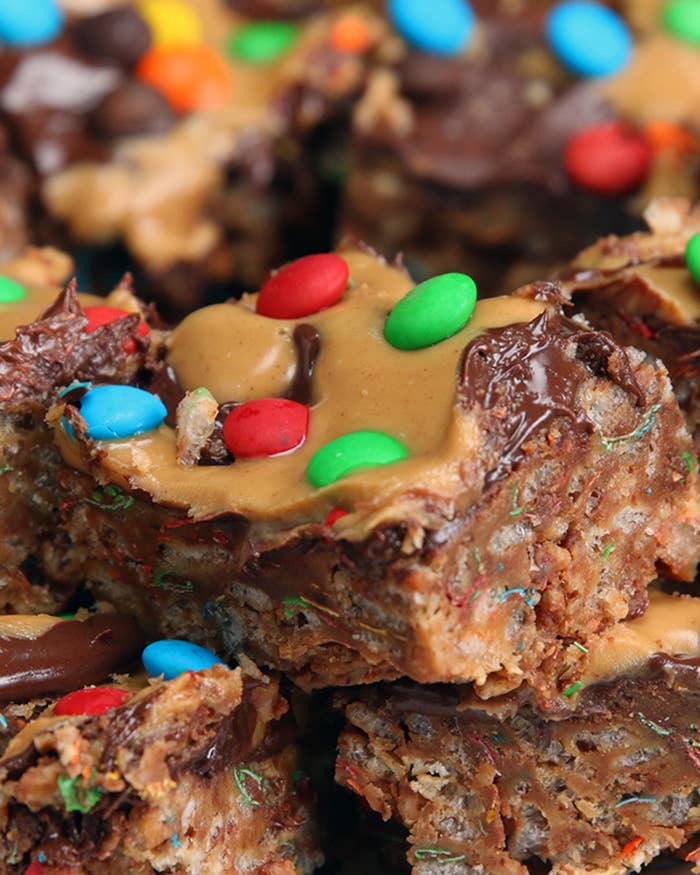 INGREDIENTS
Serves 16
2 cups peanut butter
3 cups marshmallows
3 cups crispy rice
1½ cups chocolate candies
2 cups chocolate chips. melted
PREPARATION
1. In a sauce pan, combine and mix the peanut butter and marshmallows over medium heat, stirring constantly. Lower the heat and cook until melted. Remove from heat.
2. Add crispy rice and 1 cup of chocolate candies.
3. Mix until evenly combined.
4. Turn mixture into buttered 9x9 pan.
5. Melt 2 cups of chocolate chips in a bowl in 30-second increments.
6. Pour melted chocolate over pan and spread evenly.
7. Melt 1 cup of peanut butter and drizzle over chocolate.
8. Sprinkle ½ cup of chocolate candies over top.
9. Chill for 2-4 hours.
10. Cut into squares.
11. Enjoy!
Want BuzzFeed Tasty right in your inbox? Sign up for our newsletter!