1.
Gild accent drawers with some adhesive and inexpensive gold foil: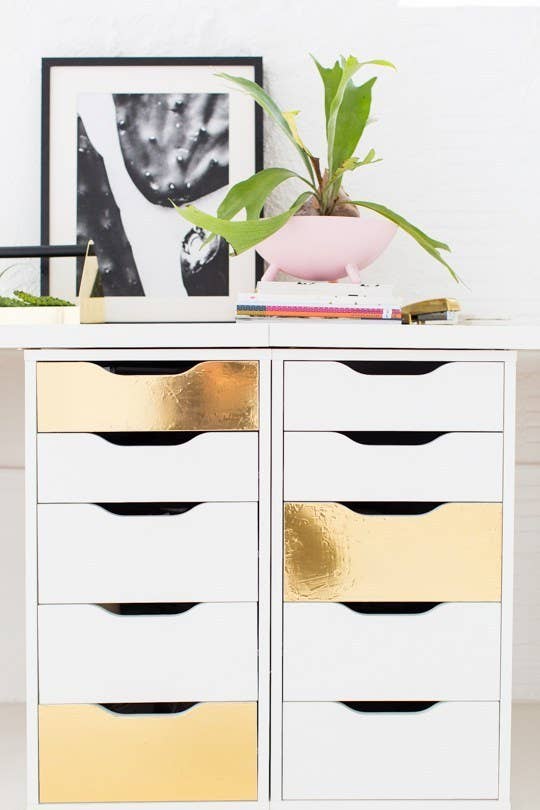 2.
Top a basic bookshelf with crown molding to make it look built-in: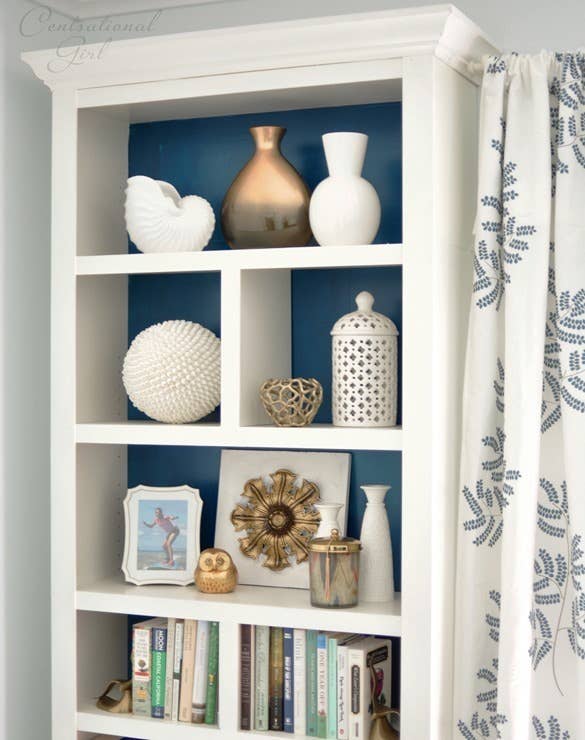 3.
Distress a cabinet with the help of a little petroleum jelly: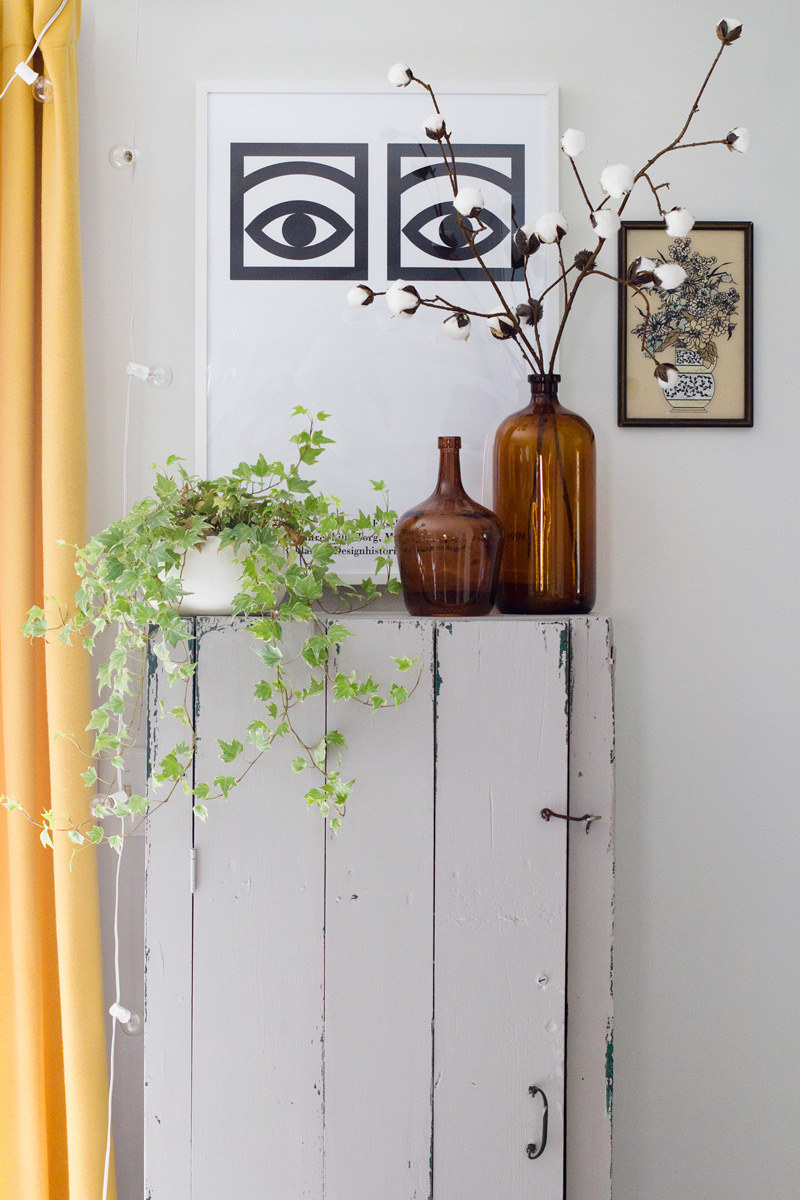 4.
Fix up a kid's table with wrapping paper and durable paint: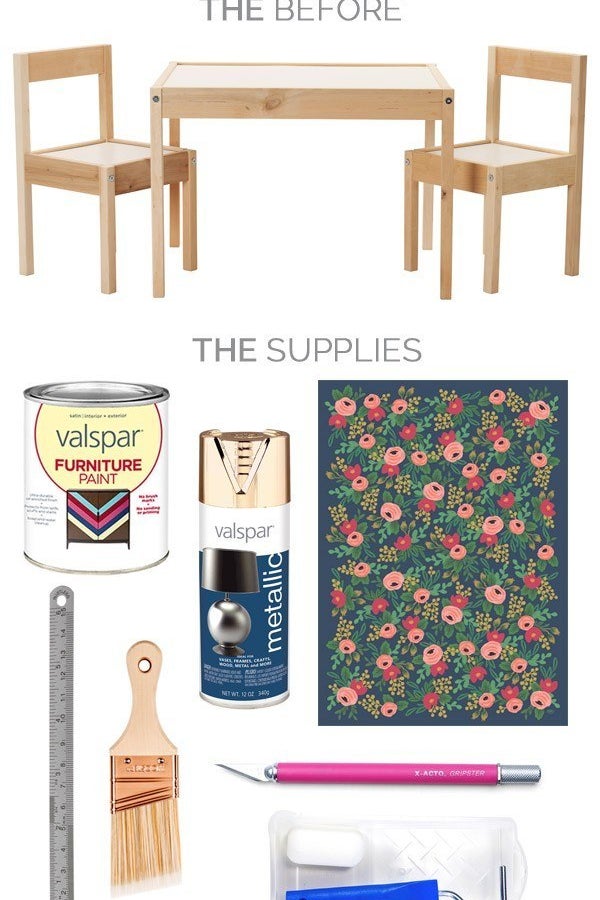 If you're wanting to go even cheaper, you could skip the metallic seats on the chairs and paint them to match the rest of the wood (and use less expensive wrapping paper). Get the tutorial here.
5.
Replace the legs on your current sofa: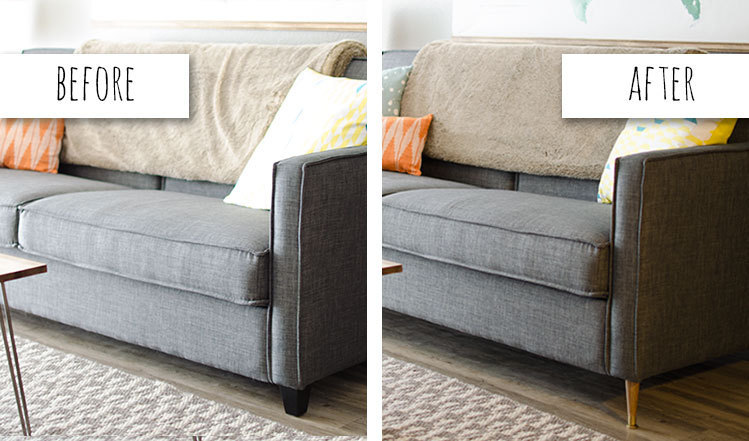 6.
Then tuft the cushions: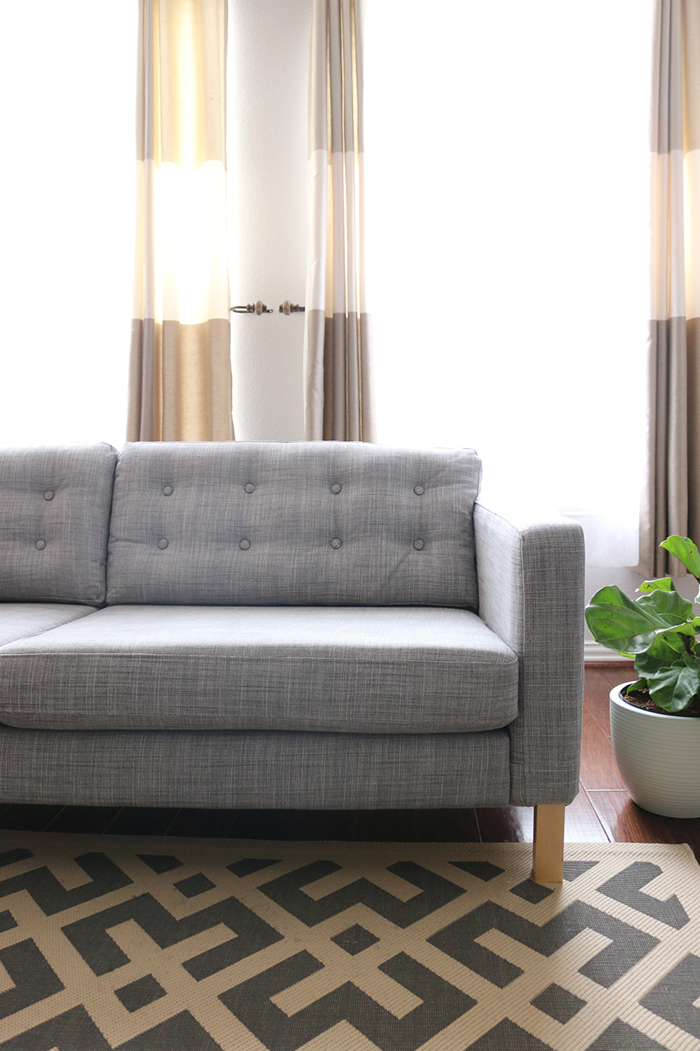 7.
Dress up a side table in contact paper and spray paint: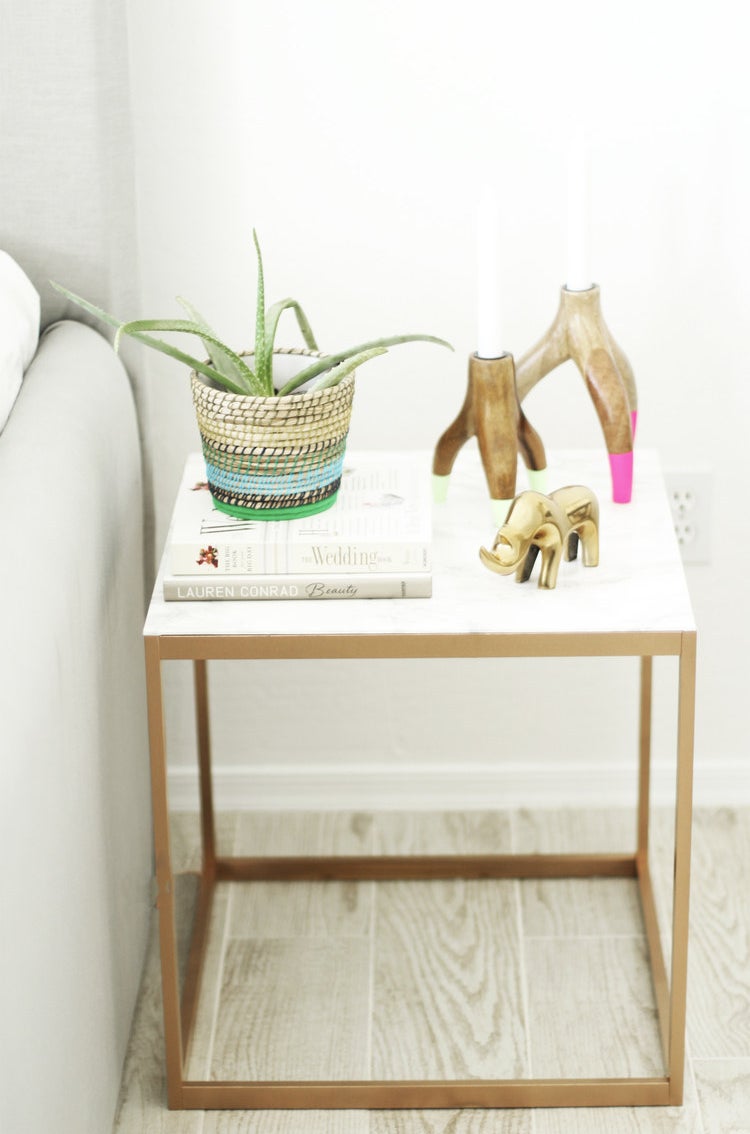 You can use whatever combination of spray paint and contact paper your heart desires. See how to do it here.
8.
Replace your boring dome light with a pretty lampshade: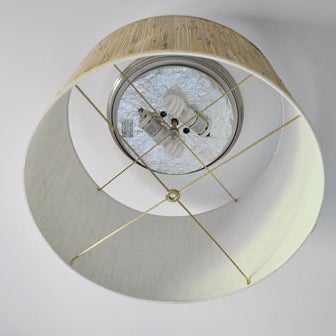 They made this for only $32! Get the how-to here.
9.
Sand and paint an old wooden chair to make it new again: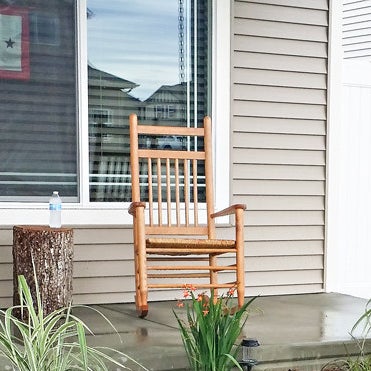 This tutorial calls for chalk paint, but you can use any outdoor safe paint that you'd like. Get the tutorial here.
10.
Paint an old lampshade any color you want: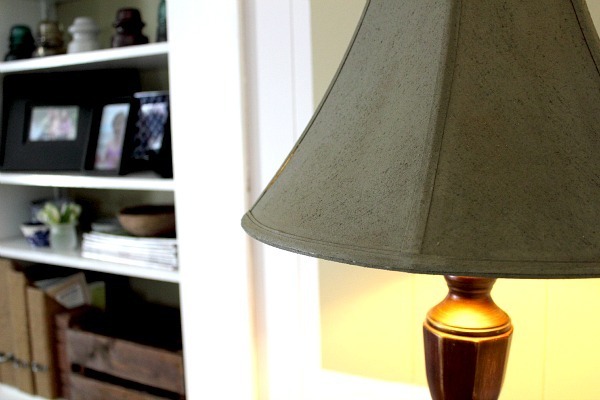 11.
Mod Podge a graphic fabric onto a simple wooden chair: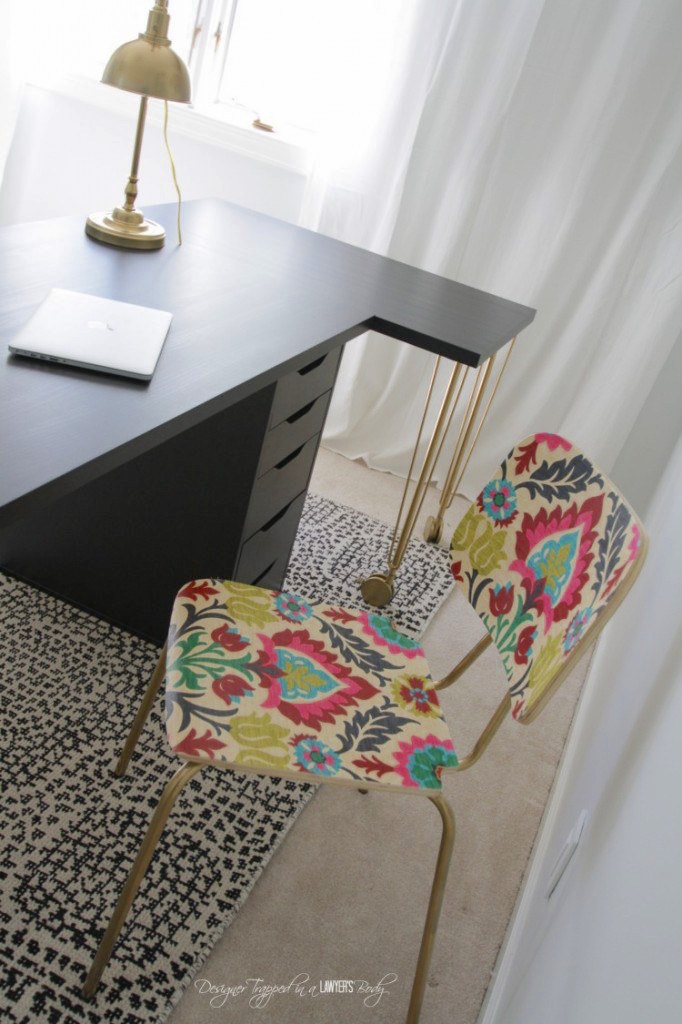 12.
Or paint and recover a classic folding chair: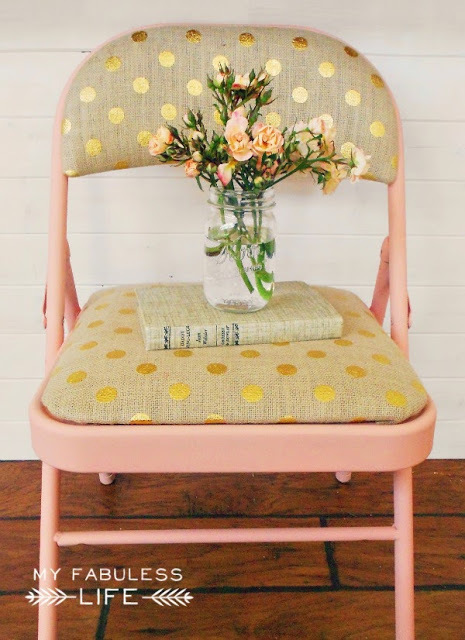 13.
Frame your bathroom mirror with baseboard trim: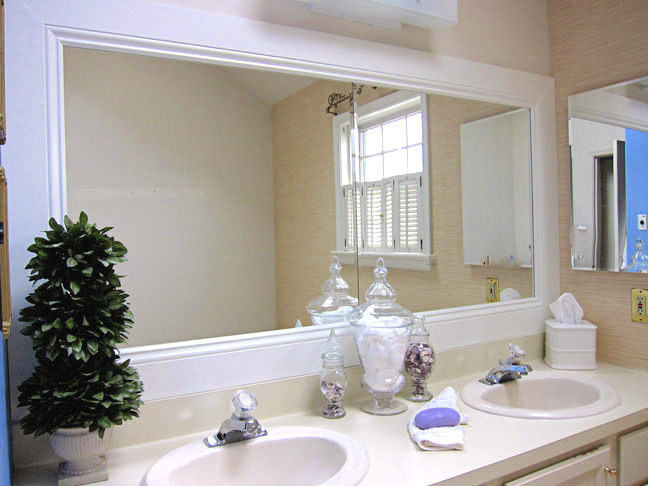 15.
Then turn your can of spray paint to your metal shelf brackets and metal-frame desk:
16.
Screw brass casters to the bottom of a cheap shelf for an instant bar cart slash portable bookcase: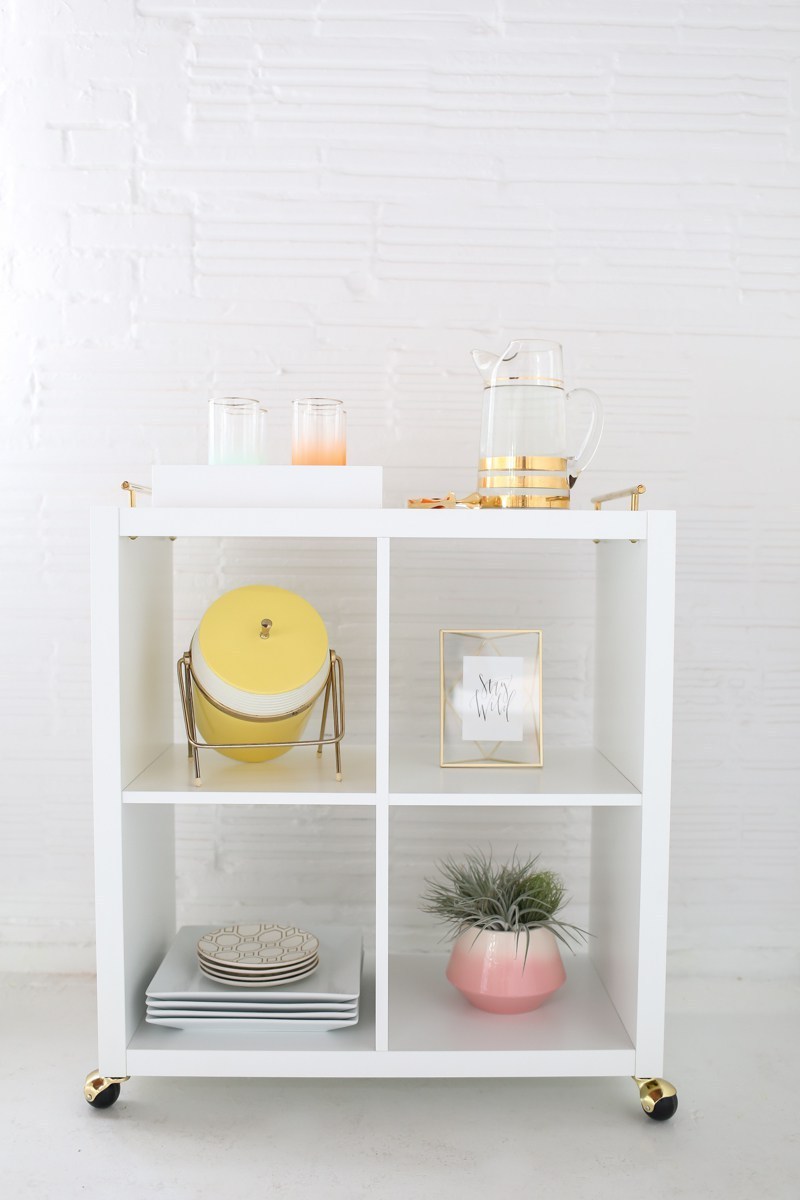 17.
Paint a wire basket and flip it over for a modern accent table: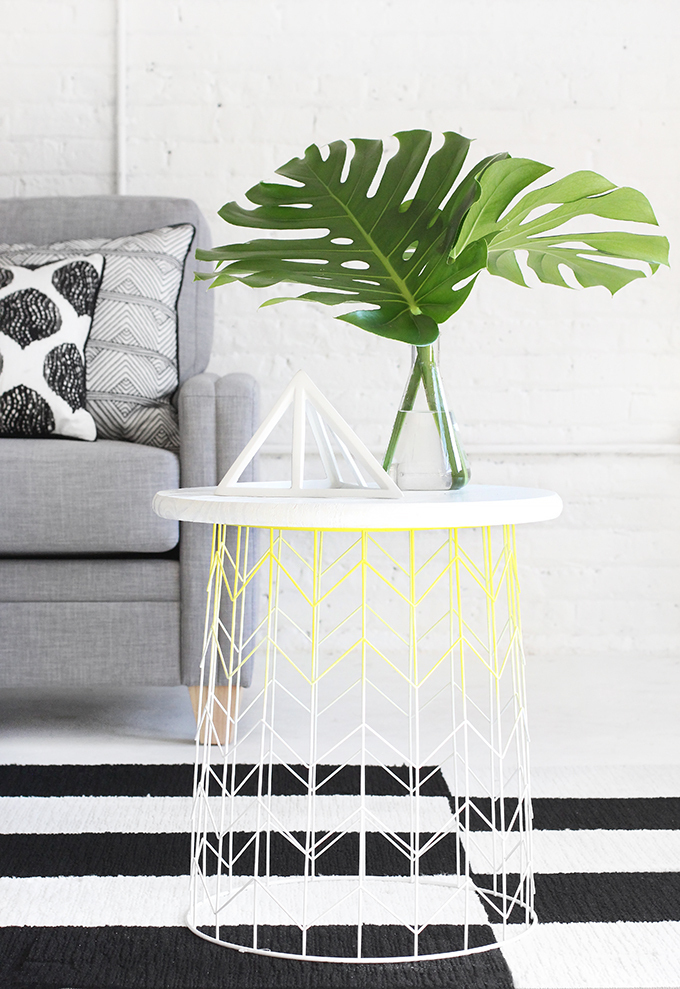 18.
Stitch trim onto your chairs to make them look extra ~fancy~:
(These chairs were also painted, but the trim is the coolest part here). See the surprisingly simple step-by-step tutorial here.
19.
Stick washi tape to your bookcase for effortless gold edging: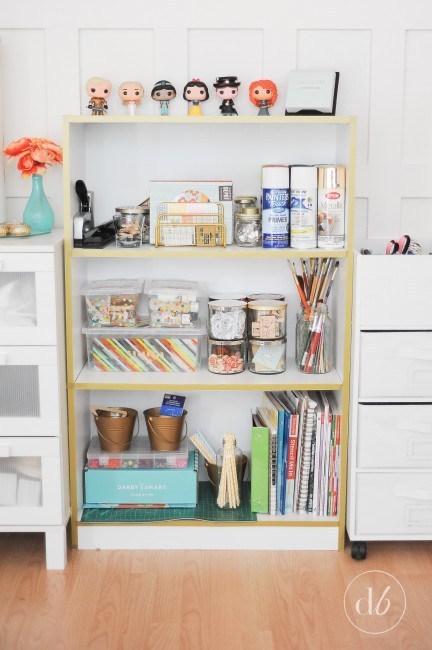 20.
Or add legs to your shelf to make it ~pop~: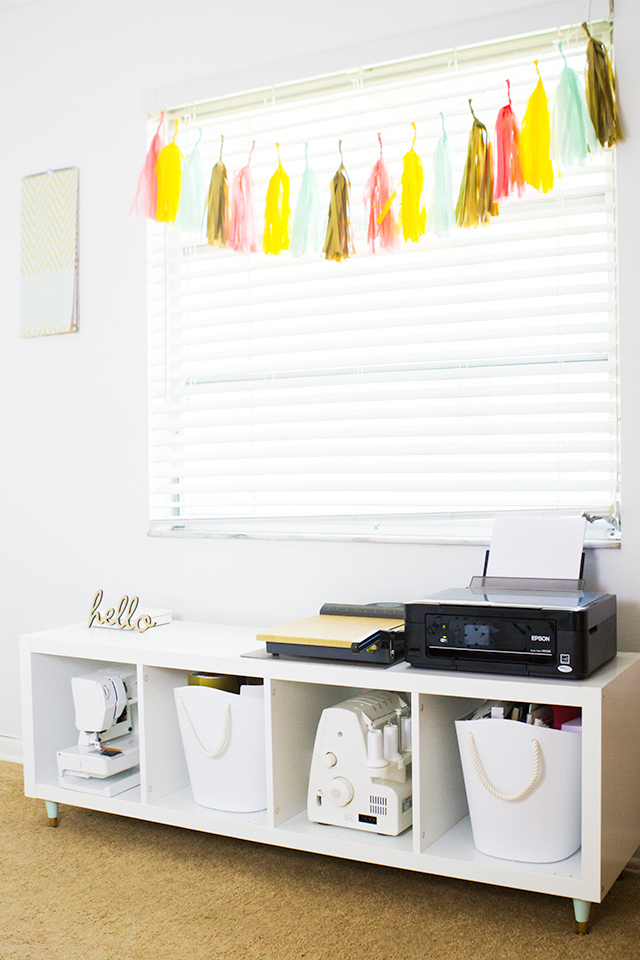 21.
Add pattern to the sides of your dresser drawers with scrapbook paper: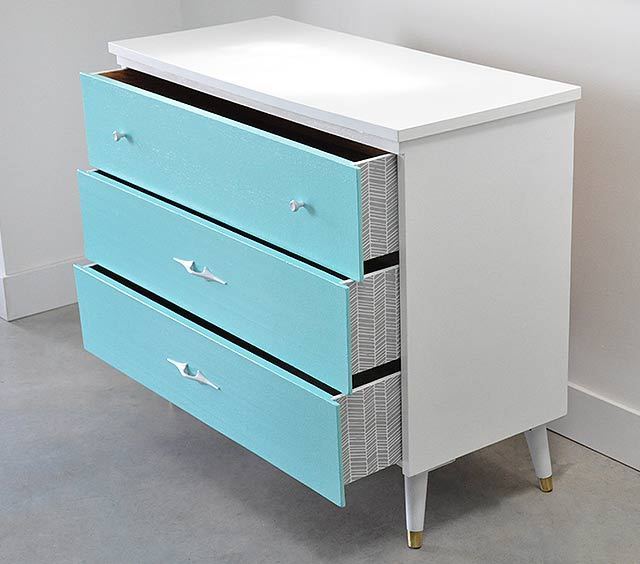 22.
Stack up some cheap crates to make a custom bookshelf: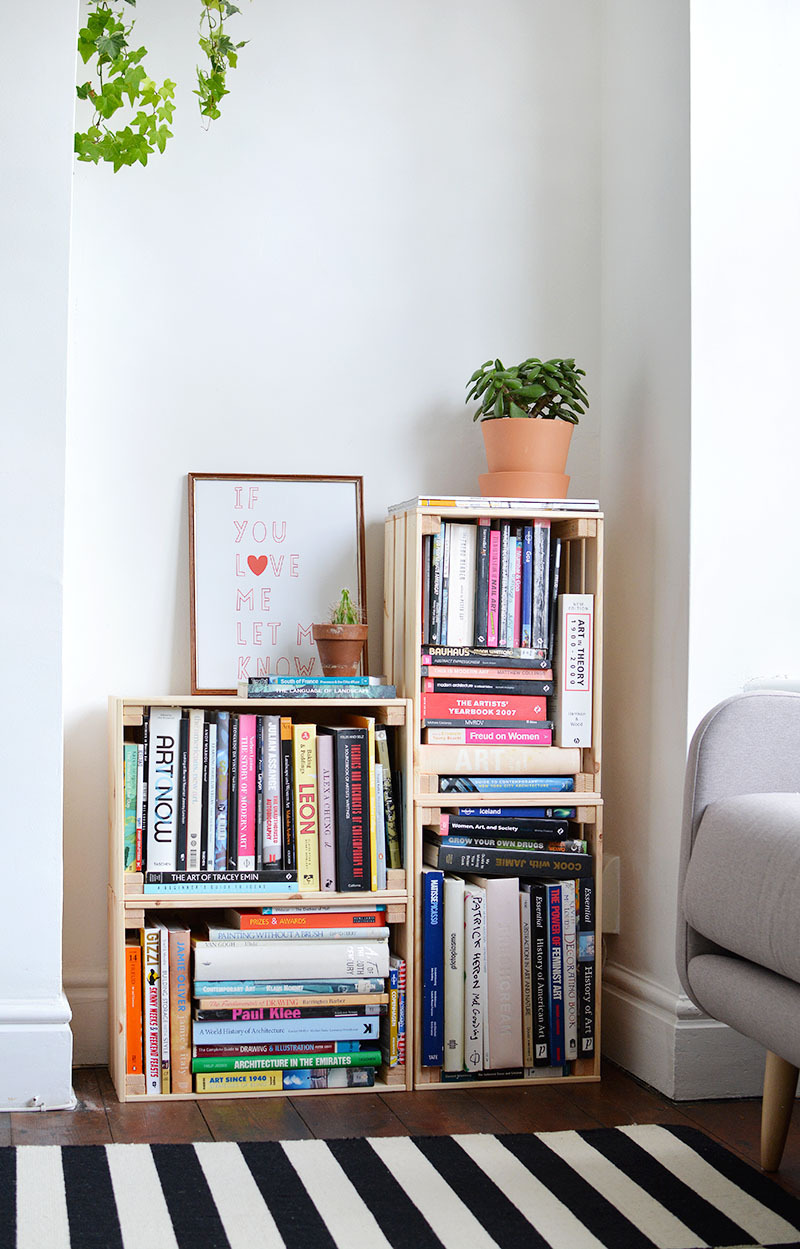 23.
Or update your current bookshelf with a backsplash of removable wallpaper: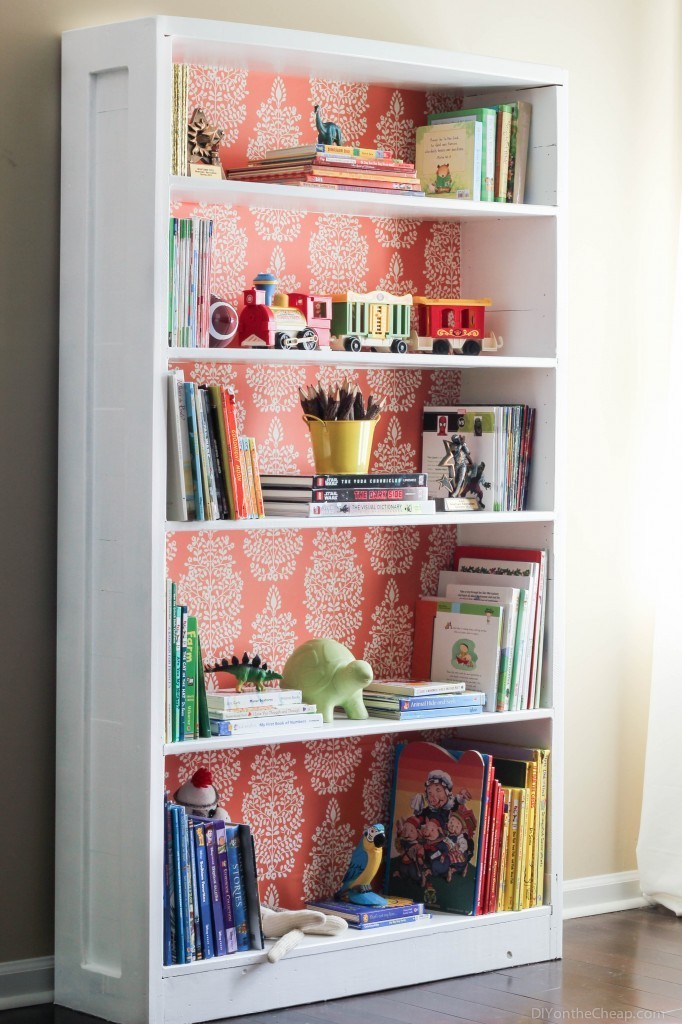 26.
Use scrap leather to make pretty modern drawer pulls: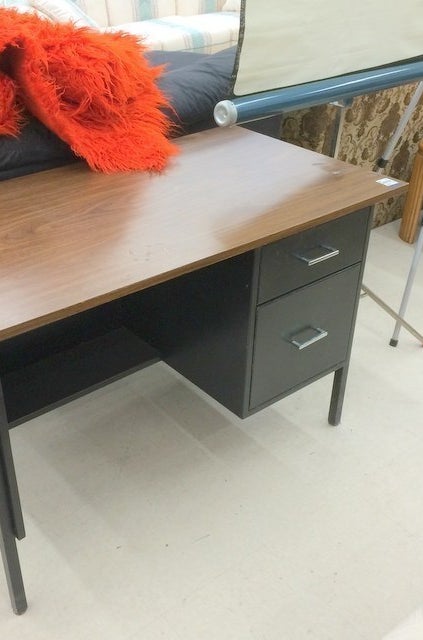 They also painted this desk, obviously. See how to make the handles happen here.
27.
Stick Velcro strips to the back of Lego boards to make an awesome Lego table: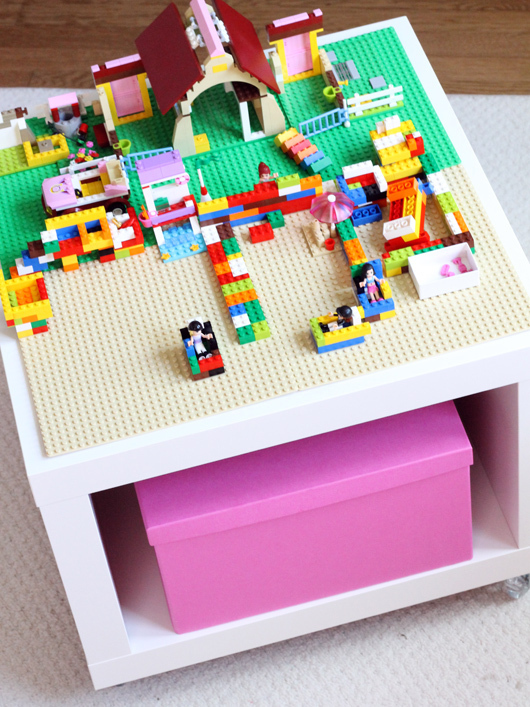 28.
Mask off the top half of an old step stool and paint it white: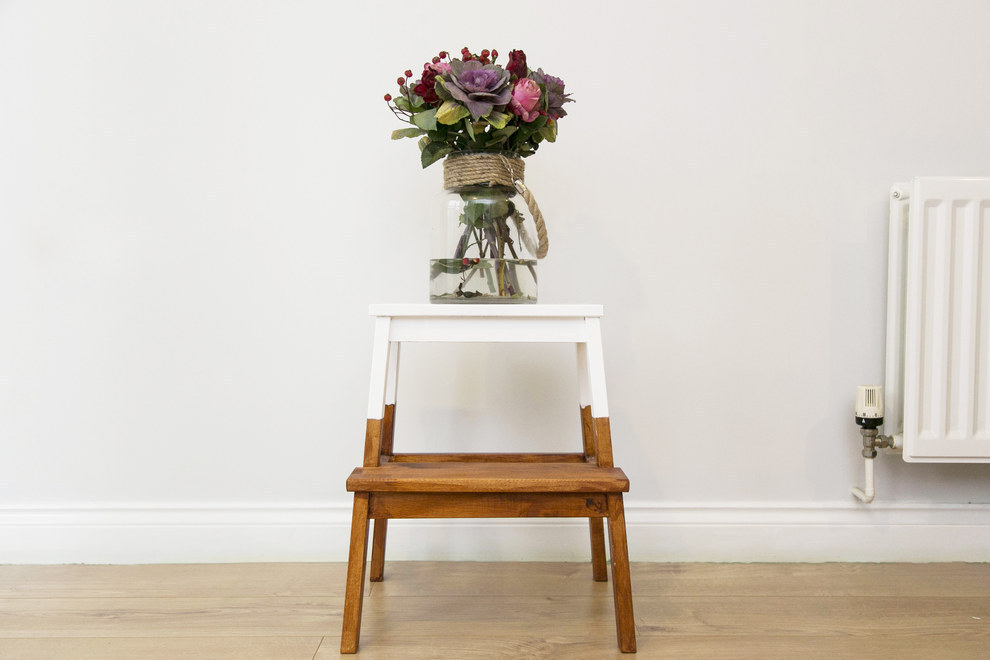 30.
Swap out the default knobs and screw on a few flat corner braces for a brand-new dresser: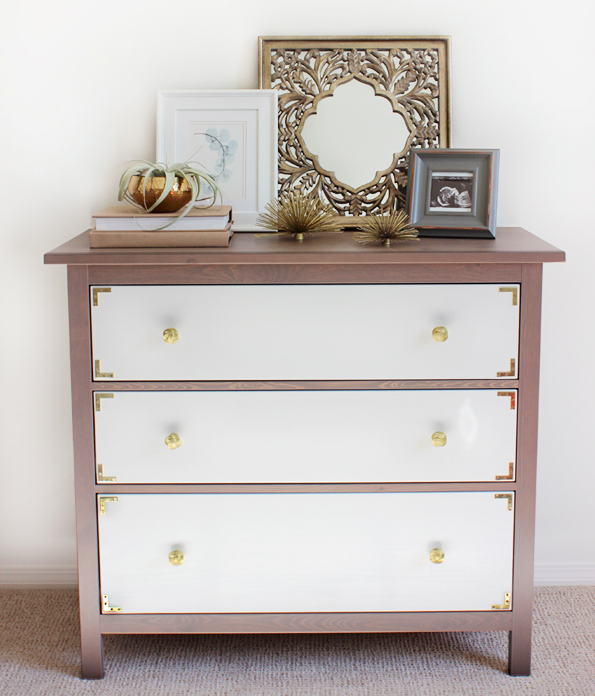 31.
Or go for the playfully glam look and make knobs out of plastic dinosaurs: