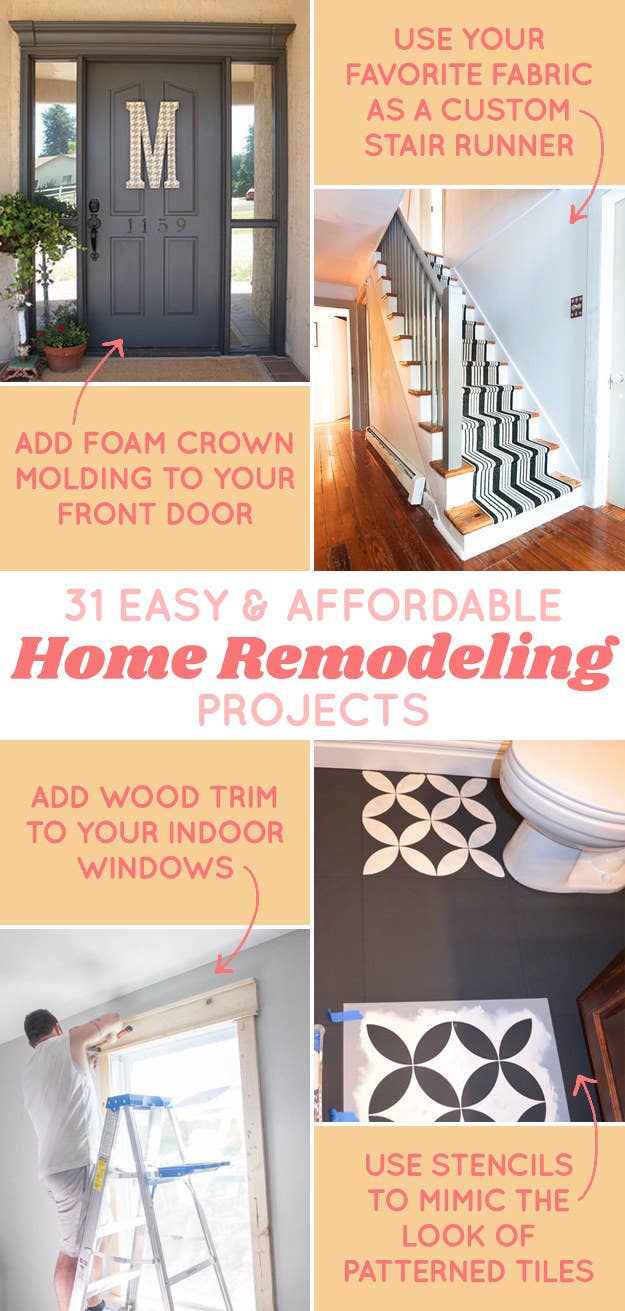 1.
Use peel-and-stick tiles to make your backsplash look brand-new (and to make it easier to clean than bare wall).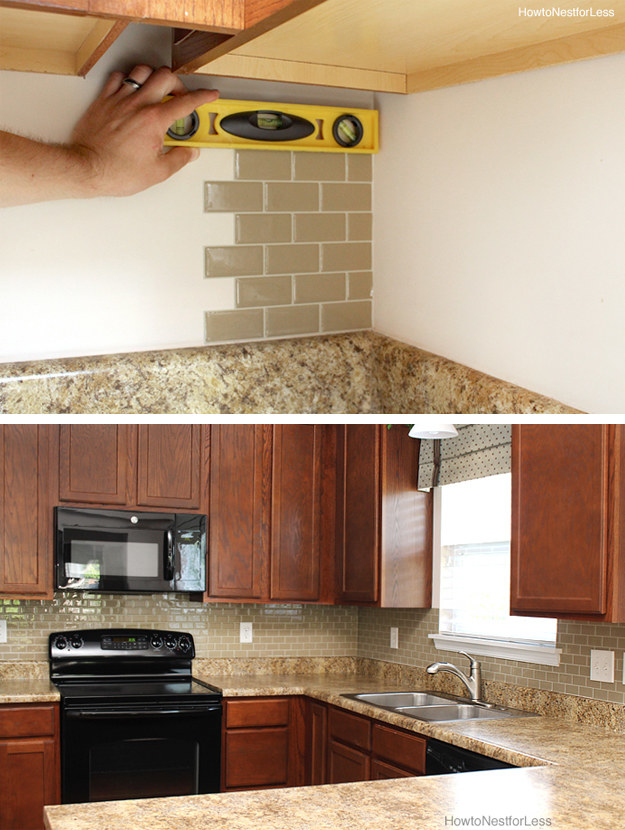 2.
Paint your cabinets if you want them to feel fresh or different. But be forewarned: There's no actually easy AND affordable way to make this happen.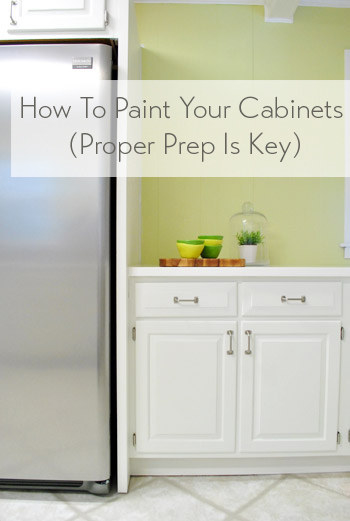 3.
You can fake cute "shiplap" wooden siding inside with similar peel-and-stick vinyl.
4.
Add drawer pulls and cabinet knobs to your kitchen and bathroom cabinets (or replace the ones you have).

5.
If you don't want to shell out for more drawer pulls, but still hate the builders-grade brass ones, soak them in brass ager for 10 seconds.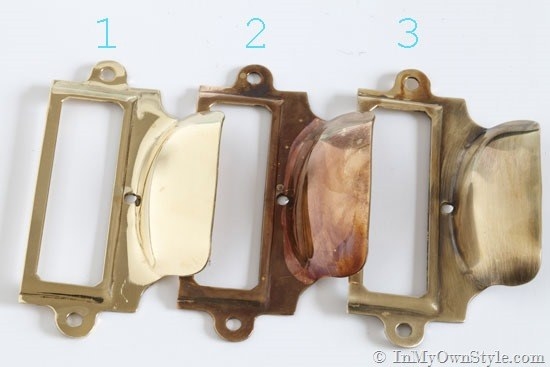 6.
Install beadboard or beadboard wallpaper to upgrade the kitchen cabinets you already have.
You can also use beadboard wallpaper to make a boring wall an accent wall.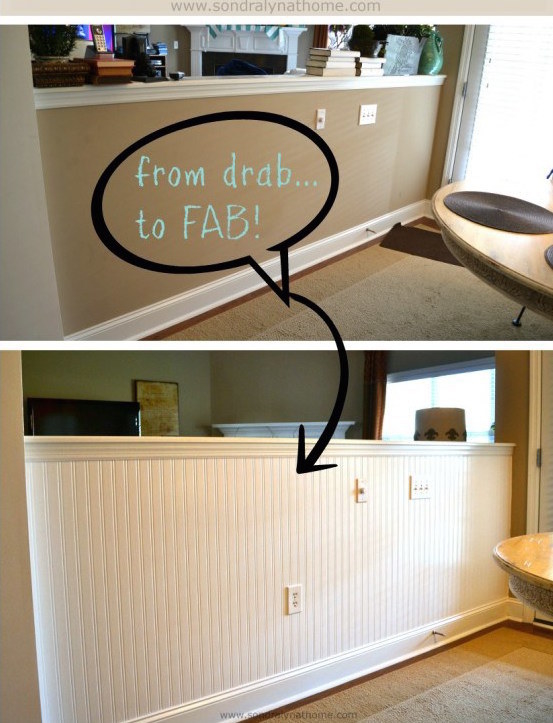 7.
Add a new top (and maybe some casters) to an old dresser to turn it into a kitchen island.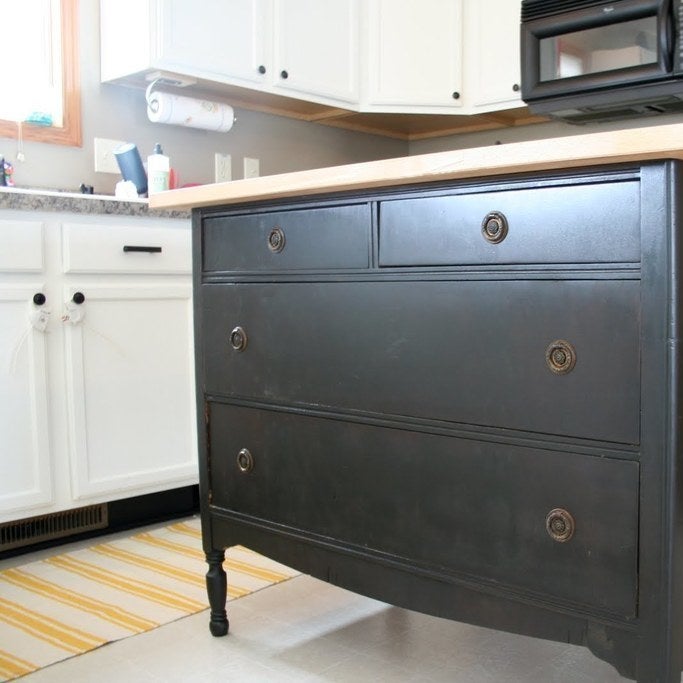 8.
Lay peel-and-stick vinyl flooring in your bathroom or another small room in your home.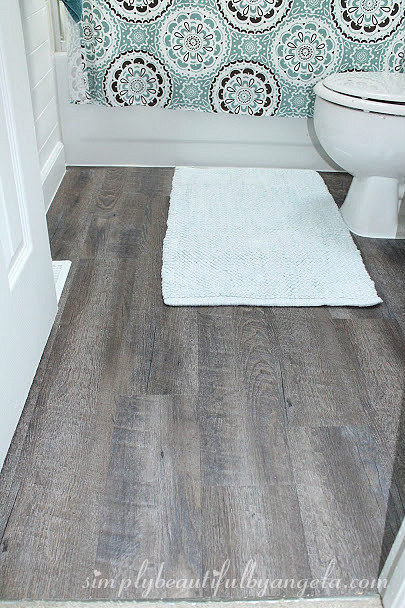 9.
Imitate the look of trendy pressed-concrete patterned tiles without ripping out your floor — just paint, stencil, and seal.
10.
Ditch the colorful 1960s-style tubs, sinks, and tile by painting them with a tile and tub painting kit.
11.
Install beadboard wallpaper along the walls of your small toilet room to make it more pleasant to sit there.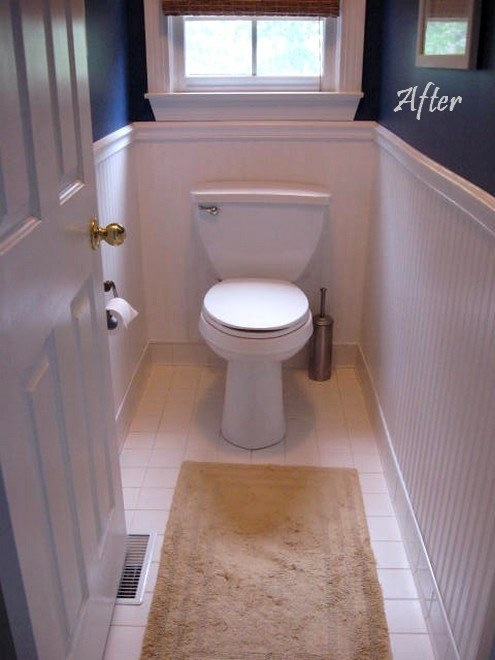 12.
Update builders-grade light fixtures with Rustoleum's metallic paints and new light bulbs.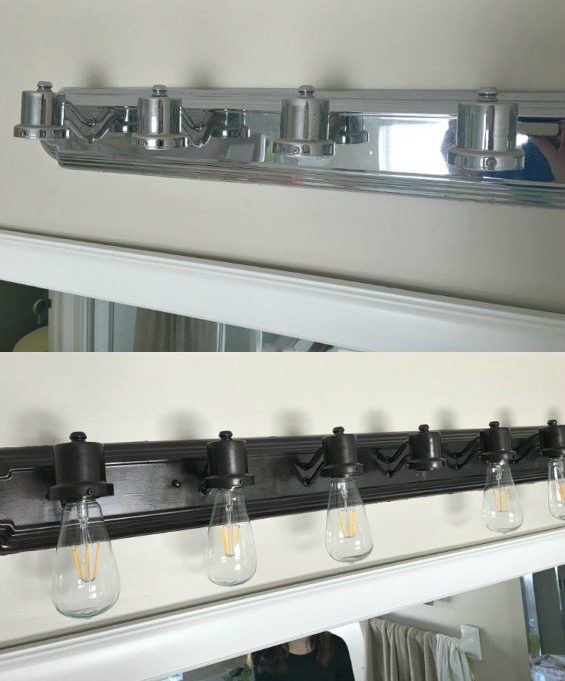 13.
Add some trim to your indoor windows.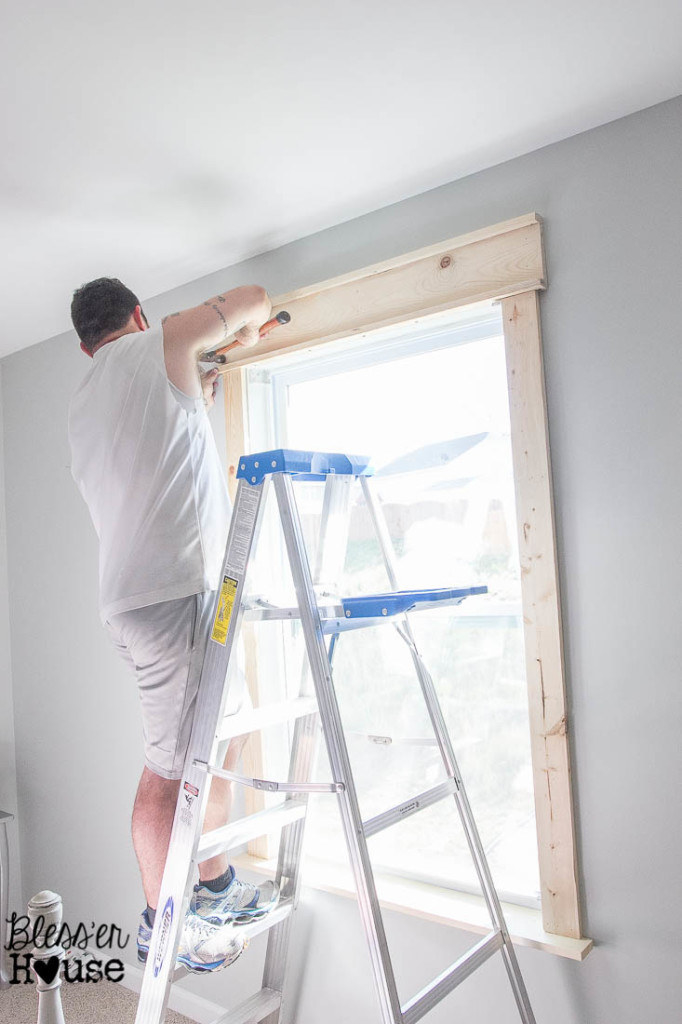 Before you go shopping, here's a guide to all the molding shapes and types:
14.
Pull your brass fireplace out of the 1980s with a coat of high-heat spray paint.
16.
Secure a Billy or two in the closet to work as custom-designed closet system on the cheap.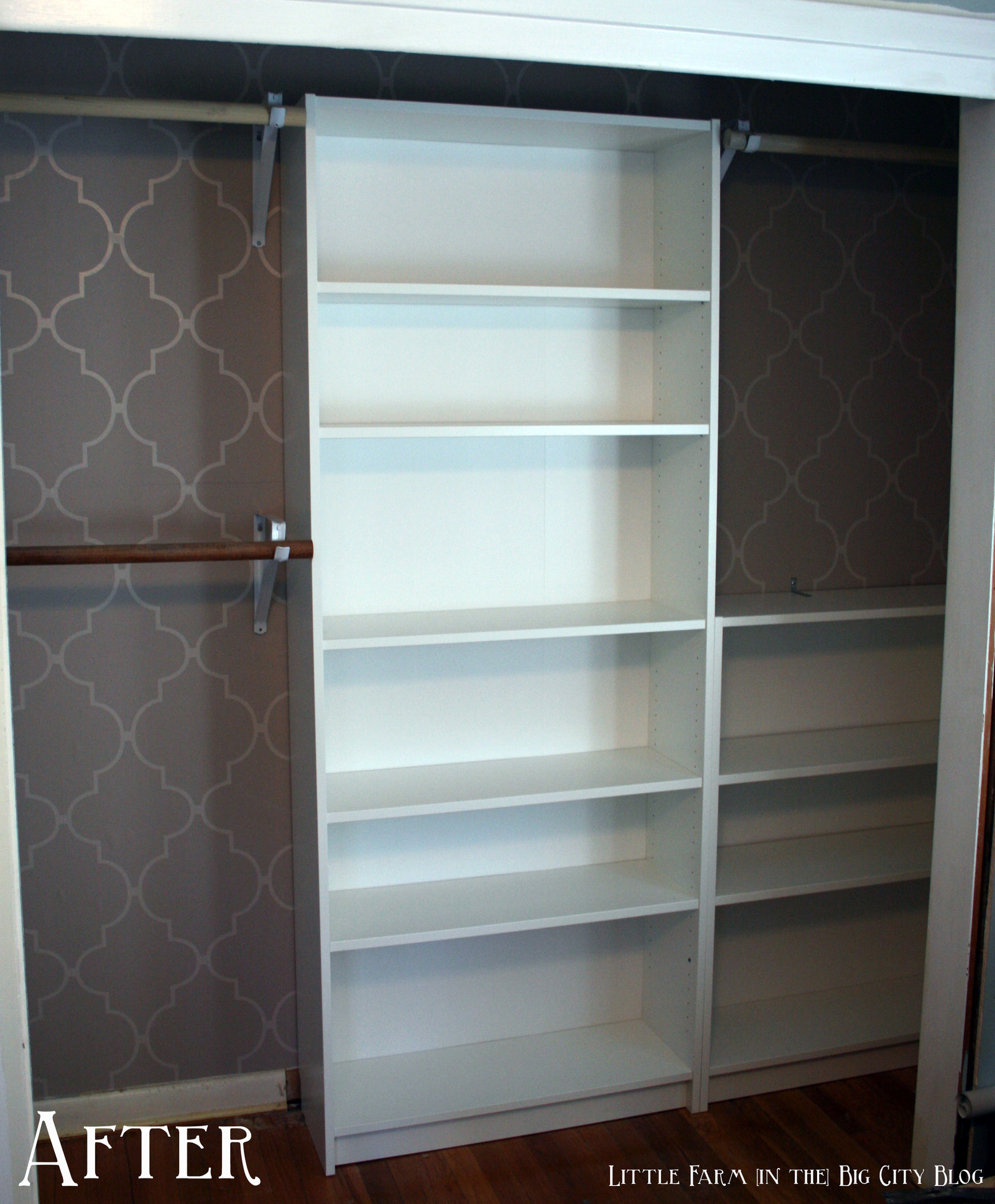 17.
Stencil a pattern you love to create a custom accent wall.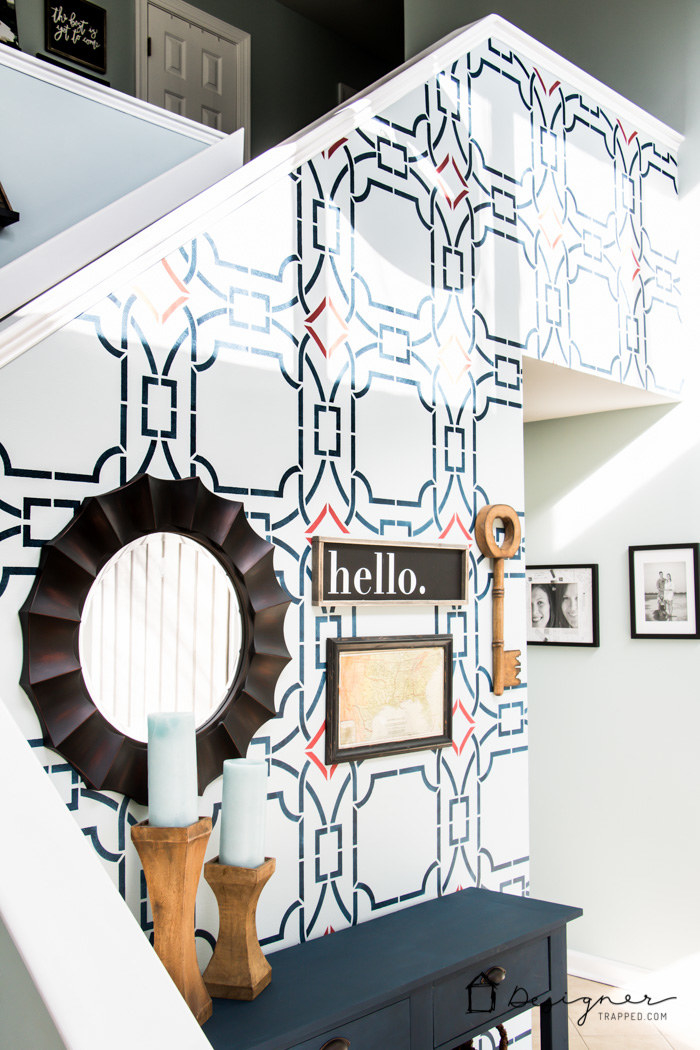 18.
Switch out your "boob lights" for nicer fixtures, whether you do it yourself or hire an electrician.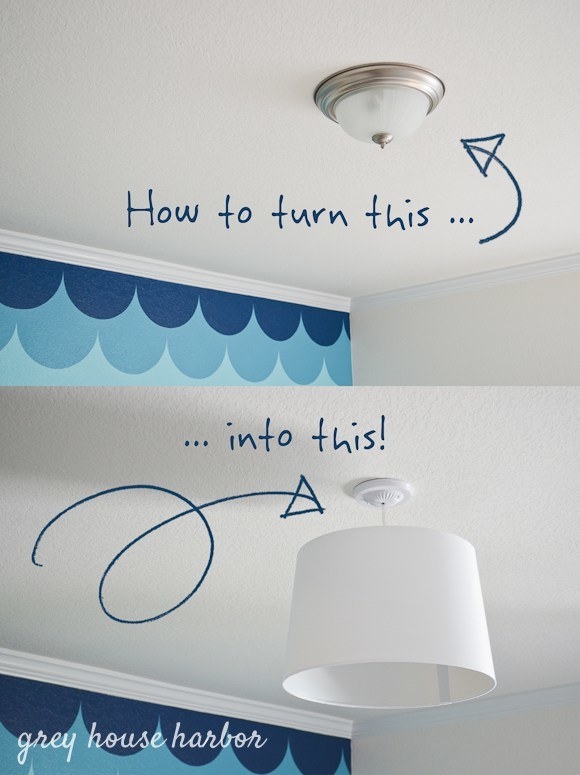 19.
Give the ceiling fan a little paint TLC, too, to make it feel brand-freaking-new.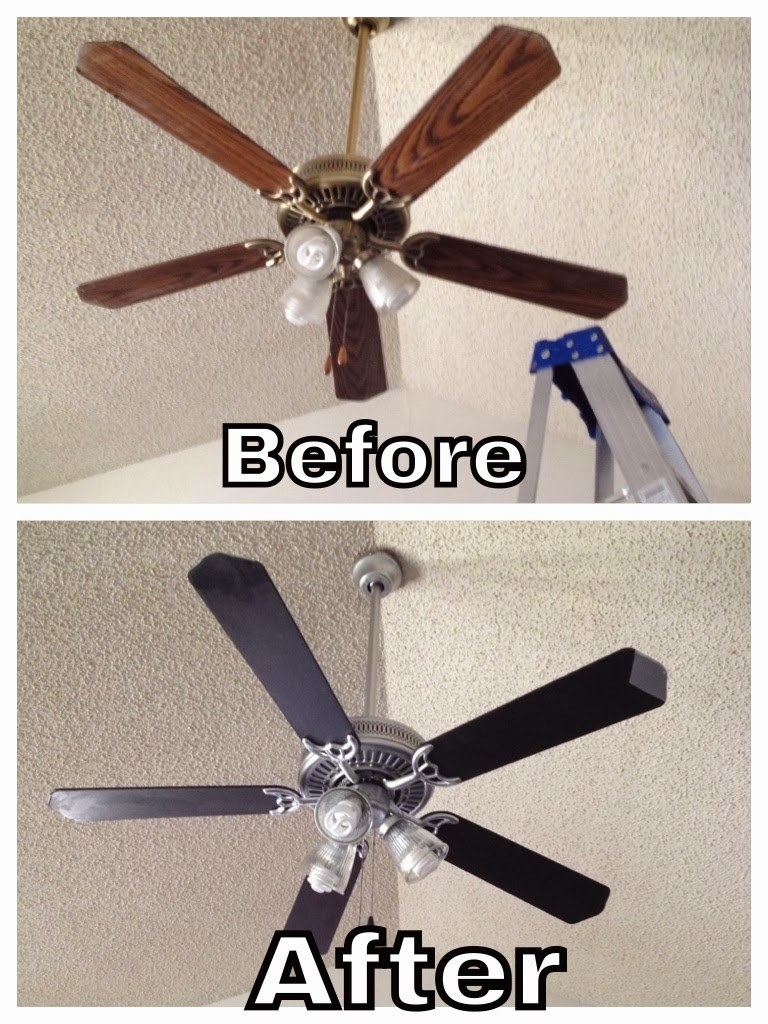 20.
If you're not blessed with a built-in mudroom, pick an area to set a bench and hang up a shelf and a few hooks.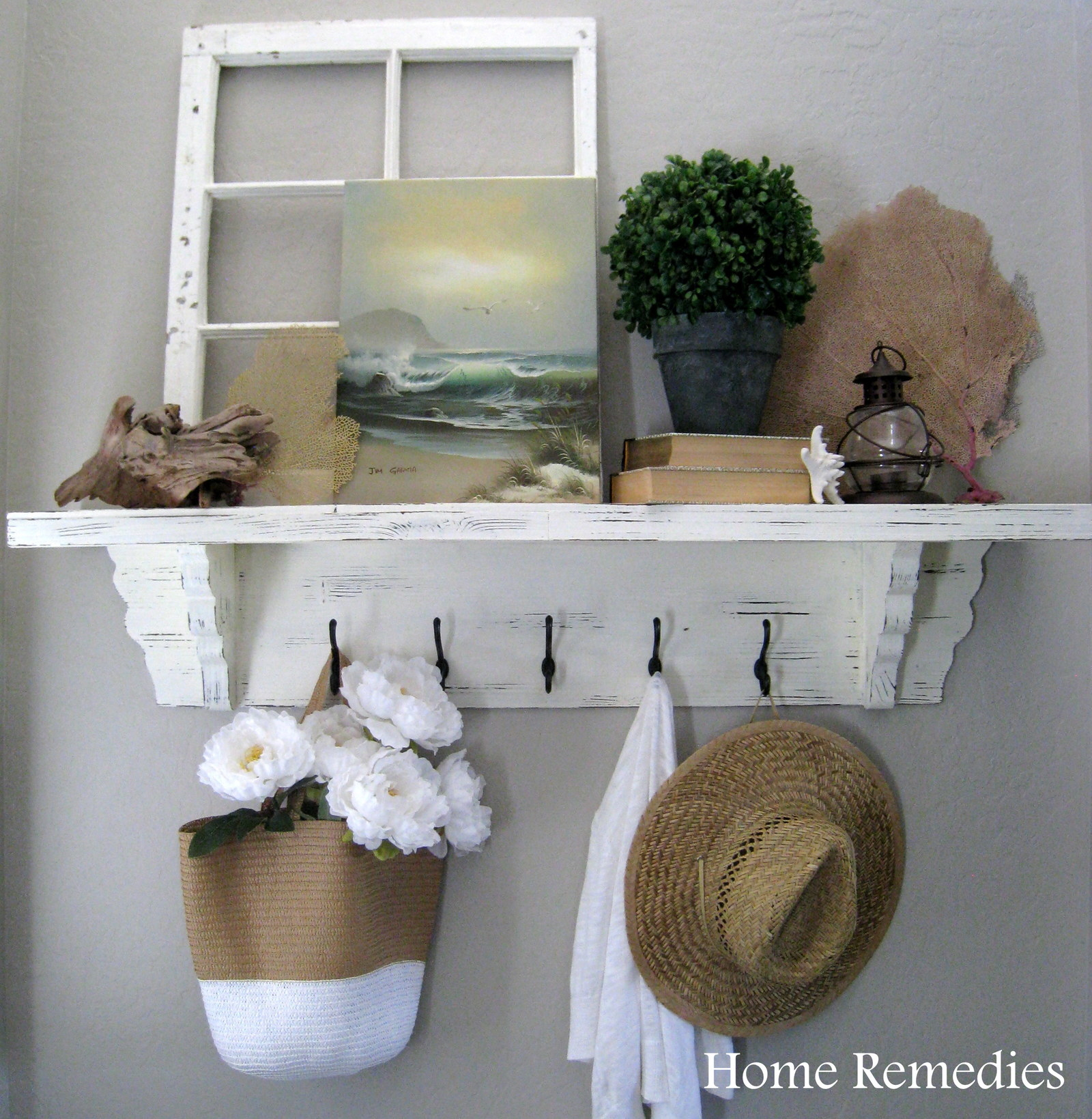 21.
Dress up your stair railing with gel stain and paint.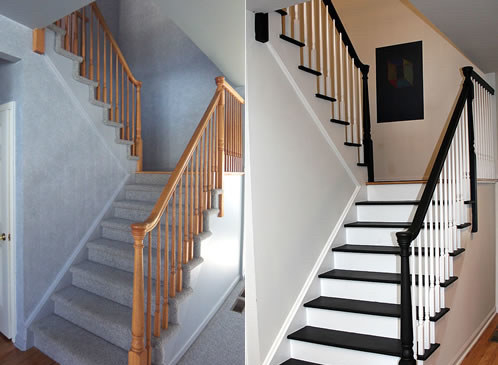 Or add a custom runner in your favorite fabric.
This staircase also got a fresh coat of paint to take it from off white to bright white (and the railing to a warm gray). Learn how to do this yourself here.
22.
Secure plywood strips to a plain door and paint them white to give it some character.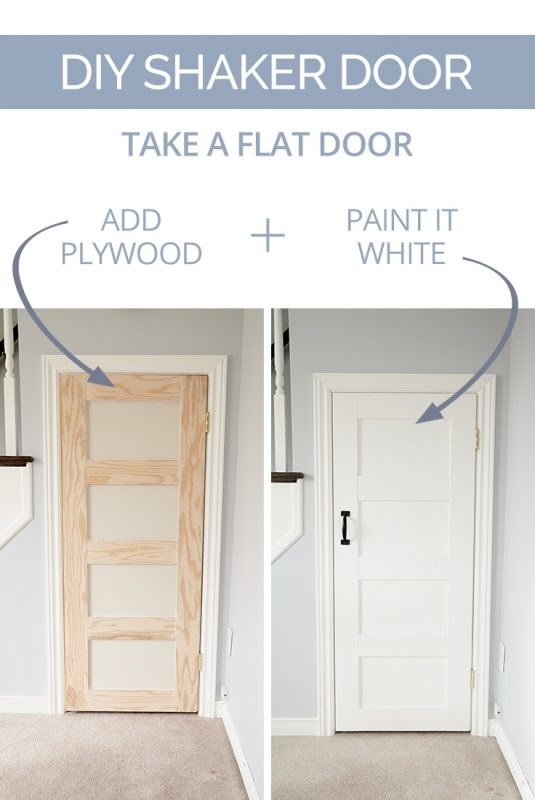 23.
Transform any door you want into a sliding barn door using garage door wheels.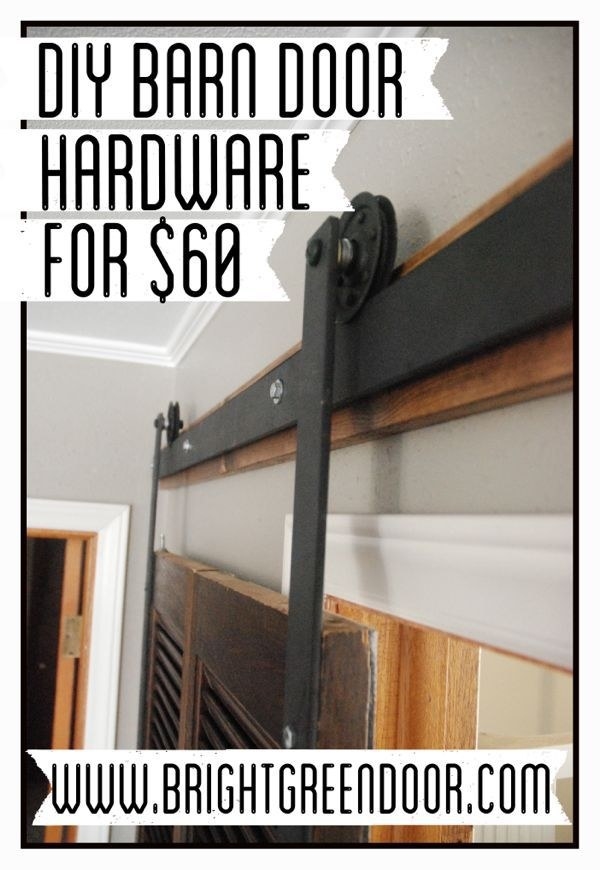 24.
Cut wooden paint stirrers to size and stain them to make a midcentury modern backdrop for house numbers.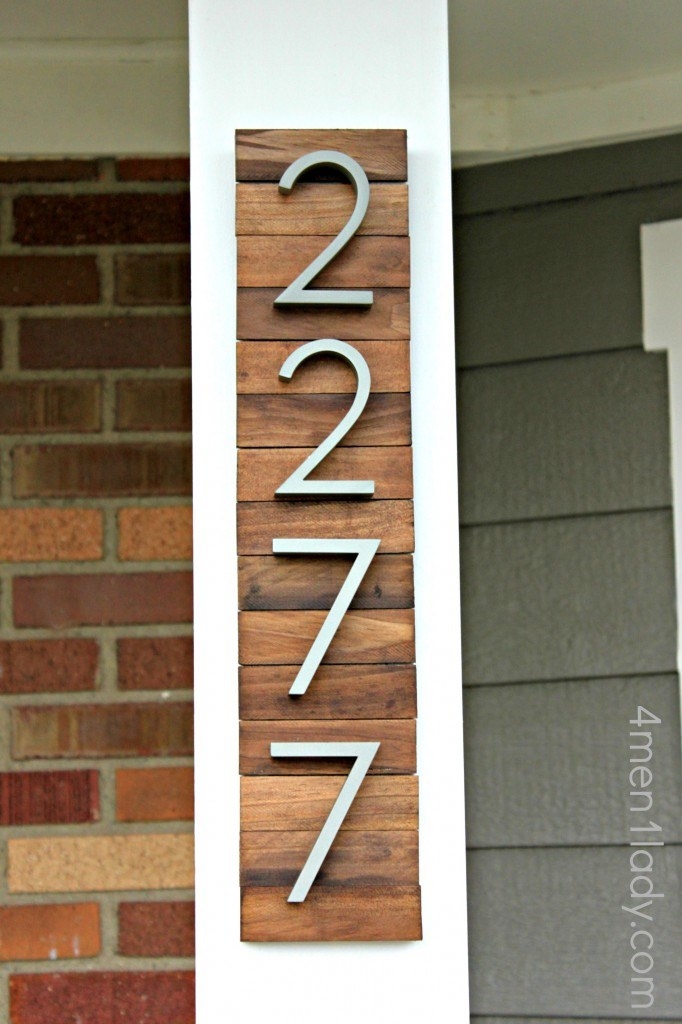 25.
Install faux stone tiles to the outside of your house to disguise an ugly layer of foundation.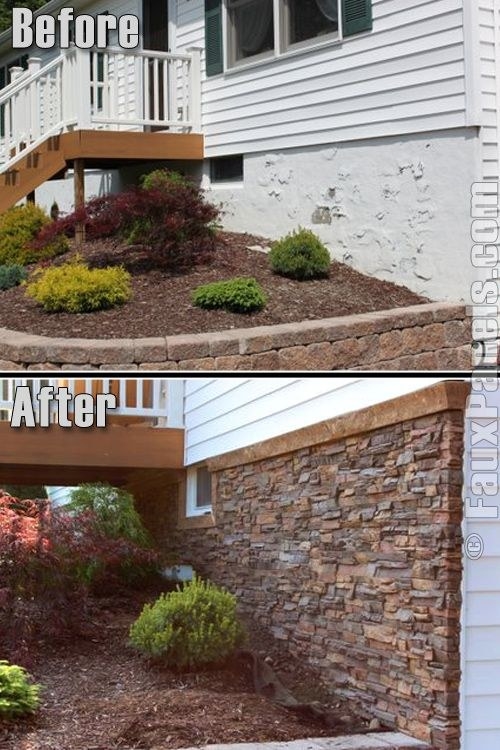 26.
Overhaul your faded garage door by coating it with gel stain.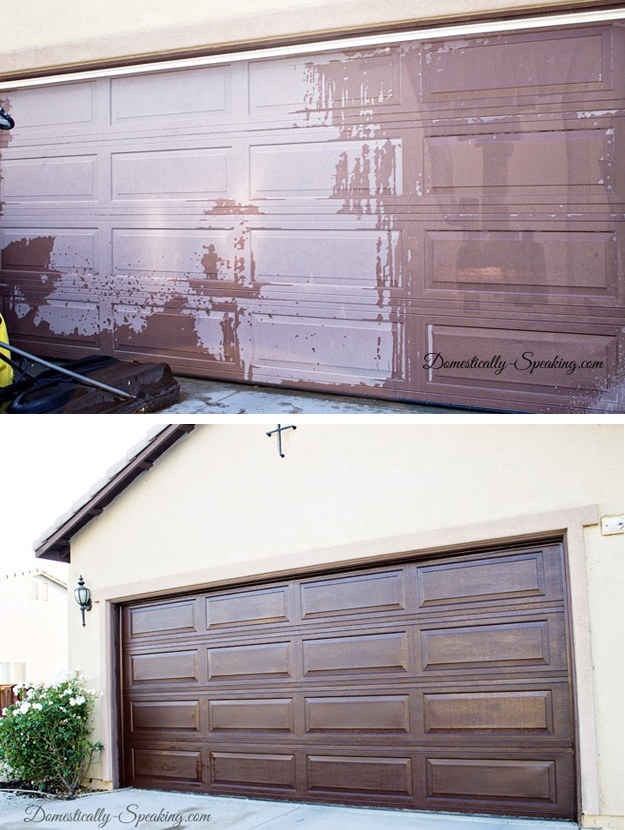 27.
Pick an outdoor-grade metallic paint to update your rusty porch lights.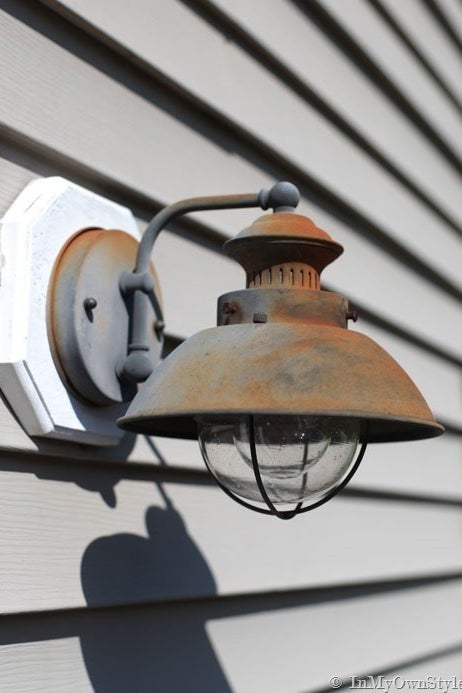 Learn how they did this here.
28.
Hang foam crown molding above your front door, and paint it and any other windows and windowsills the same color.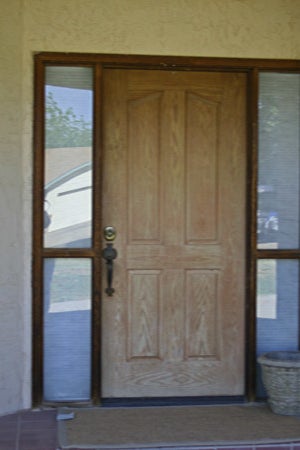 Don't forget to tape up the windows, hardware, and hinges before you paint your door, though, because you'll definitely splatter on them if you don't.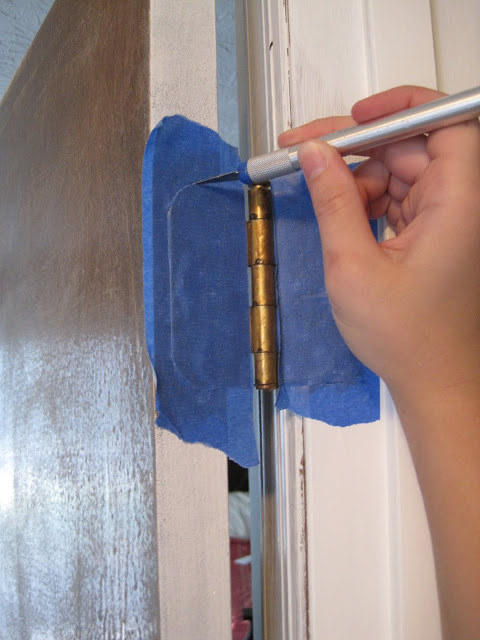 29.
Build a simple fire pit for less than $40 using heat-resistant stones.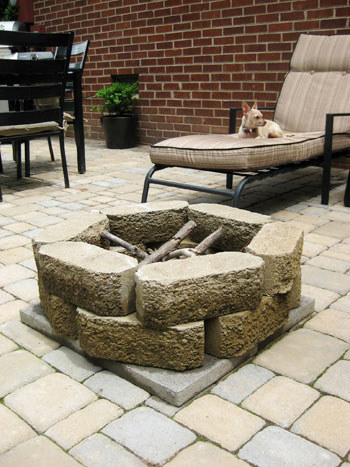 30.
Replace your standard AC unit intake with prettier aluminum sheeting from your hardware store.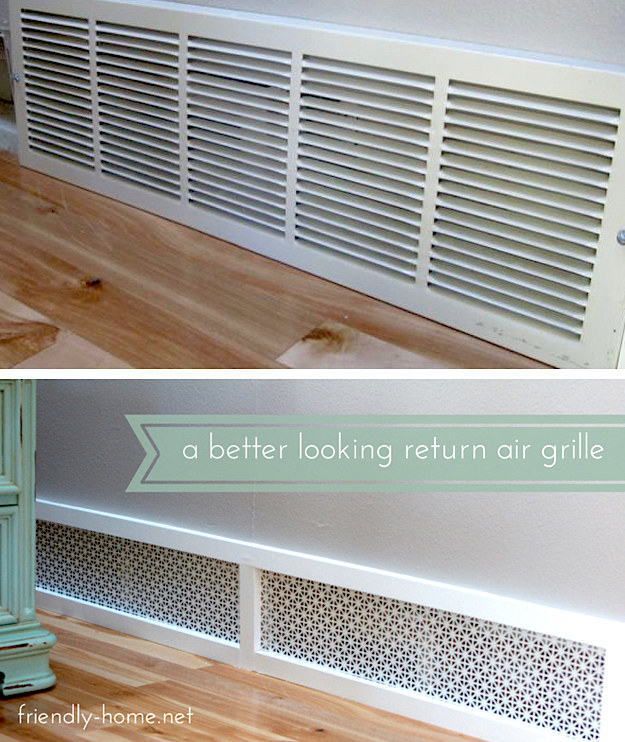 31.
Create a patio by laying concrete pavers and filling the gaps with river rocks.