Lorde had a pretty good #VMAs. She wore this jumpsuit and won Best Rock Video.
She cursed during her acceptance speech, but whatever.
Still, it's possible that no one had a better night at the VMAs than Lorde's sister, Jerry Yellich-O'Connor.
Jerry had a pretty sweet seat, right between Taylor Swift and sister Ella. (That's Lorde.)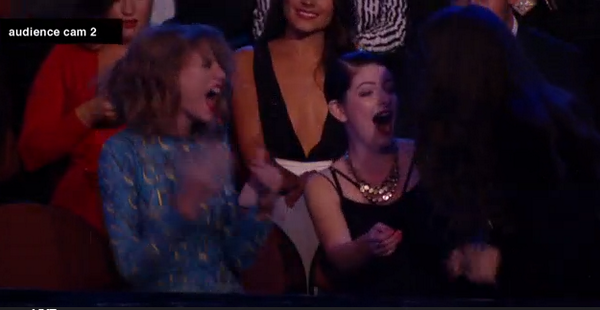 She and Taylor shook hands:
And she was ~pysched~ when Lorde won Best Rock Video:
By the end of the show, she had moved off to the side.
But whatever, she looked flawless:
Jerry is 20 and still lives in New Zealand. Sometimes she travels with Lorde — last year, Women's Wear Daily observed her being super unimpressed by fashion week madness.
Lorde has three siblings — two sisters and a brother. Jerry is the oldest. Here's a pic of Jerry with Ella and India, from India's Ask.fm page: And here they are all grown up, getting ready for the Grammys earlier this year.