Looking Back On Blink-182's Happier Times
"Blink-182 to us is always just been three really close friends having a lot of fun."
Pop Punk Ambassadors Blink-182 officially (?) split this week, with Tom DeLonge's "I'm-not-a-member-but-I-didn't-leave-the-band" departure setting off a media ping-pong match of name calling, accusations, and general vitriol.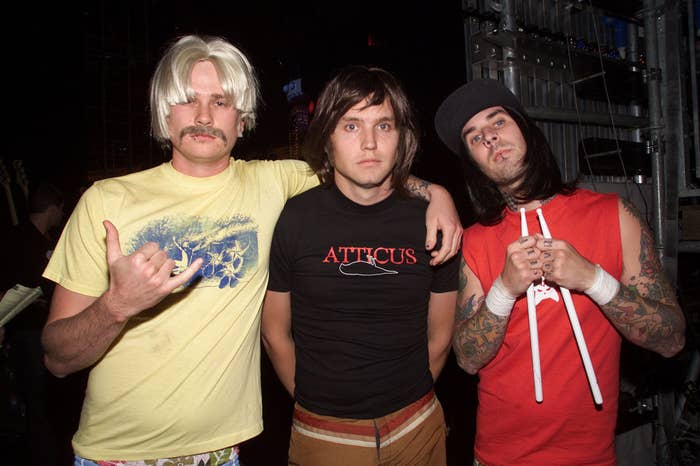 Blink fans weathered a similar storm in 2005 when the band went on hiatus. Travis Barker and Mark Hoppus formed +44, a band in the same pop-punk vein as Blink-182, while Tom DeLonge tried to reinvent the rock wheel with synth-heavy Angels and Airwaves.
But once upon a time, the band got along pretty damn well, with Hoppus risking his own life and saving DeLonge from a dragon in an enchanted forest.
In spite of their sometimes crude, juvenile humor — or because of their crude, juvenile humor — Hoppus, DeLonge, and Barker formed seemingly strong friendships.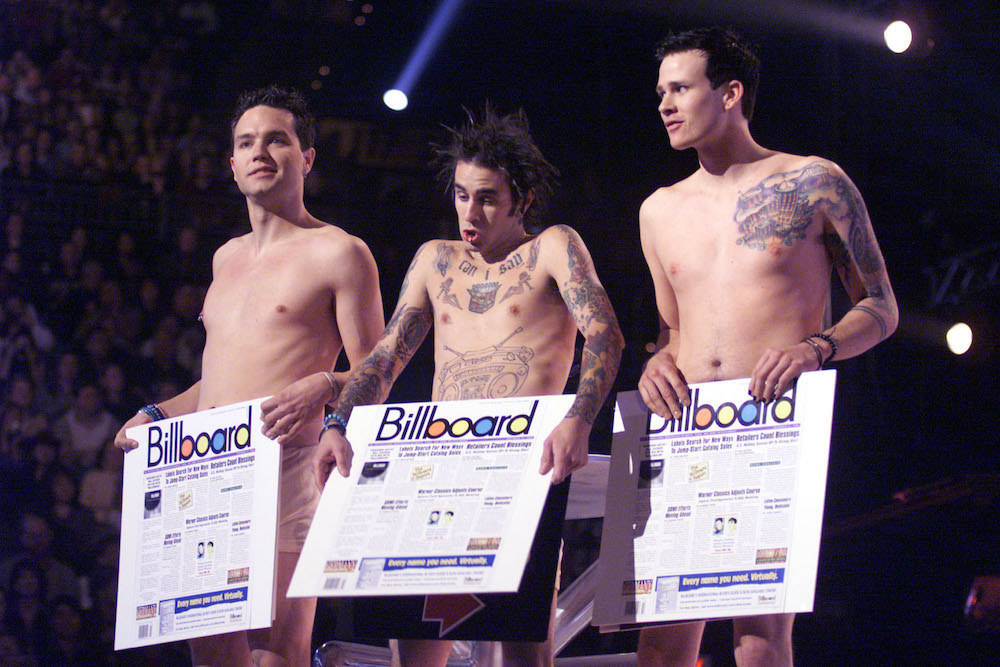 In 1999, Blink-182 released The Urethra Chronicles, a documentary chronicling both the band's day-to-day activities as well as the trio's history. When asked about the other members, all three gave insightful answers, touching upon their shared bond.
"There's a reason that Tom and I met," Hoppus said. "We're pretty much the same guy in two different bodies. I feel like we're brothers. And same thing with Travis. When Travis [Barker, who joined in 1998] came along, it was the perfect time, and he added something to the band that we never had here before. And he added the dynamic of friendship. I don't think... I know for a fact that our band would have never gotten to where it is without the three of us finding each other.
"Blink-182 to us is always just been three really close friends having a lot of fun," DeLonge added.
In late 2008, in the midst of the group's indefinite hiatus, Barker was in a plane crash. He sustained second and third degree burns and suffered from post-traumatic stress disorder in the wake of the crash.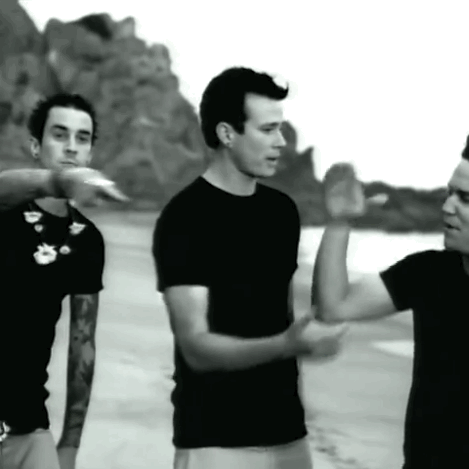 Hoppus learned about the plane crash over the phone and took the next flight out to the burn center where Barker was recuperating. "You feel helpless to do anything other than be there for your friend," he told Rolling Stone. DeLonge found out from a television news segment while at an airport waiting to board a flight. Once he landed, he mailed a letter and two photographs to Barker: a photo of Blink on a submarine in the Middle East, and one of himself and his two kids. "One was 'Do you remember who we were?' and the other was 'This is who I am now,' " DeLonge said. "No one knew if Travis was going to live or if he would play drums again."
After Barker was released, Hoppus says the trio had "gnarly heart-to-hearts." Those feeling sessions and a revelation from Barker allowed the band to set aside their musical differences and reunite for a tour and their 2011 album Neighborhoods.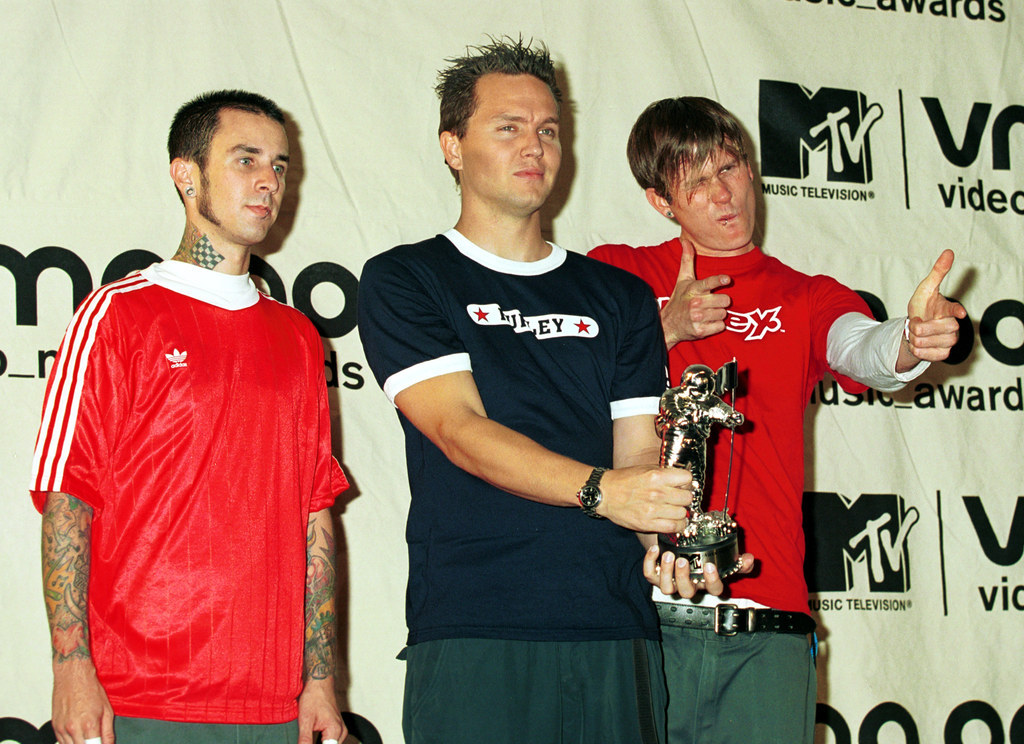 Their reunion, however, did little to quell rumors of in-group discord. In 2011, Travis Barker set the record straight on the band's reportedly tumultuous relationship.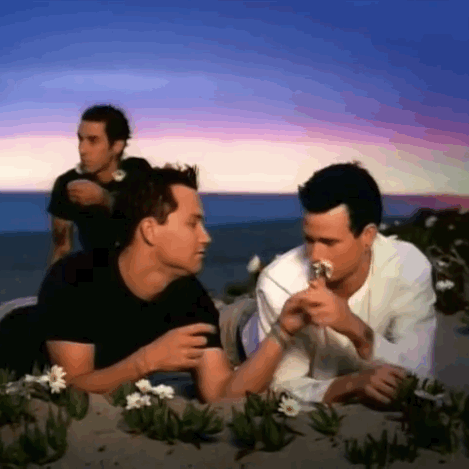 "Every one of us has a different manager," Barker explained. "We have different attorneys. We have different business managers. It's like, everything on the outside of the three of us is totally different and weird and bureaucratic. I mean, there are good people involved, but there is just so much on the outside of us. But when the three of us get in a room, it's all good. The three of us get on stage, it's all good."
According to Barker, DeLonge and Hoppus "were like husband and wife back in the day." "I'd always tell them that I'd never seen two males that weren't homosexual so close," Barker said. "I'd never seen two friends so close or anything like how Mark and Tom were. I always played the middle between them. And I still do. I'm really close to Mark and I'm really close to Tom. It's like a couple, but there's three of us. So we all have to spend time being friends, just being cool, maybe talking about stuff that has nothing to do with the band. It's just like any relationship."
In a 2013 Rolling Stone interview, the band opened up about an album they had in the works and their bond after years of performing as Blink-182, speaking again about their fated connection much like they had done in 1999.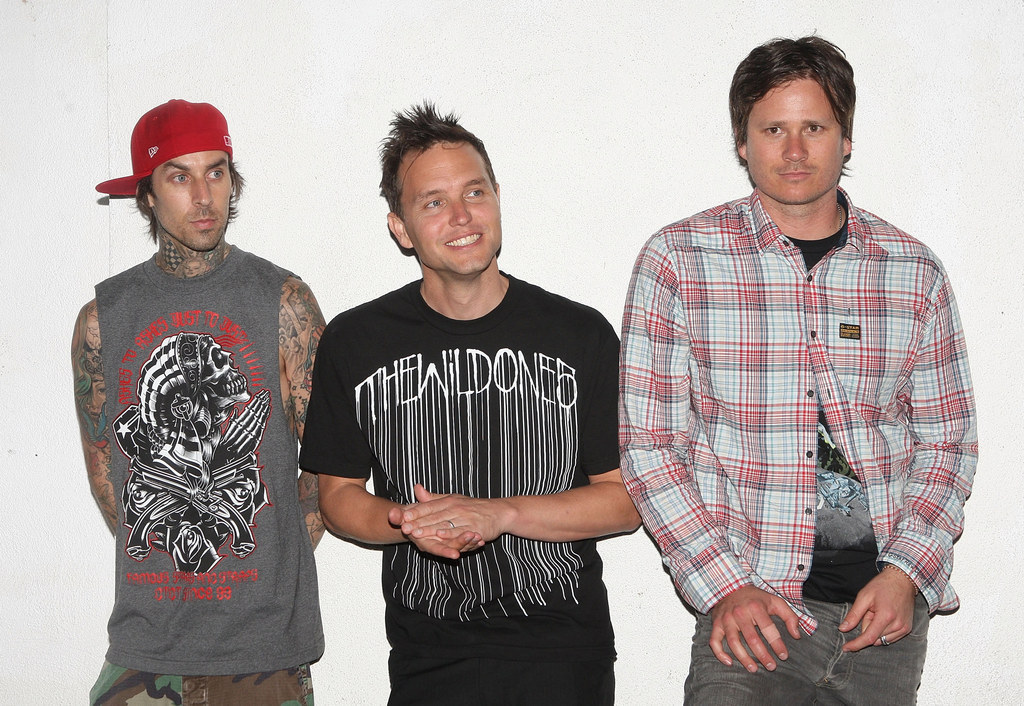 Though their current drama is getting messier by the day, try to remember the group as they once were: crass, humorous, happy, and frequently naked. Like in the photo below, wherein the three hug at the end of a 2009 reunion tour show in Tinley Park, IL.