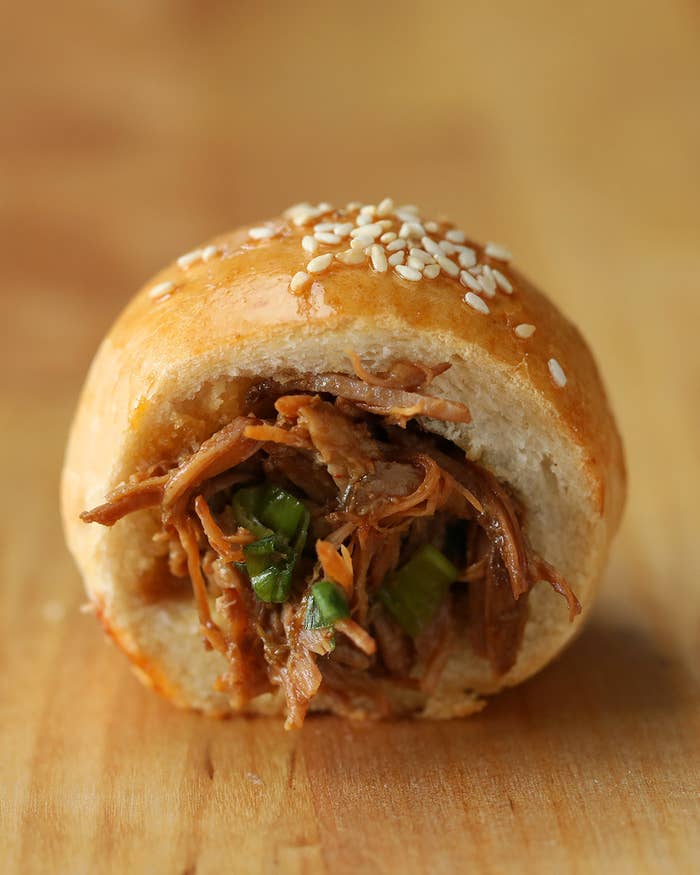 SLOW-COOKER PORK BUNS
Servings: 20 buns
INGREDIENTS:
Pork
¾ cup Smoky Ssäm Sauce, reserve the rest of the bottle for dipping
1 cup chicken broth
2 teaspoons salt
2 tablespoons sesame oil
2 tablespoons soy sauce
2 tablespoons rice vinegar
2 bunches scallions, thinly sliced, divided
6 garlic cloves, roughly chopped
2-inch chunk of ginger, chopped
3–4 pounds boneless pork shoulder, cut into large cubes
Dough
2 packets of yeast
¼ cup sugar
1 cup hot water (105º–110ºF)
¼ cup vegetable oil
⅔ cup milk
4 cups flour, plus more for dusting
2 eggs, whisked for dough wash
3 tablespoons honey
Sesame seeds
PREPARATION:
In a bowl, whisk together the Smoky Ssäm Sauce, chicken broth, salt, sesame oil, soy sauce, rice vinegar, half of the sliced scallions, garlic, and ginger.
Place pork shoulder pieces in slow cooker and pour the sauce over the pork.
Cook on high for 4–6 hours until you can pull the pork apart with a fork. Remove pork pieces and shred with two forks. Pour the liquid that is left in the slow cooker into a pot and bring to a rapid simmer. Let liquid reduce until thick. Pour sauce over shredded pork. Add the other half of the scallions and stir well.
While pork is cooking, make the dough. In a large bowl, whisk the yeast and sugar together. Pour in the hot water and whisk. Let yeast proof for 5–8 minutes. Whisk in vegetable oil and milk. Fold in flour until a dough forms.
Place dough on a heavily floured surface and knead until smooth. Transfer dough to an oiled bowl and cover. Let rise for at least 1 hour or until dough has doubled in size. Punch down dough and knead again for a few minutes until the dough is no longer sticky.
Cut dough in half and roll each half into a long log. Cut each log into 10 pieces.
Flatten a piece of dough into a puffy disk and place a tablespoon of pork in the center. Pinch the dough up around the meat to form a sealed bun. Place bun seam-side down on a parchment-lined sheet tray. Brush buns with egg wash.
Preheat oven to 375ºF. Bake buns for 15 minutes. Brush with honey and sprinkle with sesame seeds. Bake for another 4–5 minutes until golden brown. Remove from oven. Serve with reserved Smoky Ssäm Sauce for dipping.