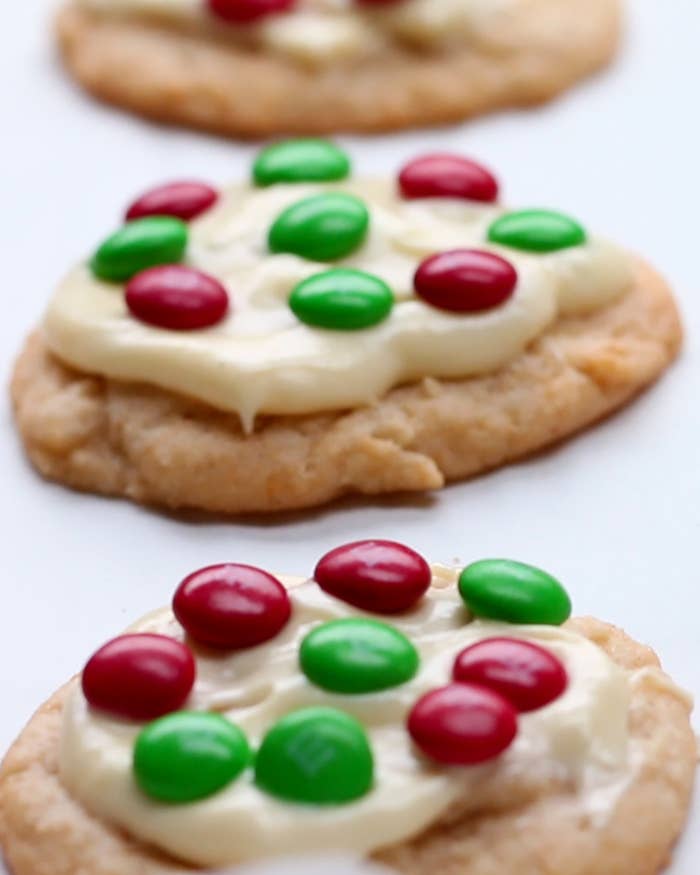 INGREDIENTS
Cookie
1 cup unsalted butter, room temperature
2 cups sugar
2 teaspoons vanilla extract
2 eggs
½ teaspoon cream of tartar
½ teaspoon baking soda
½ teaspoon nutmeg
3 cups flour
Frosting
4 ounces cream cheese, room temperature
2 tablespoons unsalted butter, room temperature
2 cups powdered sugar
¼ cup eggnog
M&M'S® Brand Milk Chocolate Candies Holiday Blend
PREPARATION
1. Preheat oven to 350℉/180℃.

2. Cream together the butter and sugar in a mixing bowl with a hand mixer. Add the vanilla and the eggs, one at a time, while continuing to blend.

3. Add the cream of tartar, baking soda and nutmeg. Slowly add the flour, one cup at a time, while blending. Do not overmix, blend just until the flour is incorporated. Cover and refrigerate the dough until chilled, about an hour.

4. Scoop the cookie dough into balls, about 2 tablespoons each, onto a parchment-lined baking sheet.

5. Bake 10-15 minutes until lightly browned around the edges. While cookies are cooling, make the frosting.

6. Blend together the cream cheese and butter until smooth. Slowly add the powdered sugar, a little at a time and blend until smooth. Add the eggnog and blend until creamy.  

7. When the cookies are cooled, frost and decorate with M&M'S® Brand Milk Chocolate Candies Holiday Blend.

8. Enjoy!