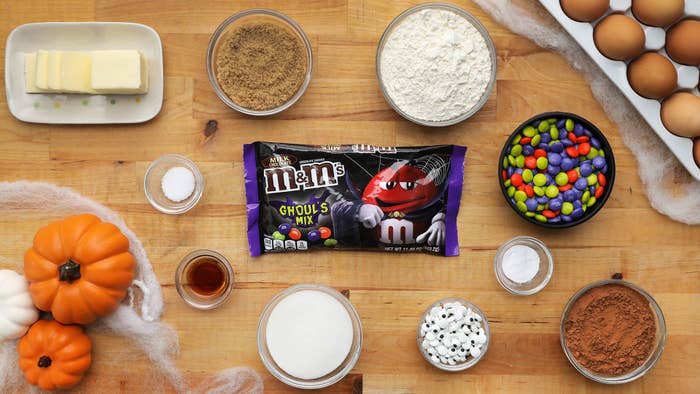 Spooky Cookie Pizza
Servings: 24
Ingredients:
Cookie Pizza
3⁄4 cup M&M's Ghoul's Mix
3⁄4 cup unsalted butter, room temperature 1⁄2 cup brown sugar, lightly packed
1⁄2 cup white sugar
1 egg
1 teaspoon vanilla extract
11⁄4 cups flour
1⁄2 cup cocoa powder
1 teaspoon baking soda
1 teaspoon kosher salt
Toppings
White cookie decorating icing M&M's Ghoul's Mix
Sprinkles (black, white, orange, etc.) Candy eyeballs
Preparation:
Preheat oven to 350oF (325oF for convection ovens). Grease a 12-inch cake pan. Line

the bottom with a parchment circle.

Cookie Pizza: Spread M&M's Ghoul's Mix on a cutting board. Chop with a knife. Set

aside.

Place butter, brown sugar, and white sugar in a large bowl. Cream together with a hand

mixer until light and fluffy, about 3 minutes.

Mix in egg and vanilla extract. Mix in flour, cocoa powder, baking soda, and salt until just

combined and no dry streaks remain.

Fold in chopped M&M's Ghoul's Mix. Press cookie dough into cake pan in an even layer.

Bake for 18–20 minutes. Remove from oven and cool completely in the pan (run a knife

along the edge of the pan to release the cookie while cooling).

Carefully flip cookie out onto a cutting board to decorate.

Draw a spiderweb with the icing. Decorate with M&M's Ghoul's Mix, sprinkles, and candy

eyeballs. Slice and serve!